Oct 31 2018
My last training diary post was on October 15th. It's been a bit busy since then. I have released two major upgrades to the rowsandall.com site: The redesign, and Training Planning.
Since I released those two upgrades, most of my free time was consumed by bug fixing (despite a month of testing in the group of beta testers, there are always bugs that are discovered only by "real" users). So here's what's happened after October 15th: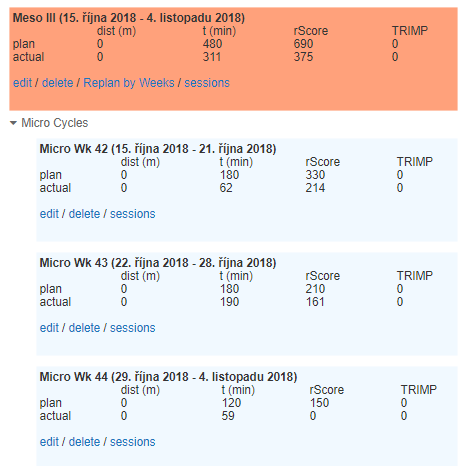 Week 44 is not complete yet, but you can see I am struggling to put in the training that I had planned. Here's a detailed look at each of the weeks:
Week 42

So in week 42 I was supposed to doing a volume week, but I had to go on an unexpected business trip. Skipped the swim planned for Monday, the bike to work and back planned for Friday and a run planned for Sunday. I did put in my weights training, two steady state erg rows and that disastrous 4x2k. A positive thing to mention is that I am succeeding at making my steady state erg sessions longer. It was a shock being back on the erg after spending the entire spring and summer in the boat, but I am slowly succeeding in finding a way to "enjoy" 75 minutes and longer of steady state ergometer plodding.
Week 43

Swim – done
Weights – done
Steady state – one 85 minute session duly done, one missed.
Twelve km run – done
5x1500m session – done
After the 4x2km debacle of week 42, I set out very conservatively on the 5x1500m row. I targeted 215W or higher. In the end, the average was around 230W:

Workout Summary - media/20181025-1826280o.csv
--|Total|-Total-|--Avg--|-Avg-|Avg-|-Avg-|-Max-|-Avg
--|Dist-|-Time--|-Pace--|-Pwr-|SPM-|-HR--|-HR--|-DPS
--|10728|53:32.0|02:29.7|148.4|21.0|150.0|181.0|09.6
W-|07500|28:31.0|01:54.1|232.9|26.0|161.4|181.0|10.1
R-|03229|25:00.0|03:52.3|052.0|15.2|137.1|181.0|10.3
Workout Details
#-|SDist|-Split-|-SPace-|-Pwr-|SPM-|AvgHR|MaxHR|DPS-
00|01500|05:36.6|01:52.2|228.0|25.4|154.8|170.0|10.5
01|01500|05:47.8|01:55.9|225.1|25.4|158.6|172.0|10.2
02|01500|05:45.3|01:55.1|229.5|26.0|162.8|176.0|10.0
03|01500|05:47.5|01:55.8|228.0|25.7|164.1|176.0|10.1
04|01500|05:34.5|01:51.5|254.4|27.7|166.5|181.0|09.7

Here's the chart: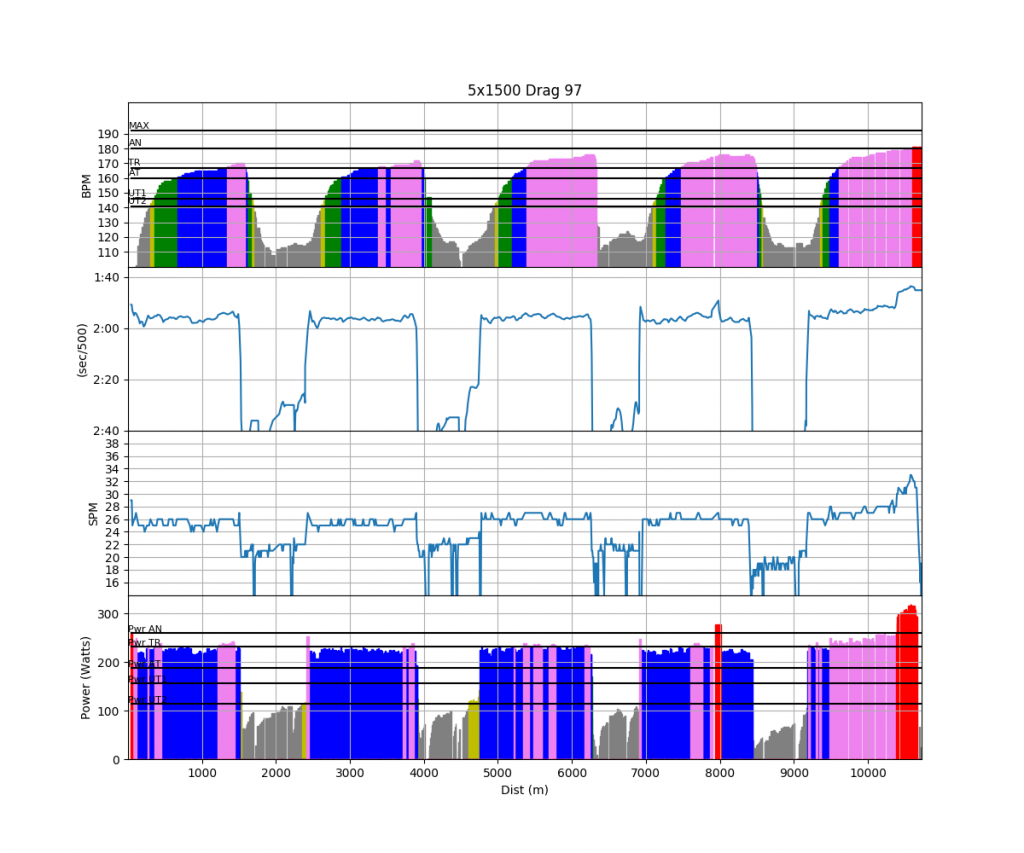 It's interesting to compare this 'good' row with that disastrous 4x2km row:
It seems that the difference really just is in the 4x2km biting in the final 500. Maybe also a question of getting used to the erg.
Week 44 so far

Nothing to see here. I did my weights session on Tuesday and I am going to do another 5x1500m today. I am also racing a 4x+ in Amsterdam on Sunday, over 4 km.
Follow me in social media