Feb 8 2018
It is clear that doing two sessions a day of cross country skiing results in a bit of accumulated fatigue. So yes, the plan for this week was to take it easy. Add a bit of action at work, where some things had gone south during my absence, plus the fact that I was alone (my wife and children had another week of downhill skiing in our mountain cottage), and the fact that I was eager to implement a few new features for Rowsandall.com and you have a recipe for an interesting week.
Saturday – Zwift in the rain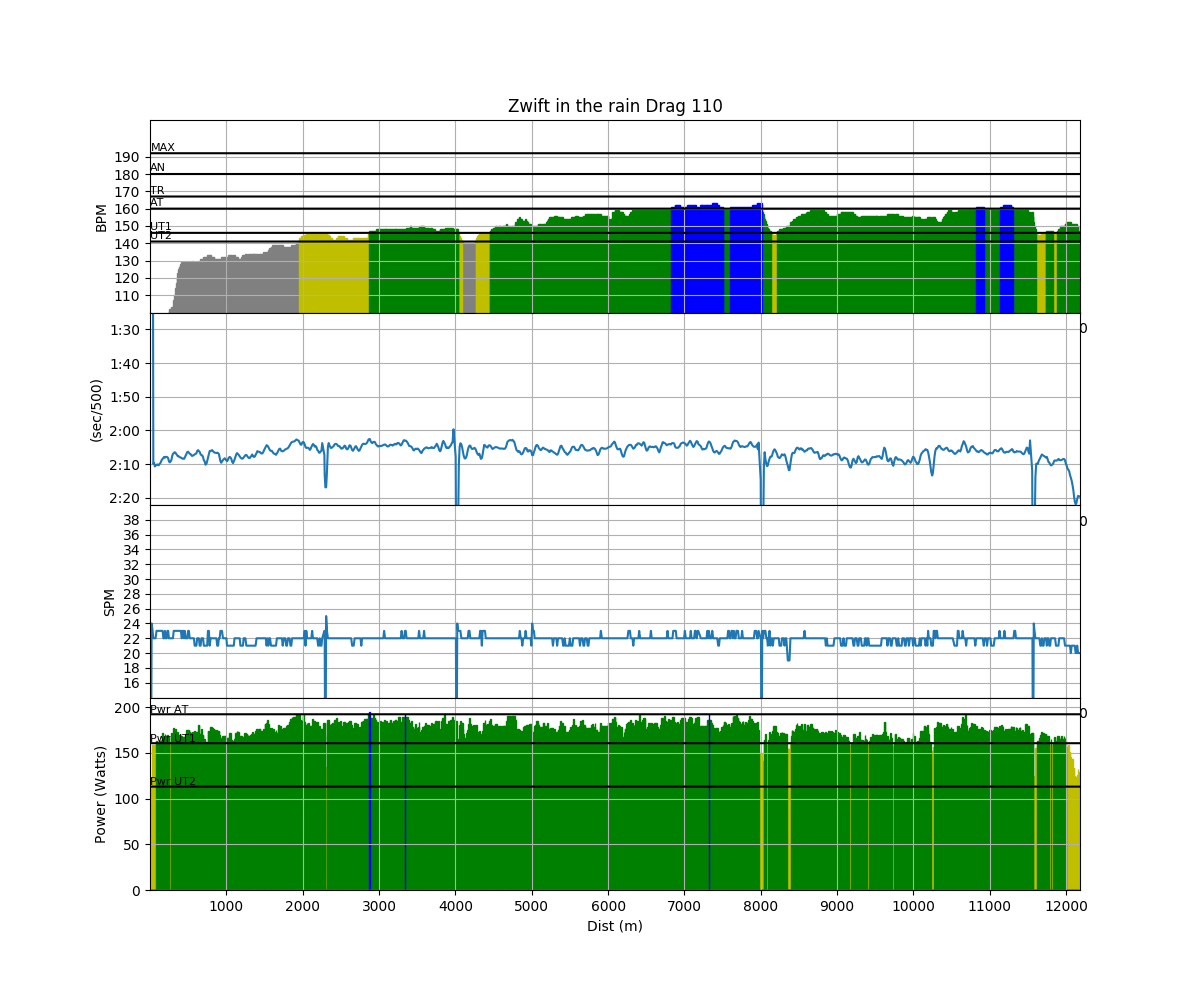 On Saturday, I did an hour on PainSled/Zwift. I chose a route up to "the volcano". There were huge crowds of cyclists on Zwift, so it made this steady state workout more interesting,
It was raining on Zwift. It is funny how you are indoor rowing on the erg, your power is transmitted to PainSled on the iPhone through Bluetooth, and then another Bluetooth connection sends it to the Zwift app on the iPad, then over WiFi to the Zwift server and the result is a little cyclist avatar with a green shirt doing the same power as you do in a virtual world. It was raining in that virtual world, and now I have fixed in my memory that I was erging in the rain.
Sunday – running in the sun
I waved goodbye to Romana and the kids when they left for the mountains, changed into running gear and did a hilly run from our house.
It was sunny and that helped because by now I was really feeling the accumulated fatigue, and I decided that Monday would be a rest day.
Somehow, I didn't record heart rate during the run, using the Polar OH1 and the Polar Flow app.
Tuesday – aborted threshold session
I was actually looking forward to this session, on Tuesday after work. The plan was
Warming up 2.5km
2x(1min+2min+3min+4min+3min+2min+1min)/4min Stroke Rate 26/24/22/20/22/24/26
During the beak, I decided to stop. This was much harder than I had predicted, my heart rate was too high and I couldn't motivate myself for the second interval. Fail.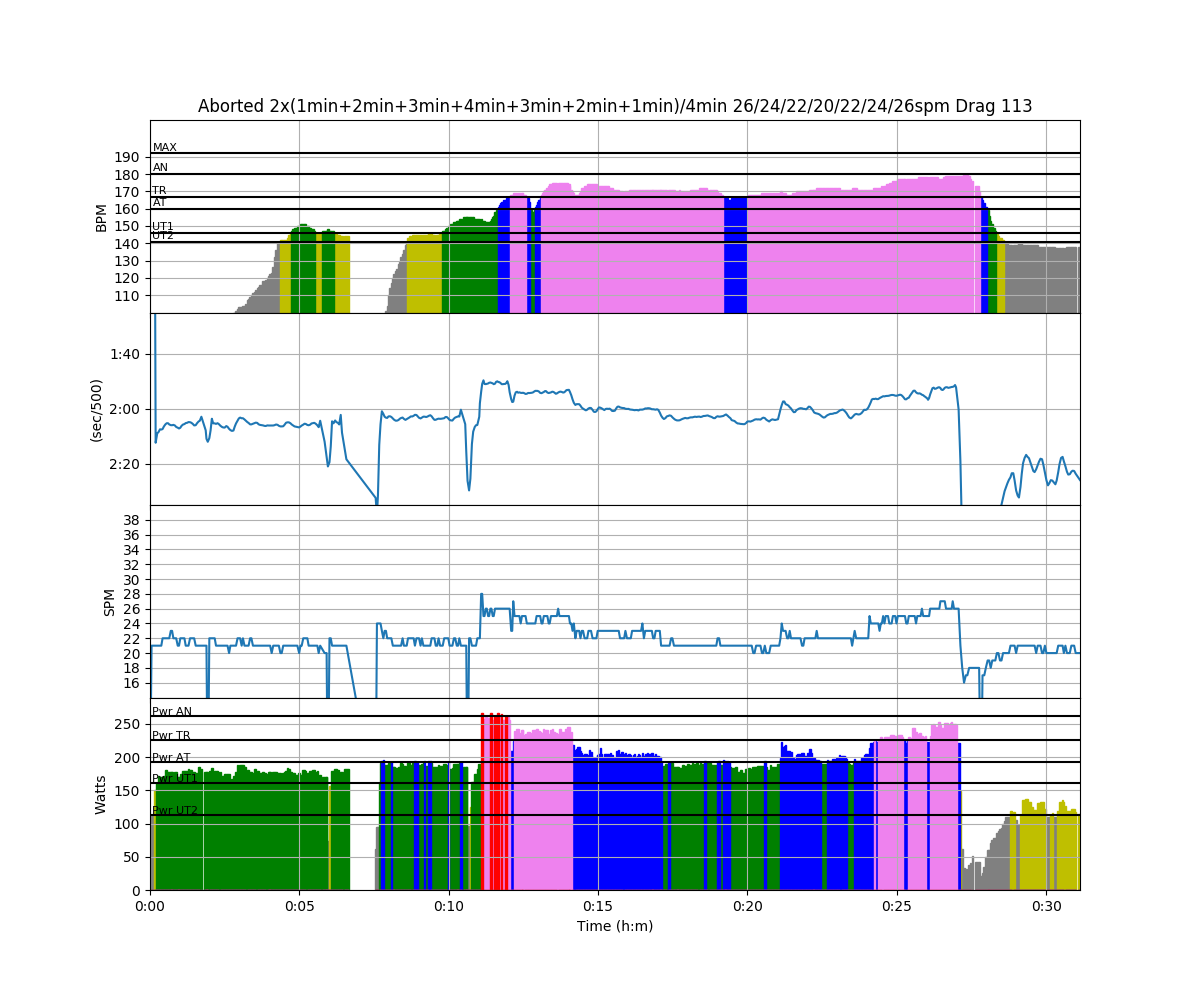 I decided that Wednesday would be another rest day.
Thursday – swim
A swimming workout in the 50m pool. In lane 3, someone offered free coaching services. Mainly technique advice, so I didn't dare to enter lane 3. I wanted to work out.
I got a bit over 50 minutes in before I had to leave to be on time for my meeting with my Staff.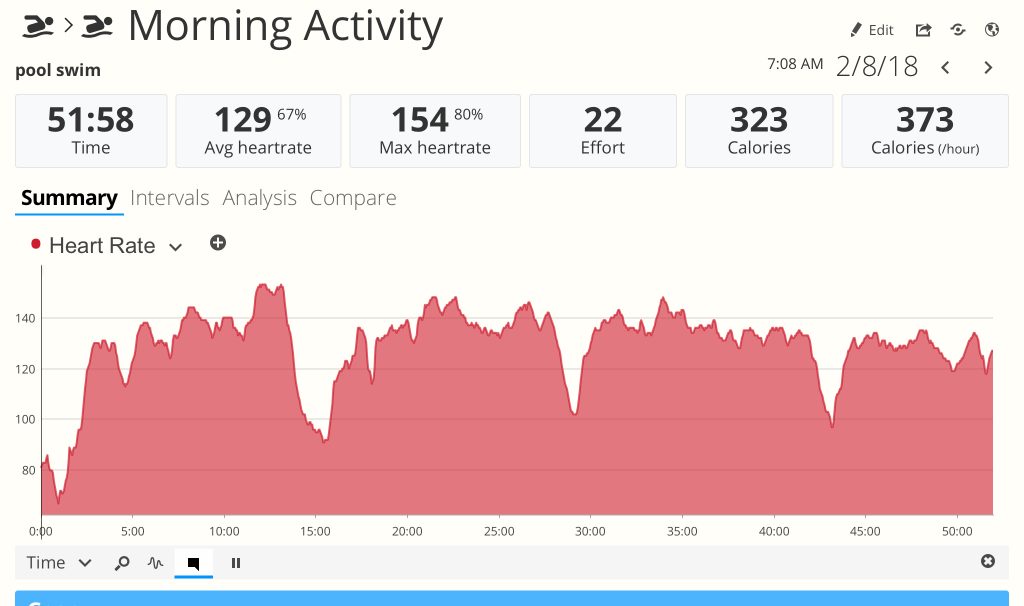 Saturday – threshold session OTE
Friday was another rest day. My morning pulse and HRV values are already going in the right direction, but I had a long working day, and I wanted to spend the evening with my family instead of working out.
Today, I did another session from the plan:
3km warming up
7x(1min+1min+1min)/3min Stroke Rate 24/26/28spm
This time all worked out well. I tried to row 240W for the first minute, 260W for the second minute and 280W for the third minute. Interestingly, the target was the hardest in the lower stroke rate, but as the session went on I was starting to feel really fatigued in the 28spm bits. Afterards, I looked at work per Stroke for the different stroke rates: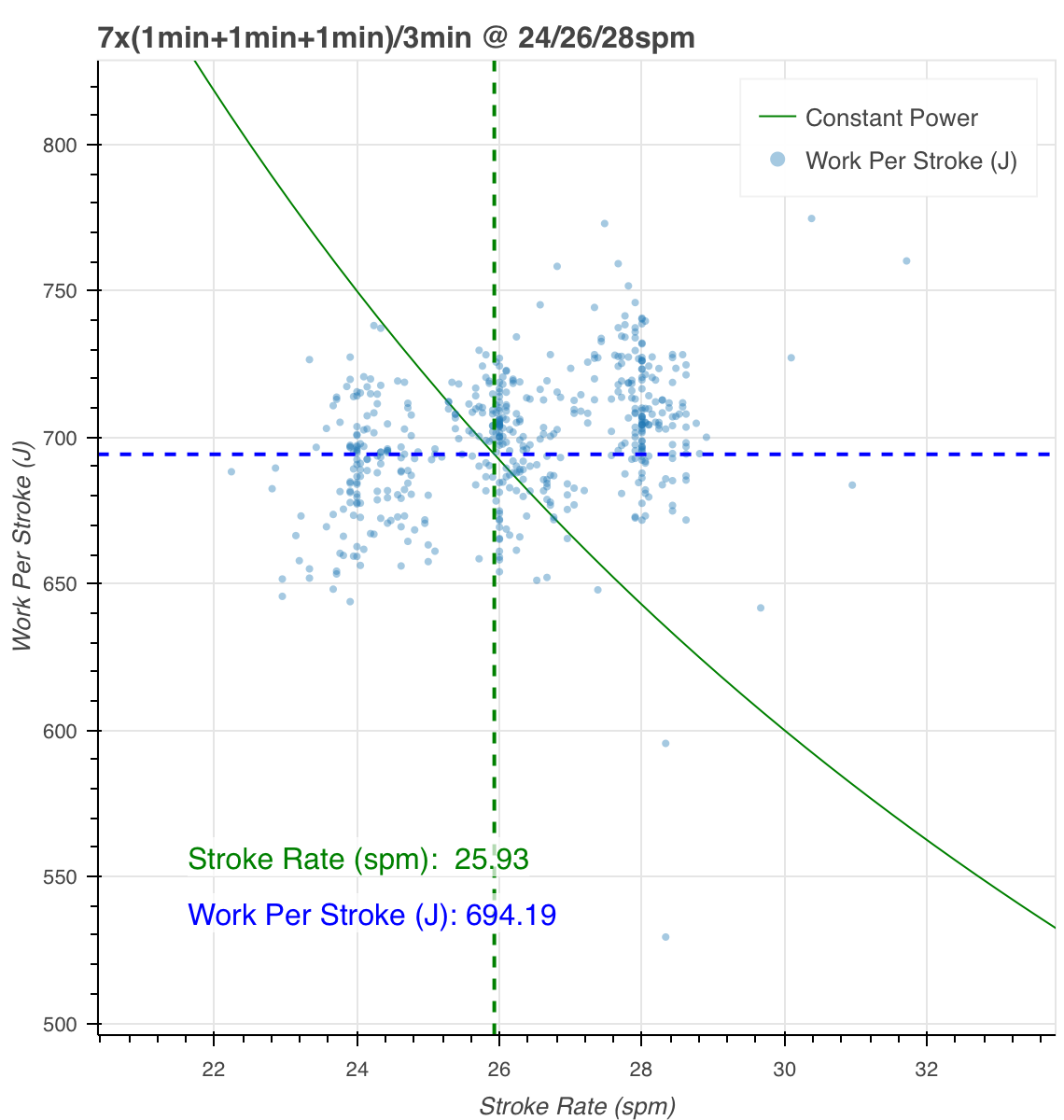 You can see that I was a bit higher in terms of work per Stroke for the higher stroke rates. This was not due to longer drive length: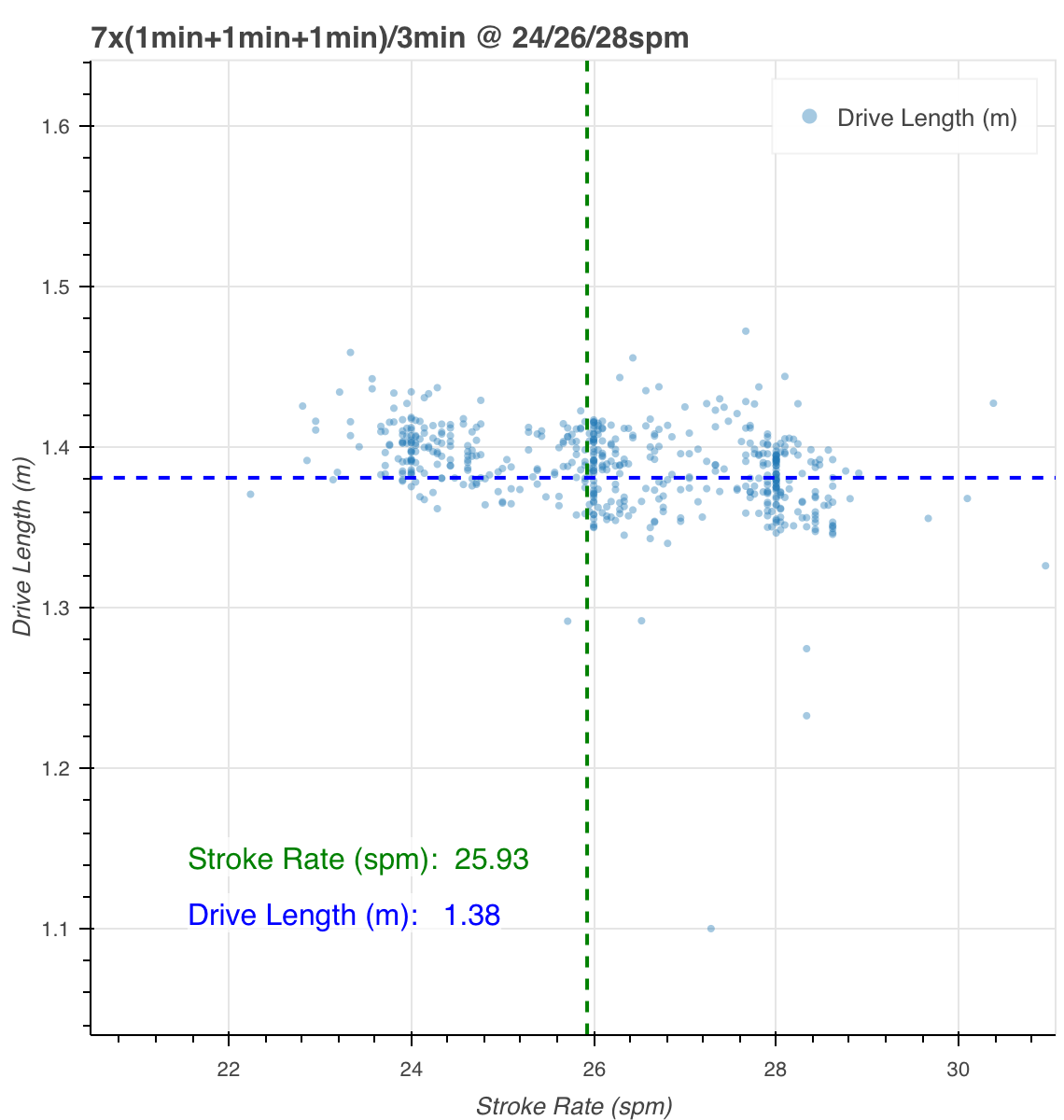 No, it was just more force during the drive: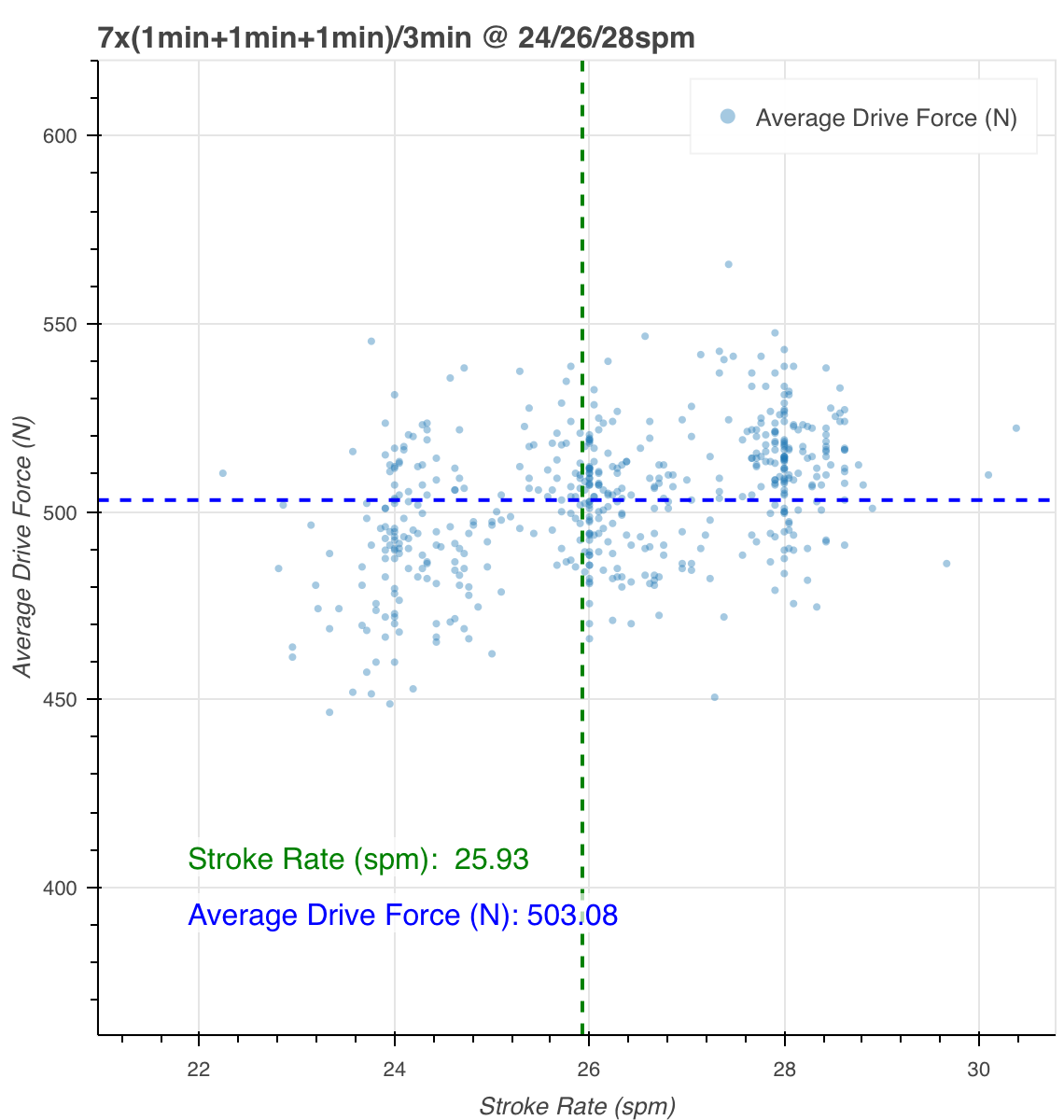 Here is the session chart: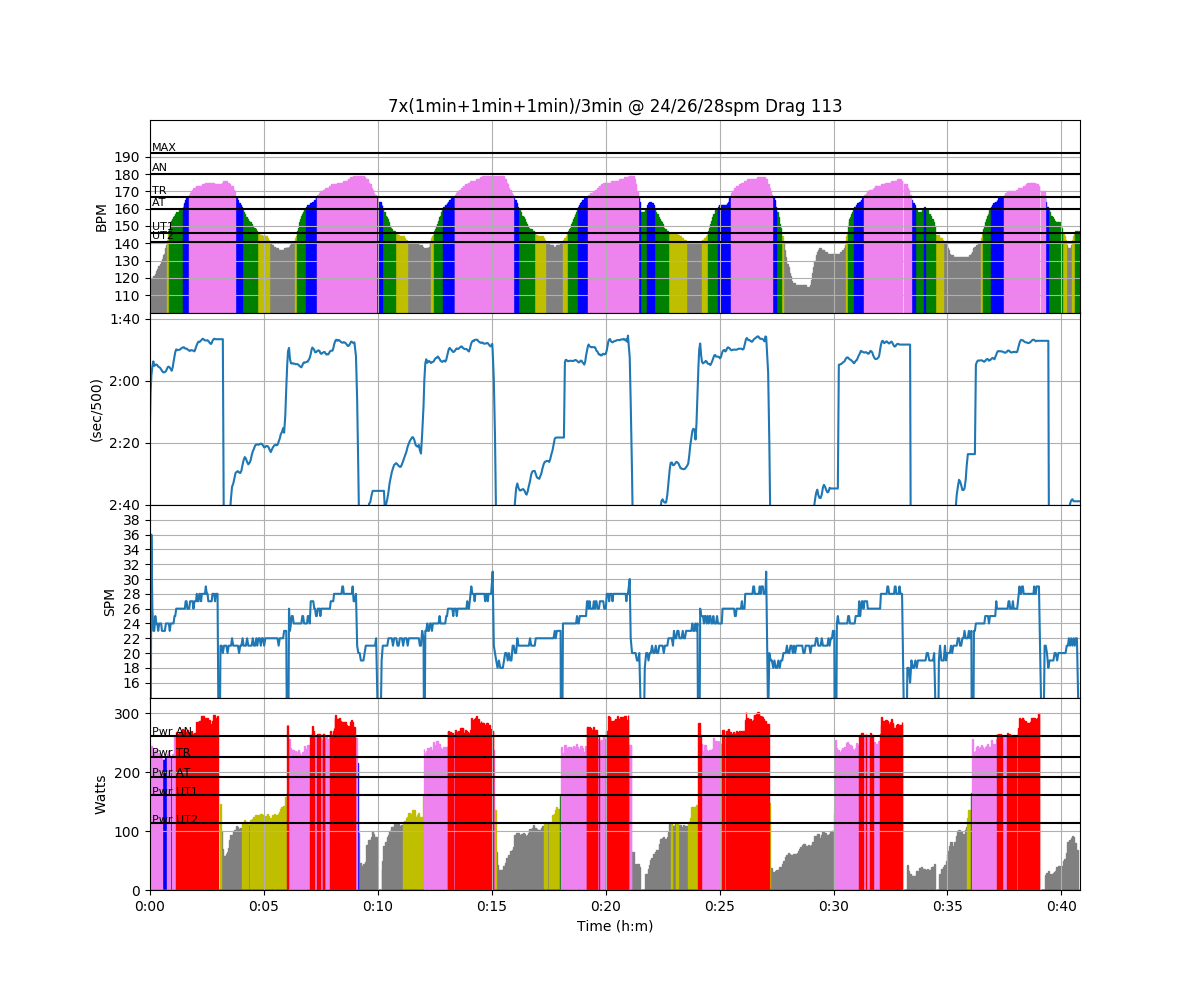 Workout Summary – media/20180210-1021060o.csv
–|Total|-Total-|–Avg–|-Avg-|Avg-|-Avg-|-Max-|-Avg
–|Dist-|-Time–|-Pace–|-Pwr-|SPM-|-HR–|-HR–|-DPS
–|09299|42:00.0|02:15.5|191.2|23.5|158.2|179.0|09.4
W-|05700|21:00.0|01:50.5|261.7|25.6|163.8|179.0|10.6
R-|03606|21:00.0|02:54.7|086.3|20.4|150.2|179.0|04.9
Workout Details
#-|SDist|-Split-|-SPace-|-Pwr-|SPM-|AvgHR|MaxHR|DPS-
00|00821|03:00.0|01:49.6|259.9|25.5|157.1|175.0|10.8
01|00811|03:00.0|01:51.0|263.1|25.6|165.3|179.0|10.6
02|00815|03:00.0|01:50.4|264.0|25.6|165.4|179.0|10.6
03|00817|03:00.0|01:50.1|260.5|25.5|166.5|179.0|10.7
04|00814|03:00.0|01:50.6|268.1|25.6|165.3|178.0|10.6
05|00809|03:00.0|01:51.2|256.2|25.6|163.4|177.0|10.5
06|00812|03:00.0|01:50.8|259.9|25.6|163.3|175.0|10.6
Rowsandall.com sneak preview
A first look at new functionality. I am still working the user interface and some of the other stuff, but the picture shows pretty well what this is about: