Sep 19 2017
Sunday & Monday
I am back on the erg. Now that Bled is behind me, and because September is a hectic month at work, I am reducing the number of water sessions and starting to row more on the erg.
Somehow, I am even looking forward to it. Playing with the lactate measurements. Improving Rowsandall.com for erg users.
On Sunday, we actually planned a row in a mixed 8+, but in the end only Romana and I showed up for the session. It was raining very hard. I put the erg on slides in the rowing club erg room and rowed steady state. Painsled (the app I use for recording erg data) and I didn't get along very well. I was running it on my new iPhone, connected to a PM3 with the cable, and it was misbehaving.
On Monday, I rowed steady state on my static erg at home. Using Painsled on the iPad, with the PM5 without any problems.
The sessions were not exciting enough to write a long blog post about. They were short. I need to prepare my erging. A collection of podcasts to listen to. And then slowly build up the length. Perhaps use a seat pad. I seem to have become more sensitive for pain in that part of the body.
Tuesday
The core of this training mesocycle is hard distance, combined with intervals at head race pace (with short rests). Today, I was targeting a 9km in the single. I do not think that I can significantly move my fitness in the three weeks I have to prepare for this race, but by doing a lot of these long rows, I think I can work on my mental toughness. Rowing long hard distances at head race pace causes an entirely different kind of fatigue than sprint racing. Also, it is a way to calibrate my power curve and figure out the power I can sustain over 6km. And finally, I need to work on my technique at 26-30spm. It is a different stroke than the sprint stroke.
To make this one even harder mentally, I decided to go to work before it, and to row it in windy and rainy weather.
Well, that wasn't my decision. I have a job and I like it. And there is a lot of stuff that needs to be done at the office. And the weather is the weather. It's autumn.
It was raining hard when I drove to the rowing club. When I arrived, Romana just finished her session in the eight. The girls were very wet and freezing.
I put on enough layers, and while I was preparing the boat (putting the Quiske sensor under the seat, setting up the Android phone in its holder), the rain stopped. There was a very dark cloud to the north though, and I did expect to get very wet during the session. But I was lucky, and it didn't happen.
During the warming up, I was passed by a double with white blades (the other rowing club). To do my 9km, I had to row a little further towards Rokle than they did, and when I started the 9k, I realized I was rowing towards them and their coach in a launch. There was a risk that I would be constantly rowing in the wake of the launch, and this particular boat from the Lodni Sporty club is a very bad one. I don't understand why their coach didn't take the Catamaran when it was available. Apparently this boat is more comfortable, but it is heavy, and causes pretty big waves.
I actually almost caught up with them while they were listening to some coach instructions, but then they set off. I rowed slightly behind the double and in a parallel trajectory that was about 50m more to the west, to avoid being too close to the launch. First, they were rowing away from me and I was watching the wake coming closer and closer to me, but then they slowed down slightly, I added a little pressure, and I overtook them.
Turning at Sirka, and rowing back immediately towards Sirka. This is one of the hard parts of rowing a longer hard distance row with turns. It is hard to get back to the rhythm, and the rowing seems to hurt a little more in the first 10 strokes after the short pause. Crossing the launch's wake took only four or five stroke.
In the third interval, I got more wake. The double and the launch were going towards Rokle when I was already rowing back, but the lake is narrower there and with hard, concrete banks, so you get the reflection, and the reflection of the reflection, so there were 20 or 30 strokes where my boat was bumping up and down, turning left and right, and it caused a dip in power:

Workout Summary - media/20170919-185910-Sanders SpeedCoach 20170919 0555pmo.csv
--|Total|-Total-|--Avg--|-Avg-|Avg-|-Avg-|-Max-|-Avg
--|Dist-|-Time--|-Pace--|-Pwr-|SPM-|-HR--|-HR--|-DPS
--|09000|39:50.0|02:12.8|228.9|25.5|178.1|185.0|08.8
W-|09000|39:51.0|02:12.9|229.0|25.5|178.0|185.0|08.9
R-|00000|00:00.0|00:00.0|000.0|00.0|000.0|185.0|00.0
Workout Details
#-|SDist|-Split-|-SPace-|-Pwr-|SPM-|AvgHR|MaxHR|DPS-
00|00500|02:06.0|02:06.0|228.6|24.7|154.2|170.0|09.7 - tailwind
01|00500|02:06.0|02:06.0|233.3|24.4|169.8|173.0|09.8
02|00500|02:05.3|02:05.3|234.0|24.9|174.1|178.0|09.6
03|00500|02:03.1|02:03.1|247.7|25.1|180.0|182.0|09.7
04|00500|02:04.5|02:04.5|242.5|25.1|179.7|181.0|09.6
05|00500|02:06.3|02:06.3|231.8|25.0|179.1|180.0|09.5
06|00500|02:35.7|02:35.7|220.5|25.5|176.2|179.0|07.5 - turn
07|00500|02:20.1|02:20.1|232.8|25.3|179.3|181.0|08.5
08|00500|02:17.9|02:17.9|230.8|25.2|180.2|182.0|08.6
09|00500|02:20.2|02:20.2|234.9|25.4|181.2|182.0|08.4
10|00500|02:16.6|02:16.6|236.2|25.5|182.0|183.0|08.6
11|00500|02:17.5|02:17.5|229.1|25.8|182.5|183.0|08.4
12|00500|02:37.3|02:37.3|213.6|26.1|178.6|183.0|07.3 - turn
13|00500|02:09.7|02:09.7|215.4|26.4|178.9|181.0|08.8 - wake
14|00500|02:07.2|02:07.2|220.5|26.0|179.2|181.0|09.1
15|00500|02:06.9|02:06.9|222.0|25.8|181.5|182.0|09.2
16|00500|02:06.5|02:06.5|227.1|25.8|182.4|184.0|09.2
17|00500|02:05.4|02:05.4|226.6|27.3|183.7|185.0|08.8

It is clear from the chart that I had tailwind in the first and last 3k (3k being one lake length) and headwind in the middle 3k. A couple of interesting metric charts. I wanted to hold a little below 600J in terms of Work per Stroke, but I am seeing that this is not sustainable over more then 6k.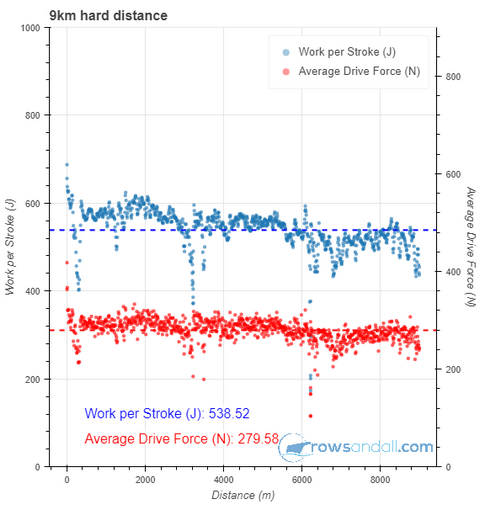 Also, I can see how I sit up less straight when getting tired, which is effecting mainly the Wash value: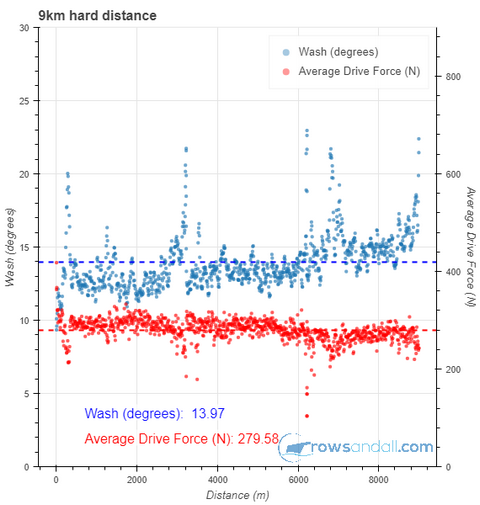 The Quiske charts are interesting. From the above metrics and from how I felt, I had already established that the third part of the row was technically the worst. Here are the Quiske charts (red being the final interval):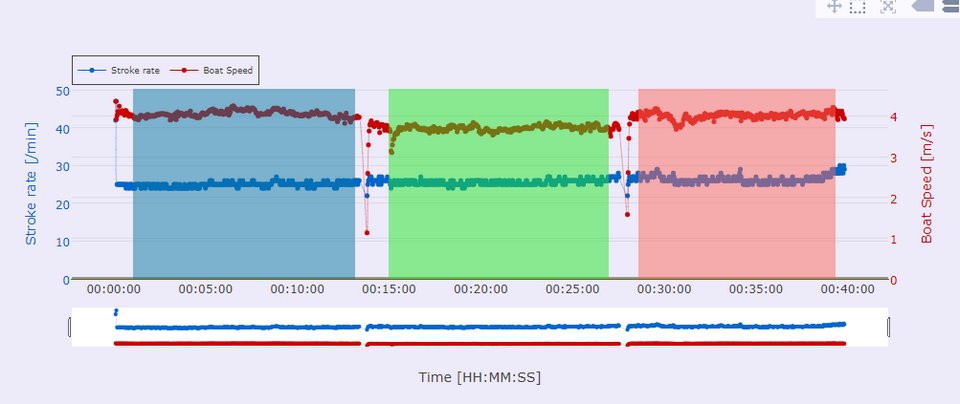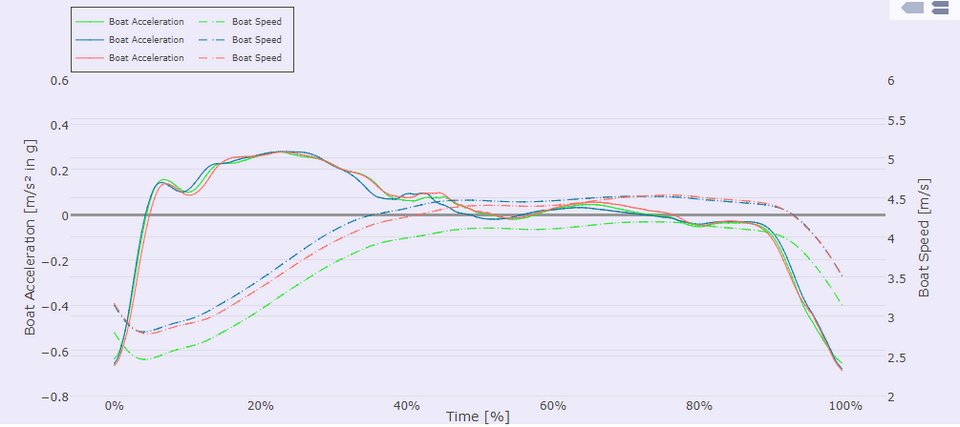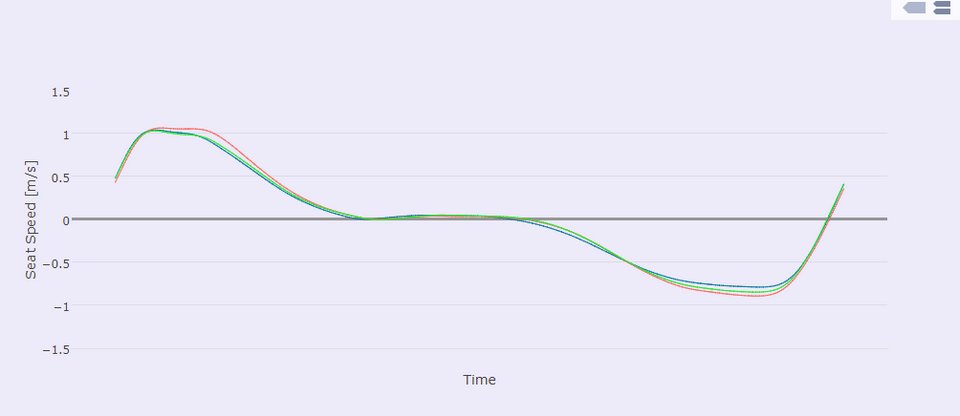 I think that the difference in seat speed is caused mainly by me rowing a little shorter and a little higher rate in the third interval. Looking at the boat acceleration curves, my mind is racing, thinking about ways to minimize the deceleration dip coming into the catch …
Exciting stuff – I am really enjoying rowing at head race pace.
Follow me in social media