Sep 14 2017
Sunday. The last day of racing, entirely devoted to the mixed disciplines, and the day to drive home.
It had been raining all night, but when we rode the bike to the car park close to the rowing center, it was relatively dry. Our mixed double was scheduled for 12:33, but Romana was rowing in a mixed C 8+ with our joyful French friends, in the morning.
The same interesting ritual of determining who would row on which side and where to sit, and this time I took pictures of it. I am fascinated by people who, when they see someone taking a picture, snap into 'funny picture for the internet' mode, as demonstrated by the cox of the eight.
As expected, the eight was not rowing in the front of the field. As expected, they had a lot of fun. I did a quick inspection of our trailer and took this picture: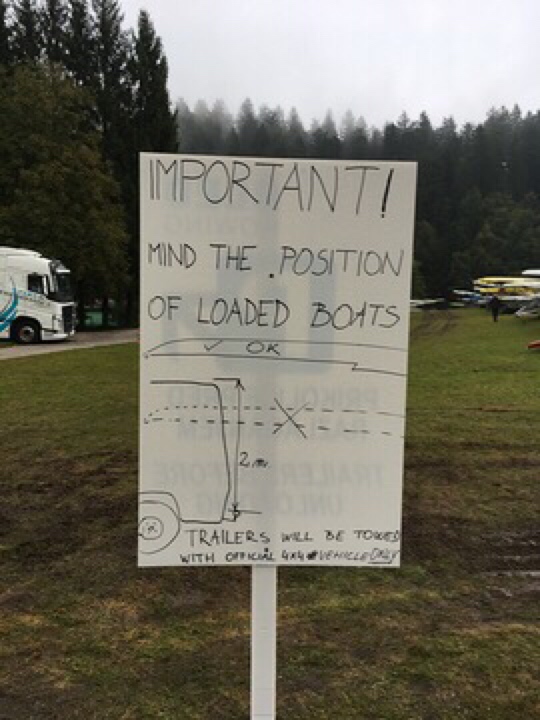 Around 10:30, the weather got worse. The light rain turned into rain, and later into heavy rain. Romana and I spent most of the time in the food tent, drinking coffee and eating donuts.
Then, it was time to go. As Romana had already raced, her warming up routine differed from mine, and I really didn't fancy running in the rain. So I made a change. After changing to race gear and dropping my back at the luggage drop off, I headed to the erg room, upstairs in one of the buildings in the rowing center. I jumped on a RP3 erg and rowed for ten minutes. I had no feedback on how hard I was rowing, but my routine was simply ten minutes row with a few speed bursts in the final five minutes.
I do like the feel of the RP3. Definitely closer to on the water rowing than the static Concept2 erg. I enjoyed going higher rate and having the direct start of the drive, as opposed to the sloppy catch on a static C2. I even slightly started wanting to own such a machine, but I then reminded myself that I was going to put my money on on the water related gear. I also feel that a C2 on slides is a decent alternative, with the added benefit of using a PM which makes resukts comparable with C2 ergs worldwide.
I took a glance at the C2 dynamic in the corner of the gym, but refrained from trying it out for a direct comparison.
I grabbed my umbrella and headed out, into the rain.
Some friends helped carrying our blades, and just before 12:00 we were on the water. It was raining harder. Luckily, our two loops of warming up kept us warm.
We were at the pre start about 15 minutes before our race time and waited. By now it was raining very hard. Martin and Jitka, a Czech Masters mixed double who we race on home races, were waiting in the same lane for the race after ours. Jitka is a professional fitness instructor and she does look like you expect a female fitness instructor to look. Including sun glasses planted on forehead.
Martin turned around, a big smile on his face, and asked me if we had a hairdryer in our boat.
"Jitka's hair has become wet. We do have sunglasses on board, but no dryer."
We were all laughing. The joys of mixed rowing.
Not long after that, we removed our soaked upper layer of clothing and tucked it away in the boat, where it would absorb the rain water that we had collected. Luckily, we didn't have to wait for our race to start, because it was chilly in just a uni and a shirt.
We were on lane 6 and we didn't know any of the other competitors.
We had a good start. I timed it right, starting the stroke exactly when I saw the starter lowering the flag (which you can spot earlier than hearing the sound of "go"). The second start stroke was not ideal but we were there and gaining speed fast.
In fact, after about 100 meters, we were in front, with only one boat level with us.
With 750 meters to go, Romana's killer instinct kicked in and she called for a set of power strokes. I rated up slightly (back to 36spm), worried if the pace was sustainable, and we started to pull away slightly from the boat in lane 2 (Abingdon/City of Oxford).
That gave confidence, so with 500m to go it was me who called for another power ten, and this time we were able to break them. I could see it from how they rowed. They were hurting and mentally accepting a second place.
All the while it was raining hard.
They were not far behind with 250 meters to go and we had to continue rowing hard and avoid mistakes in order to win, but passing the 250 sign I was starting to enjoy the row. Somehow our stroke had felt rushed for the entire race and I spent a lot of time worrying if I should rate down to go faster or not, but now I didn't care any more. Perhaps part of the rushed feeling was due to us being super precise at the catch and our stroke just felt fast and light.
All the while it was raining hard.
Crossed the line first! Yay!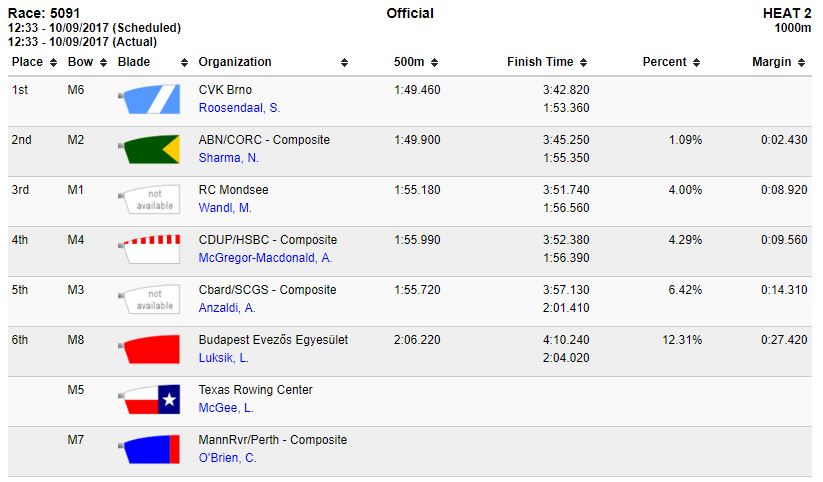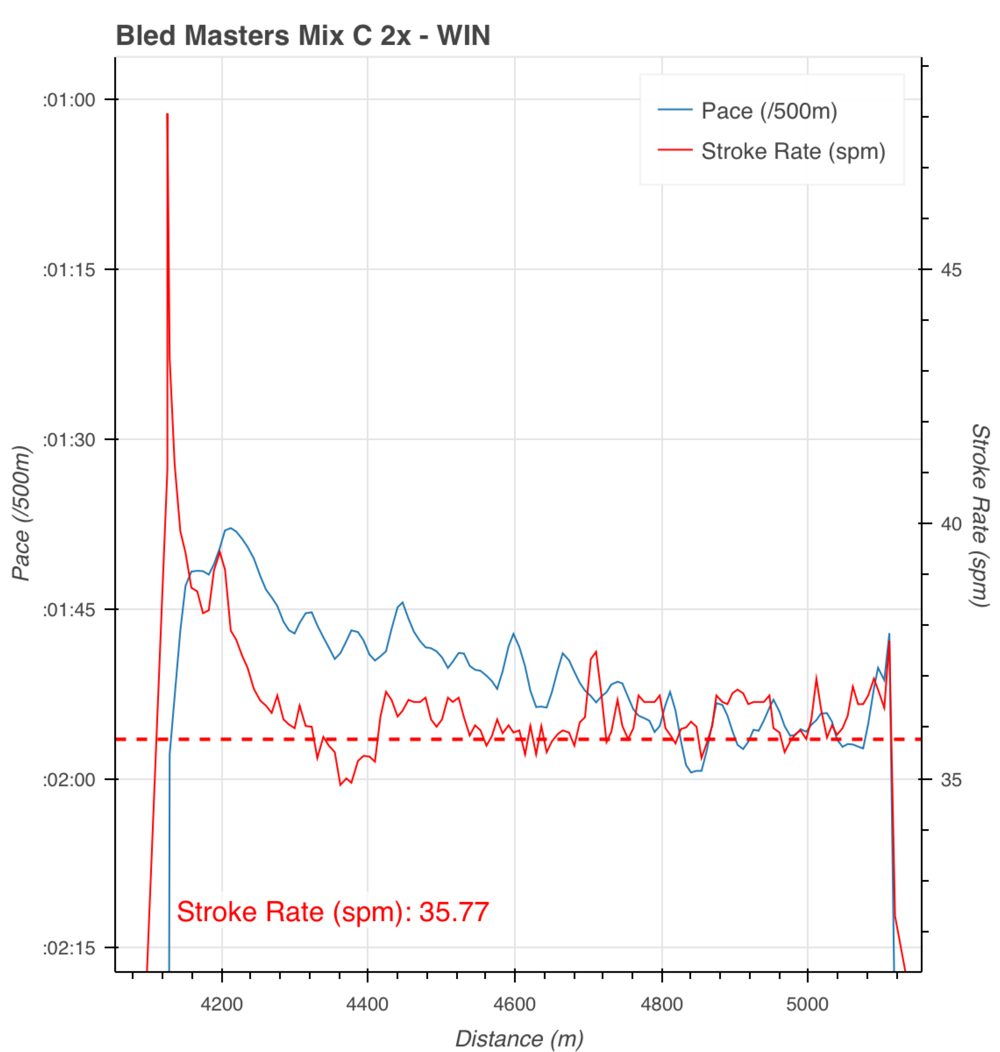 I had heard a comment at the rowing center earlier, from a multi-medalling rower, that mixed races don't really count, but I disagree with that of course.
We paddled to the medals ceremony dock where we met Míša and Petr, the Czech winners of the preceding race, and while we were waiting for them to get their medals, Jitka and Martin came by winning their heat by a very small margin. So apart from Karel and Vendula, who withdrew because of Karel's back problems, the entire Czech Masters mixed 2x crowd won at the worlds. Mixed rowing is popular here and taken very seriously, and it showed.
While we were getting our medals, an older lady from our club, Darina, was trying to master her smartphone and take pictures. I have seen the pictures and even commented that Darina is a hidden journalistic talent, but unfortunately I forgot to get the pics off her phone. So for now, this is the picture I have: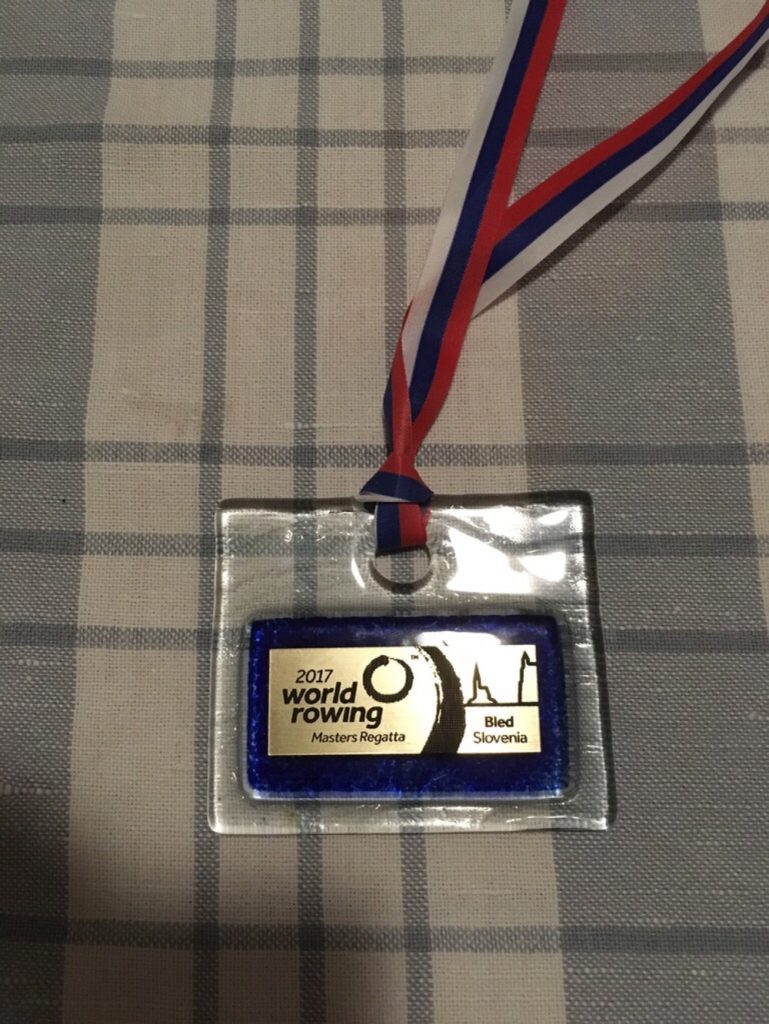 Edit
Got the pictures from Darina's phone.
Having received our medals, we paddled back to the rowing center, carried our boat to the end of the boat area (which was quite a challenge in the mud) and put the boat in slings. Our club members volunteered to prepare the double for transport, which was great because I was shivering by now.
I hurried back to the luggage area, where I received congratulations from our French friends, and then changed into dry clothes.
Then I went to the parkking on top of the hill to get our minivan, which had been parked on this muddy meadow for five days. I did make a mistake there. Instead of driving forward, over the sidewalk, onto the road, I backed up and tried to drive across the muddy field to the official exit of the parking. About half way, I got stuck in the mud and couldn't move the car any more. I talked to the guy in charge of the parking and he was great. He called a friend with a tractor, which arrived about ten minutes later. Just enough time for me to read the manual and find the towing eye.
I got to the end of a long queue of towing cars.
About two hours later we were seeing our trailer.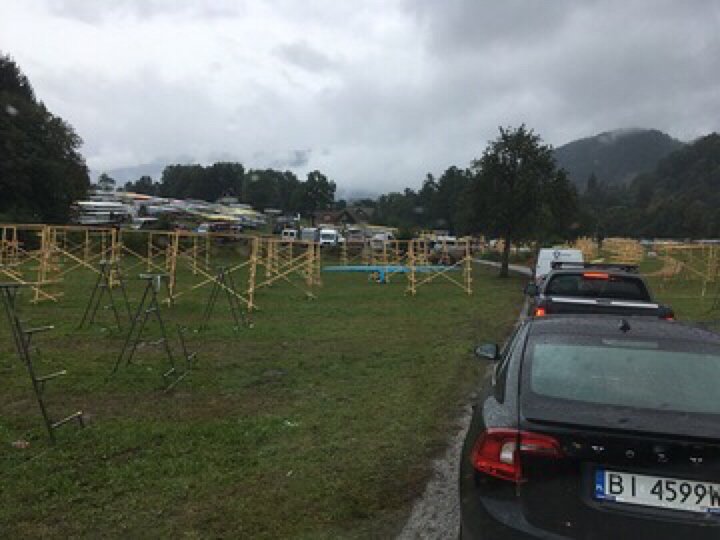 The issue was thst the trailers were on an extremely muddy field and the organizers had only one 4×4 and one tractor to tow. So it took about ten minutes per trailer. Some people had their towing car in line but their trailer wasn't ready, causing more delays. We spent three hours in the queue. At 6pm, we departed to Brno.
We arrived home at 1am, after a long, rainy, but otherwise uneventful drive. I was in bed by 2am.
It was worth it. It was a great regatta. I am proud of my two second places in the single. Not bad for a skinny guy like me. I am extremely happy with the mixed double medal. And I had a great time talking to all the people interested in rowing data. I met s jolly bunch of Frenchmen and got to row the eight. We had very good dinners in the local restaurants and great eveningss at the Bled promenade.
This week
No rowing far. On Monday evening, we unloaded the trailer in the rain. On Tuesday I had to work long, and on Wednesday I left for a two day business trrip. I am typing this blog post on the international train Vienna – Warsaw. Tomorrow, I will start fall training.
Edited with BlogPad Pro
Follow me in social media