Apr 27 2017
Wednesday is our Masters evening. Of course the Masters rowers of our rowing club do more trainings, but on Wednesday at 6pm we gather and row in the eight.
On this particular rainy and cold Wednesday evening, the turn-up was 5 rowers, and a sixth one called us at exactly 6pm, saying that he was "just now" leaving office. That office being just 45 minutes away in the peak hour traffic. 🙁
To at least do something that resembles rowing in an eight, we decided to pick a coxless four. The fifth guy decided to stay on the erg and wait for the sixth guy.
I rowed in bow seat, and the rest of the crew consisted of Martin "Krocan" (=Turkey), Petr "Bulda" (=Bulldog) and Michal "Míša" (=Bear). So we had a rich representation of the animal kingdom.
The boat was an old Empacher 4-, and we lost 15 minutes because we had to replace the shoes so that Bulda would fit into the boat.
I didn't really fancy rowing on the bow seat, but I guess being the lightest of this crew (with 75kg, compared to Bulda's 113kg), it had to be me. I like practicing my sweep rowing, but it takes more of my mental effort to do it well, compared to sculling. You can imagine that I did not have the need to also turn around every few strokes and scan the lake for upcoming traffic. Well, so be it.
All our boats are foot steered from the stroke position, so at least I didn't have to do the steering. And Míša is one of our rowers who can steer our lake with a blindfold, so the course was always right and I just had to watch out for the traffic.
This was a technical training, so we did a lot of drills.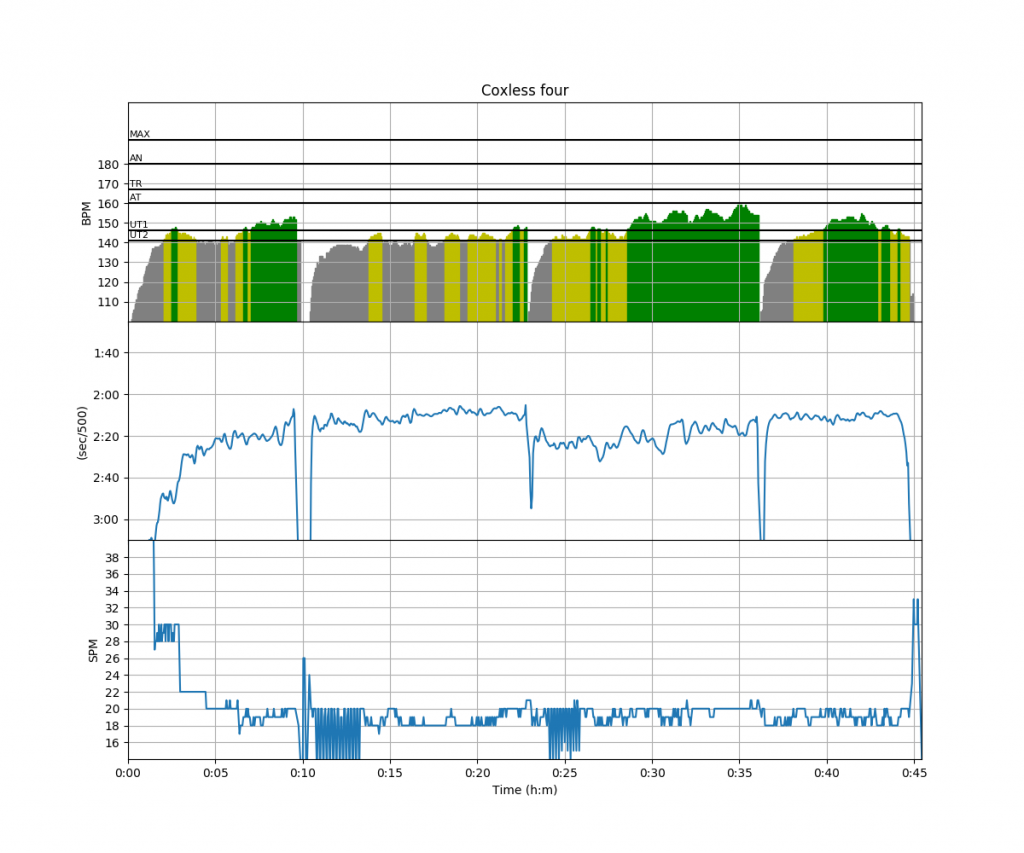 Some of the drills involved rowing with stops at various places. You can see that the SpeedCoach didn't really understand that.
It was cold and rainy, but we did make a lot of progress during this short outing. It was fun to row something else than a single, and it had been a long time since I last rowed a coxless four.
Follow me in social media