Jan 15 2017
Friday
It was brought to my attention that there is a speed skating club in Brno, and I started exchanging some emails with their trainer on sharing the work to sweep speed skating ovals on the Brno lake. So on Friday afternoon I left the office a bit earlier and joined them on the ice, in front of the "Lodni Sporty" rowing club. I changed clothes at my own rowing club (CVK Brno) and ran the 1km across the ice in running boots.
Their oval was a bit shorter than mine and with a bit tighter turns.
The turnout wasn't too big. I was there. The trainer was there, and two girls aged 4 and 6. But it was fun. I did my loops and we even did a race with the two girls. Three loops. I came in last, unfortunately. 😀
The "trainer" turned out to be the father of one of the Masters rowers at our club. Before retirement, he had been the sports redactor of one of the main daily newspapers, and now he has started to help out Czech Speed Skating.
It was nice, but it was a bit claustrophobic doing all those loops on that tiny oval.
Saturday
So for Saturday, I chose the cross-country skis. This was the normal "Saturday 10AM run" with the rowing club, but we turned it into a classic cross country training.
I am much slower using classic technique, and I did a lot of back and forth ski running because I skied part of the training with my youngest son Robin. He was learning to ski, and made good progress. There were a few falls, of course, but he was determined to ski to the place we call "Rokle" and back. So he did about 4km where I did 9.5km in 1h15.
Strava log and (fun to watch) Strava Flybys.
I like to look at the flyby map. It shows how many people were out on the lake.
Here's a picture of my son at lunch, after his successful first 4km run.
His cheeks were nice and red.
Sunday
XC skiing again, but this time using skating technique. My sons Dominik and Robin played ice hockey in front of the rowing club and Romana and I set out to ski towards the castle and back.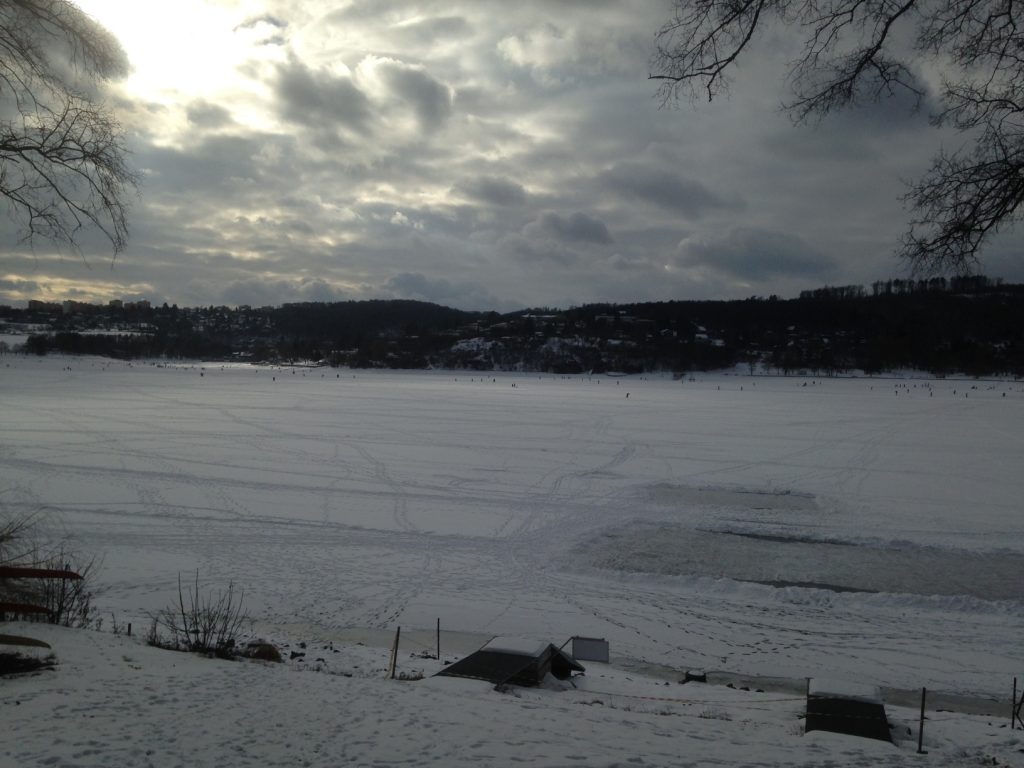 As you can see from the picture, with the temperatures slightly above zero, the ice quality is starting to degrade.
From the club, we used classic technique to get to the "Main Street". From there it was skating all the way to the castle and back. It was pretty busy, as you can also see from the Flyby Strava chart.
It took us an hour to ski to the castle and back, but after three days of skating and skiing, that was just enough. Skiing is hard work.
It was a nice distraction from the erg, but now it's time to go back to rowing specific training.