Jan 8 2017
A lot of snowfall last night, and I didn't want to clear my "Olympic Oval" of snow again, so instead of the ice skates, I took the XC skis to the lake today. We were Romana, Dominik, and myself. Son Dominik had hockey skates and called a few rowing friends of his age. Romana and myself had X country skis.
At the rowing club, we found that a few more rowers had the same idea! And because Ludek had a phone, I have a few pictures. I think they tell the story pretty well. It was great.
The skiing was great. It was a bit slower and a bit heavier than on prepared tracks, but it was fun to run where I normally row.
Going back and crossing the lake, I even felt a bit disoriented, because I didn't have the normal "looking back" view that we rowers are used to. We look at where we come from, and check where we are going only occasionally.
After that we had a tea party at the club house and watched biathlon together.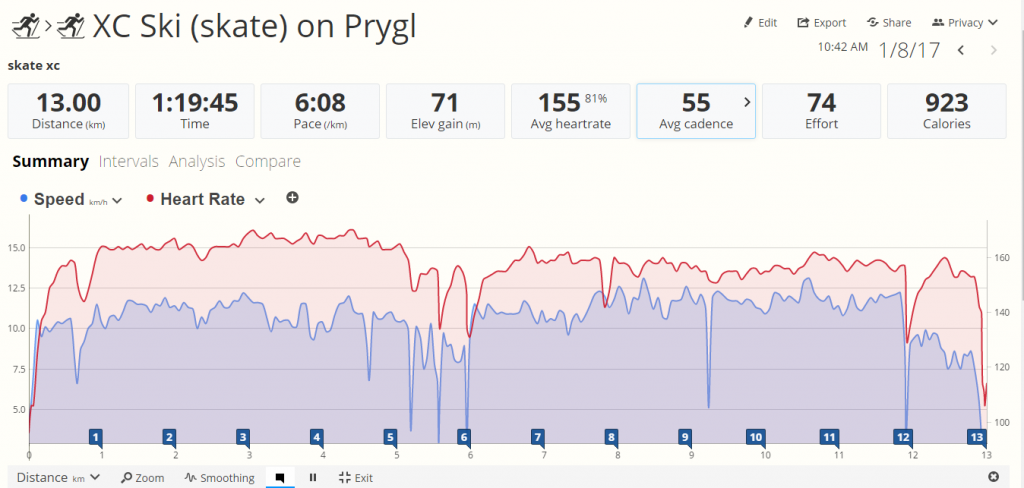 Looking at the summary in SportTracks, I think it was a pretty good steady state workout.
Strava link and I also like the Strava Flyby viewer showing how many people were out enjoying the winter today.