Dec 11 2016
We had a social event at the rowing club yesterday evening, the annual December party for the parents of the kids, combined with the official publication of the new Nude Calendar 2017 that our elite men made. It was a fun night. I believe that we decided to do a "nude rowing parents" calendar, and I hope everybody realizes that we were just kidding. As usual in this day and age, the photos are already on the internet:
This slideshow requires JavaScript.
Woke up with a sore throat. I guess the party didn't help.
Well, it gave me an excuse to take it easy today. I did a 1km warming up and then dialed up a 10k. That would just bring me over the threshold for the Concept 2 Holiday Challenge: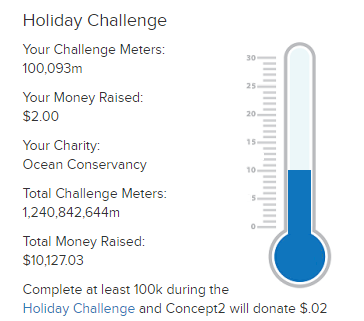 Concept2 will donate for every km rowed.
The row itself was fun. I let the stroke rate figure out itself and fell into a 23spm groove. Heart rate stayed low, so I guess I cannot use my man flu excuse any more.
This slideshow requires JavaScript.