Jul 25 2016
Sunday
No training. Well, a sort of strength session. We had some work to do on the rowing club. The work consisted of stapling a big mountain of interlocking concrete tiles on pallets. The reason why we needed to do this is a long story that goes beyond the topic of this blog. After three hours of work in 30 degrees we had 23 neat pallets of tiles. At the cost of a few members' backs.
The dive into the lake was ever so refreshing. So was the cold beer.
Today, I was supposed to have a rest day, but I had to go to the rowing club anyway, because a guy from another club was bringing two boats. My trailer seems to be the only Czech trailer going to Munich. We loaded the boats on my trailer and then we chatted a bit about Munich, and about the Olympics, and the upcoming changes in rowing Olympic disciplines. It was interesting to listen to this guy who is the president of the Czech Rowing Federation.
By the way, if any of my readers wants to row a quad with three fast Czech guys, including the guy I just talked about, let me know. We're in for a quad. The caveat is: You have to bring the boat. 🙂
Then I went for another ultra-short workout. In these last two weeks I am cutting back on the volume. Today was the "small pyramid" workout, in the single. The weather was extremely humid and hot with a threat of thunderstorms, but almost no wind during my outing.
After 3km of warming up I did the small Pyramid on the straight 2km.

Workout Summary - media/20160725-163344-2016-07-25-1621.CSV
--|Total|-Total-|--Avg--|Avg-|-Avg-|-Max-|-Avg
--|Dist-|-Time--|-Pace--|SPM-|-HR--|-HR--|-DPS
--|07409|39:55.0|01:59.4|29.5|148.7|163.3|09.4
Workout Details
#-|SDist|-Split-|-SPace-|SPM-|AvgHR|MaxHR|DPS-
01|02927| 15:42 |02:41.1|18.4|125.0|139.0|10.1 warming up
02|00094| 00:20 |01:45.0|33.3|116.0|142.0|08.5 20" @ 36spm - from standing start
03|00183| 00:40 |01:48.5|33.3|166.0|173.0|08.3 40" @ 34spm
04|00271| 01:00 |01:50.0|32.2|172.0|177.0|08.5 60" @ 32spm
05|00174| 00:40 |01:53.5|33.5|165.0|172.0|07.9 40" @ 34spm - wake
06|00097| 00:20 |01:39.9|37.1|162.0|169.0|08.1 20" @ 30spm
07|03663| 21:13 |02:53.7|18.9|135.0|171.0|09.2 cooling down

During the second 40″ interval I had a choice between trying to sneak in front of one of the big tourist boats, or to adjust my course and go behind him, rowing through his wake. I couldn't really judge well if I was going to make it in front of the boat with a comfortable safety margin, so I chose the safer option. Rowing through the wake slowed me down of course. Otherwise I am quite happy with the paces, especially since I was rowing them with a nice "light" stroke.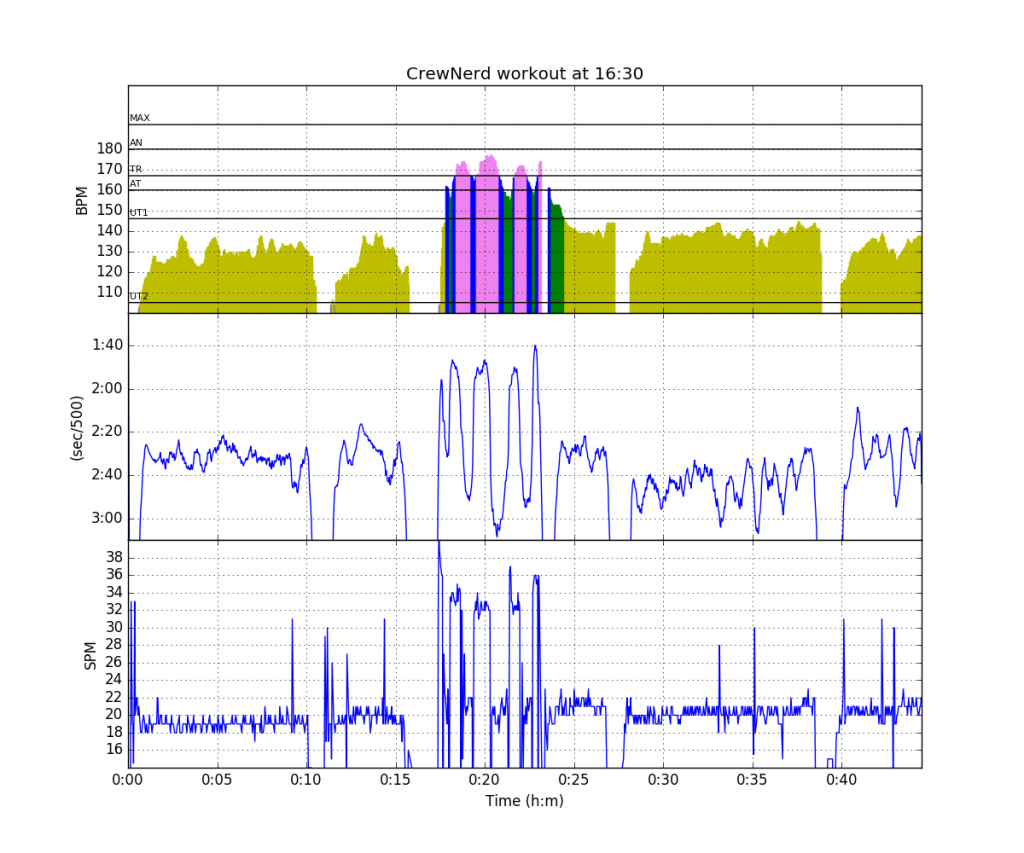 The summary data above are from CrewNerd. I am not sure how it calculates average SPM, but looking at the plot below I do not agree with the 33spm it reports for the first interval.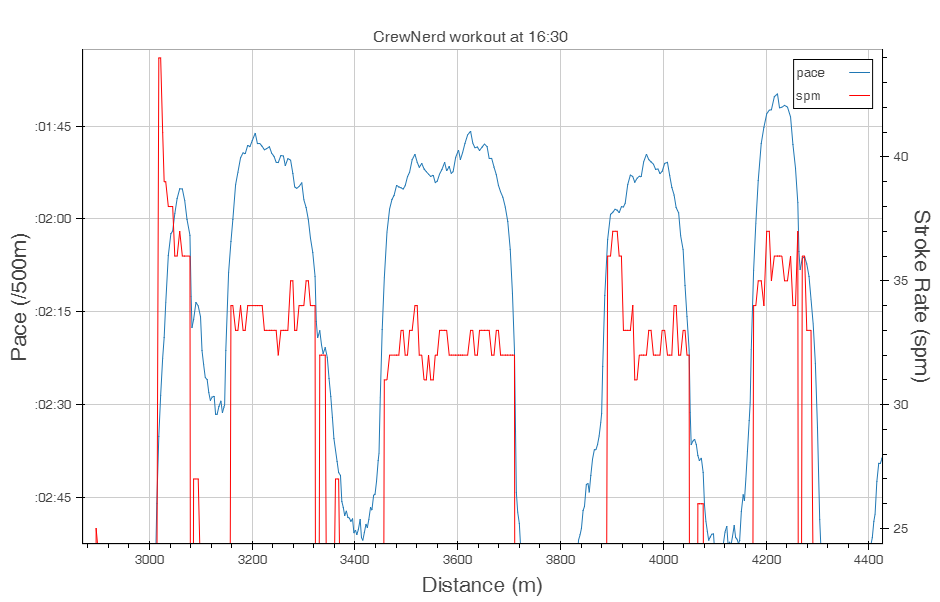 Follow me in social media