Jul 18 2016
Masters C 2x
So I ended the Saturday blog by saying that Kazi and I took the double for a quick row and we were flying. Rowing Nirvana. The right stroke. The right rhythm. Microsecond timing precision.
It was noticed. And we were proclaimed the favourites for this Masters C 2x race, by all our friends. Talk about putting on the pressure.
I wasn't so sure. We were up against an unknown Polish boat. I saw them row the mixed quad on Saturday and was impressed. They rowed effortlessly, and won by a very big margin. One of the guys was just a second slower than me in the single. Also, I had very strong suspicions that this is the Polish mixed quad that beat us in Hazewinkel. Checking this now and confirmed. It's the same guys. See here. So the men from that mixed quad would be rowing against us.
The only problem was that they didn't show up at the start. The umpires called them. We waited 5 minutes for them. Then the umpires decided that it was too late and we were started off, only three boats.
Our rowing was far from the Nirvana experience of the previous evening. We were in front, of course, but struggling to keep Olomouc (Polasek/Brazda) behind us. They kept doing pushes to come next to us. In vain.  A 10 stroke push at the 500m got some light between the boats and we rowed the final 500m in relative comfort.
Won. A gold medal! And looking at the results, our time was not half bad. Wait, what are those Polish guys Szczepaniak and Bednarek doing among the B rowers (race 1403)? We asked them after the race. The explanation was simple. They hadn't attended the representatives meeting and were unaware that our race was moved to an hour earlier. They found out 10 minutes before the scheduled start and came late. They went to the race organization to ask and were allowed to row in the B race. They won with a big margin in a time that is comparable to ours.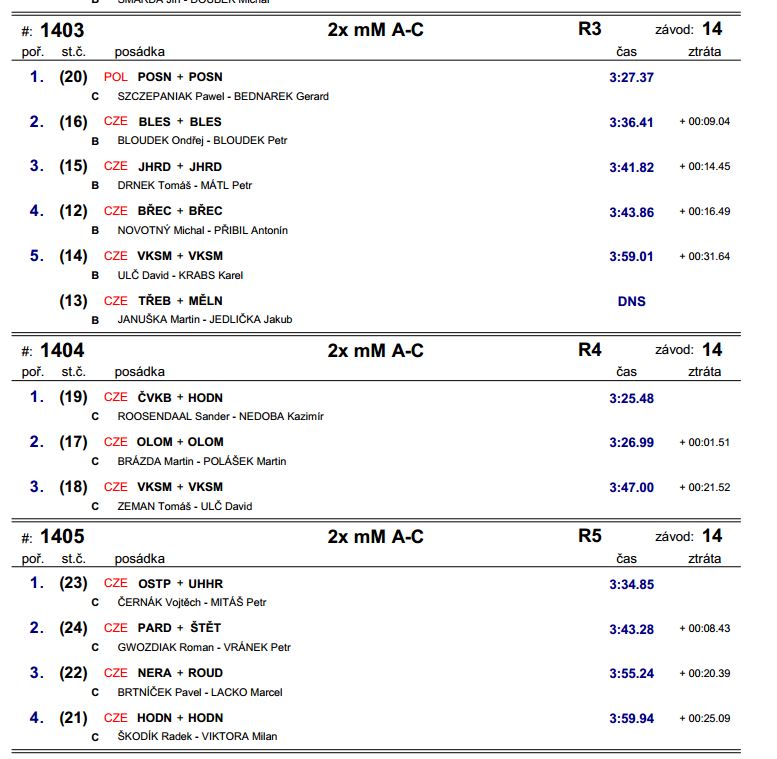 Mix Double 
Talking about pressure, the pressure on us for the double was nothing compared with the pressure we felt for the Mix 2x. Romana and I were the defending champions. Most of the doubles competing in this race are couples, which means that this is a race that is discussed long after the event.
Although we were the defending champions, we were not the favorites. Petr Mitas with his doubles partner Jitka Masatova were. He's the muscular guy who beat me by 9 seconds in the single. She is a fitness trainer from Prague. Other strong participants were the Cernak's from Ostrava (husband and wife) and Pardubice/Olomouc (which will soon be Olomouc proper, because Karel will move and he will live together with his beloved Vendula in Olomouc). Romana's double partner Slavka with her younger doubles partner (but only that, not a couple) were strong outsiders, and on a good day even Neratovice could go fast (not sure about any relationship between Mr Tockstein and Mrs Chovanakova).
We were quick out of the start and executed our race strategy of a very strong opening 15 strokes.That brought us in second position. The good news was that we were not far behind Mitas/Masatova. The bad news was that Karel and Vendula were on our heels.
Still  we rated down a bit and tried to save some energy for what we expected would be a very tough second half of the race. With 500m to go I didn't like how close Karel and Vendula came so I called for a 15 stroke push. This push had an interesting result. Not only did we row away from Karel/Vendula as if they were standing still (and we probably broke them at that point), also did this push bring us in the leading position, a few cm in front of Mitas/Masatova. We didn't know that at that time, but spectators told us.
Mitas and Masatova stepped on the gas and soon they were in front of us. I didn't dare to look too often. We were rowing in lane 2, with Mitas and Masatova over in lane 6. Passing the club house I took up the stroke rate a little bit and with 200m to go I really started to push. Unfortunately, also exhaustion started to play a role …
We finished second. A bit more than a boat length behind the winners. But Petr told me later that we scared the hell out of them and he had rowed the second 500m full out to stay ahead of us.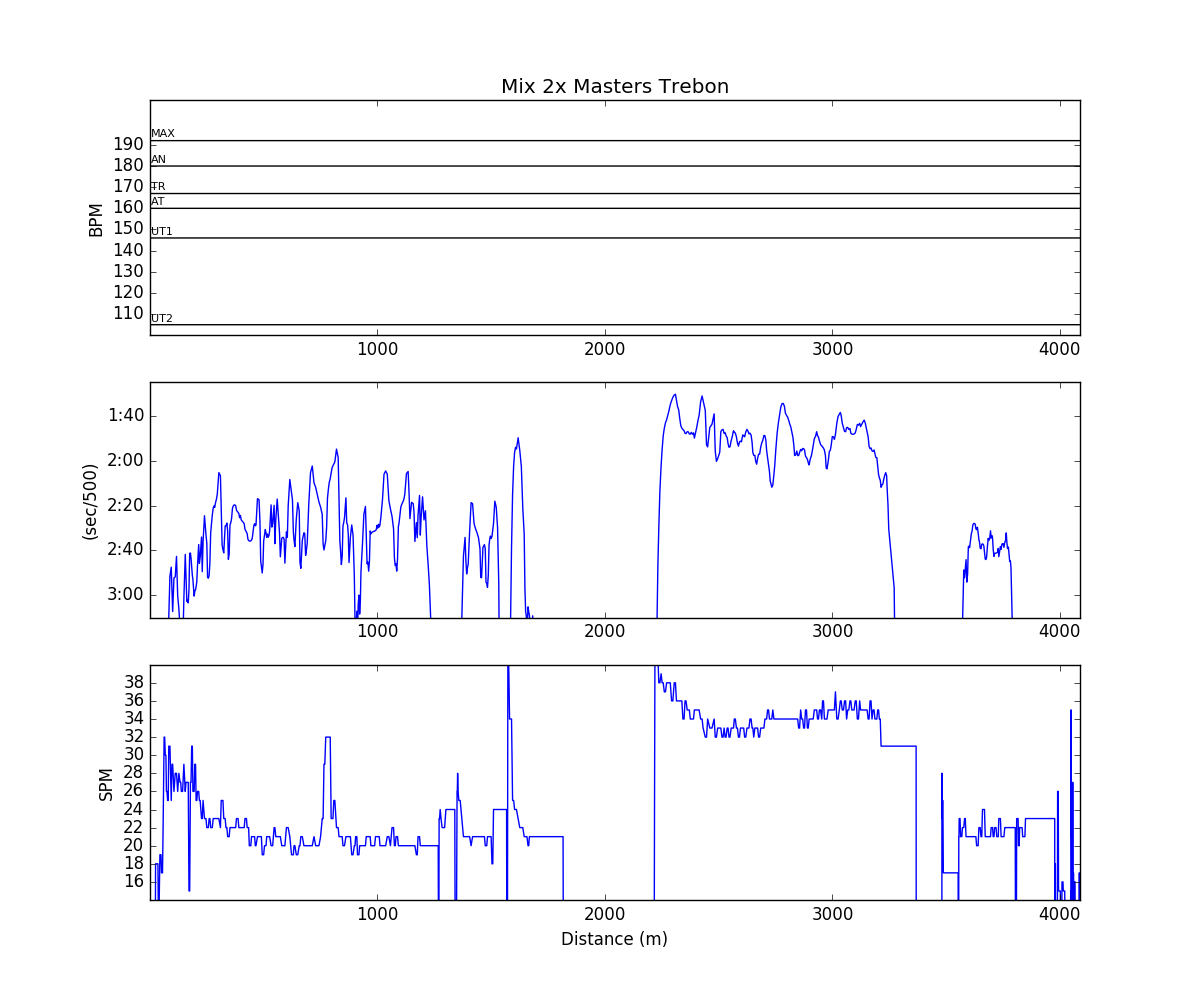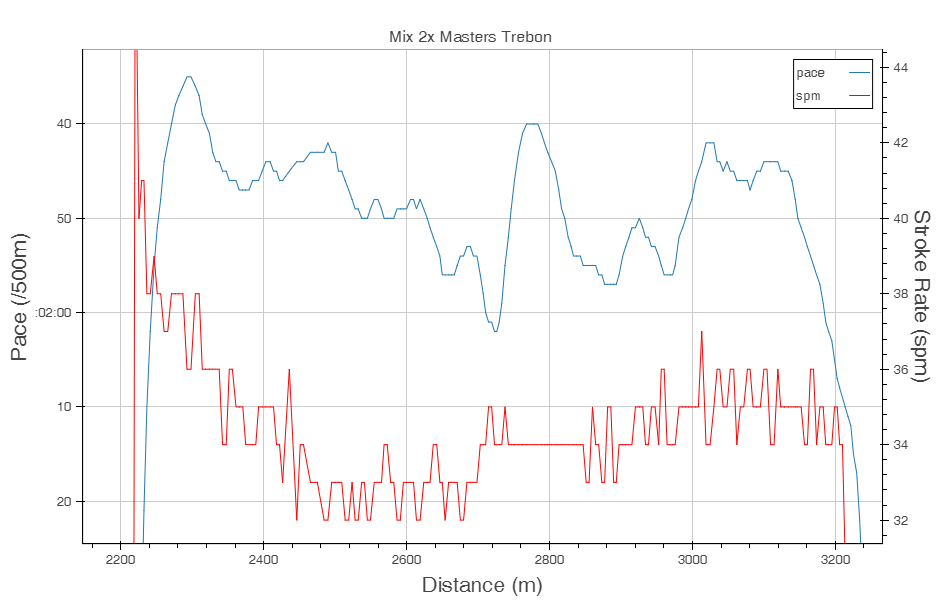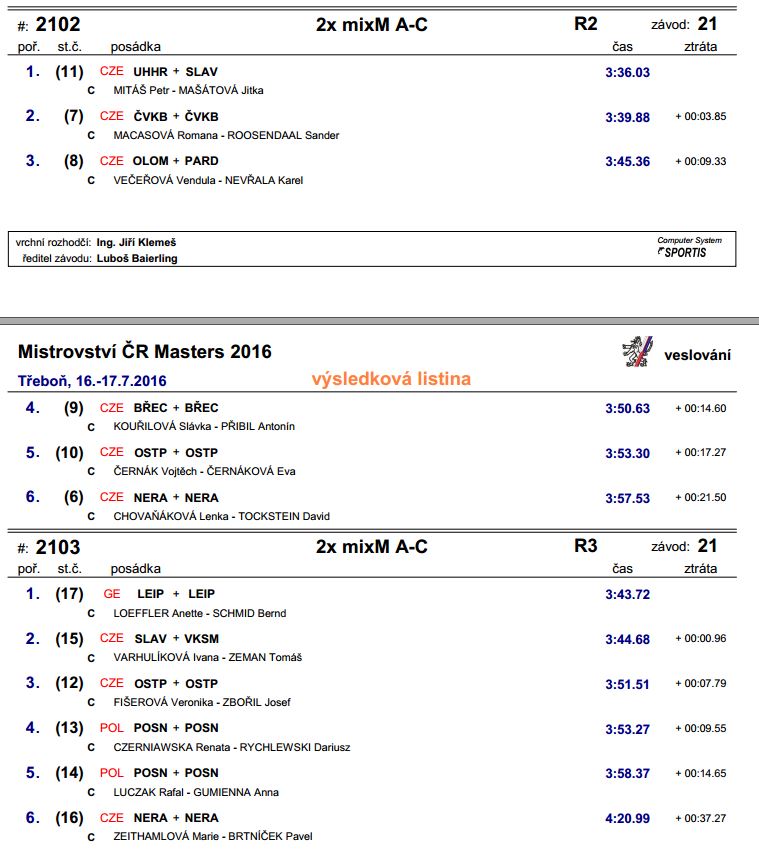 I am also happy that we had a faster time than any of the rowers in the second C race, with all the international participants.
Masters B eight
After the mixed 2x, I spent about 30 minutes lying in our event shelter tent, and then it was time to launch the eight. You can imagine I was pretty tired by now, but this was our revenge race against Blesk of Prague. See this blog post.
In Radek, my "other double partner", we had a newbie cox. We told him to just keep talking to us. Count. Give information about the other crews. We had a detailed race plan which involved a push around the "water slide" (before the 500m mark) and a "strong last minute".
We also had the determination to not let Blesk pass us.
Eight races are very emotional events. Fourty eight people lined up at the start. Lots of adrenaline. Big boats that take a while to get up to speed, so the start seems to happen in slow motion. High stroke rates. And, with masters rowing, lots of water splashing about.
Hysterical coxes.
Side wind.
Anyway, we were out of the start well and the first part of our plan worked. At 700m to go, we were half a length in front of Blesk. The bad news was that there was another boat in front of us. And more bad news. The half length lead was shrinking.
We did our push which we executed very well.
I had no tired feeling. All of us were just rowing in a trance.
We managed to increase the lead slightly.
Then it was just a struggle to stay ahead of them. We managed and I got another silver medal.
Overall, this was a super weekend. Four silver medals and one gold, out of five races.
My legs are very very tired today.