Jul 19 2016
So I took a rest day on Monday, just as I was used to from my pre-Masters rowing career. Just went to the rowing club to unload the trailer, get all the boats ready for rowing and chat about the races.
For this Tuesday morning, my training plan prescribed 30″ on / 30″ off speed work. To paraphrase Amy Winehouse:
"They wanted to make me do speed work. Body said no, no, no."
I knew it when I was driving to the club, I knew it when I carried the boat to the water, and I knew it for 100% when I did the warming up.
So I decided to do technique work in steady state fashion. One stroke at a time. Perfect stroke. Next perfect stroke. Not so perfect stroke. Try to row next stroke perfect. Repeat.
Recovery from a heavy racing weekend takes time. And a sound training plan should take into account the different recovery times needed for different types of exercises. Sprinty speedy stuff needs more time to recover from.
And Masters rowers need longer recovery than Elite rowers, I guess.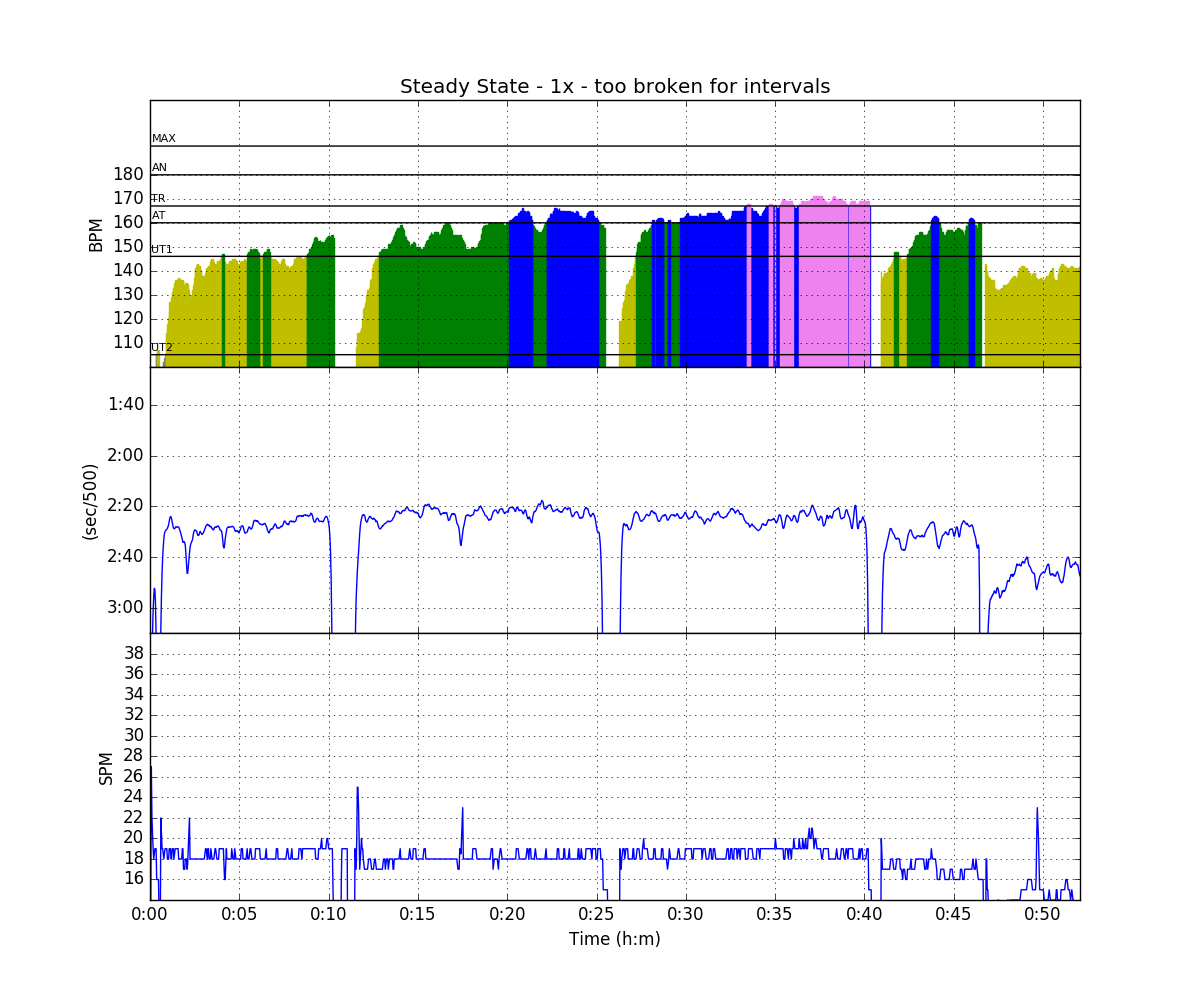 Workout Summary - media/20160719-205521-2016-07-19-0709.CSV
--|Total|-Total-|--Avg--|Avg-|-Avg-|-Max-|-Avg
--|Dist-|-Time--|-Pace--|SPM-|-HR--|-HR--|-DPS
--|09953|51:29.0|02:35.3|17.8|151.0|171.0|10.9
Workout Details
#-|SDist|-Split-|-SPace-|SPM-|AvgHR|MaxHR|DPS-
01|09953| 51:29 |02:35.2|17.8|151.0|171.0|10.9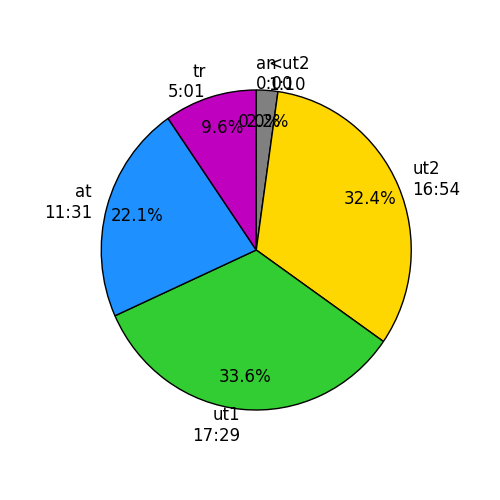 I ended up pushing the heart rate really high, because apparently today "rowing perfect strokes" resulted in rowing high pressure, low stroke rate. I am not saying this is ideal, but that is how it went.
I will have to reshuffle a few trainings in my plan for this week. So tomorrow will be the 30″ on / 30″ off, Thursday a recovery row, Friday 40″ on / 40″ off, Saturday recovery row and Sunday Speedy Fartlek. Hopefully, Friday in the double with Romana.
Rowsandall.com
With the OTW Physics calculations done, I thought I would let rowsandall.com stable for a month or so. However, the need to process my own data of last weekend's races forced me to add a new feature. An interactive plot where you can pick your own y axis parameters. So you can plot both HR and SPM against time or distance, or Pace and SPM, Pace and HR, etc.
And, finally, I stumbled upon forecast.io which featured a free API for historical weather data and aggregates data from many sources, among other Dark Sky's "hyperlocal forecasts", data from The USA NOAA's NEXRAD system (USA) and the UK Met Office (UK),  the Norwegian Metereological Institute (which has actually very good data across Europe), as well as METAR data. Forecast.io has a very easy API so it was literally one boring meeting to implement a functionality that looked up the wind speed and bearing at the time and location of the row.
METAR data are taken at 10 m above ground. I was thinking if I need to apply a Hellman coefficient to get to the wind at 1m above ground, and what Hellman coefficient to take. For today's row, forecast.io wind data (using METAR from LKTB, the local airport), was definitely higher than the very light breeze I had. I measured my wind to be 0.7 m/s. The forecast.io data said 1.7 m/s.  Same difference when looking at the data for last weekend. That looks like a Hellman coefficient for neutral air above human-inhabitated areas is a good approximation. It's just a tool to get some initial data. Better of course to measure wind speed directly.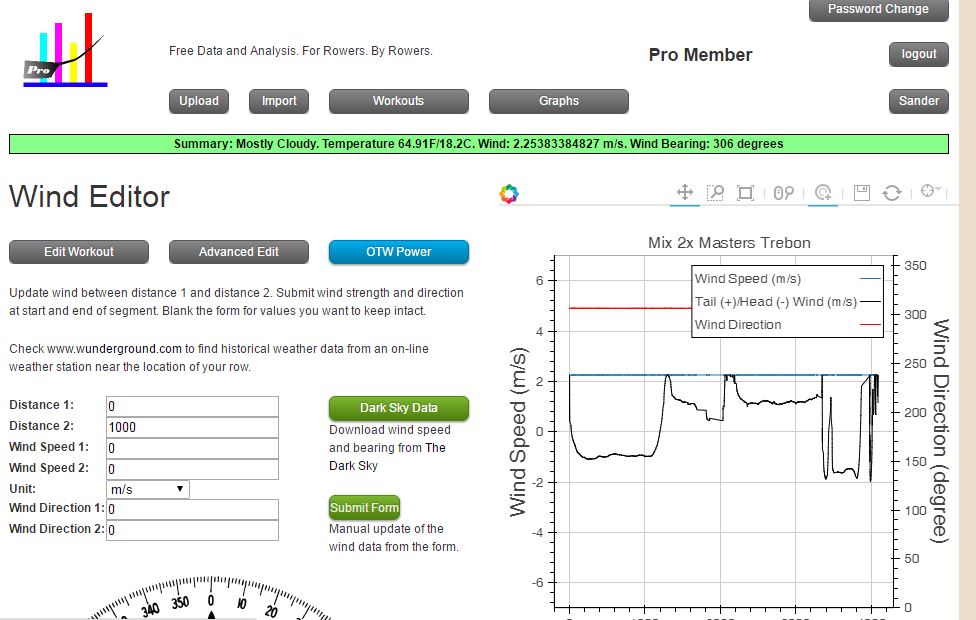 Finally, a video that talks about using big data in rowing:
And finally, I have ordered my SpeedCoach GPS 2 with Data Pack. I am getting it in a week and a half, at the Munich Euromasters regatta.
Follow me in social media