Jun 13 2016
Saturday
Heats day of the Morava races, which are regional races. These races are quite important as they are qualifying races for the National Championships for the 11 to 18 year olds. The races are being held on our lake, so no transport needed this time.
We headed for the lake in the morning. As we were going to sleep at the club and stay for the whole weekend, it took some time to get everything in and on the car, including two bicycles and  a lot of food.
I spent the morning preparing my blades for a paint job. There is the new pair of sculls which must be in club colors before the Masters Nationals. Also, one of my old pairs were painted in a rush. By yours truly, I have to confess. I didn't sand and clean them throroughly before painting, with the result that that paint gradually begins to peel off. This time I was prepared to do the job thoroughly. So I spent more than an hour getting the old paint off those blades, then sanding and cleaning them. Then I discovered that the club was out of the blue paint so I had to hop on the bike to get some new paint. I am happy to report that at the end of the afternoon I had two pairs of nicely painted blades. The only thing is that the paint slightly darkens when it ages, so my third pair is a slightly darker tint. It is either the darkening effect, or the fact that our club is not entirely sure about the right shade of blue that is our club colors.
We do have it specified, mind you, but in a pre-WWII paint numbering standard which is not used any more, and nobody is able to convert it for us. So RAL 5015 it shall be for me.
By then it was time to fire on the barbecue. The girls were out in a quad and I wanted to go for a short row in the single, but my blades were drying and I was responsible for providing dinner.
After dinner, we made a camp fire and had a good time sitting around the fire and chatting. I had no heats, but the kids had done well. My son Dominik had managed to get into the A final on the single (which meant he was qualified for the Nationals) and daughter Lenka and her double partner Iva had done the same in the double.
At 10:30pm it was time for the fireworks.
There is this fireworks contest in Brno. It's held every year in June and the fireworks are done from a big pontoon in the middle of the lake. From the dock of our rowing club you have the best view of the show.
So we tuned the radio to the station that broadcasted the music to the fireworks show and watched. This year it was really great.
Sunday
Woke up to the sound of birds singing. Breakfast at the rowing club. In the morning I spent some time doing work, but then it was time to get ready for action.
My first race would be at 15:18, so around 1pm I hopped on the bike and cycled around the lake to the Lodni Sporty rowing club for the weigh in. I made 72.2kg with shoes on so no problem there.
The problem was that there were only four LW 1x rowers in that final. Three of them aged 18 to 25 and fast scullers. And me. From our club there was Lubos, who I have occasionally been a sparring partner to, who is trying to get to the U23 Worlds in Rotterdam in the LW2x. Then two guys from Breclav, a Mr Susky who has aspirations as well, and a Mr Rampula, who is unpredictable but can be fast.
Trying to relax before the race, I decided to take it as a time trial and just row a good time. During the day, the light tailwind had turned into a light headwind, so I wasn't sure what to aim for. Kleshnev predicts a 7:40 2k in neutral weather based on my erg results, but I take that as the ultimate achievable, not as the mean for 7:40 scullers. Based on recent trainings, I thought that under 8 minutes would be a good target. Actually, I have never rowed under 8 minutes on this lake.
In hindsight, I think that the most important decision was to take it as a time trial and ignore the other rowers.
Arrived at the start. Light headwind, still. Set CrewNerd to 2000m and Auto-Start and prepared.
I started off well, but of course started to fall behind the young guys already in the first 500m. But I kept going at 30spm, trying to focus on technique, and getting over the waves as well as possible. When I say waves, I am not talking about chop. I am talking about long standing waves caused by the boat traffic on the lake. These waves really have the ability to throw your balance off, so it is important to stay relaxed and react to the movements of the boat.
By the 1k mark I was rowing about 3 lengths behind the number three, Mr Rampula. I was hoping that Lubos was taking over the lead from Mr Susky by then but I didn't know. Three singles lengths behind. That didn't really bothered me, because I noticed on CrewNerd that I was rowing under a 2:00 pace per 500m and I knew the first 500m had been really fast.
The third 500m wasn't the best. I saw a couple of strokes at a 2:06 pace, but I managed to get back to 2:02 and lower. Then, with 600m to go, I noticed that I was closer to Mr Rampula than I thought. I rated up slightly and started to chase him.
Probably Rampula had gone out too fast, wanting to play with the big boys, and was now paying for it. Anyway, I gradually managed to close the gap and with 250m to go I was half a length behind him.
By now I was really in problems. I was breathing very heavily. Counting strokes. But the fact that I was on Rampula's tail kept me going.
He managed to stay in front of me. I passed the finish and collapsed, just barely noticing that CrewNerd was still counting down and only stopped 20 m after the real finish line. I guess that's the problem with GPS measured distances.
CrewNerd stopped counting at 8:06 but I hung around in the finish area and listened to the announced official times. I had managed 7:59.06 and I was very happy with that. Actually made a proud fist punch gesture to celebrate. That must have seemed strange from the grandstands. Comes in last. Is happy. 🙂
And here is how I suffered to achieve this. I am not 100% sure about the immedate jump to "red" heart rate values after the start. The data seem to have a strange plateau there. Need to look into that. Otherwise, though, the picture is true.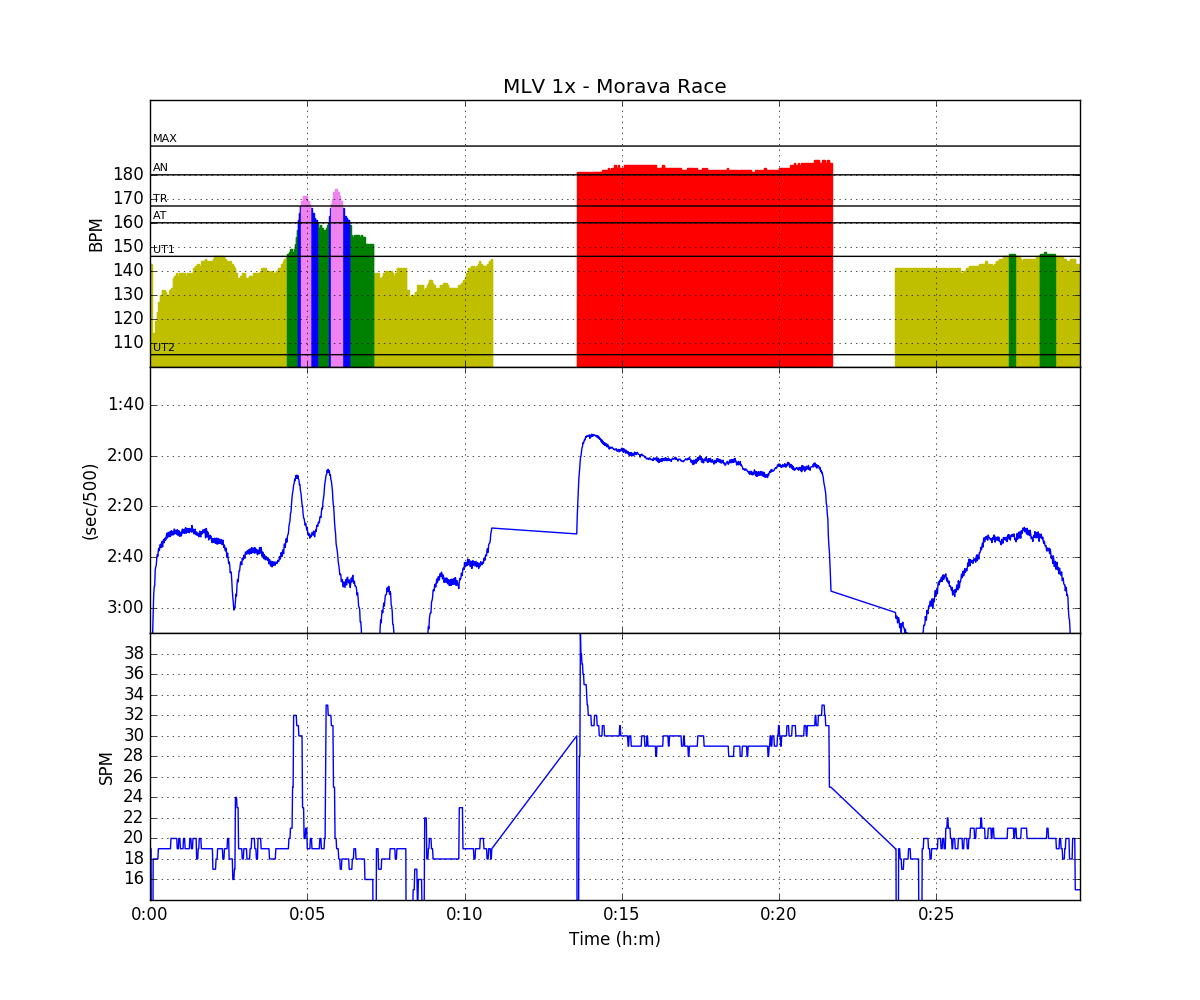 After that, I had about 2 hours to recover and get ready for the eight. Of course that wasn't to be. And worse, there were more rowers in our Masters eight who had done one or two races before that day, so we ended up in third place, beaten by our Elite crew and by a mix of Juniors/Masters/Elite from Lodni Sporty. We managed to leave our club's historical eight behind us. 🙂
And here are the pictures …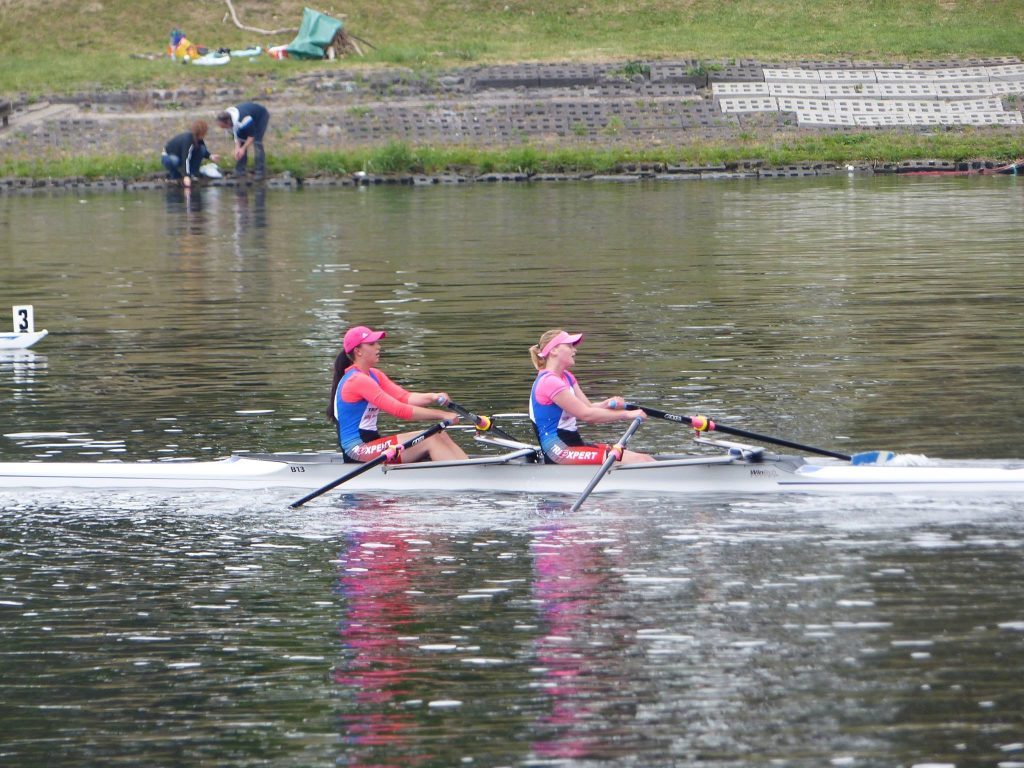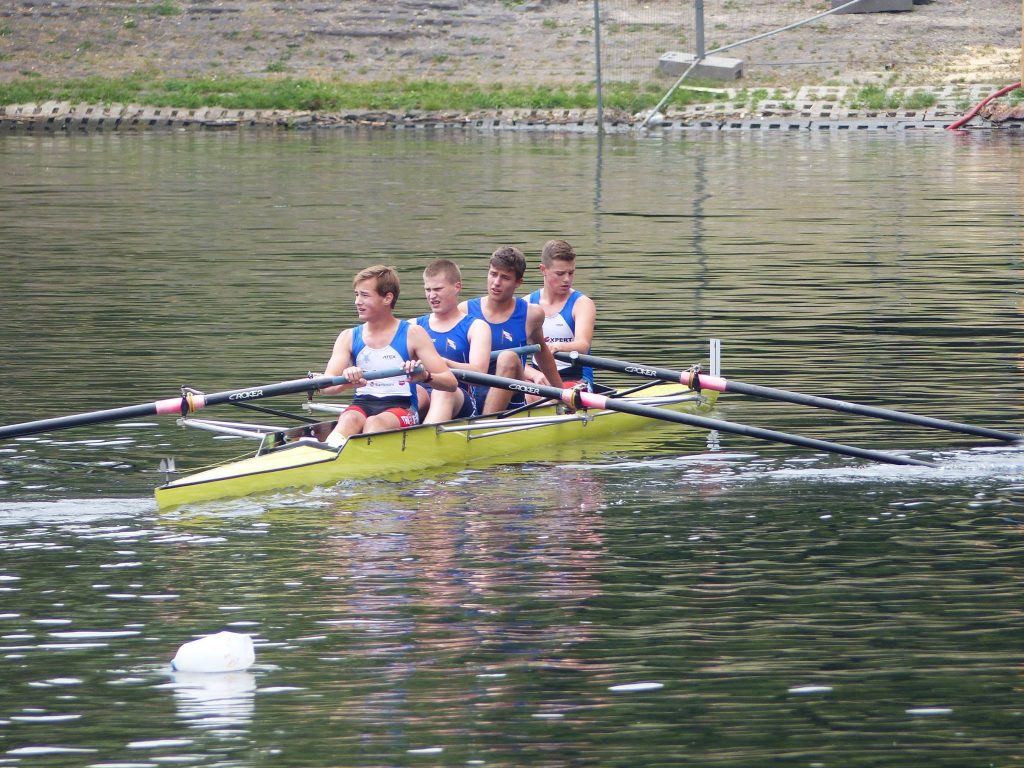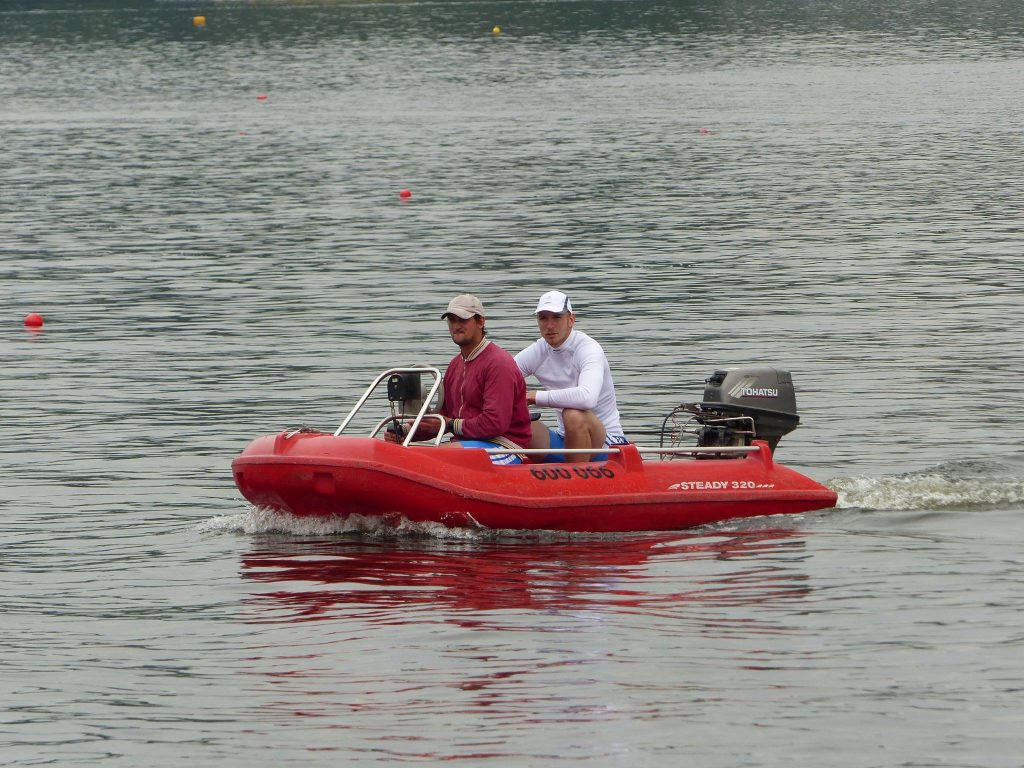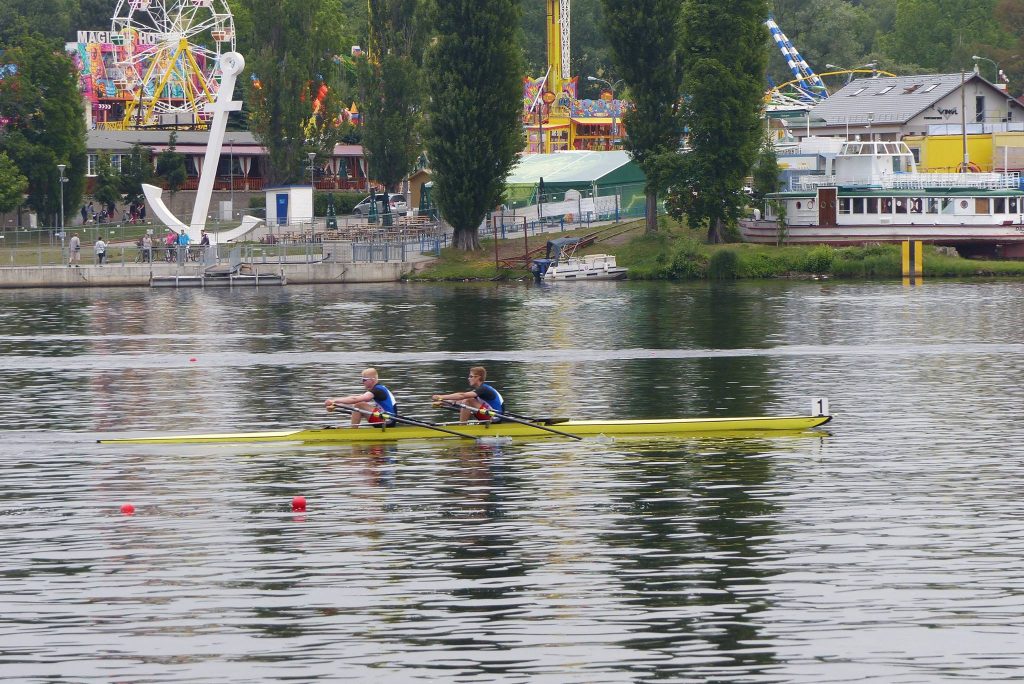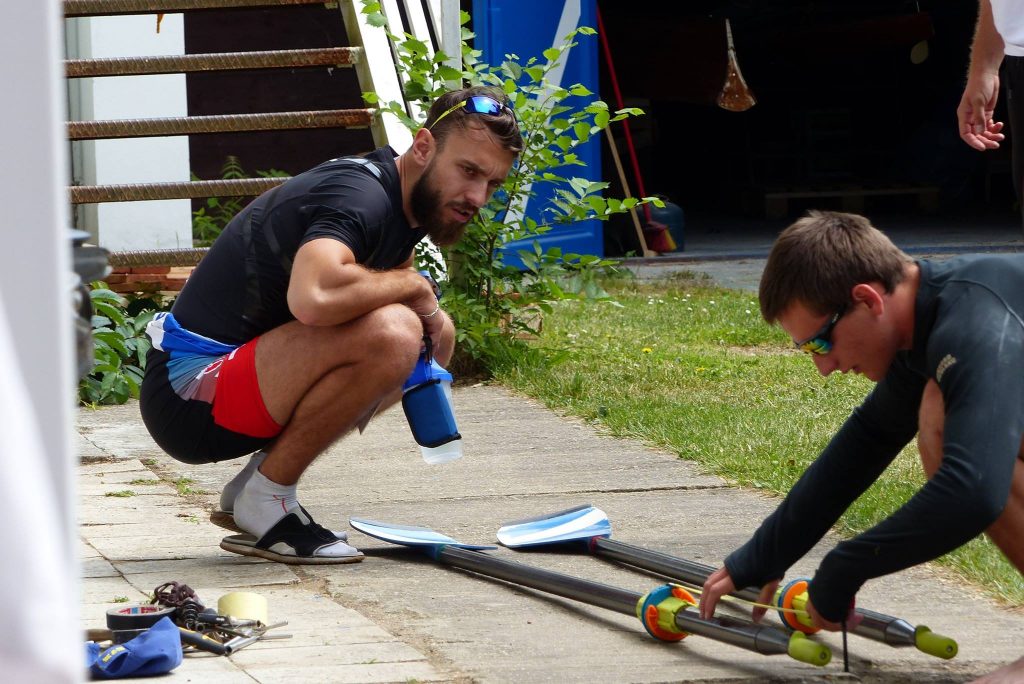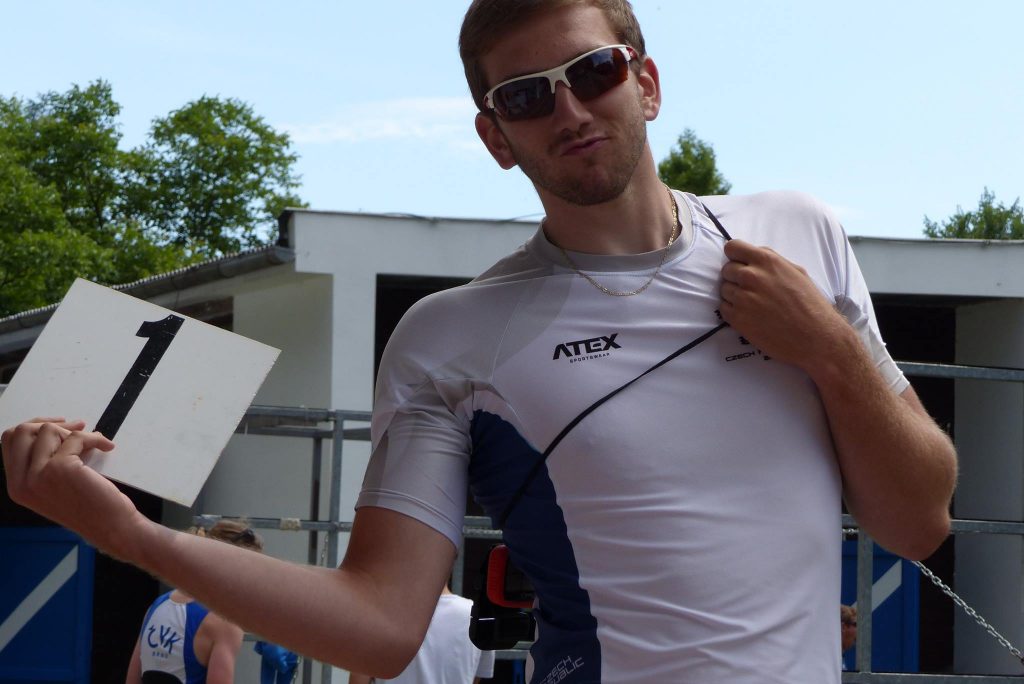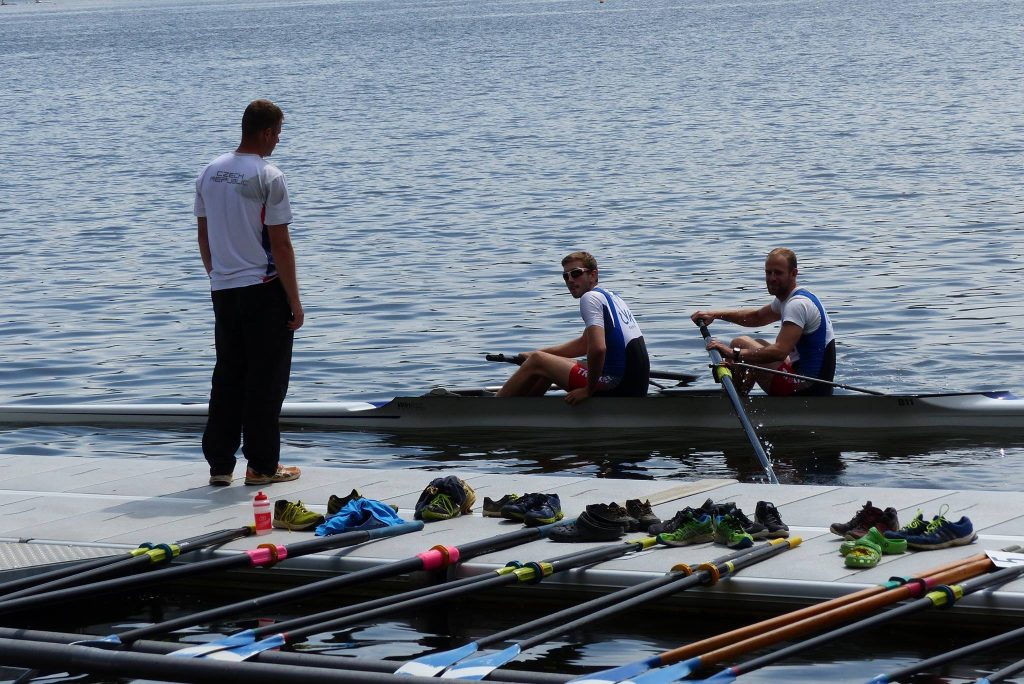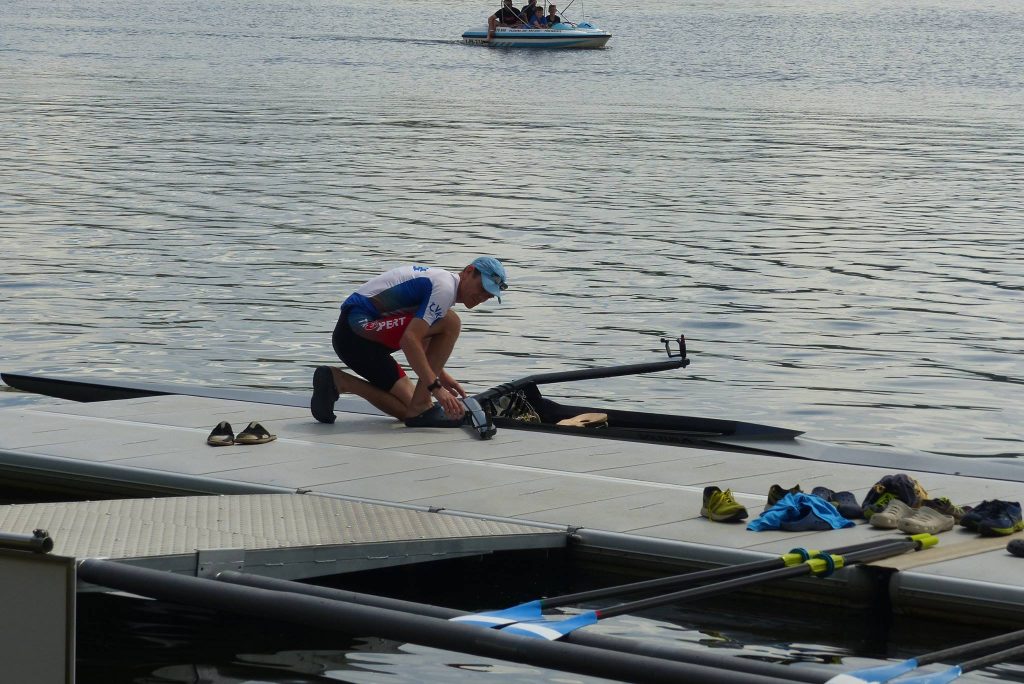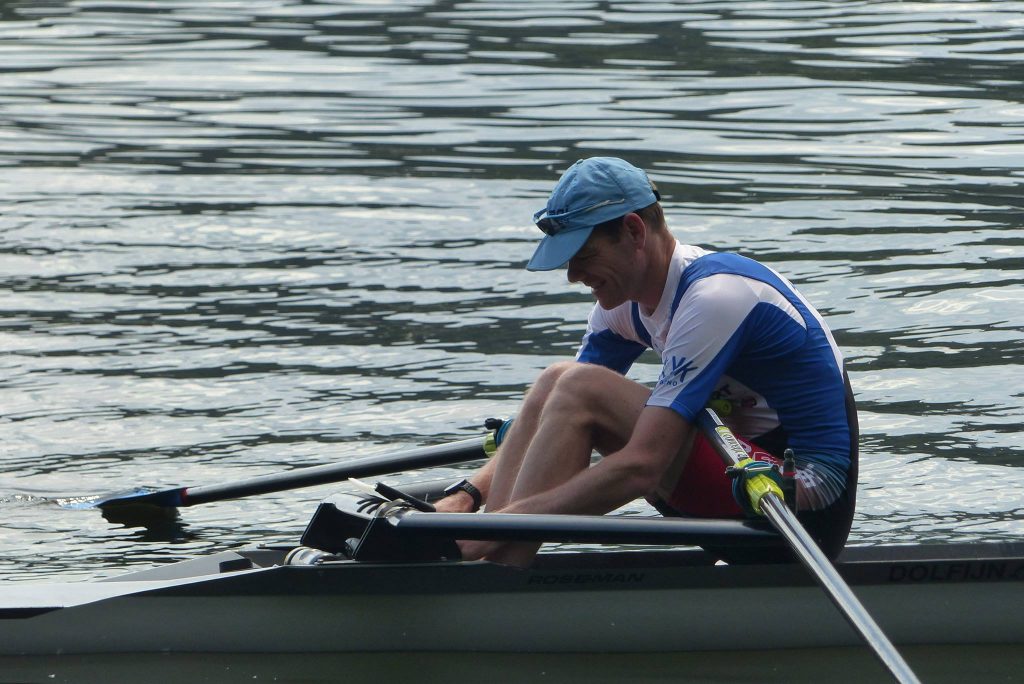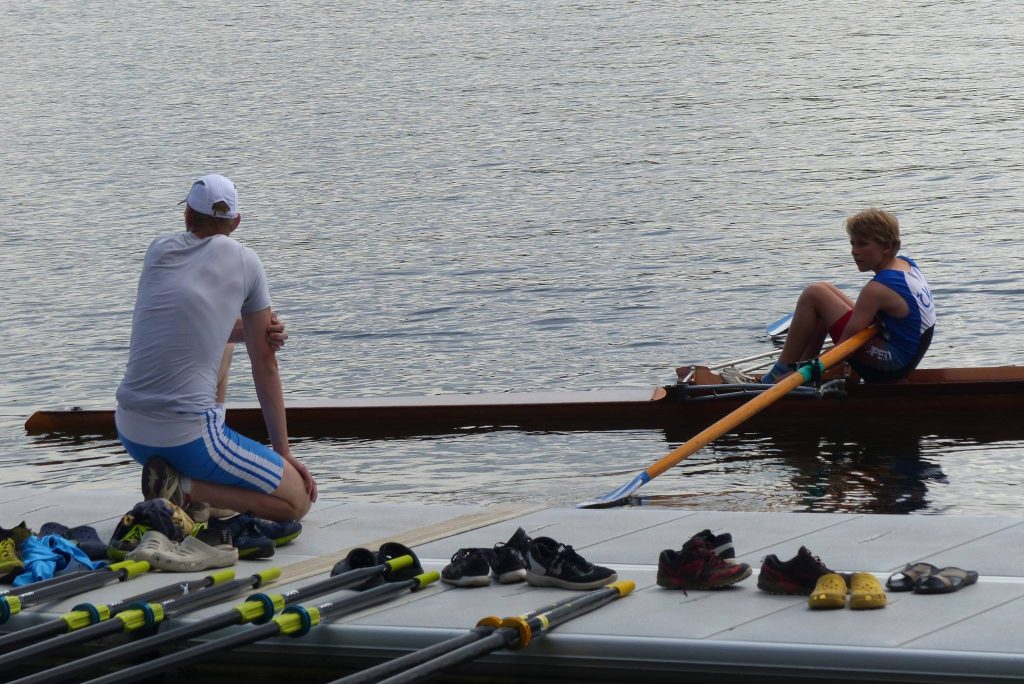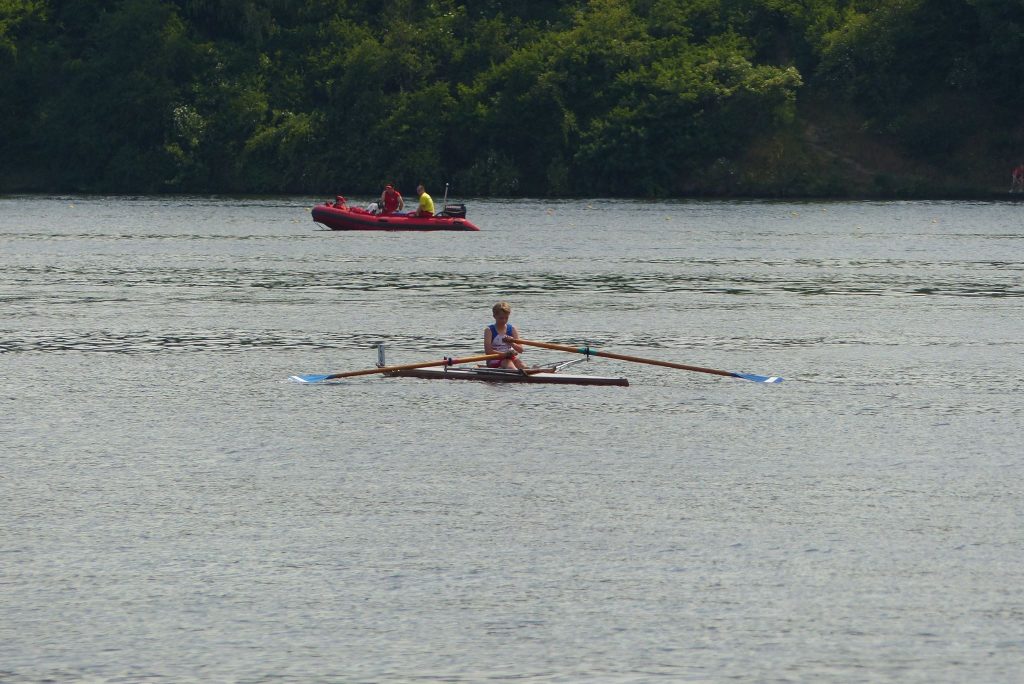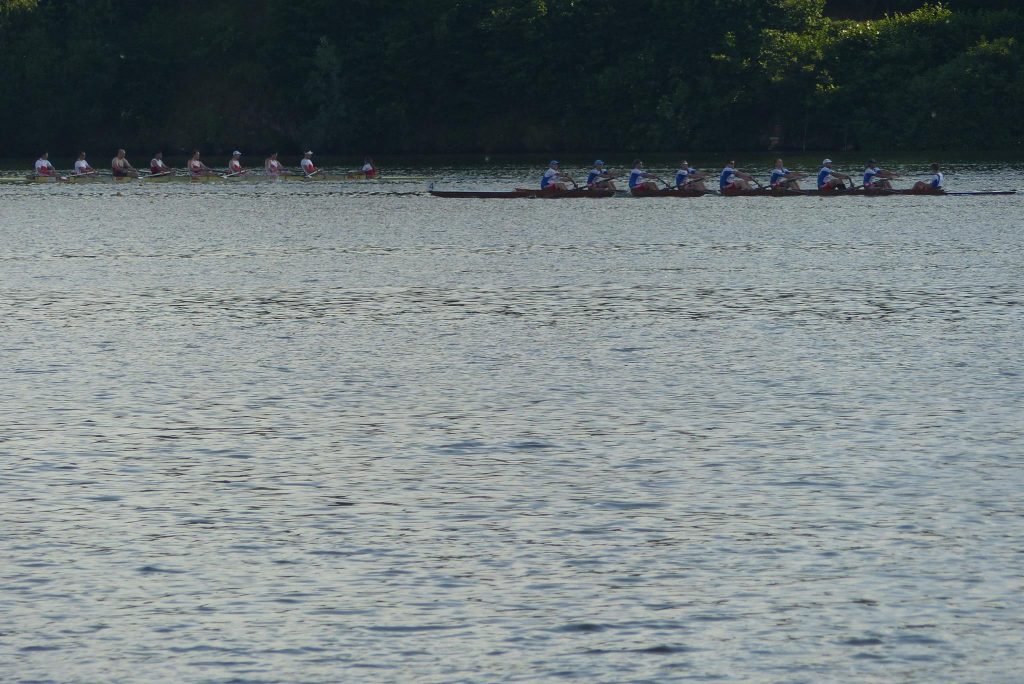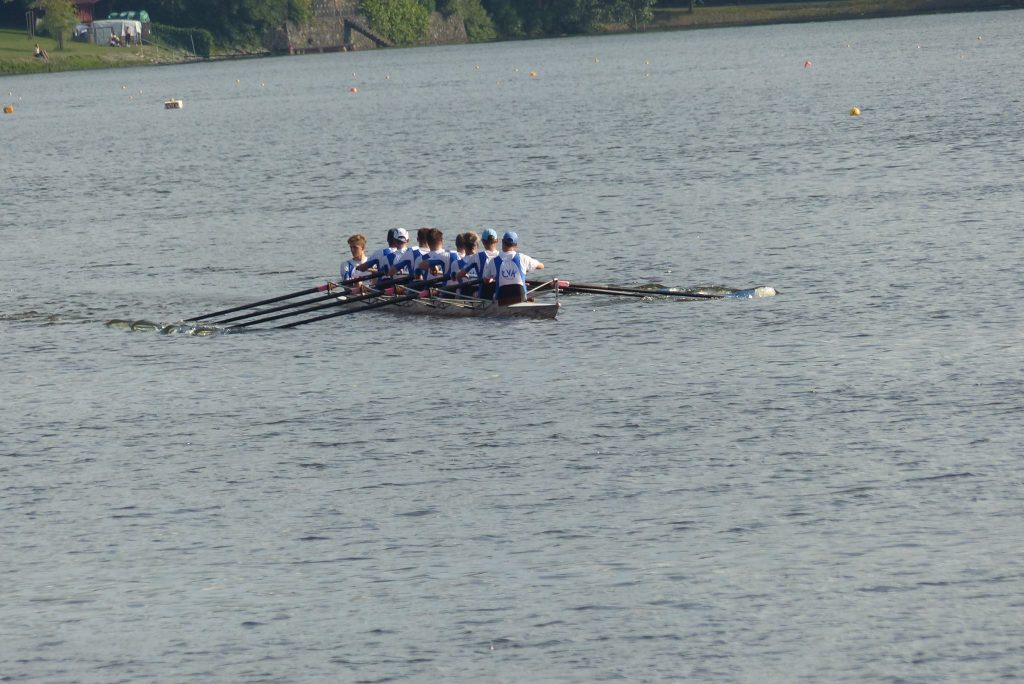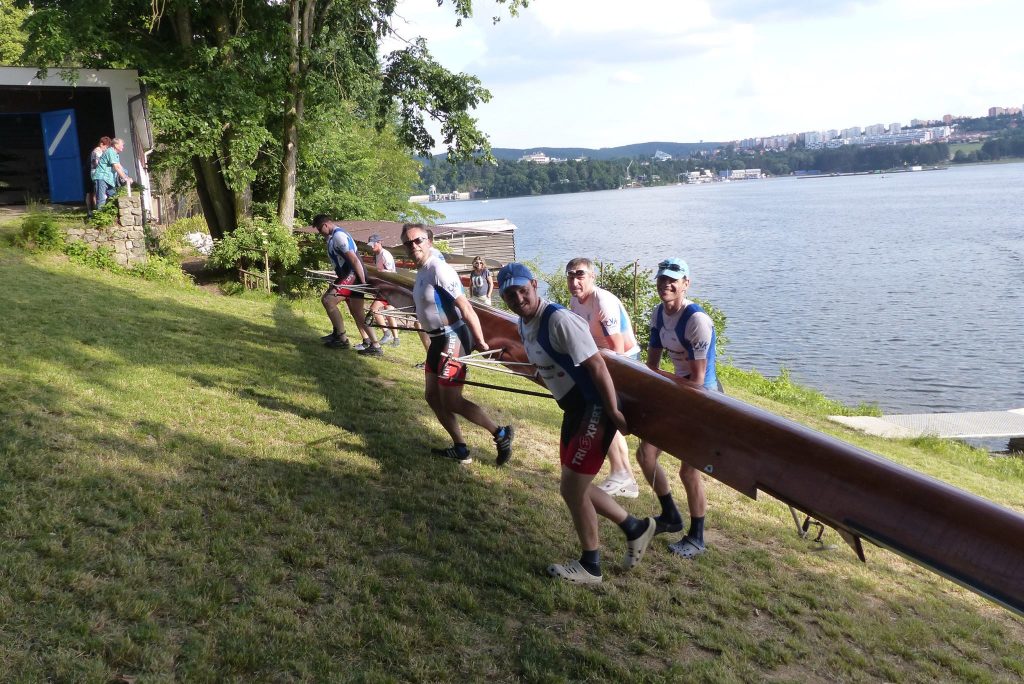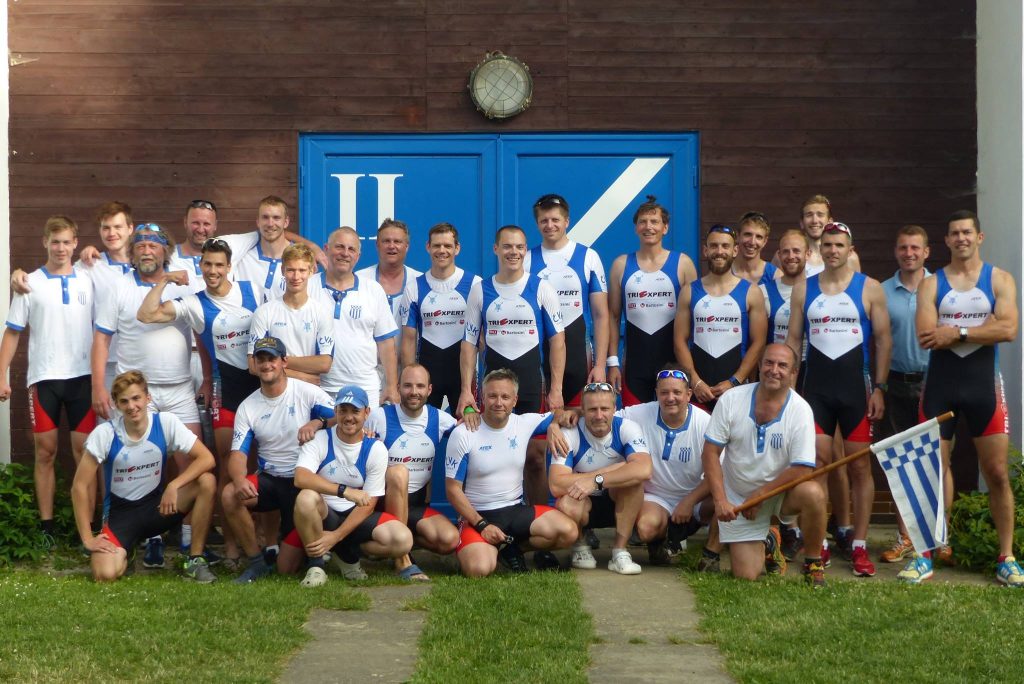 Lenka and Dominik did well in their respective races. Lenka was third in the double and Dominik came in fifth in the single. Both in the A final.
The races ended, it was time to enjoy our club house's brand new beer tap: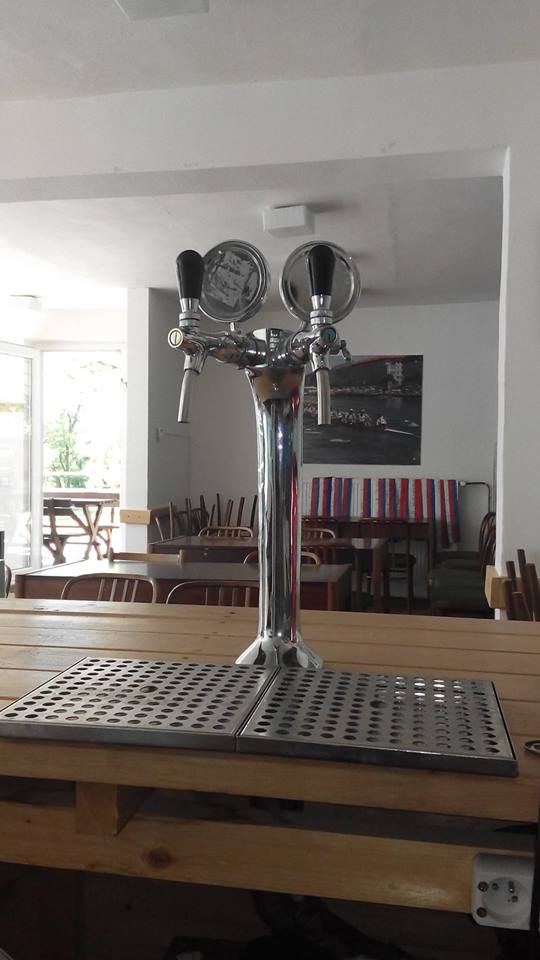 Follow me in social media