Nov 20 2015
Working from home today and taking the opportunity to start a little later.
I sat down on the ergometer when I normally start working. What happened next shows how conditioned we human beings can be. I did easy steady state and was listening to a lecture in parallel. About 5 minutes into the row, just as I was starting to sweat a little, ideas started flowing.
Work related ideas.
The nice thing about long rows and runs are that you get into this trance state where you are not overcritical to your own ideas any more. A big opportunity for the creativity muscle to start working.
So I had to stop, open up a text editor, and start taking notes.
Row.
Take notes.
Row.
Take notes.
The result was something like this: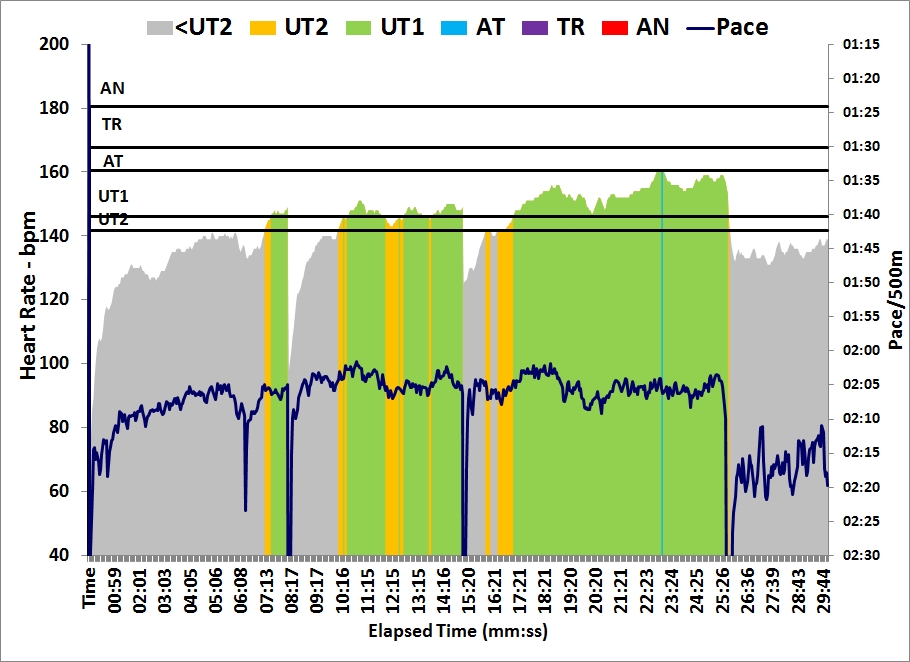 By the way, rowing like this, starting "cold" and slow, then steady state but with a big drop in intensity at the end, messes up the value for Heart Rate Ratio Drift. For this row the value ended up being 11%. I have looked at a few older rows and I am normally below 0 and 5% in my steady state rows.
After the 30 minutes easy erg I did a strength session. I believe that variation is not bad, so I try to change exercises according to what I have available. Today I was working from home, so it was body weight, bodylastics bands, a small 3kg dumbbell, a pullup bar, and a Swiss exercise ball. Stations, i.e. 3 sets in a row on one exercise, then move on to the next
Pull ups – I did them slow and thoroughly and managed 10/9/7
Pistol Squats with a dumbbell – 15/15/15
Dorsal raise on Gym Ball – 15/15/15
Squats – black bodylastics band – 15/15/15
Crunches & twist 10/10/10
Squatted row with orange bodylastics band (somewhat like a bench pull) – 15/15/15
Lunges with dumbbell – 15/15/15
Breast press with blue bodylastics band. I put the door anchor higher than in the bodylastics instruction booklet, which I feel makes it more like a bench press but it has some aspects of a push-up as well: 15/15/15
Then some stretching, a glass of milk and some yoghurt, and a black coffee, and on to the home office.
Follow me in social media