Apr 19 2018
Monday and Tuesday – no training. It's a tough week to find time to train. My parents are visiting. On Tuesday, it was my daughter's 18th birthday. On Thursday, it will be my birthday.
The weather is great and we visited one of the attractions of Brno, the Villa Tugendhat, a 1930 building by Mies van der Rohe, a famous architect.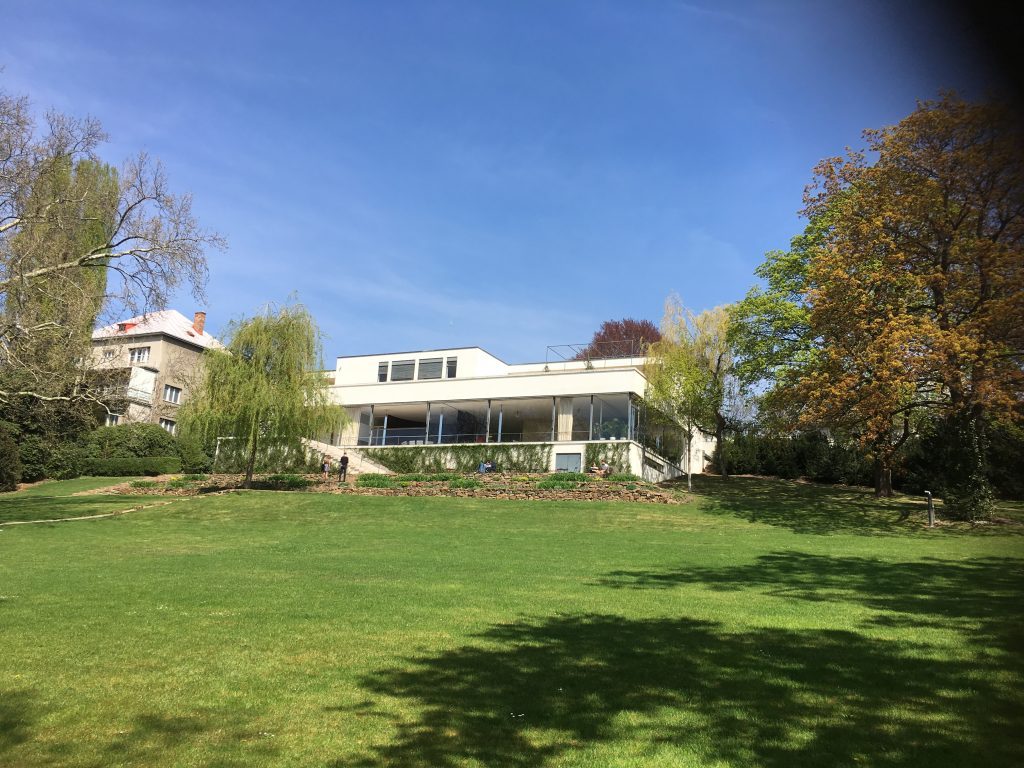 Yesterday, we went to the rowing club so my parents could watch the rowing training of their grandsons, and I made use of the opportunity to sneak in a 4x2km/5min. The last time I had done this session OTW was in August.
Interestingly, in warm water and with little wind, I managed a 247W average power and a 2:10.2 average 500m pace.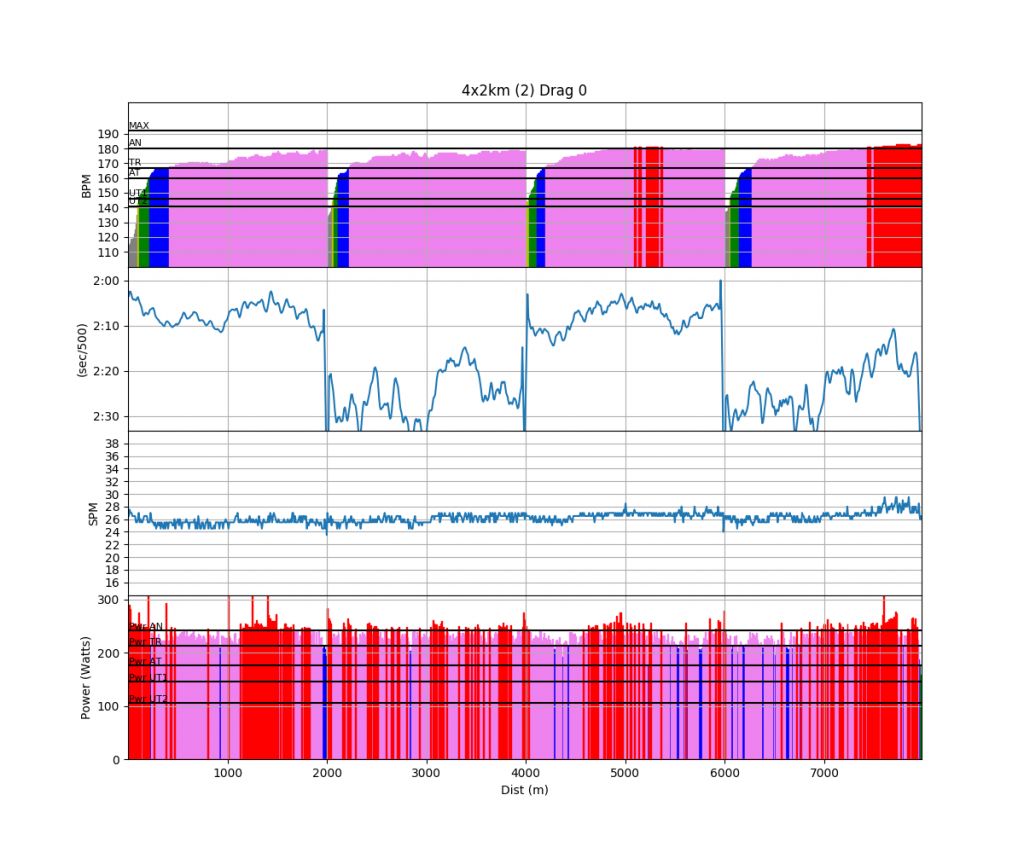 Today, the workout summary is:

Workout Summary - media/20180418-1525480o.csv
--|Total|-Total-|--Avg--|-Avg-|Avg-|-Avg-|-Max-|-Avg
--|Dist-|-Time--|-Pace--|-Pwr-|SPM-|-HR--|-HR--|-DPS
--|08000|36:17.0|02:16.1|231.9|26.2|173.2|183.0|08.4
W-|08000|36:17.0|02:16.1|231.9|26.2|173.2|183.0|08.4
R-|00000|00:00.0|00:00.0|000.0|00.0|000.0|183.0|00.0
Workout Details
#-|SDist|-Split-|-SPace-|-Pwr-|SPM-|AvgHR|MaxHR|DPS-
00|02000|08:28.1|02:07.0|238.2|25.6|169.2|179.0|09.2
01|02000|09:39.9|02:25.0|234.4|26.0|173.1|179.0|08.0
02|02000|08:32.5|02:08.1|227.9|26.6|175.5|181.0|08.8
03|02000|09:36.9|02:24.2|227.4|26.6|174.8|183.0|07.8

So a 231W average and a 2:16.1 average 500m pace. It was quite choppy, which usually reduces the power a bit (at same perceived rate of exertion), and the water was colder. So at 93% of the power, compared to last August, I rowed at 96% of the pace. Seems pretty consistent. I was expecting the average pace drop to be larger. I am thinking that water depth is important too. The lake in Trebon (where I rowed last August's 4x2km) is shallow with a sandy bottom. The Brno lake is deep, with a rocky bottom.
When I downloaded the charts, I was annoyed that I had forgotten that the NK SpeedCoach doesn't record the rest strokes when you program intervals with rest.
This slideshow requires JavaScript.
The slide show shows the technique charts that I found interesting. Catch angle influenced by head vs tailwind and by chop. The same thing can be seen for effective drive length. Wash was gradually increasing during the workout, as I got more tired.
This was a nice, pretty intensive workout. I had fun. It's nice to row at 26/27spm, 80% of maximum effort, and cover the 8-9 minute effort with confidence. Also, there were sailboats and other scullers out on the water, so I had to pass people and watch traffic, which makes time go by so fast, in comparison with the ergometer.
I am adding to pictures from the weekend, which I forgot to attach to the blog. One of a coach who got towed in on Saturday morning. Engine problems with the launch, on the middle of the lake. The water guards told us he was their first "rescue" of the year. Another picture showing the mirror flat water on Sunday, which quickly became choppy while we were changing clothes. An old trick of our rowing lake.