Nov 15 2020
Again, it has been too busy, too many changes in life, and blogging about my workouts has not been my priority.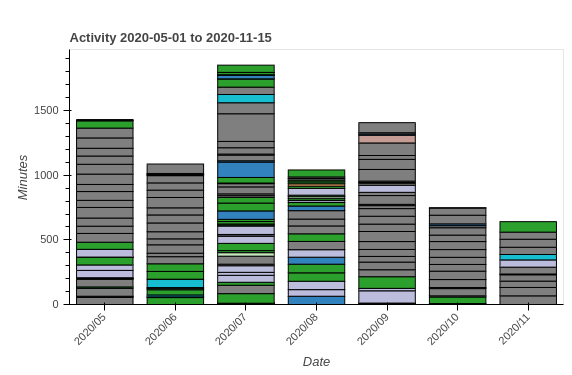 August was a relatively low training time month. I was already working in the Netherlands, but did a few trips back to my family in Brno. Also, it was my first month in a new job. In September, I am pretty happy about the amount of water time that I got. We were allowed to work from the office again, and the Enschede office is a 10 minute bike ride from the rowing club. Also the weather was good, I was living away from my family, and there was enough light in the evening. So, I got in a pretty decent training volume.
At the beginning of October, I drove back to the Czech Republic to pick up Romana and the boys and we are now together again, permanently living in The Netherlands. We were spending the first 10 days in a mandatory quarantine, and we were busy getting everything going for the family. I couldn't find the motivation to do exercise in our small, temporary appartment, so the training volume you see for October is roughly for the second half. And November isn't over again, so I hope to get that month up to a decent level, although the shorter days don't help.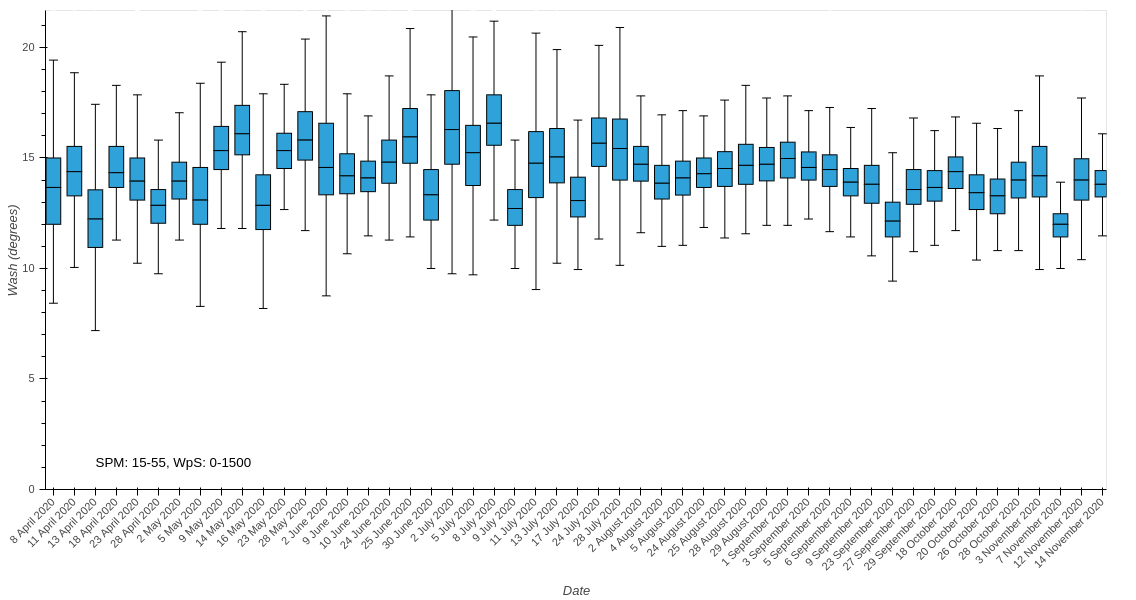 This is an interesting chart of my single sculling from April to today. It plots the Wash value per training day, with the box indicating the spread of the values. The biggest effect you can see is going from lake to flat water canal in August.
Another interesting comparison is my Critical Power curve. Here's a snapshot using workouts from April to end of June: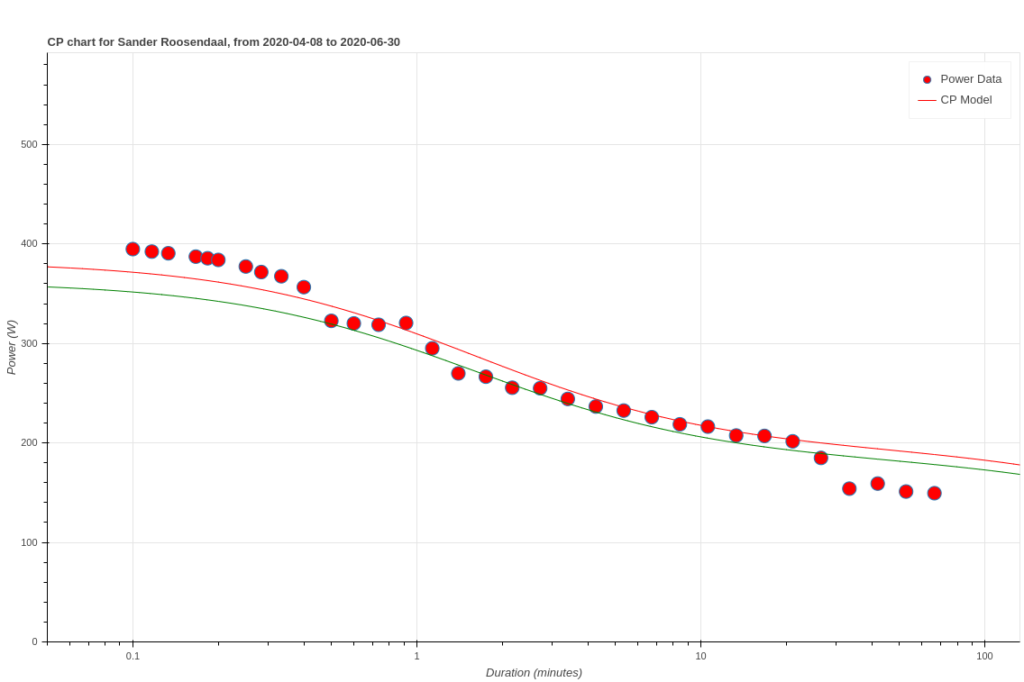 And here is a similar snapshot, from August to November: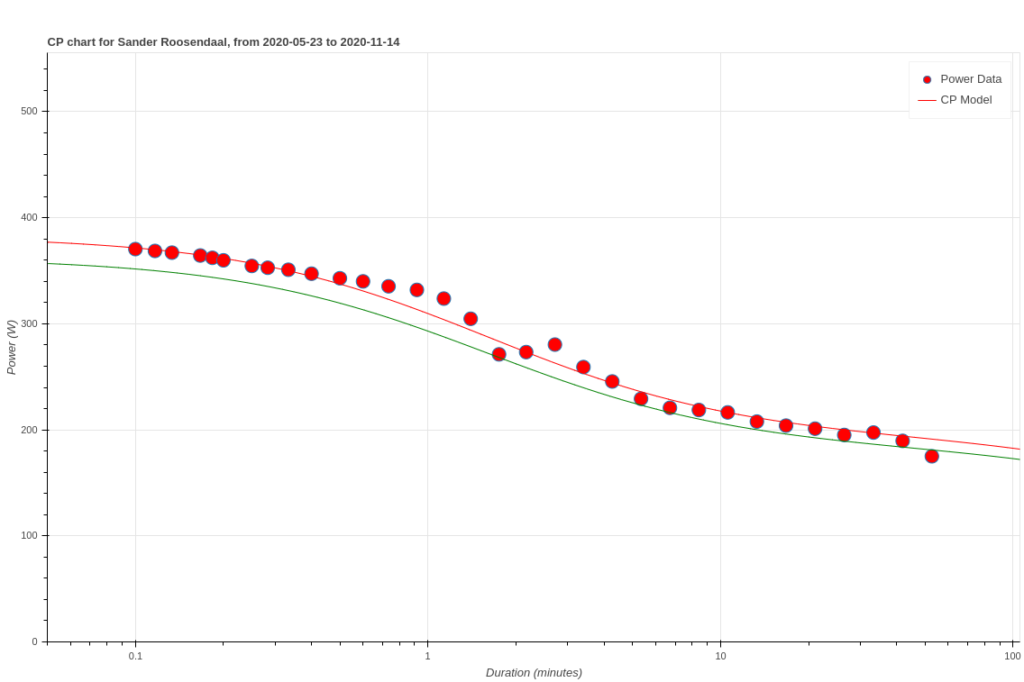 The green and red lines on both charts are the same. From these data you would conclude that I am pretty similar shape. Well, on May 23, I did a 6k row on the Brno lake. This was a time trial with some other crews from our club. I competed in the 1x. It's a 3km down, turn, 3km back course. Yesterday, I tried to do a semi hard 3k (alone, with noone chasing me). Here's the comparison: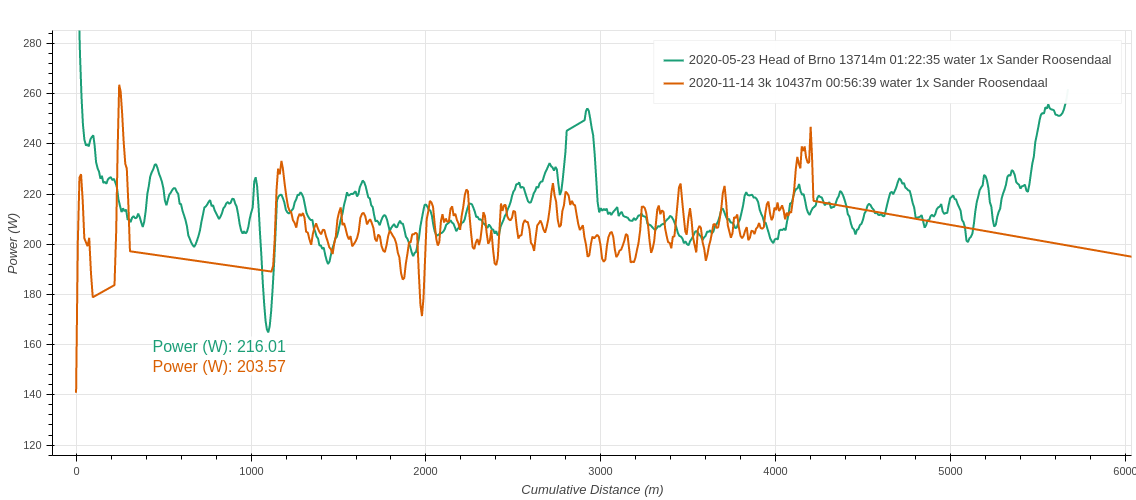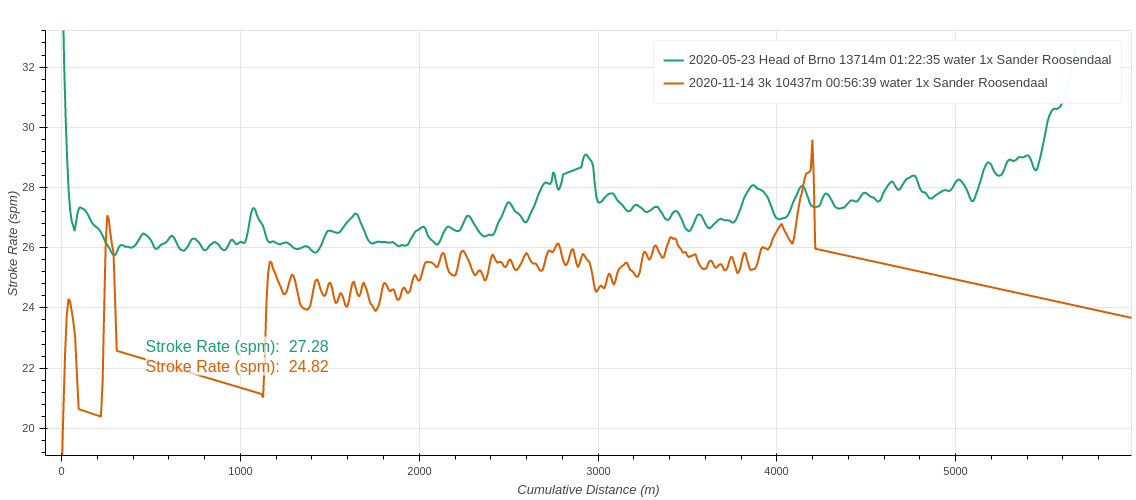 Here's the row in May: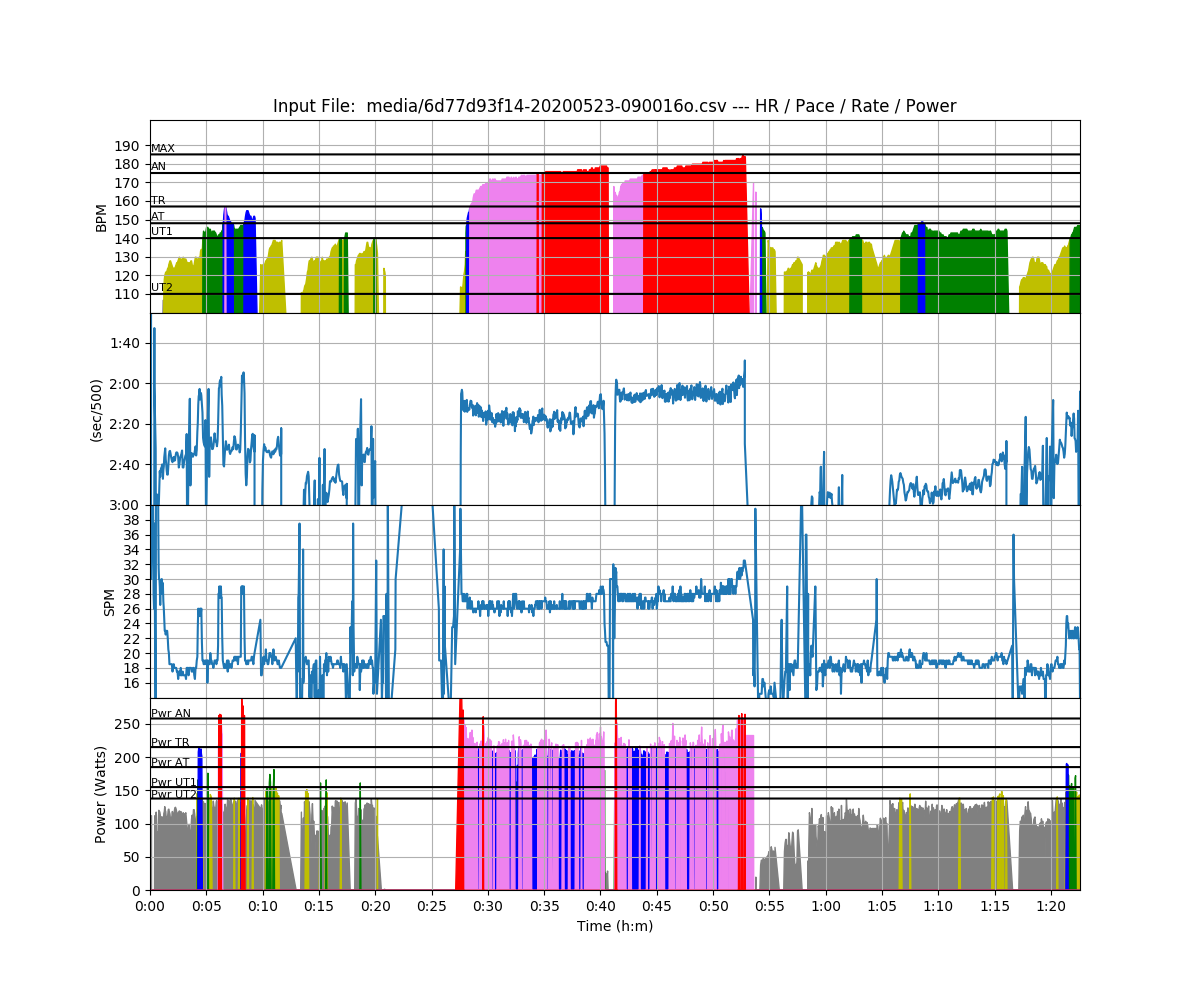 Workout Summary - media/6d77d93f14-20200523-090016o.csv
--|Total|-Total----|--Avg--|-Avg-|Avg-|-Avg-|-Max-|-Avg
--|Dist-|-Time-----|-Pace--|-Pwr-|SPM-|-HR--|-HR--|-DPS
--|13712|01:22:35.2|03:00.7|131.2|23.1|143.8|185.0|07.2
W-|05595|00:24:44.4|02:12.6|217.6|27.3|172.9|185.0|08.3
R-|08119|00:57:50.9|03:33.8|094.3|21.3|131.4|185.0|08.1
Workout Details
#-|SDist|-Split-|-SPace-|-Pwr-|SPM-|AvgHR|MaxHR|DPS-
01|02825|13:10.7|02:19.9|218.4|26.8|169.0|179.0|08.0
02|02770|11:33.7|02:05.2|216.7|27.9|177.4|185.0|08.6

And here's yesterday's row: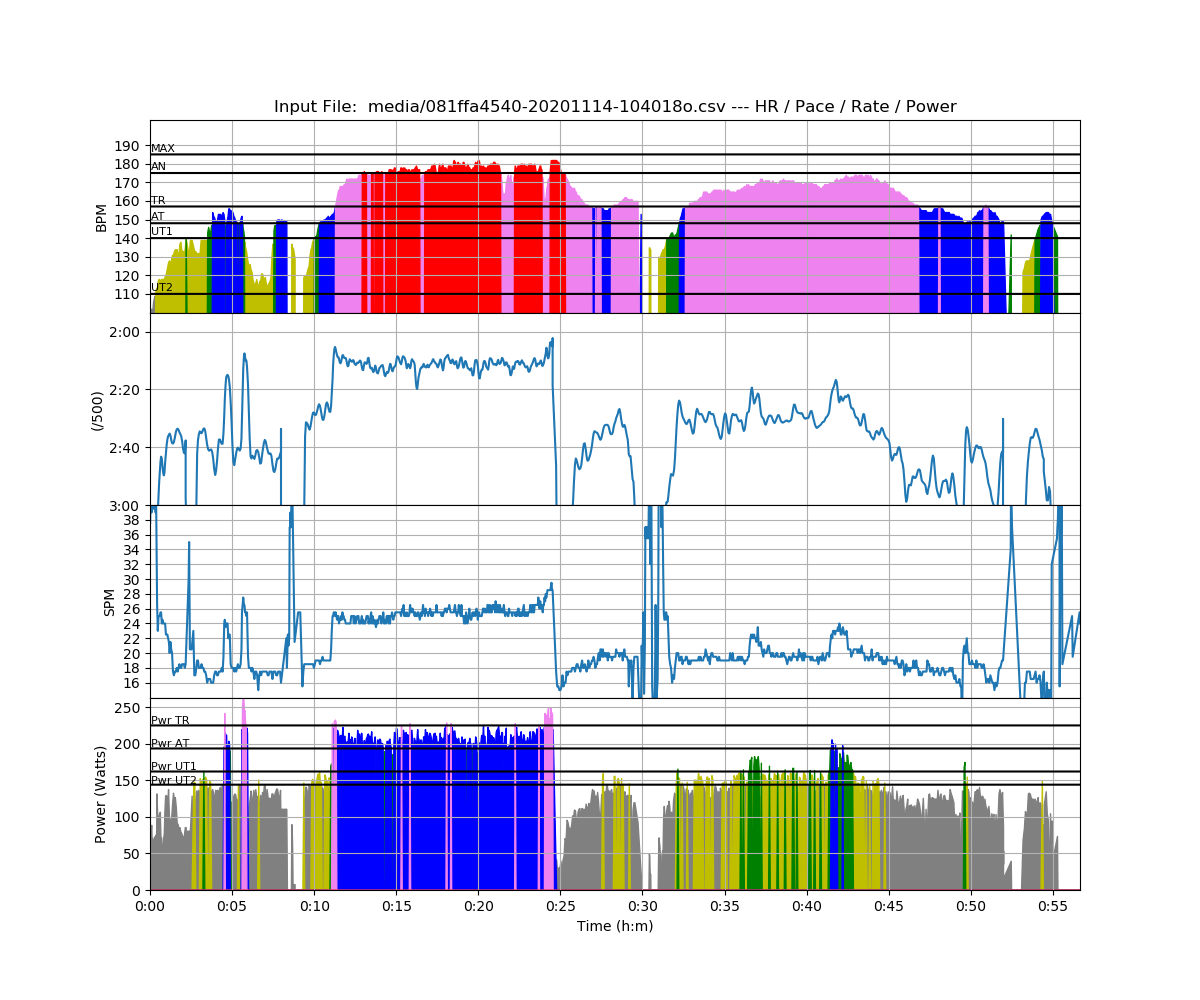 Workout Summary - media/081ffa4540-20201114-104018o.csv
--|Total|-Total----|--Avg--|-Avg-|Avg-|-Avg-|-Max-|-Avg
--|Dist-|-Time-----|-Pace--|-Pwr-|SPM-|-HR--|-HR--|-DPS
--|10432|00:56:39.0|02:42.9|140.7|21.3|157.2|182.0|08.6
W-|03833|00:16:55.9|02:12.5|202.6|24.7|172.9|182.0|09.2
R-|06604|00:39:43.4|03:00.4|114.4|19.9|150.5|182.0|07.7
Workout Details
#-|SDist|-Split-|-SPace-|-Pwr-|SPM-|AvgHR|MaxHR|DPS-
01|00106|00:29.3|02:18.5|199.0|22.4|151.7|156.0|09.7
02|00099|00:26.8|02:15.6|224.1|24.4|141.4|152.0|09.1
03|03109|13:31.5|02:10.5|207.3|25.3|175.1|182.0|09.1
04|00194|00:55.8|02:23.7|167.0|21.4|169.3|172.0|09.7
05|00326|01:32.5|02:22.0|177.5|22.0|171.6|174.0|09.6

So yesterday a 2:10 average pace at 207W, and in May a 2:12 pace at 217W (but with a stronger wind, and averaging head and tailwind). The big difference is that I easily rated up to 27-28 SPM in May, which would be unsustainable for me now. Interesting …
This morning, Romana and I did a easy steady state row in the double. In the afternoon, we did a short hike around the village of Losser: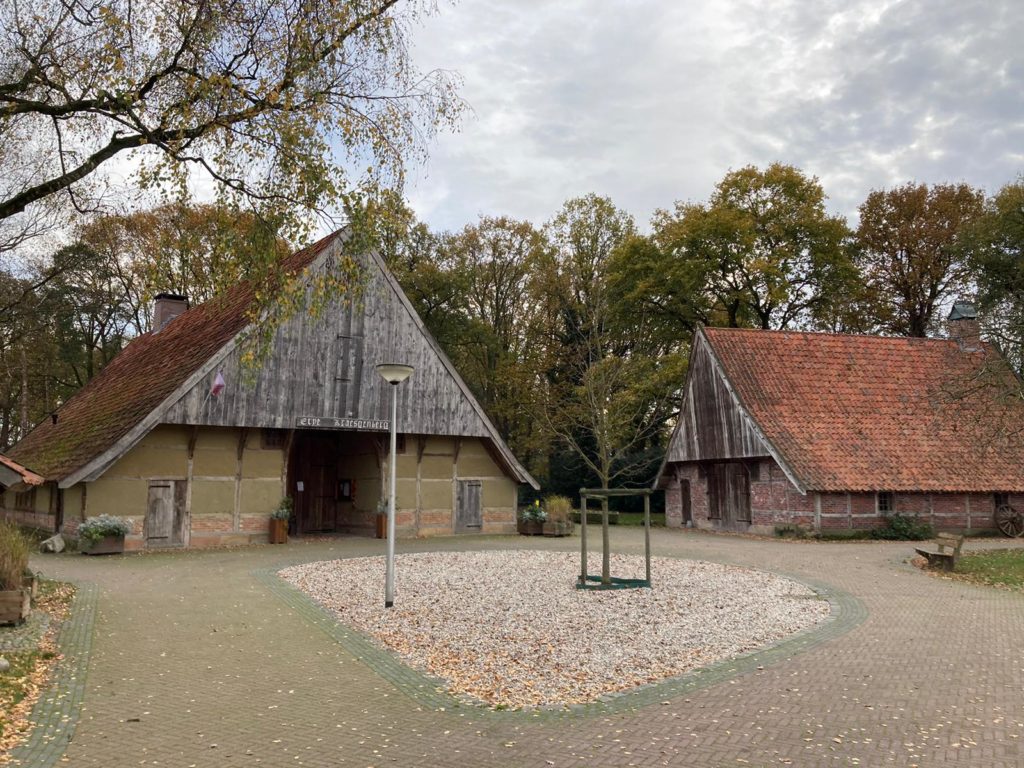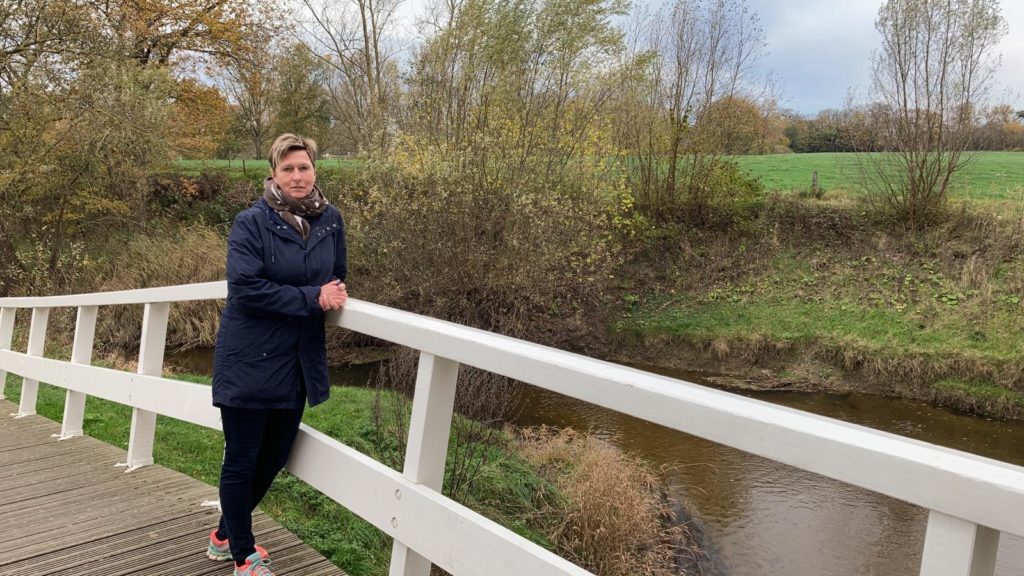 Some very nice old farm buildings there …
Follow me in social media