Oct 13 2019
On Saturday, October 5th, I did a short but very nice training in the eight. It was raining lightly but the water was super flat. Unfortunately, some of our crew arrived really late, and because we had some of the youth trainers in the boat, who had to be back on time, the row was restricted to 8 kilometers.
On Sunday, October 6th, it was time for the 6k head race in Uherske Hradiste ("UH"). This was going to be a busy day. First, I would race the 6k in the single, at 2pm. Then we would be back at the start for a race in the double at 4pm. Jiri Rysavy, a sculler from the club Bohemians in Prague, asked me to race the double with him.
Eduard and I arrived in UH around noon. I was immediately called by Jiri. We took an old wooden Empacher 2x out of the Moravia Rowing Club boat house, sculled it to the other side of the river, and put it on a trailer to take it to the start area, six kilometers upstream.
After that, it was time for Eda and myself to drive to the start. We found our singles in the grass and prepared them for the race. A short warming up run, and then some waiting in the car. It was interesting weather. A cold wind, a tailwind, but otherwise sunny weather.
I did a 3km warming up row:
here
You can see from the big differences between the upstream bits and the downstream bits that the current was quite a factor on this day.
There were five single scullers competing in the Masters field, of different ages. I was most nervous of Jiri. He is pretty much the same speed as I. I was the last starting in the Masters field, so I wouldn't see any scullers behind me.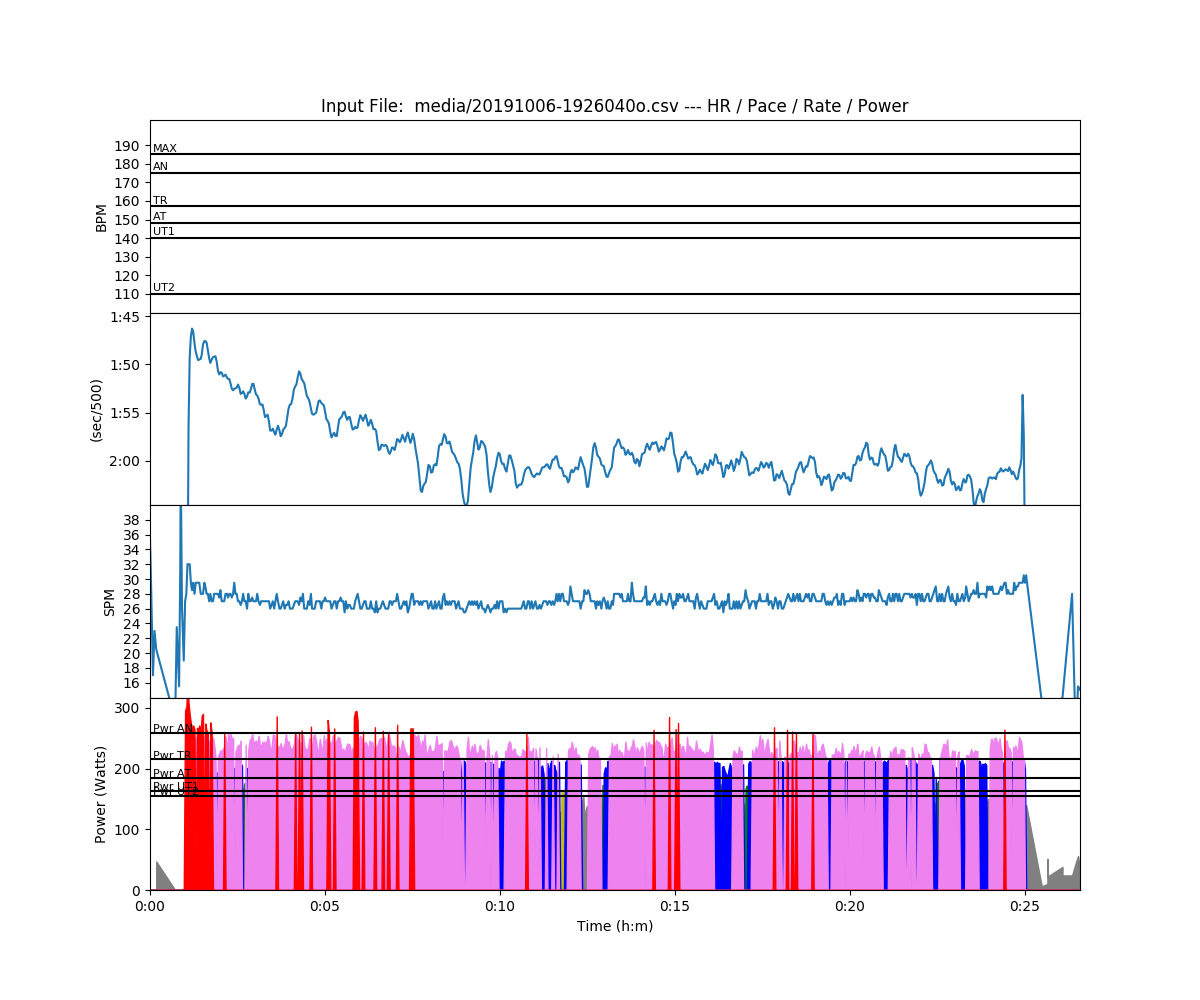 The plan was to row around 230W and stay close to the middle of the river to make maximum use of the current.

Workout Summary - media/20191006-1926040o.csv
--|Total|-Total----|--Avg--|-Avg-|Avg-|-Avg-|-Max-|-Avg
--|Dist-|-Time-----|-Pace--|-Pwr-|SPM-|-HR--|-HR--|-DPS
--|06284|00:26:54.7|02:08.5|208.0|25.9|000.0|000.0|09.0
W-|06000|00:23:47.1|01:58.9|229.4|27.1|000.0|000.0|09.3
R-|00286|00:03:08.1|05:28.8|045.9|17.1|000.0|000.0|05.4
Workout Details
#-|SDist|-Split-|-SPace-|-Pwr-|SPM-|AvgHR|MaxHR|DPS-
01|01000|03:47.0|01:53.5|244.0|27.3|000.0|0.0|09.7
02|01000|03:55.4|01:57.7|242.9|26.6|000.0|0.0|09.6
03|01000|04:01.1|02:00.5|216.0|26.6|000.0|0.0|09.3 - turn
04|01000|03:59.4|01:59.7|227.2|27.0|000.0|0.0|09.3
05|01000|04:01.7|02:00.8|226.3|27.2|000.0|0.0|09.1
06|01000|04:02.5|02:01.2|221.1|27.9|000.0|0.0|08.9

There is a big turn to starboard at the 3km point, which lowered the power average for the third kilometer (I have my Empower oarlock on the starboard side). I pretty much managed to hold the power and was happy with 27spm. Any lower spm would mean that I was rowing a too heavy stroke, and higher spm were reserved for the final kilometer.
I did have the feeling that Jiri, who had started 60 seconds before me, was going about the same speed on the straight bits, but I seemed to make way on the turns. I think he was trying to cut the turns. This is not a smart thing to do, as the river flow is significantly lower when you get closer to the bank.
The wind was mostly cross wind, with a tailwind component initially, but there were stretches where it felt more like a headwind.
Otherwise the water was flat and I was enjoying the row. I love these longer races.
As I crossed the finish line, the speaker announced me as the winner!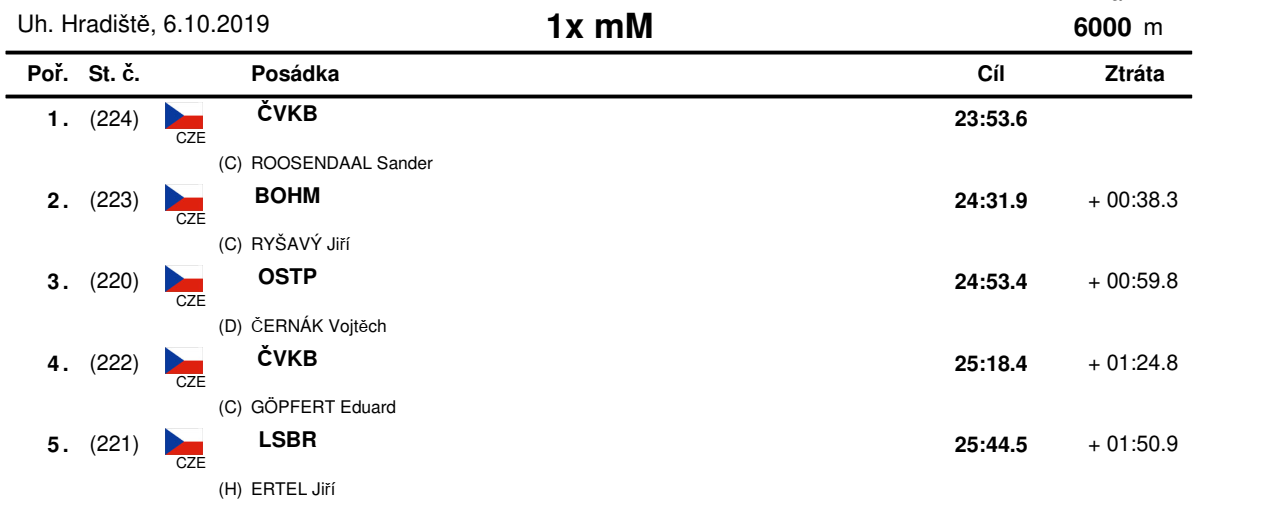 I was extremely relieved. Looking at the results later, I saw that I had won with quite a big margin. Made my day.
There was not a lot of time to rest on my laurels though. After I landed and received congratulations from my opponents, I quickly prepared my single for transport, and then Eda and I hopped in the car with Jiri and his wife, who brought us back to the start. Eda to pick up my car, and Jiri and myself to race another race.
We were all pretty exhausted from the 1x race, and we were sculling in a pretty bad boat. The pitch angle on port wasn't set right and the boat turned to port side. Jiri and I had never sculled together. Did I say we were quite tired from the race in the single?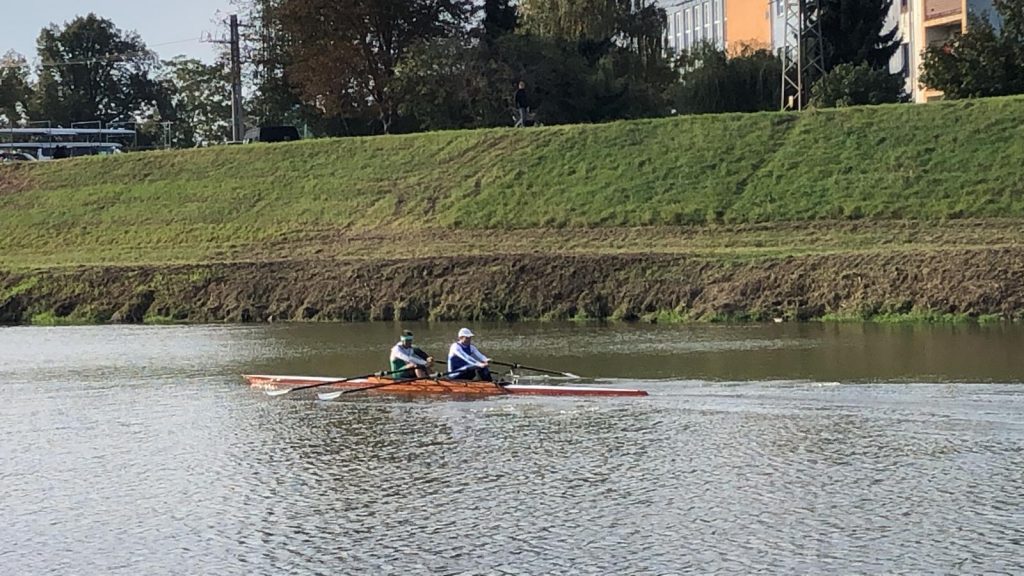 Fortunately, our opponents Jiri Ertel and Vojtech Cernak, were rowing 60 seconds behind us and it was clear that we were rowing away from them. Six kilometers of huffing and puffing later, we crossed the finish line in a time that was 90 seconds faster than that of our opponents. A second win.
In the mean time, Eda had already prepared everything for transport, but we had to wait for Vojtech and Jiri to get their trailer from the start area. So I changed to dry clothes, and then it was time for the medal ceremony.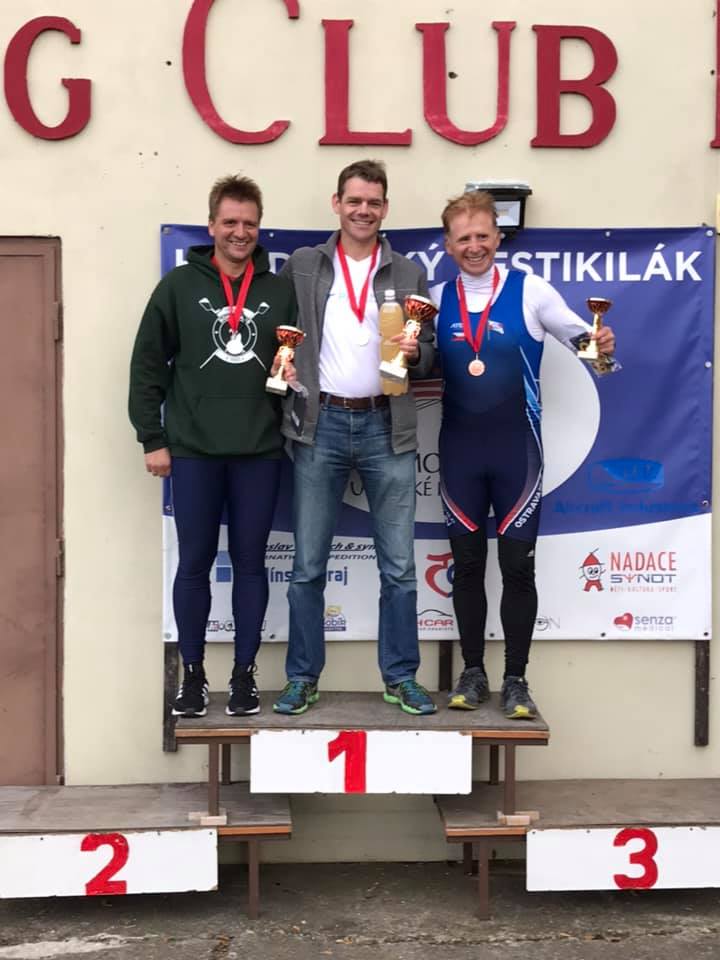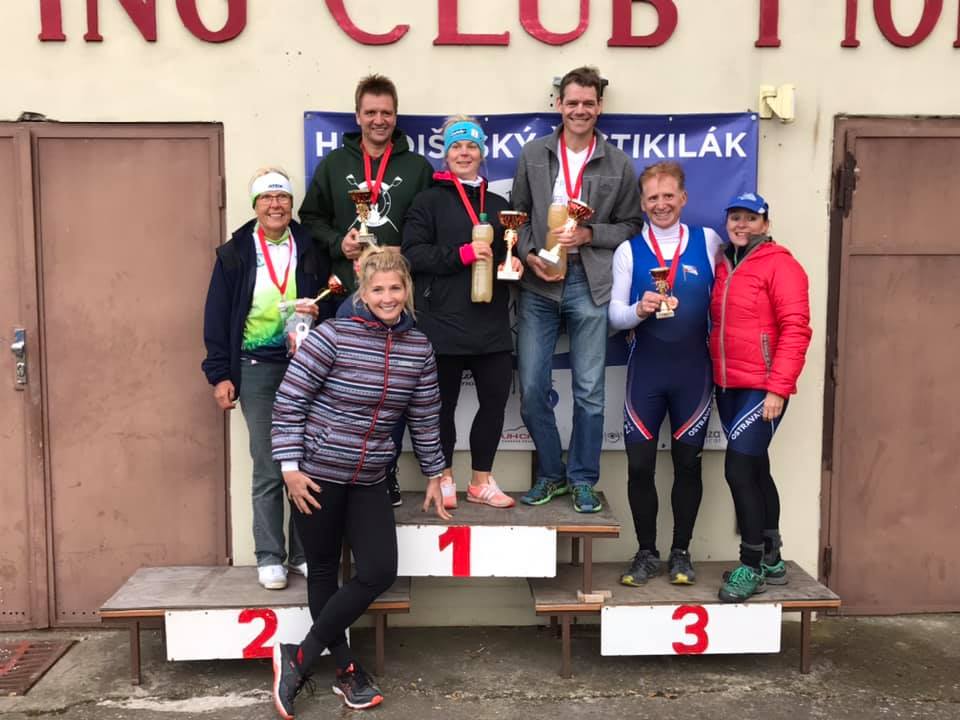 There were many prizes. Medals, cups, bottles of burčák, and more. (I got a pair of Nordic Walking poles.)
After that happy event, Eda and I hopped in the car and towed our trailer back to the rowing club in Brno.
On Monday, I used the lunch hour to get my single off the trailer. And as the weather was really beautiful, sunny, and with a mirror flat lake, I did a short steady state row before going back to work.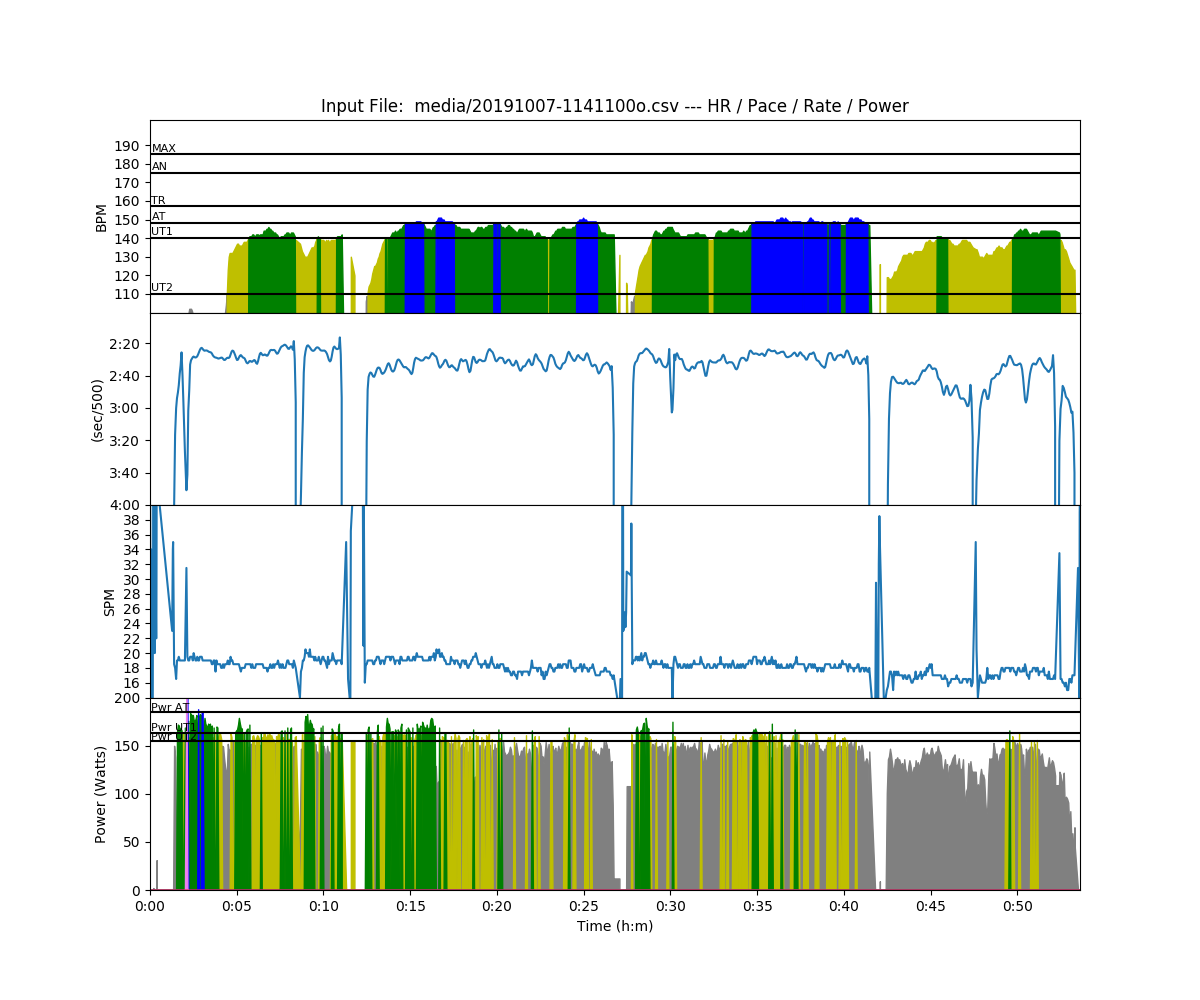 On Tuesday, I did a pretty nice weights session.
On Wednesday morning, I got my Yellow Fever shots (for an upcoming trip to Ethipia) and the warning to take it easy with working out, for at least a week. On the same day, I hopped on a train to the airport in Vienna, flew to Brussels, and spent the entire Thursday in meetings there.
On Thursday evening, I joined a group of friends in the Funky Monkey bar in Brussels, to raise a glass to the life of a recently deceased friend and colleague. It was at the same time a sad and a happy event. He died at the much too young age of 61, and very unexpectedly.
I am still taking rest to let the Yellow Fever vaccin do its work. It was interesing to monitor my resting heart rate, which shot up by 10 beats after the shot, and is now gradually coming down to normal values.
Follow me in social media