Nov 3 2019
On October 16, I did a nice steady erg workout.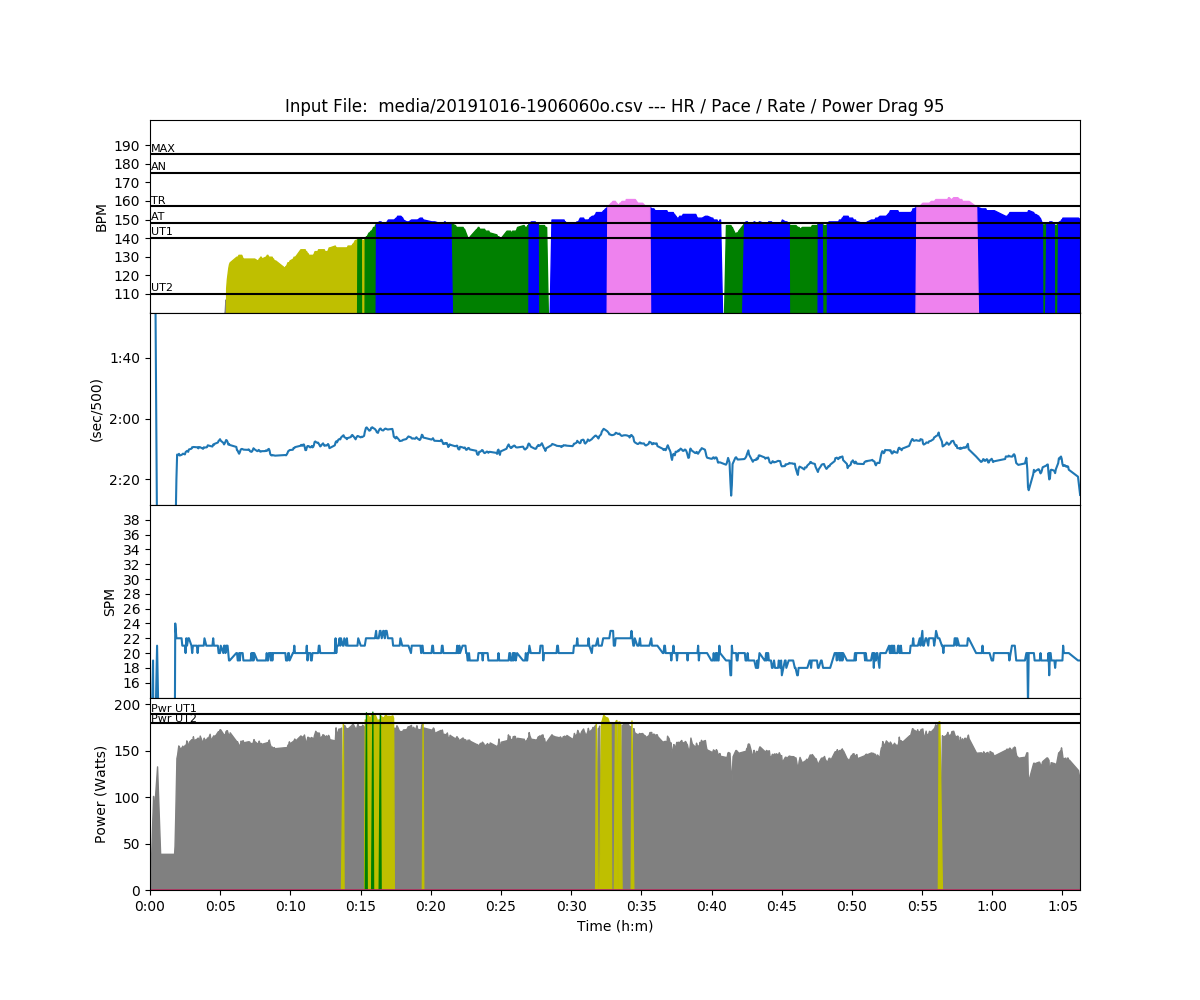 I didn't really watch the pace or power, and just rowed until I had completed the Big Loop in Zwift Watopia.
Then, on the 17th, I jumped in a mixed eight crew. We did one 3k that vaguely resembled a push:
I wanted October to be the month where I gradually build up stamina for long steady state rows, but my friends in the eight seem to think that a training isn't effective if you don't go above 24 spm.
On the 18th, I did a strength workout.
On the 19th, I did another training in the mixed eight. This time it was cut short because some of our crew members were trainers and had to be back on time. We had launched late because of the late arrival of some of our crew members.
So I went to the erg room and added a 30 minute steady state: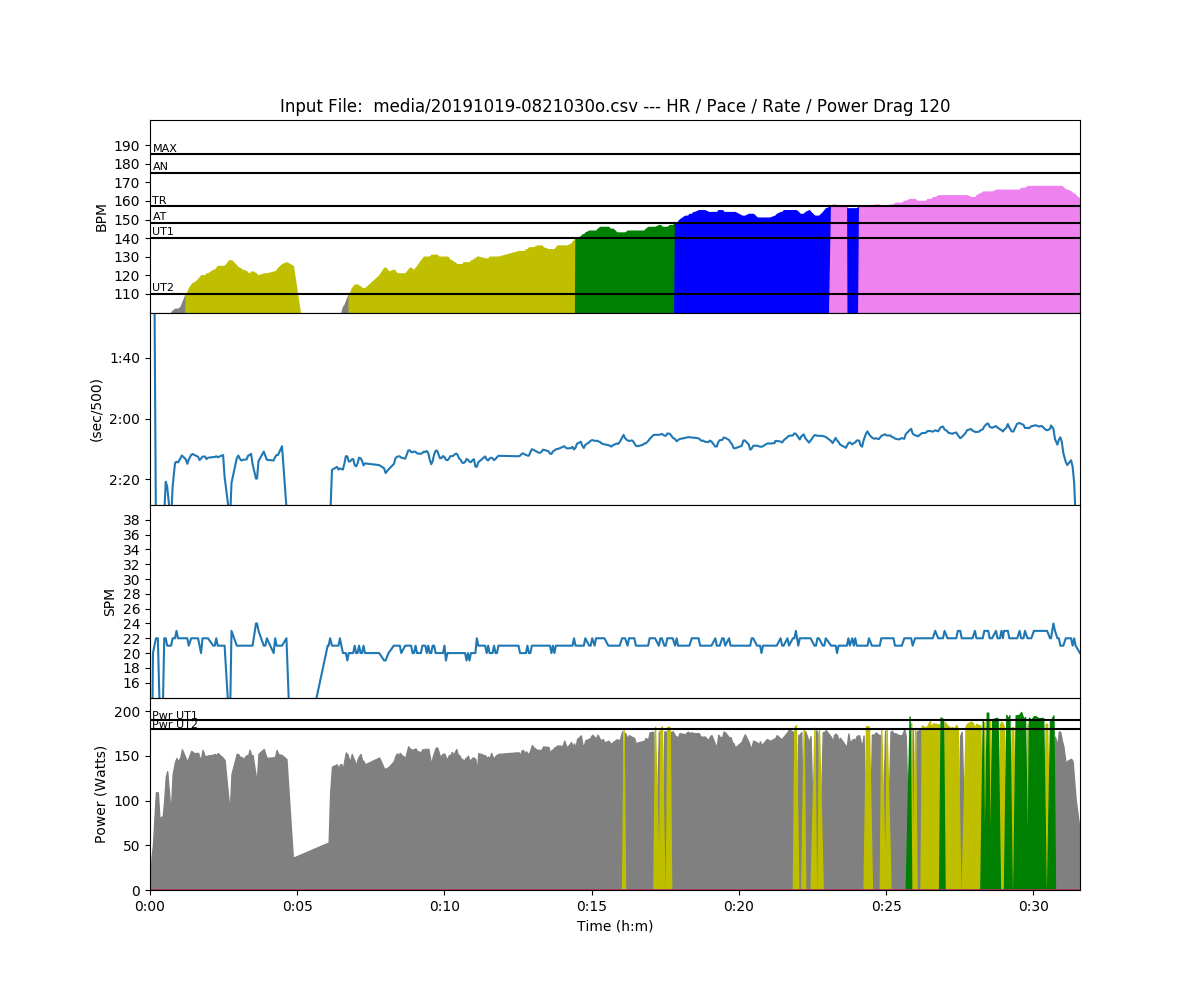 The hiatus after a few minutes was when I realized I was rowing in silence, only hearing the bangs from the weights room, so I got up and added some music to the mix. We have a few new ergs on the club, so it was nice to have a PM5 and a nicely tuned brand new Concept2 erg to row on.
On Sunday, I went for a glorious sunny fall afternoon run in the woods:
It was a pretty slow run, but I enjoyed it very much.
On Monday, 21 October, I wanted to go sculling in the single after a long time. I was looking forward to see power data on the water again. Unfortunately, I had forgotten to move my SpeedCoach from the charger to the rowing bag, so I was stuck using heart rate and the Garmin Vivoactive 3 for pace. It was a 60 minute steady state session, nothing special to report.
Then I had three very hectic days at work, and I didn't work out until Thursday's weights session.
Amsterdam
In May, we had hosted a Masters 8+ crew from the Amsterdam rowing club De Hoop. On Friday, October 25th, it was our turn. We took a plane to Amsterdam, settled in our hotels and had a nice dinner at Brasserie Keyser. On Saturday morning, we headed to the rowing club for a training on the Amstel river. I am not going to bore you with the data, because this was more a sightseeing outing than anything else. I was thrilled to be back on my old training grounds, so from 2 seat I had a lot of information to give to the rest of the crew (and the cox).
To the right, you see the Royal Philips Electronics Global Head Office
To the right, rowing club RIC
Utrechtse Brug bridge, rowing clubs Skoll, Poseidon, Willem III, etc
Here's some pictures: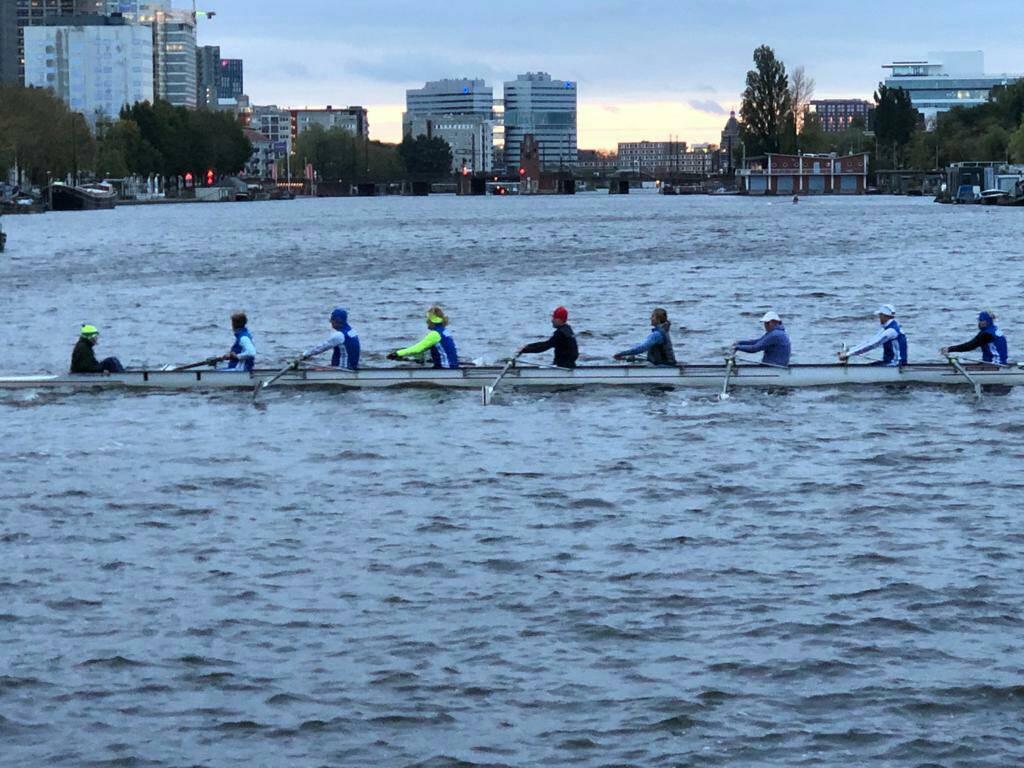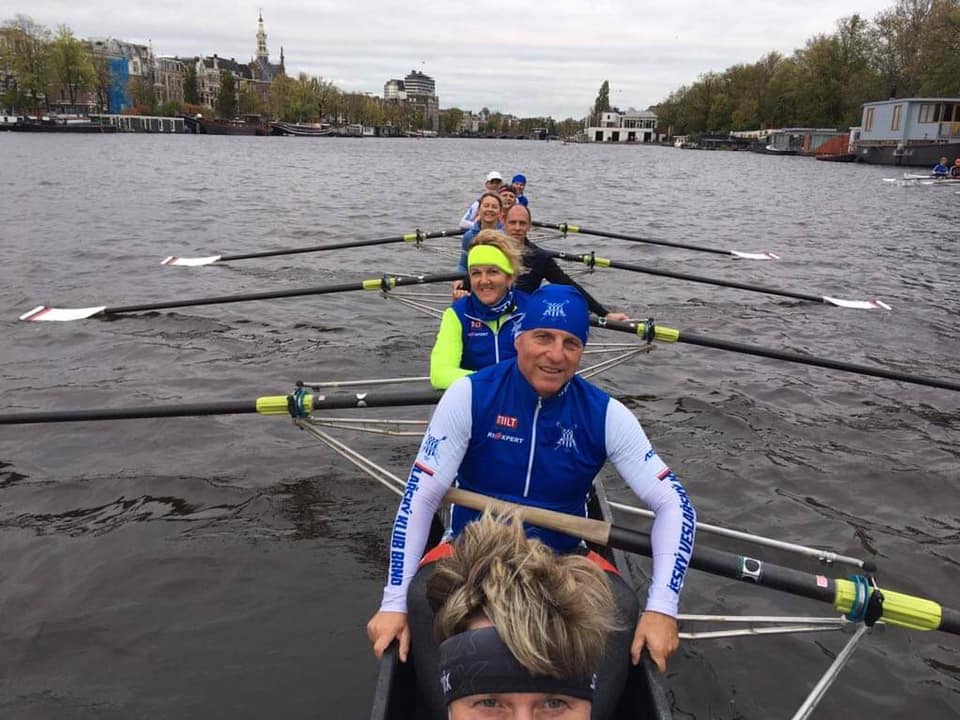 In the afternoon, I showed the group Amsterdam, and we ended in a restaurant that I had booked, on Rozengracht: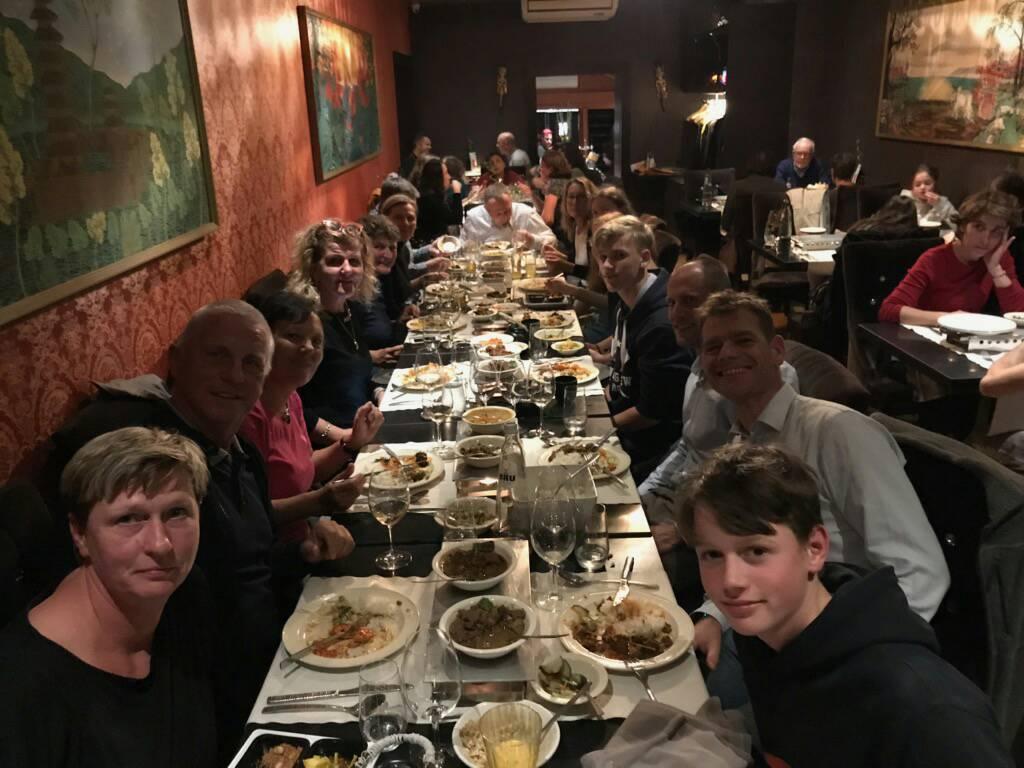 On Sunday, we had another nice row on the Amstel. This time the coxswain, my son Robin (right front on the photo above), explicitly asked 2 seat to shut up and row: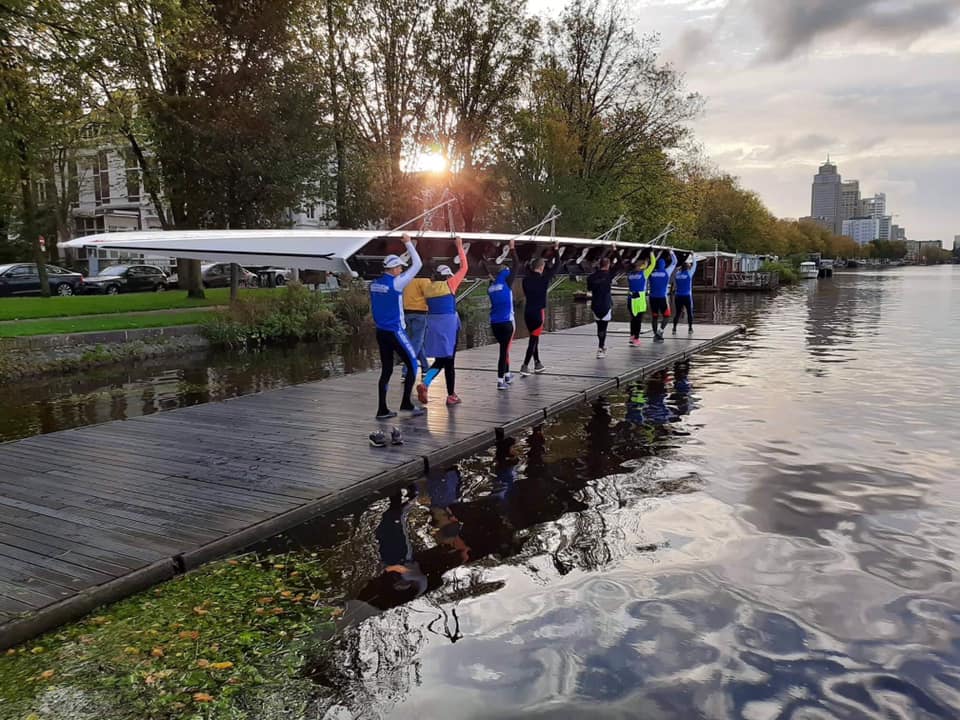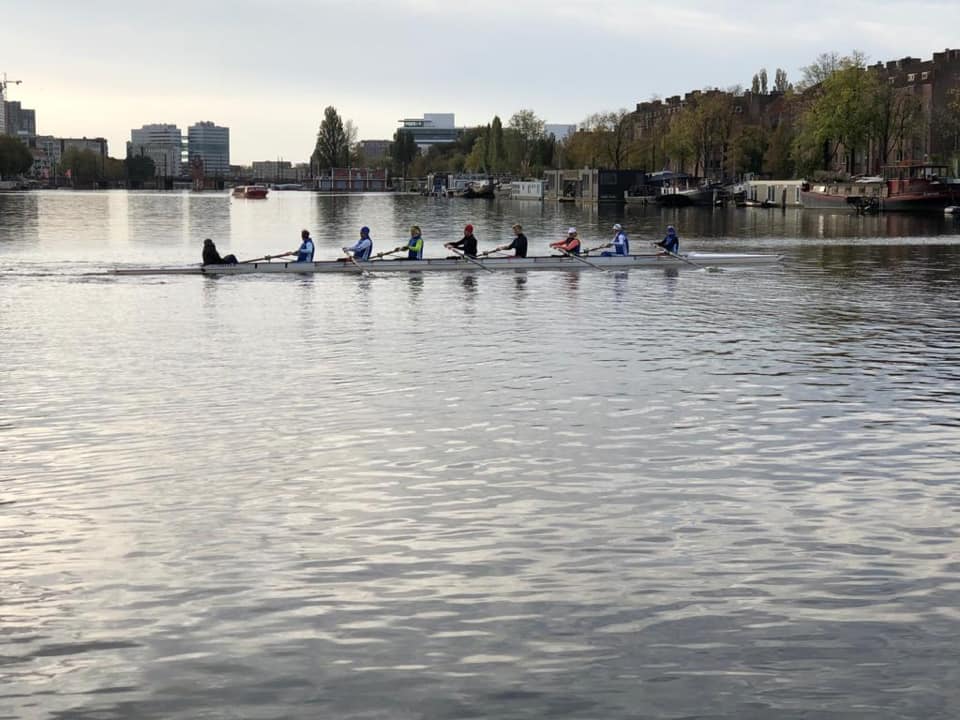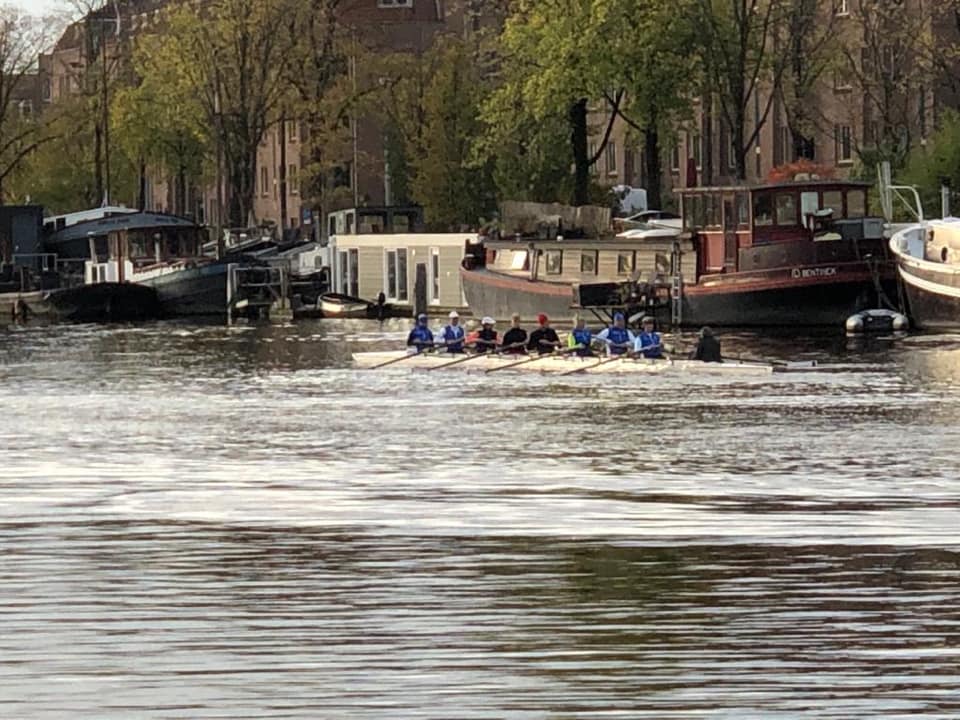 In the afternoon, we (the Roosendaals) left the group to visit the Van Gogh and Millet exhibition at the Van Gogh. We were joined by my parents, and it was a very nice afternoon.
On Monday (a holiday in the Czech Republic), we visited the Amsterdam zoo Artis. In the evening, we flew back to Prague. What then followed was quite absurd:
10PM plane landing in Prague
10:45 I depart from the long duration parking lot in Prague and drive to Brno
1:30AM Arrive home. I start packing for a business trip
1:45AM (Tuesday) I am in bed and falling asleep.
4:45AM Alarm clock
5:00AM The driver picks me up and drives me to the Prague Airport
I could have prepared this better, but I didn't want to let Romana drive the Prague – Brno stretch alone after a long weekend. So be it. I slept pretty well on the ride to Prague and on the Prague-Frankfurt flight.
Later that Tuesday, I took the flight from Frankfurt to Addis Abeba. Arrived in my Addis hotel around 11pm local time (UTC +3, 9pm Prague time).
Tuesday morning was meetings at the customer's site, but I was three after 3pm and didn't have a flight out until midnight. So I got a taxi driver to show me some places in Addis. Turns out the best pictures I took were random snapshots out of the taxi window.
I forgot to throw some sports clothes in my bag when I was packing at 1:30AM. It was a pity, because I was on Entoto hill, a place where the Ethiopian runners train frequently. Also the hotel had a weights room (although I didn't check out if it was any good).
Head of Prague
I returned home on Thursday afternoon and sat down to clean up my Email inbox. Friday, my only day in the office of this week, also turned out to be a long day, so when I arrived home at 7pm I didn't have the energy to do an erg session.
On Saturday, I had to get up early again. This time our mixed 8+ crew took the 6:13 train to Prague. Well, 5 of our crew and three reserves. Our stroke man had to face a sudden mixed crew rowing embargo imposed by his wife, our 7 seat had back problems, and our 6 seat had already bailed out a few weeks ago.
We had a fun race, but the results weren't so great. Well, it was a nice hard distance training. Here's  a picture of us trying to enter the U turn, being chased by a girls eight.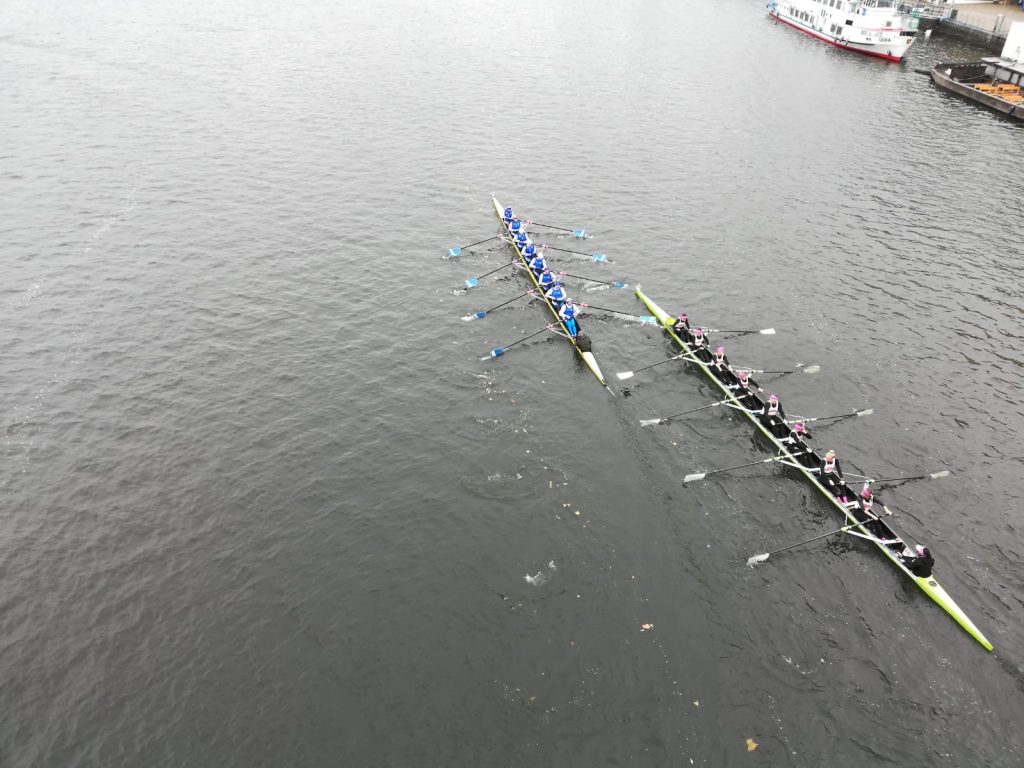 The Prague Head is a nice race mainly because of the great atmosphere. Crews are coming from Italy, Germany, Poland, Hungary, Croatia and Serbia to compete, and everybody is mainly racing for the experience of rowing in the middle of Prague.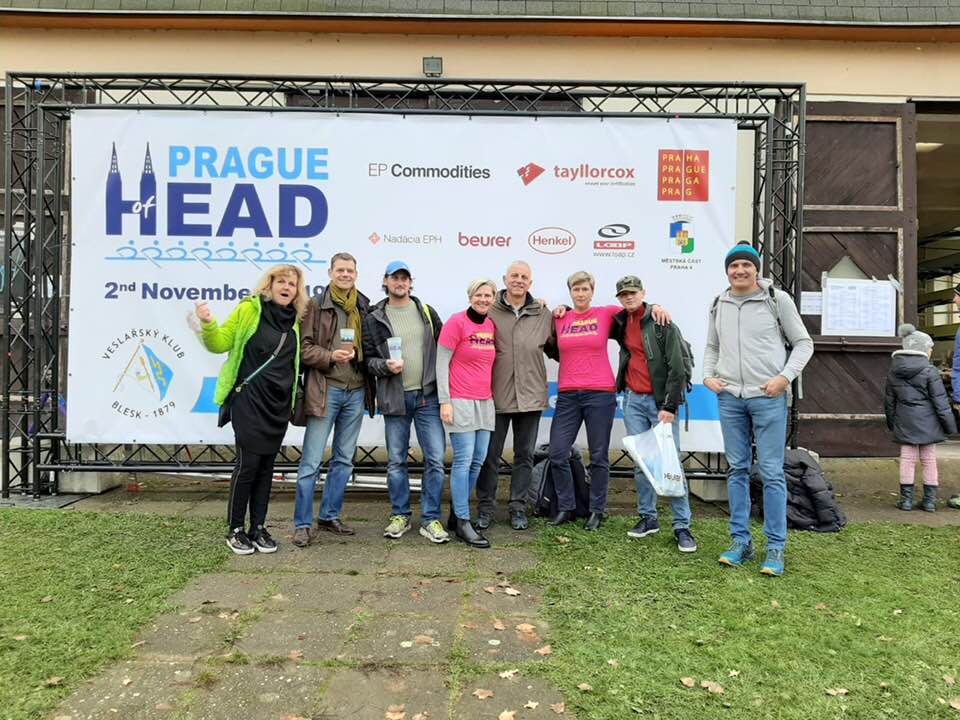 Here we are at the pre-start.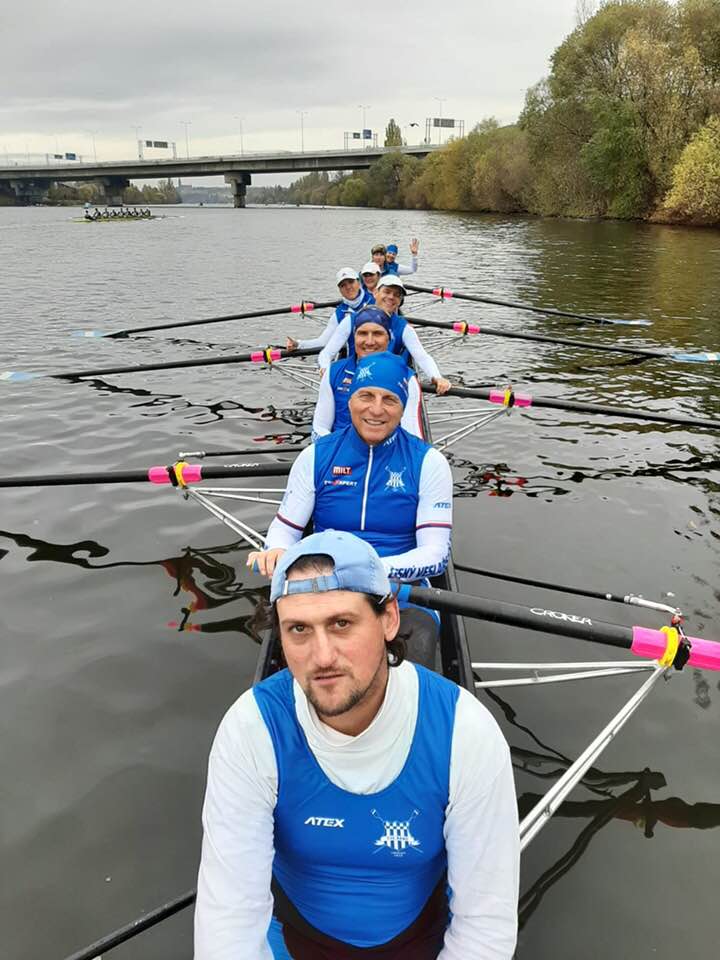 This was a long blog post to lead up to this embarrassing picture of my performance vs the plan for October: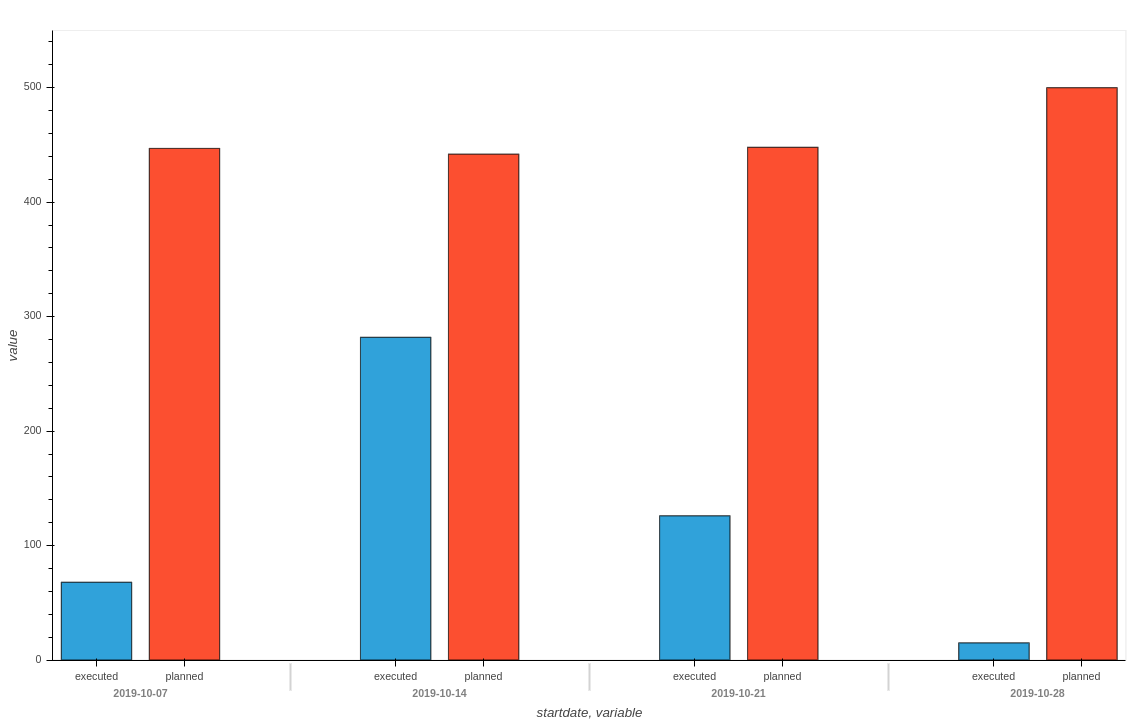 Of course, the last week is not complete. I intend to sit down to erg today. Also, I did some of the rowing in the eight only with the Vivoactive to record heart rate, and it just won't correctly record a heart rate above 120 bpm. Also, I had put in a highly ambitious plan of training load.
I am now going to write my plan for November and December. I think I should plan a training load of around 300 for the first week and then build up by about 5% per week.
By the way, this chart is one of the new functionalities on Rowsandall.com. I developed a proprietary algorithm to compare apples and oranges. Training sessions can be planned by distance, duration, or training load (Training Stress Score based on power, or TRIMP based on heart rate). Through some data analytics I was able to get estimates of TSS from workouts that are recorded only as time and distance. It's not going to be exactly correct, but it is pretty good when you are trying to look at cumulative training load and compare it to the plan.
Follow me in social media