Aug 11 2019

Another quick week review.
I didn't do any workout on Monday. Even though my training plan assumes Sunday is a rest day, it usually works out like this. I like to concentrate to work only on Monday, and not being stressed about making it to the lake on time or not.
On Tuesday, I again had the Masters ladies 4x as a sparring partner, so I skipped the steady state planned for Monday and did a 2x(4x250m).
It seems that my heart rate band didn't register the first 250m set.

Workout Summary - media/df_20190806-190517.csv
--|Total|-Total----|--Avg--|-Avg-|Avg-|-Avg-|-Max-|-Avg
--|Dist-|-Time-----|-Pace--|-Pwr-|SPM-|-HR--|-HR--|-DPS
--|10117|01:03:04.8|03:07.1|164.4|22.7|144.1|185.0|07.1
W-|01850|00:07:18.6|01:58.5|331.6|32.1|164.6|184.0|07.9
R-|08275|00:55:46.8|03:22.2|142.5|21.5|141.4|184.0|07.6
Workout Details
#-|SDist|-Split-|-SPace-|-Pwr-|SPM-|AvgHR|MaxHR|DPS-
01|00237|00:56.6|01:59.3|324.5|29.7|106.8|112.0|08.5
02|00267|01:03.5|01:59.0|346.3|31.1|176.8|182.0|08.1
03|00249|00:59.1|01:58.9|354.5|32.9|178.6|184.0|07.7
04|00250|01:00.2|02:00.4|347.0|34.2|179.0|184.0|07.3
05|00226|00:54.0|01:59.3|291.1|30.0|150.3|168.0|08.4
06|00247|00:58.0|01:57.2|323.8|32.1|176.2|181.0|08.0
07|00234|00:54.0|01:55.5|335.1|33.7|177.4|182.0|07.7
08|00140|00:33.2|01:58.7|320.7|33.7|171.8|176.0|07.5

I tried to pace the intervals such that I started at lower stroke rate, and then increased. It was extremely humid and warm weather, and this felt like a very tough workout, despite the small amount of work time.
On Wednesday, I did an hour of weights. Pretty heavy on the deadlifts and squats this time.
On Thursday, I didn't have time for a steady state session. I rode to work on the bike instead, and back home at the end of the day. Ninety minutes of bike riding, in the heat, over a hilly course. After that and Wednesday's squats and deadlifts, I think the inside of my thighs looked like a mushy mess, incapable of any further exercise.
So on Friday I was sparring with the ladies again. It was pretty rough weather, and we did 6x500m/3min. Actually, we changed it to 6x2min/3min.

Workout Summary - media/mailbox_attachments/2019/08/09/86850914f10a427cbae438ca88fa819b.csv
--|Total|-Total-|--Avg--|-Avg-|-Avg--|-Avg-|-Max-|-Avg
--|Dist-|-Time--|-Pace--|-Pwr-|-SPM--|-HR--|-HR--|-DPS
--|05738|30:00.0|02:38.4|206.0| 25.5 |163.0|188.0|07.9
Workout Details
#-|SDist|-Split-|-SPace-|-Pwr-|-SPM--|AvgHR|DPS-
02|00455|02:00.0|02:11.9| 289.0 | 29.5 | 117.0 |07.6
04|00472|02:00.0|02:07.2| 310.0 | 30.5 | 179.0 |07.6
06|00511|02:00.0|01:57.4| 300.0 | 31.5 | 172.0 |08.1
08|00495|02:00.0|02:01.4| 293.0 | 32.5 | 176.0 |07.6
10|00471|02:00.0|02:07.2| 287.0 | 33.0 | 173.0 |07.3
12|00472|02:00.0|02:07.2| 292.0 | 32.5 | 177.0 |07.3

This wasn't too fast but my excuse was the rough conditions.
On Saturday, I did a very fine steady state / technique workout. The mirror was flat as a lake (or was it the other way round), and I could row an entire 3000m stretch with square blades.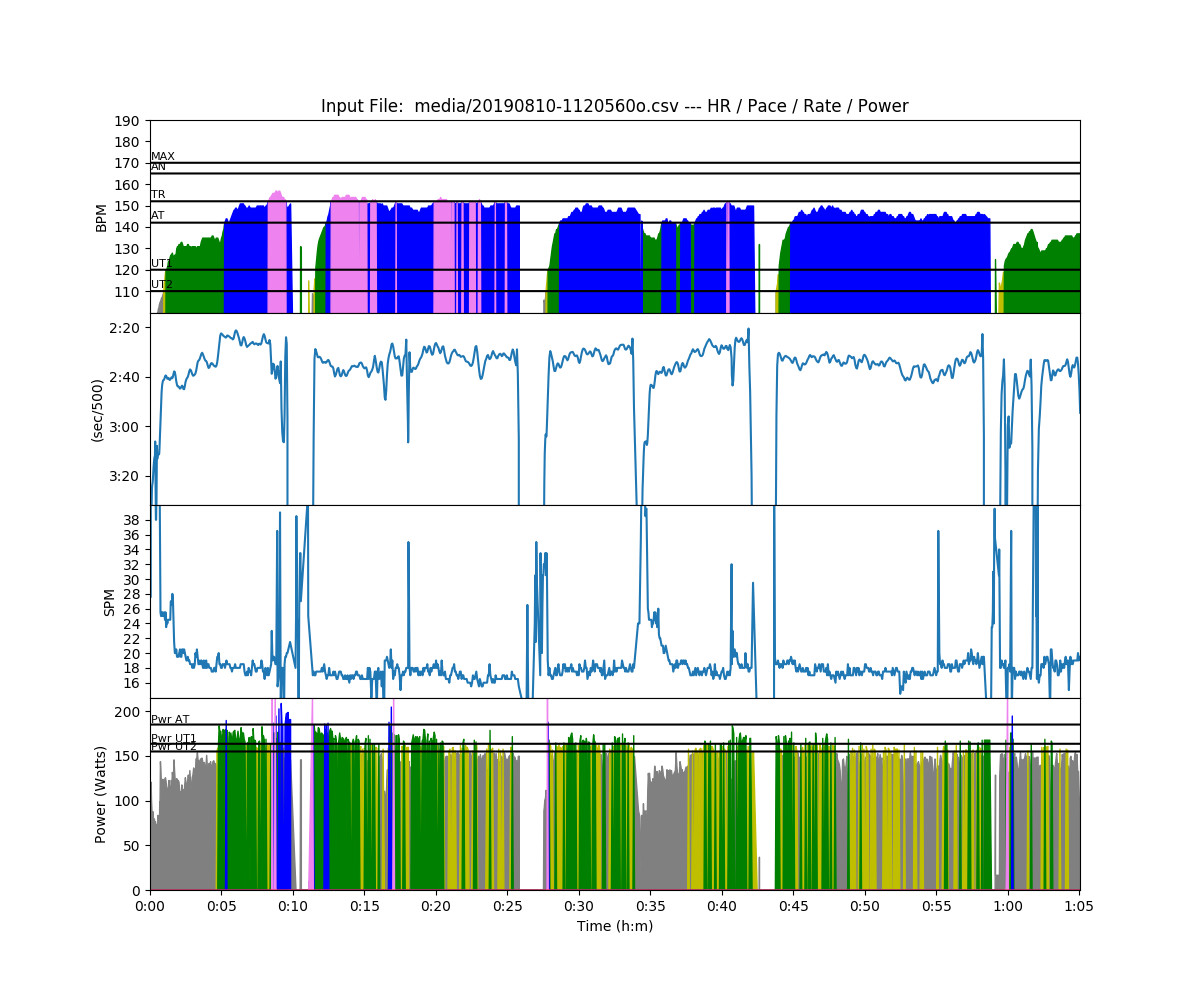 I did lots of other exercises, including some of the balance stuff that should impress the people on the Stand-Up Paddle boards. Sadly, they just continue doing their yoga and are not impressed at all.
At the end of the day, I drove to Vienna to pick up my daughter who arrived on a flight from Amsterdam. On the way back we drove through some very heavy rain. Today, I wanted to go to the lake but it's very hot and humid weather again, so in the end Romana and I just hiked a bit in the hills around our house.
The hike ended in a garden pub, where I had some soup and a beer. Walking back from the pub to our house, we passed the vegetable garden of a colleague, who promptly handed me lots of green beans, a patty squash, and tomatoes. I am firing up the grill. Some steaks as a side dish to the fresh vegetables.
Follow me in social media