Aug 10 2019
I came back from Linz with a good feeling and highly motivated to get some good training under my belt.
And I think I did a good series. Just didn't have time to blog about it.

July 29 to August 4
I didn't train on Monday. I did go to the rowing club to get our boats off the trailer and into the hangar. On Tuesday, I made it to the rowing club after work, but I realized I had forgotten my rowing club keys in my regatta bag. There were a few people at the club, but they told me they wanted to leave around 8pm. So I did a quick 6k tour.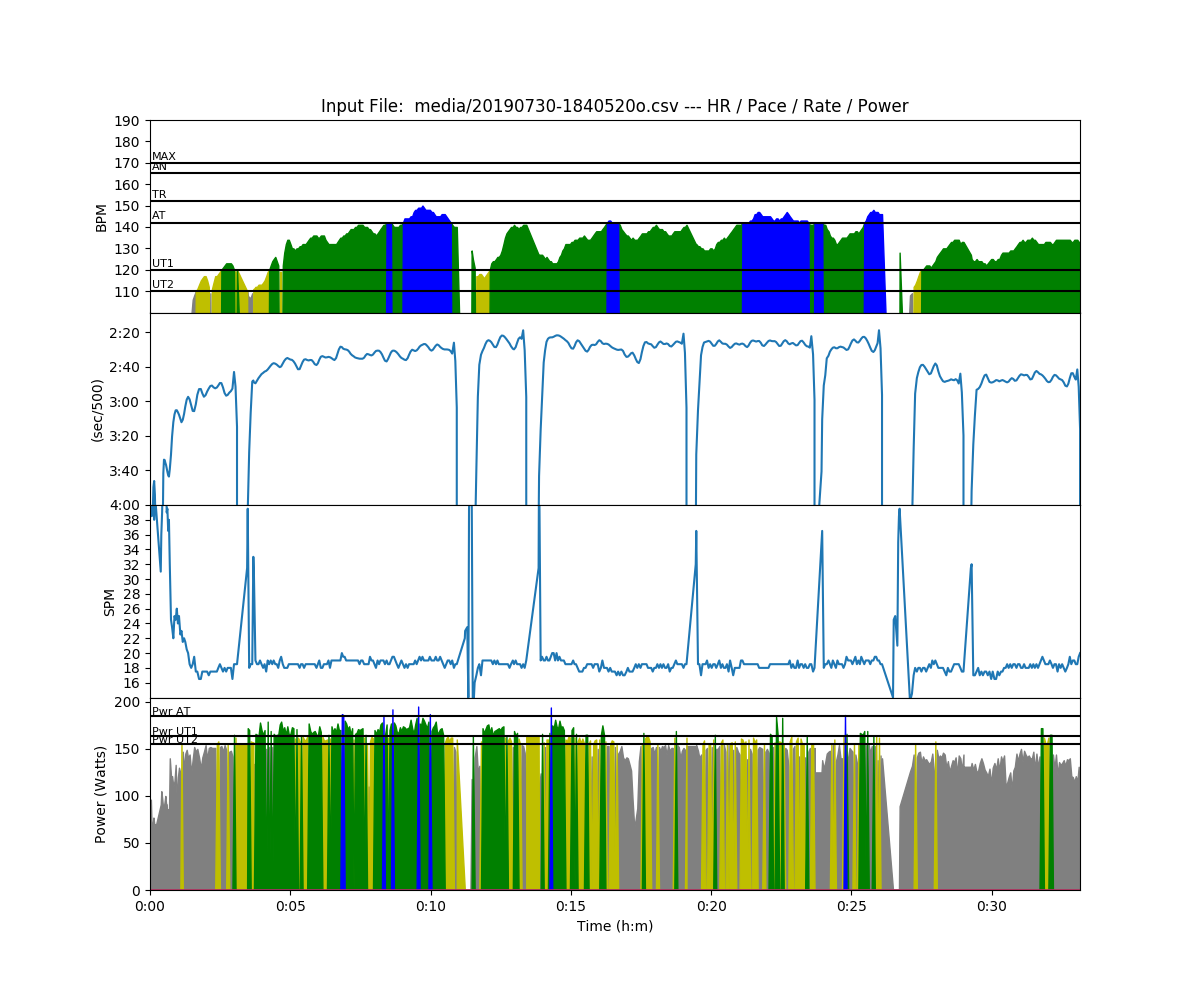 Better than nothing.
On Wednesday I did a big weights session. On Thursday, August 1, I did a 3x2k, where the 2000m was rowed as 500m at 24spm, 500m at 26spm, 500m at 28spm, and 500m at 30spm. Romana and I did this in the double. After the first 2k, we decided to reduce the stroke rate by 2spm in the second and third interval. It was very warm weather and my heart rate reached crazy heights. We also felt that the first 2k was rushed on the slides, so we wanted to focus a bit on stroke rhythm. I think it was an excellent decision, which helped a lot for our boat speed .

#-|SDist|-Split-|-SPace-|-Pwr-|SPM-|AvgHR|MaxHR|DPS-
05|01961|08:06.3|02:04.0|000.0|26.6|168.9|184.0|09.1
06|01949|08:42.4|02:14.0|000.0|25.3|172.1|184.0|08.9
07|01980|08:26.8|02:08.0|000.0|25.5|171.1|186.0|09.2

The splits are auto generated by rowsandall.com.
On Friday, August 2, my plan was:
750m @ 32spm / 4 min rest
500m @ 34spm / 4 min rest
250m @ 36spm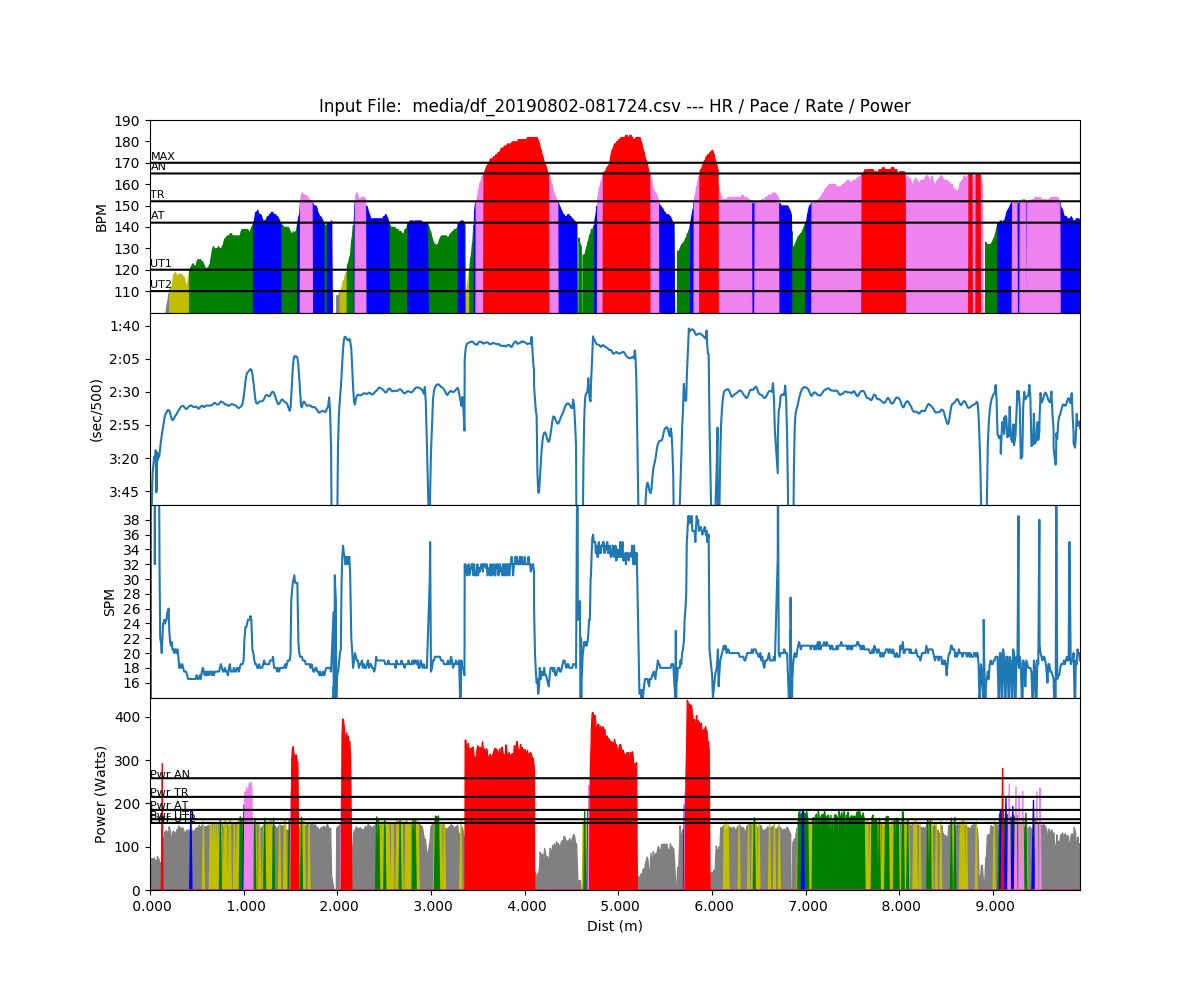 Workout Summary - media/mailbox_attachments/2019/08/02/3c221e8a74d449f5a107ff017a78b0cf.csv
--|Total|-Total-|--Avg--|-Avg-|-Avg--|-Avg-|-Max-|-Avg
--|Dist-|-Time--|-Pace--|-Pwr-|-SPM--|-HR--|-HR--|-DPS
--|02739|14:28.9|02:44.5|213.0| 26.0 |160.0|183.0|08.5
Workout Details
#-|SDist|-Split-|-SPace-|-Pwr-|-SPM--|AvgHR|DPS-
02|00750|02:51.3|01:54.2| 319.0 | 31.5 | 167.0 |08.3 - tailwind
04|00500|01:59.5|01:59.6| 323.0 | 33.5 | 171.0 |07.5 - headwind
06|00250|00:54.0|01:48.0| 386.0 | 37.0 | 159.0 |07.8 - tailwind

Maximum heart rate 183bpm. I was pretty happy with the pace and power values reached.
On Saturday, I couldn't train because I was visiting my mother in law in Pardubice. On Sunday, I got out in the single, and Romana was in a Masters ladies quad, so we did some good sparring.
We did a 1000m piece, where I tried to hold 300W as long as possible and got to more than 1200m in stroke rate 30. The quad was slightly faster.
But then we did a 1 minute at max power, and I did outrow the quad (doing stroke rate 38) and averaging 414W over 90 seconds, because I decided to continue after the one minute mark: