May 13 2019
Monday – Wednesday
No training. I got a car to the airport at 6am, took a flight to Jordan and arrived at the hotel hungry, but also on the first day of Ramadan. We chose to respect the fasting times. We had a great dinner in a local Arab restaurant, close to the hotel.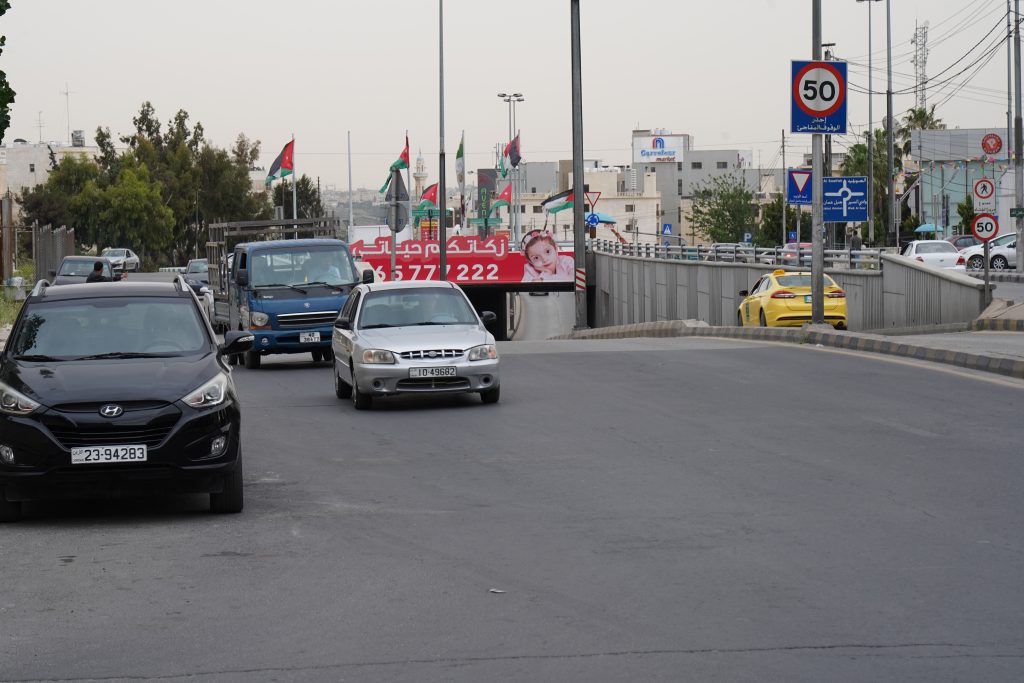 On Tuesday morning, I hit the hotel gym and did a pretty good workout. Twenty minutes of cardio (elliptical and spinning), and then 5 times the following circuit:
15 push-ups
30 squats
6 pull-ups
30 sit-ups
Doing that five times without stops is a pretty intensive workout, believe me. Here is the view from my hotel. The gym was basically the entire upper floor of the two story building behind the pool. A pretty good gym. The only thing missing was a proper rowing machine.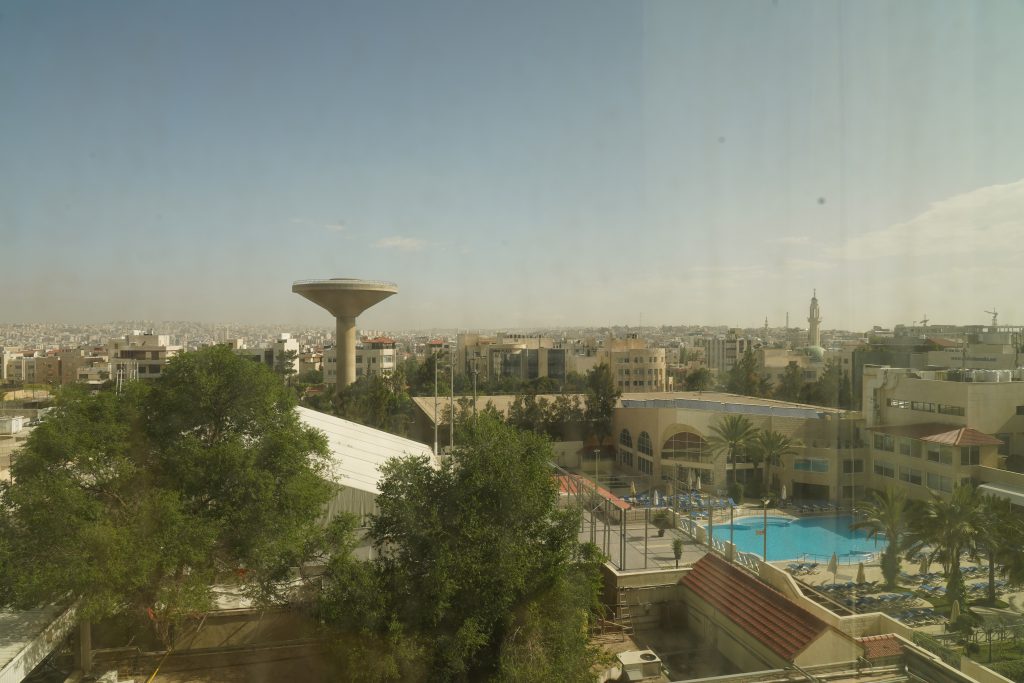 The rest of Tuesday was meetings with a potential business partner, followed by a dinner with said partner. On Wednesday morning, we had a bit of time to walk around the old town and the citadel. Here are some pictures.
This slideshow requires JavaScript.
Then we took the plane home, getting a view of Jerusalem and a great view of the Mediterranean coast of Turkey and Greece from the plane. My colleague only took a picture of Jerusalem. Dome of the Rock near the center of the picture: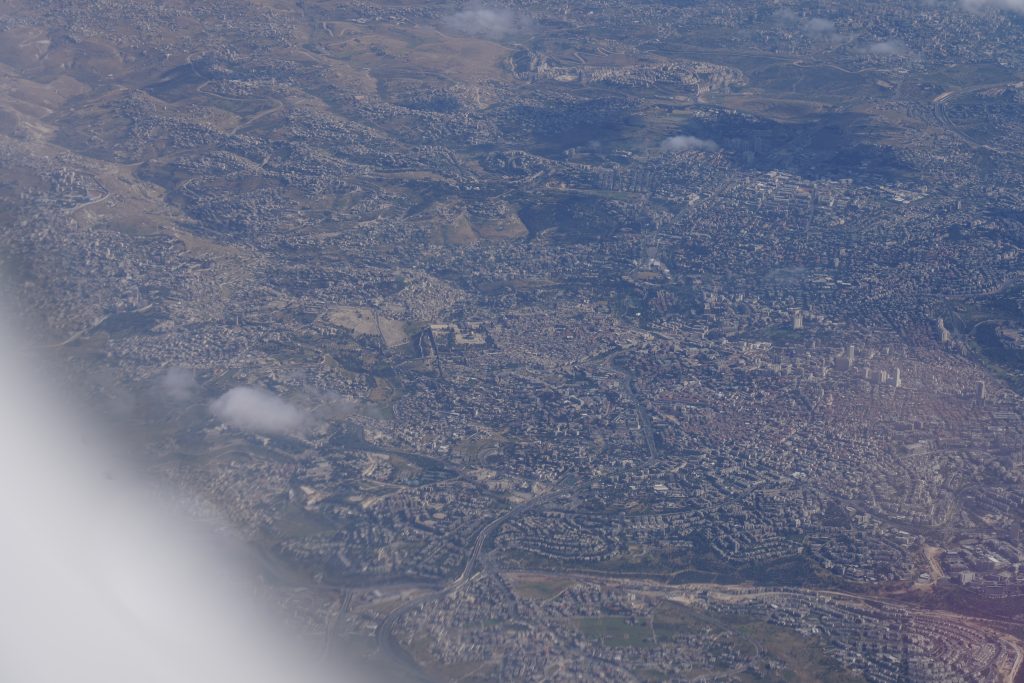 Thursday
A pretty heavy weights workout. I didn't have time to go to the lake.
Friday
No time to train. Another full day of work trying to catch up after a trip. And then, at the end of the day, we drove to Piestany and had dinner in our hotel next to the reservoir.
Saturday
A full day of racing on the river Vah.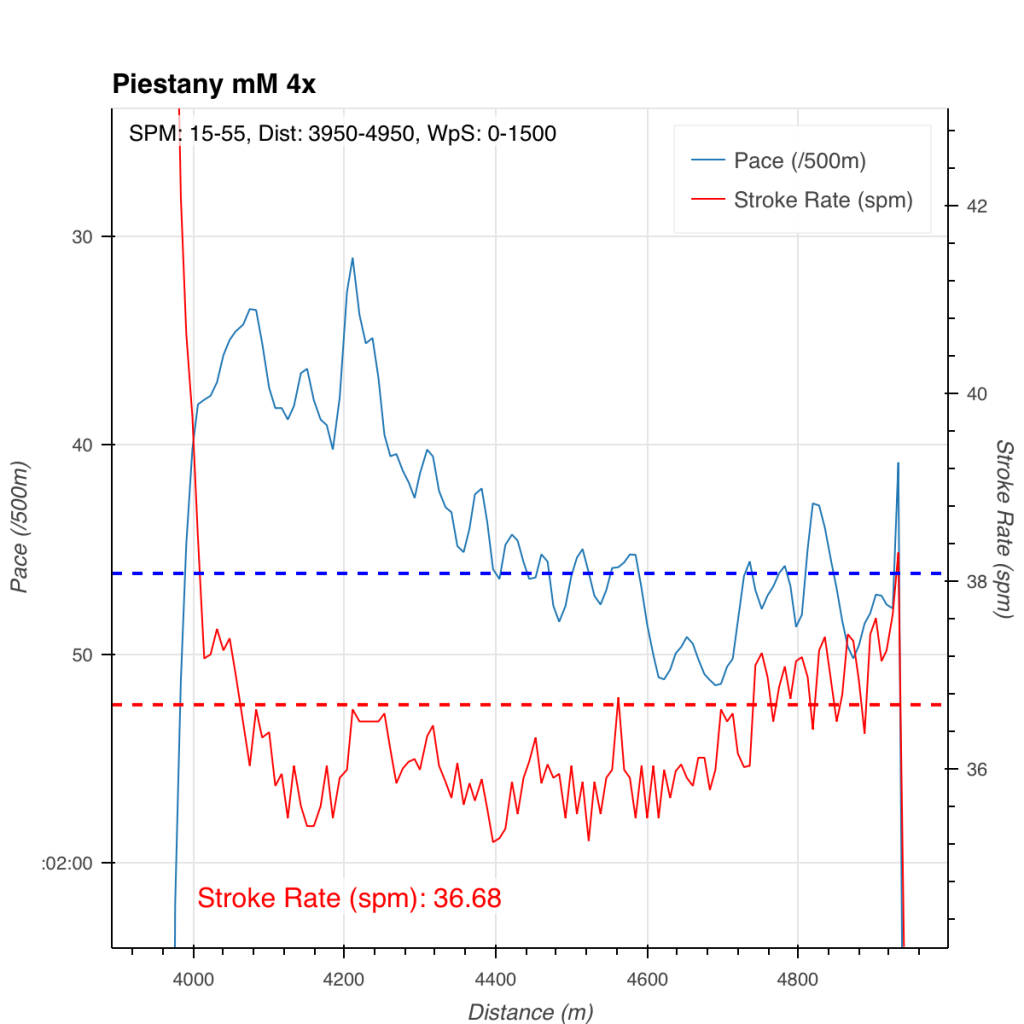 My first race was at 3pm, the Masters Men 4x. We came second in a time of 3:23, almost 6 seconds behind the winners who were clearly faster than our ad hoc crew. I rowed on bow seat. We rowed into a pretty strong headwind, which also created some chop.
The second Saturday race was in the eight. We didn't have enough men to fill the eight, so Romana and Radka joined us. We didn't pass any of the 100% male boats, so no egos were hurt in the process.
The last race of Saturday was very special. My son Dominik and I rowed a "family double", Dominik on stroke seat and myself on bow. The race was over 500m, and our main opponents were the local Strecansky family. We had a brilliant start and we quickly took the lead, creating a very comfortable gap between ourselves and our opponents. It was a joy to row, and according to our fans on the shore it looked very compact. It's a pity nobody took a picture.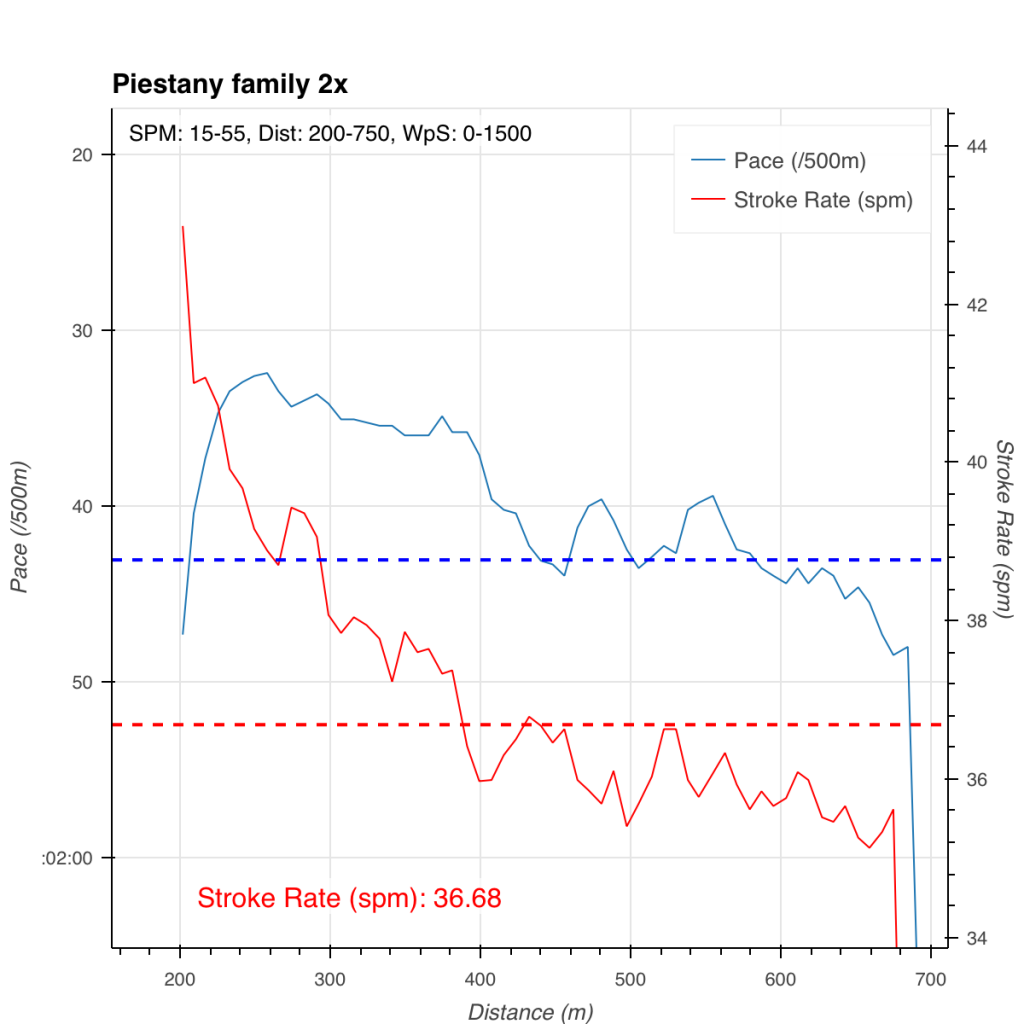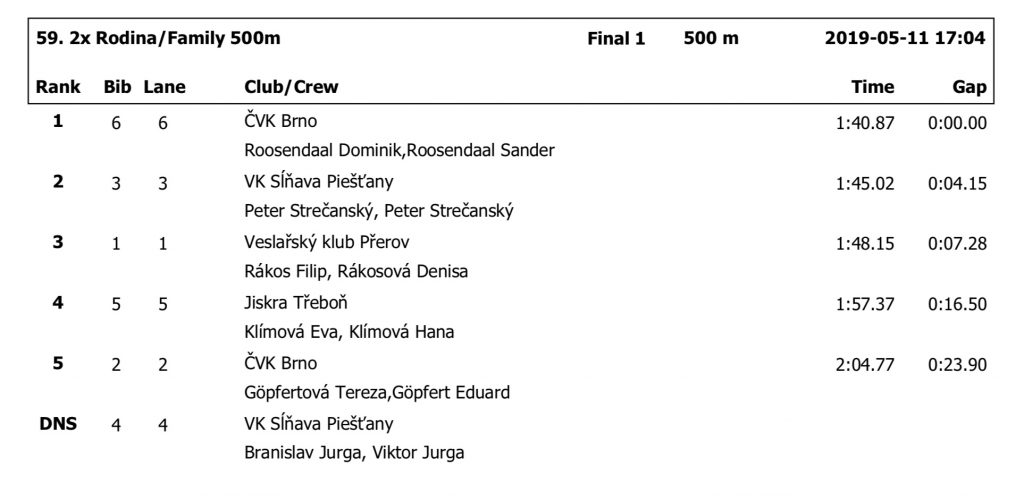 Three fun races within 2 hours.
In other races, Dominik came second in the boys 15/16 heat in the double, qualifying for Sunday's A final, and Robin won the boys 13/14 coxed four. Robin also came fourth in the boys 13/14 double.
Sunday
Sunday racing started early for me. We opened the regatta with a 500m on the mixed Masters quad, which we lost against the locals.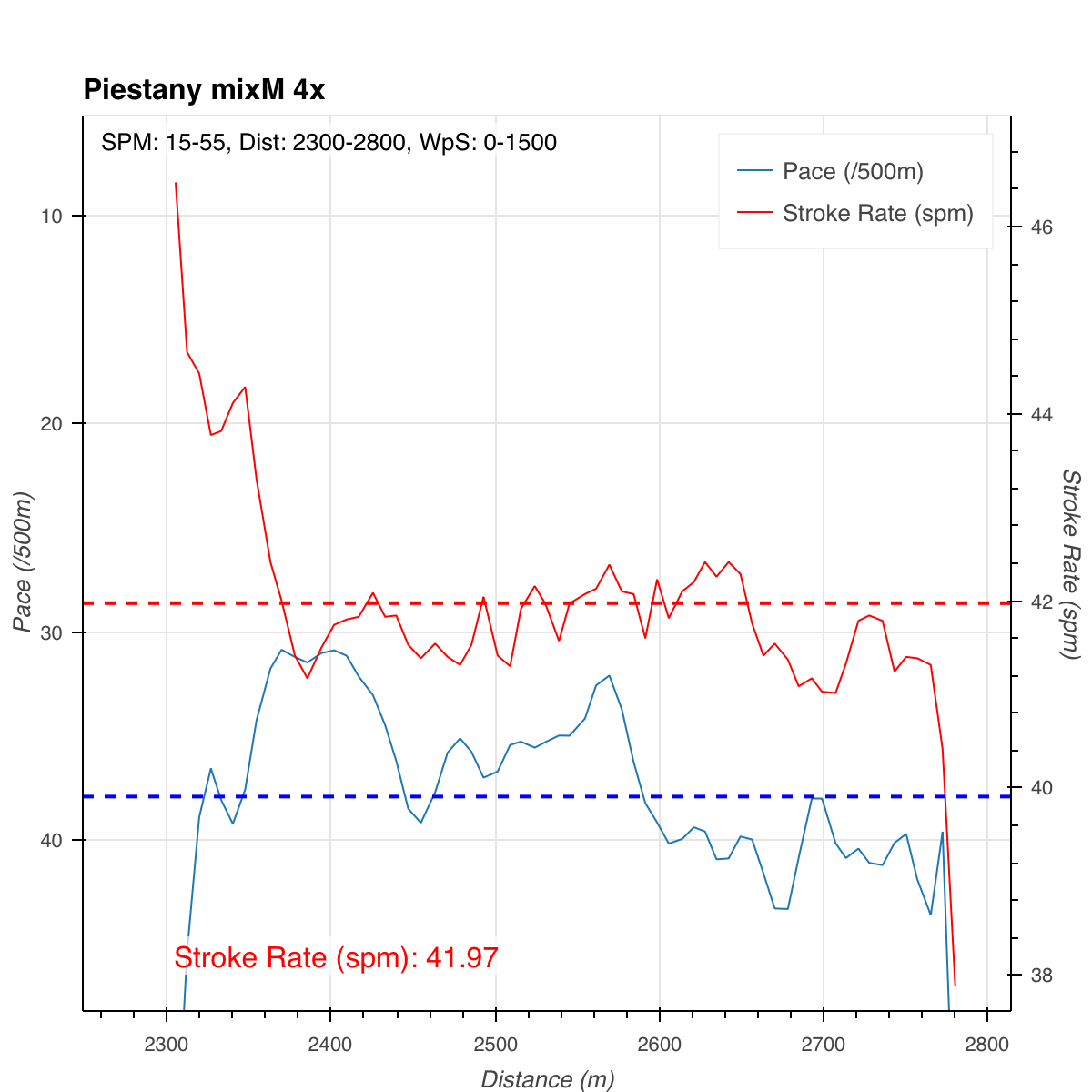 Yes, that is an average stroke rate of almost 42 SPM! It wasn't me! I was suffering on bow seat.
An hour later, it was time for me to row the single. For lack of trailer space, I had to leave my own boat at home, and I was racing this in a club boat built for 90kg.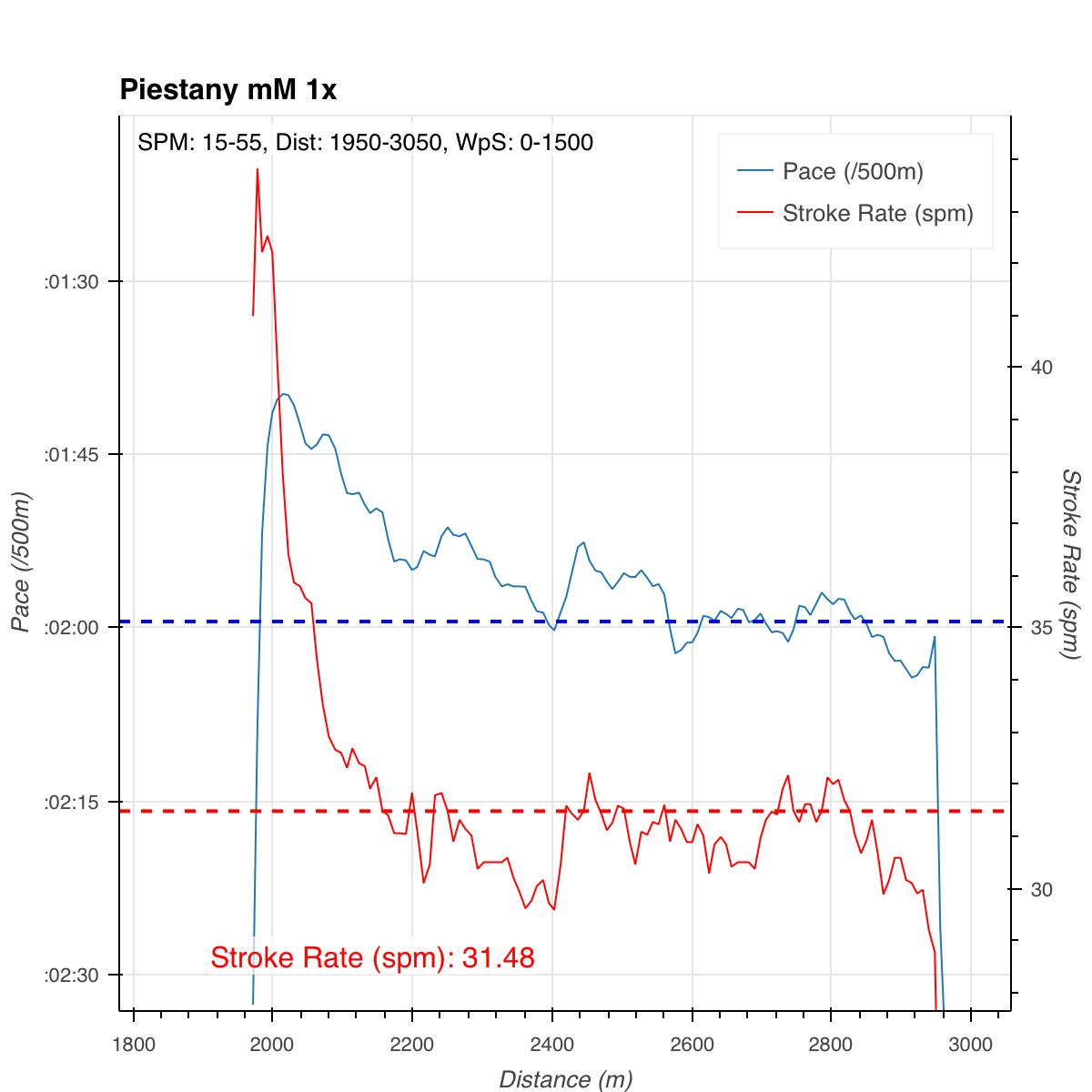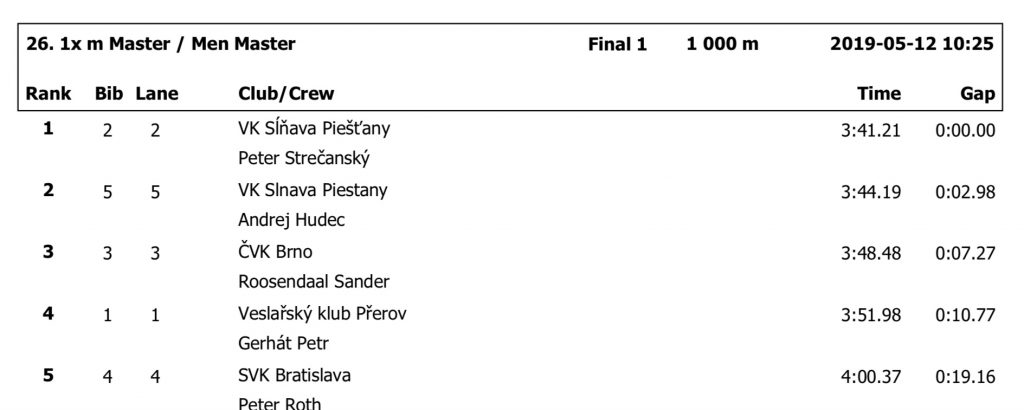 Pretty disappointed with the result. Peter Strecansky basically rowed away from me. For 700m I was rowing in second place, and then Andrej Hudec passed me. I think the river flow gave us about 10 seconds, so the time is equivalent to a 4:00 row on standing water.
Looking at the data afterwards I am more positive. I was tired from Saturday's racing (but so were my competitors), and I managed to keep the stroke rate at a reasonable 31spm or higher for most of the race. When I increased stroke rate, it helped boat speed.
I guess this is not a bad result given the heavy week with travel.
The final race of Sunday was the Masters 2x. We didn't do a proper warming up, because we were assisting with an emergency (asthma attack of a kid). Everybody responded quick and professionally, luckily. We got her sitting up straight and calmed her down while someone was getting her medicine, and after a few puffs she was slowly but surely improving. With that solved and the kid in good hands, we launched the double to meet the competition.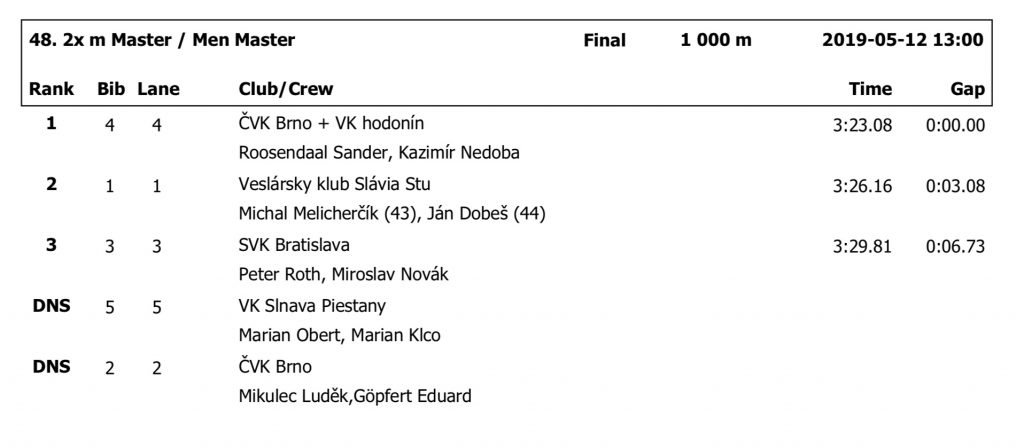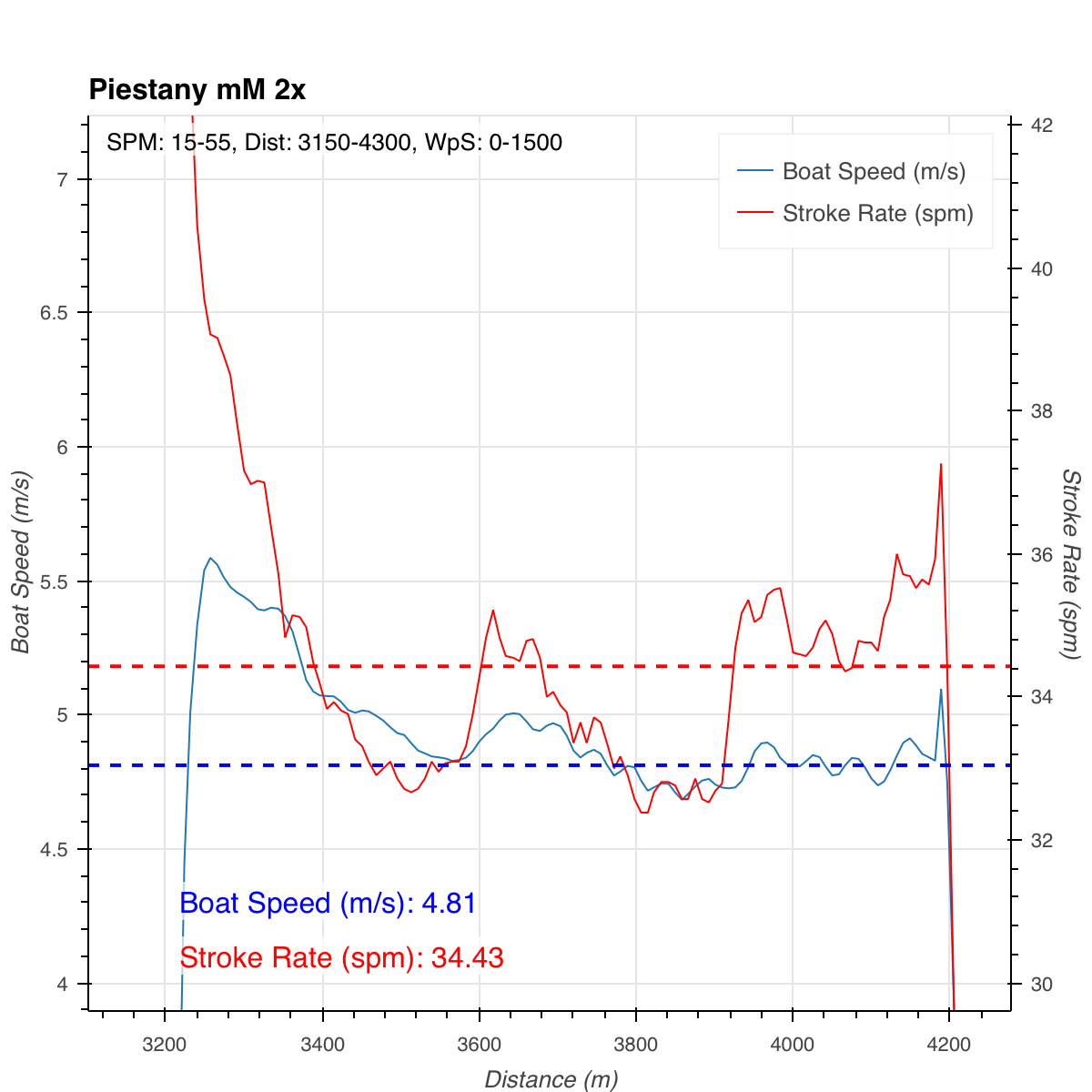 I was stroking this one, with Kazi on bow. Same line-up as our Euromasters win. We were leading straight out of the start, did a ten stroke piece in the middle to demotivate any attempts by those who were chasing us, and a final push for our fans. Quick, easy win. In form, we should be a bit faster than this.
The rowing was good for most of the race. It was easy to hold 33 SPM and 35 SPM with a light stroke, and we were clean and compact. When we did the push, I felt the boat speed up.
Dominik and Mirek won a bronze medal in the boys 15/16 doubles A final, passing the local boat in the final 200m to beat them by 0.5 seconds. Robin won the boys 13/14 coxed quad by a 10 second gap.
Here's a picture taken on Saturday after the "fun racing" block (family doubles, mixed kids doubles) which was won by four crews from our club.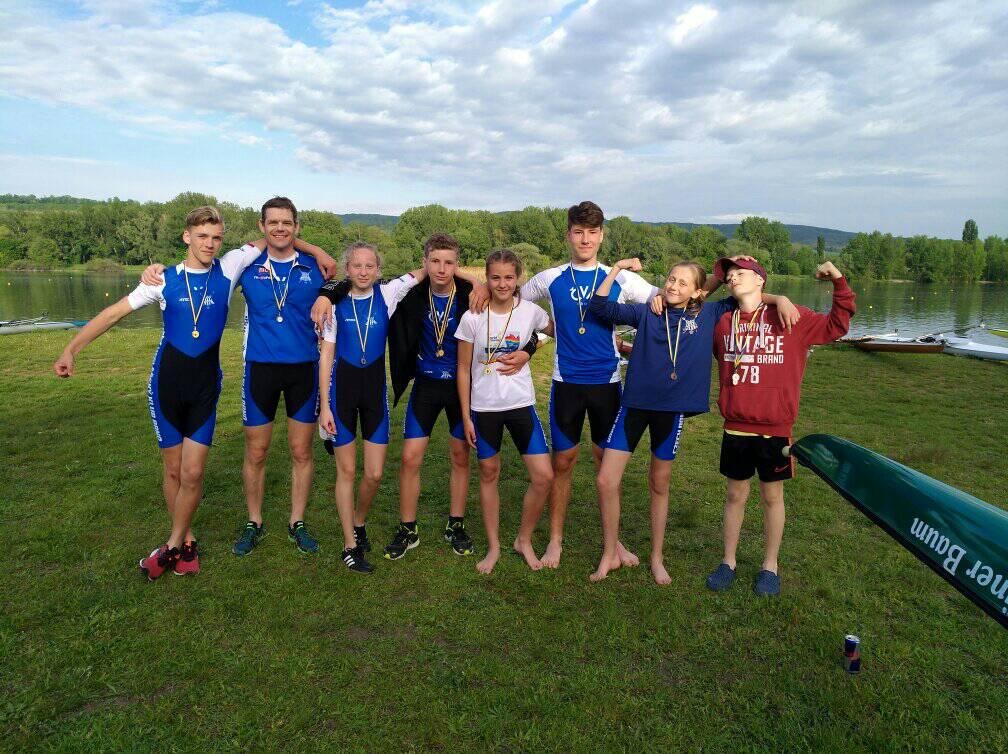 And that was the end of a weekend full of activity. The weather was perfect. Sunny on Saturday, cloudy but dry on Sunday.
Follow me in social media