May 5 2019
Hard Work
Romana and Dominik are racing at the Juniors Regatta in Munich. It's a good opportunity for a selection of our club's youth to get international experience and measure themselves with the Germans, who are producing quality juniors. I only found out that Dominik could have started in the lightweight Juniors B category, and he would be rowing in the front of the pack. I have mixed feelings about this, though. I understand how it makes for more interesting competition for kids who are lighter. But knowing how hard lightweight rowing is for some grown-ups, I wouldn't want to see people limiting their food intake to make weight at that age.
As a former lightweight rower, I will say my opinion. For many athletes, lightweight rowing is not healthy. It forces people to take in less food than their training regimen requires, and fosters an unhealthy relationship with one of the best things there is in life: eating and enjoying good food (without feeling guilty). Let alone the lure of helping your performance by taking banned substances.
The natural conclusion of that is to stop lightweight rowing as a separate category, and I think I am OK with that. And I am more than OK with that for people under the age of 18.
This morning, I had a nice long sleep in, a slow breakfast and then spent time helping my youngest Robin with his Dutch homework. I also decided which restaurant in Amman I was going to have dinner in on Monday evening, which involved googling sunset times. It's the first week of Ramadan, after all. I have good memories of Amman, so I am looking forward to going back to Jordan. After that, I headed to the office to drop some presents. One of my best people is going on maternity leave, and unfortunately I have a business trip coinciding with her last day in the office. So the least I could do was organize a collection and buy some nice presents from what was collected (plus a little extra).
Then on to the lake. I wasn't too hopeful. Looking at the flags around the office, it would be windy. On Friday, the conditions were like this: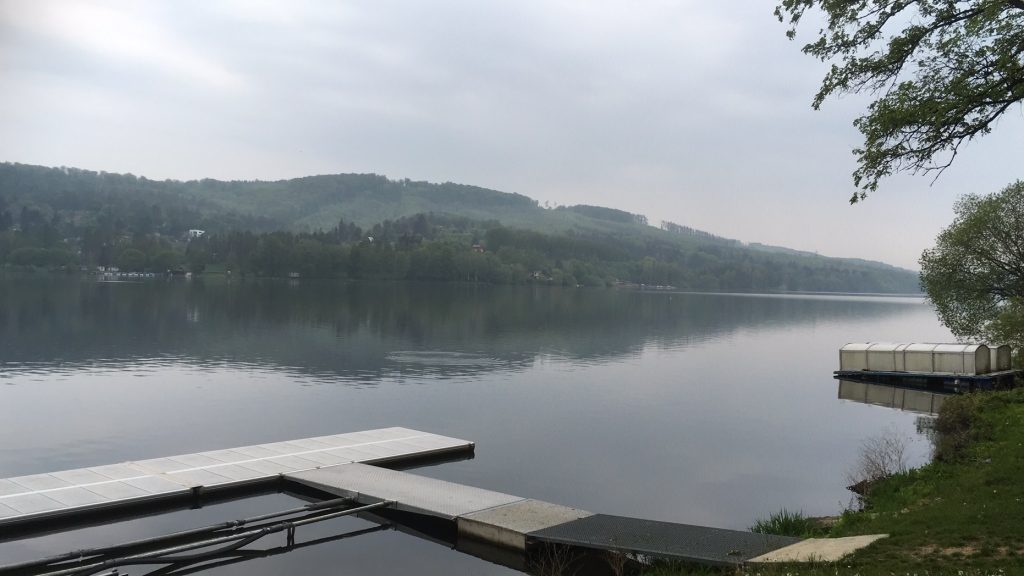 Today it would be tougher. I was hoping the lake would be rowable, knowing that the wind is always stronger in Slatina, where my office is, than in Bystrc at the lake. When I arrived, it wasn't too bad. It looked like the south end of the lake was very choppy (but still rowable) and the north end was more sheltered and quieter.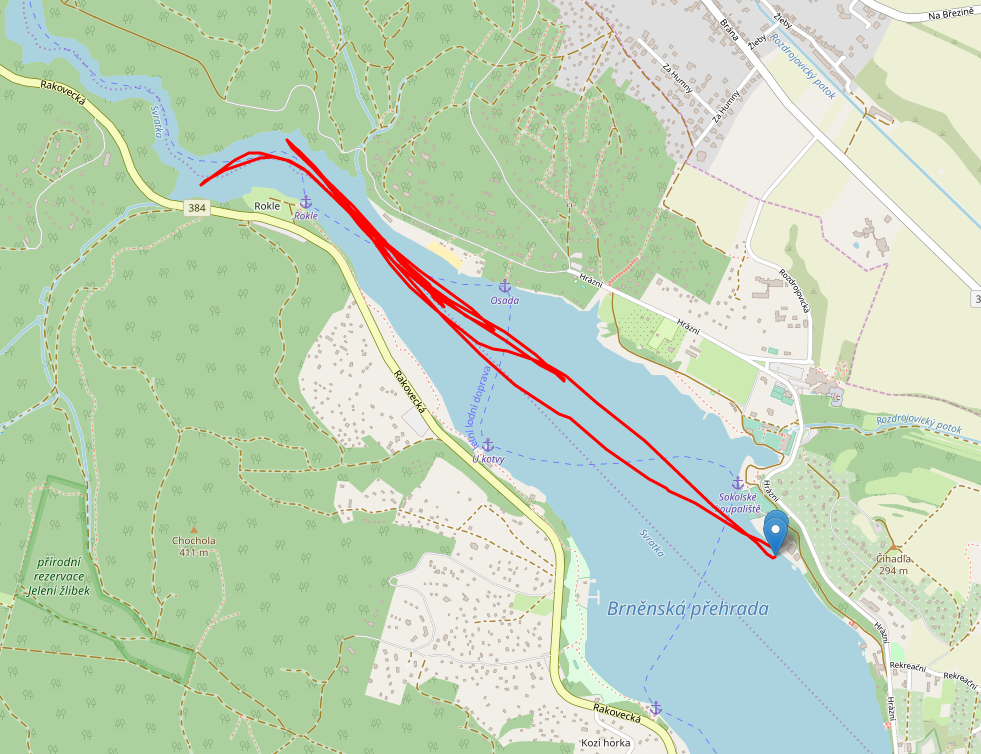 So I stayed on the north end.
The training looked brutal on paper: 2x(3x3min/3min)/5min at race pace.
But a Masters sprint race takes less than four minutes. So taking that literally, it would be like rowing 3/4 of a race, then returning to the start, rowing another 3/4 to the race, and repeating that another four times.
I decided that 2k pace was meant. I don't have enough data for this season to make a reliable estimate of my 2k power, so I just picked 28 to 30spm and 270W. (Rowsandall.com tells me my 2k power is at 241W, but that is probably an underestimation, as I haven't done any long hard pieces on the water recently).
I rowed the 3 minute pieces at "Rokle" (see map above, top left), and the wind was 'interesting'. It was mostly North to North-East (0 to 30 degrees) but it was turning, so there were strokes with tailwind during a headwind interval, and the other way round.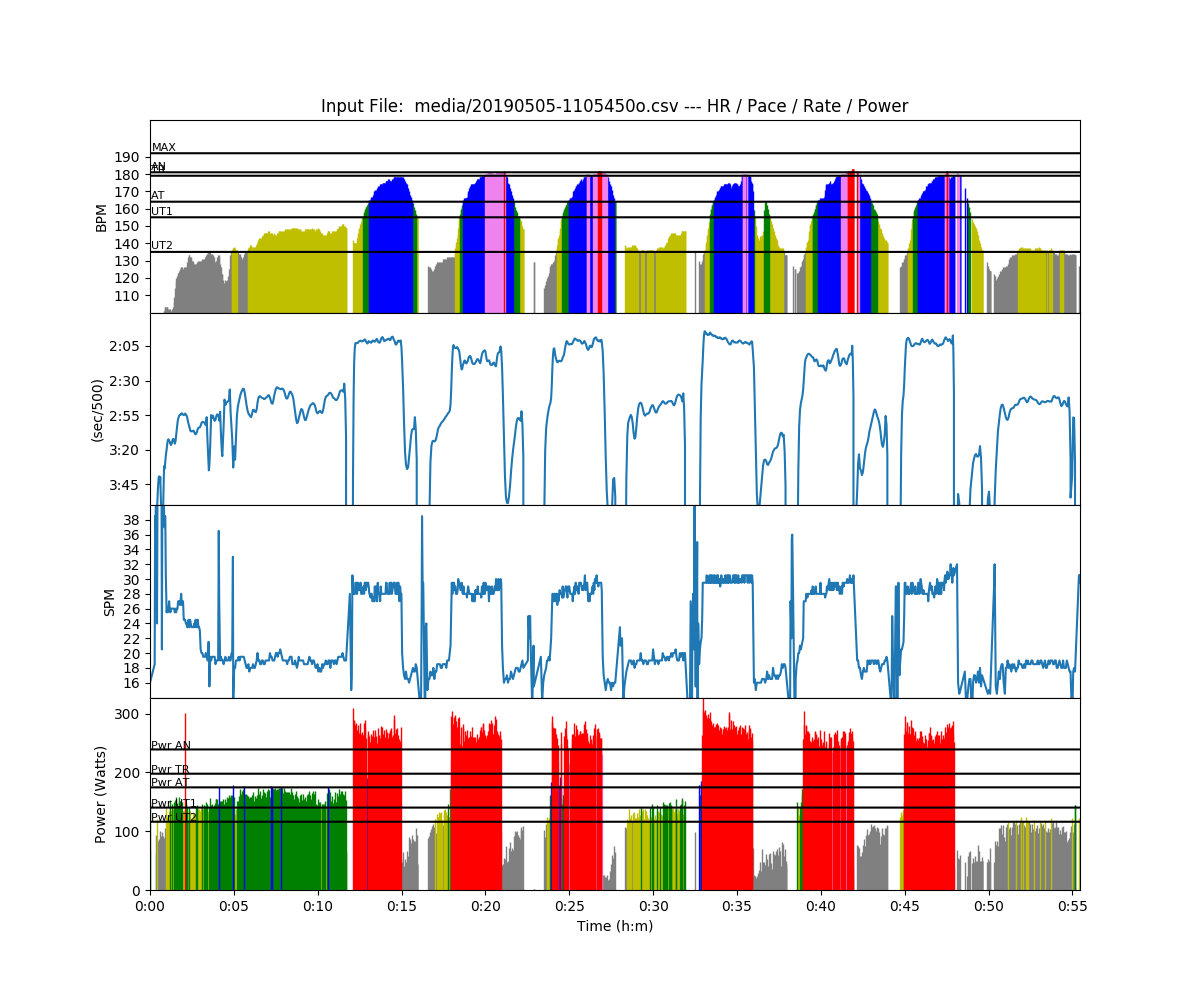 And here's the summary:

Workout Summary - media/20190505-1105450o.csv
--|Total|-Total-|--Avg--|-Avg-|Avg-|-Avg-|-Max-|-Avg
--|Dist-|-Time--|-Pace--|-Pwr-|SPM-|-HR--|-HR--|-DPS
--|09785|55:26.0|02:50.0|157.4|22.4|149.1|183.0|07.9
W-|04228|17:56.0|02:07.2|262.9|28.7|166.9|183.0|08.2
R-|05562|37:31.0|03:22.4|107.0|19.4|140.5|183.0|08.5
Workout Details
#-|SDist|-Split-|-SPace-|-Pwr-|SPM-|AvgHR|MaxHR|DPS-
01|00697|02:55.0|02:05.5|265.6|28.3|165.7|178.0|08.4
02|00669|02:59.8|02:14.4|267.5|28.3|168.2|181.0|07.9
03|00723|03:01.6|02:05.6|251.8|28.4|165.7|182.0|08.4
04|00752|03:02.0|02:00.9|275.4|29.7|167.3|180.0|08.3
05|00669|03:01.0|02:15.3|253.6|28.4|166.9|183.0|07.8
06|00717|02:56.6|02:03.1|263.4|28.9|167.5|182.0|08.4

I am a little disappointed with the power averages for some intervals, but it has to be said that there was some turning, and I did have to work hard to keep myself above 270W in the straight bits.I was pretty happy with interval number 4. This was with a nice tailwind, but I felt I could row lightly at 30spm and I didn't have difficulty keeping the power up. I was also able to tap down cleanly and find rest in the recovery at 30spm. This is how I want to row all my intervals and race pace pieces! (Easier said than done.)
Relax
After the training, I felt very tired. I decided I needed to do something nice and relaxing, so I took the car to the Maximus Infinit Wellness resort, only 500m from our rowing club, and indulged in 90 minutes of sauna and relax. It was wonderful. Today, I really enjoyed the cold bits of saunaing. Taking the ice cold shower. Swimming in the little lake with a water temperature of 10 degrees. Standing outside in just 6 degrees C, with just a towel wrapped around my body. It was wonderful.
Follow me in social media