Jul 30 2018
Thursday, July 26th, the first day of the Euromasters Regatta 2018 at the 1972 Olympic rowing course in Munich. We're here. This is it. The end of a long season of training and racing. The final regatta before the vacation break.
I had to be realistic. A busy (and deciding) year at work and time invested in the rowsandall.com site has cost me quite some training hours. Stravistix tells me I am 25% behind in training hours since January 1, compared to 2016 and 2017.
The regatta itself seemed 25% bigger than the previous edition. More boats. More people. More food stalls. More merchandise. An extra race day. Higher temperatures (highs well above 30C, not a lot of cooling off in the night).
I had been realistic and not signed up for too many disciplines. Here's the back of my accreditation card with my schedule for the four days: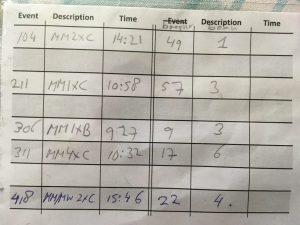 Day 1
At 14:21 in the afternoon, Kazi and I lined up in lane 1. I was nervous. If there was a race with the biggest chance of finishing first or second, this was it. It was a strong field, but Kazi and I row a nice double, and Kazi's season is strong. We were lined up against Exeter on lane 2 (this year's Henley Masters winners in the C category, as I was told on Twitter), our friends from Bohemians Praha, Germany, Austria and Spain.
Out of the start we were slow, but we quickly recovered and after 250m we were in second position, half a length behind Exeter.
At the 500m mark the field broke apart in two halfs, with Exeter and us in front, then water, and then the rest. This happened just after I started our attack on Exeter with about 600m to go. The attack brought us almost level, but we went past them only after the 500m.
They tried to come back but must have been slowing down more than we did. We defended our position. Their attack lasted for about ten strokes, and we could row the final 150m being certain of our win. True, Exeter was just half a length behind us but we had some reserves still, as the stroke rate chart confirms. Yes, I had to rate up to hold our position, but with Kazi behind me I could have gone up to 40 spm without the boat falling apart.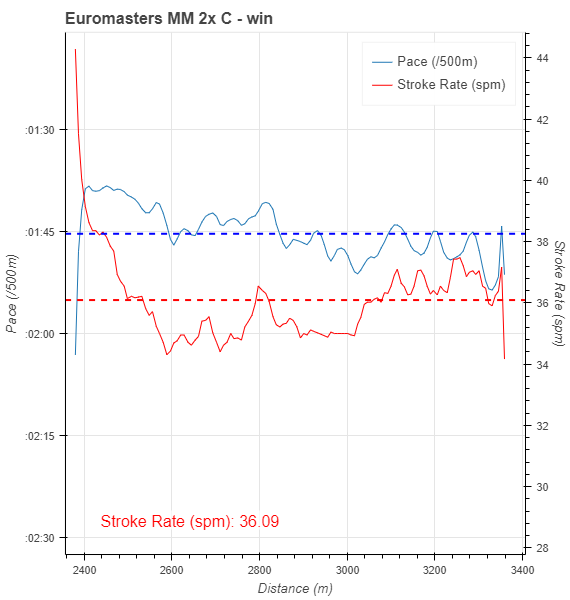 So the first race was a win! The time was not great, but we were rowing into a headwind, and times in Munich are in general not very fast. It's a slow course.

Here's the video of our row (forward to 1:28:00 where our race starts).
On Thursday evening, Romana and I did a quick 4km row to reset ourselves after the choppy adventure of Monday.
Day 2
The draw had been pretty strange for all races. On Thursday's M 2x C race, we were up against Bohemians Prague, a double that I have raced already twice this year. On Friday's M 1x C races, it was even worse. In one final, the two Bohemians guys were racing each other, and in the other final Kazi and I were.
Our fan clubs had given us orders to occupy the first and second position. Kazi had beaten me in Trebon at the Czech Masters. I knew he was a hard nut to crack, and I was sure there were some other fast scullers in the race.
There was only one option, perhaps. And that was to go out fast and be ahead of Kazi after 500m. He has given up in such positions in the past.
There we were, lining up at the stake boats, Kazi in lane 2 and I was next to him in lane 3.
Attention – Go! We were both very well out of the start and after 200m, it was Kazi slightly in front and me rowing in second position.
I tried very hard to stay close to him, but unfortunately he had a really strong day and just steamed away, creating a boat length of light between us with 500m to go. I was also busy defending my second position against a Sankt Petersburg from Russia.
My third 250m was really bad. I saw power values going to 280-290W and I just didn't find a way out of that. Some steering issues as well. The Russian guy passed me. With 250m to go I refound myself and I passed the Russian again. Romana told me later that Kazi in front was now really struggling with the consequences of going out fast as well. Apparently, we were catching up fast.
Unfortunately for me, the Russian guy caught up and beat me on the finish line:

A great race, except for a badly executed third 250m. Perhaps the penalty for going out too fast? The times were slow because of head wind.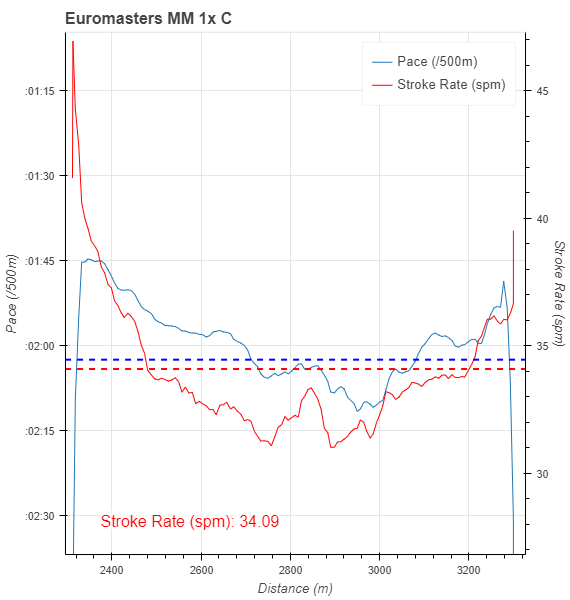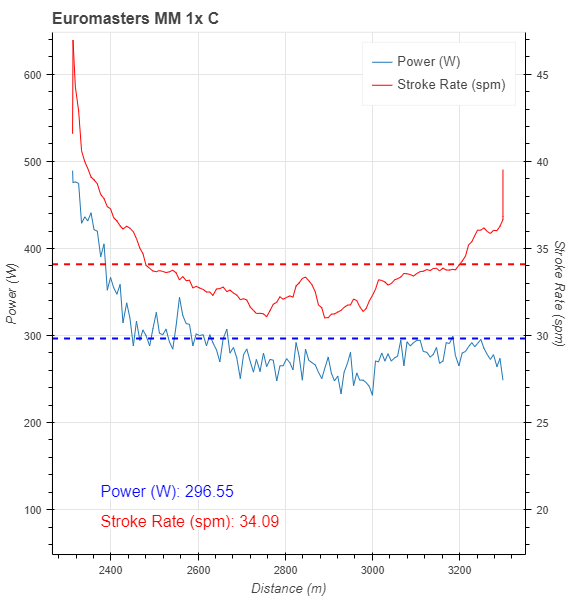 The charts are quite clear.
Earlier that day, Romana came fifth in the double. Here's a picture of Romana and Veronika going to the start: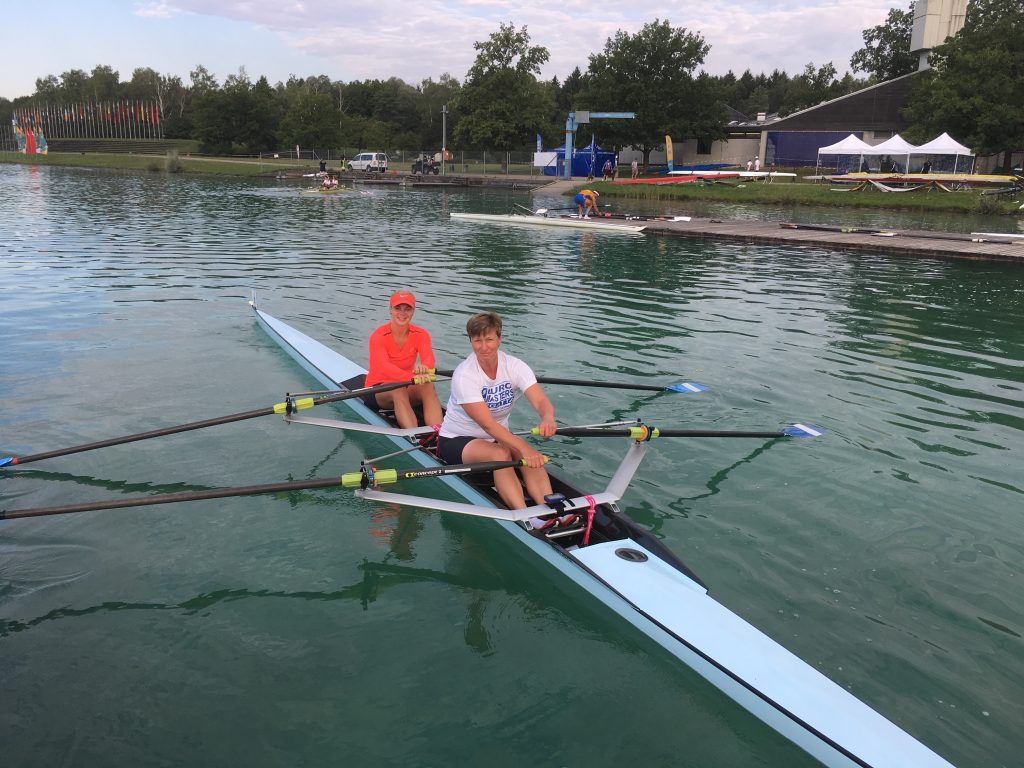 When my racing was done, Romana and I went swimming in a nearby lake. That was really nice. Clean, cool water. After that, Romana still had a quad to race: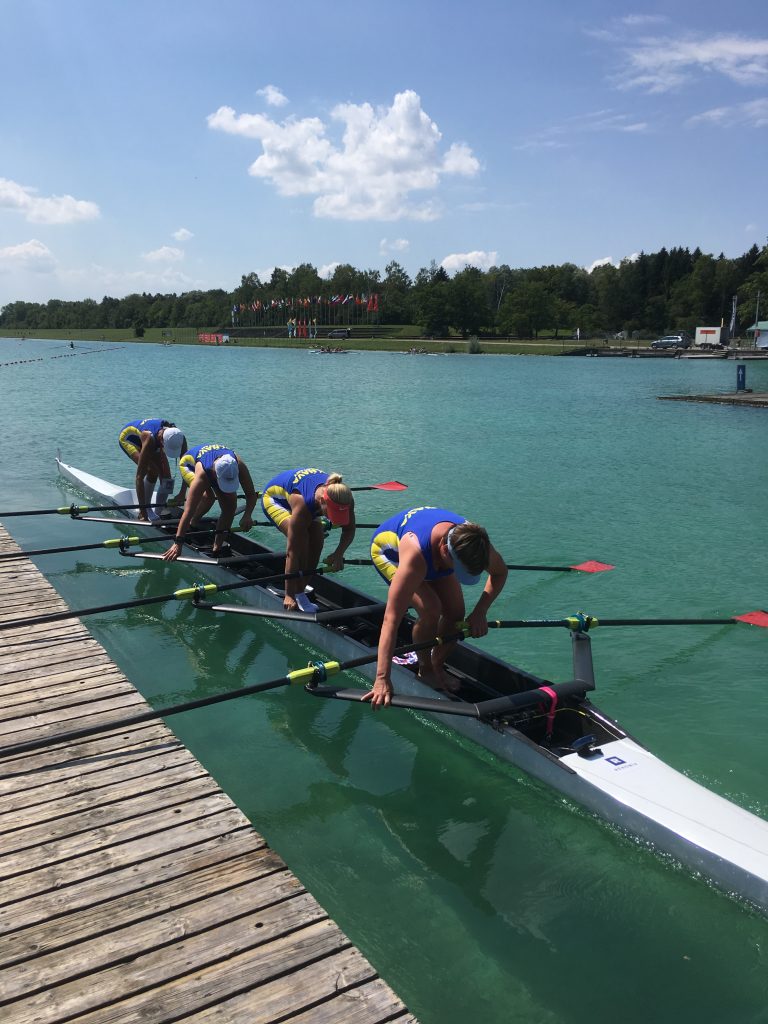 The girls were second after a strong Austrian crew.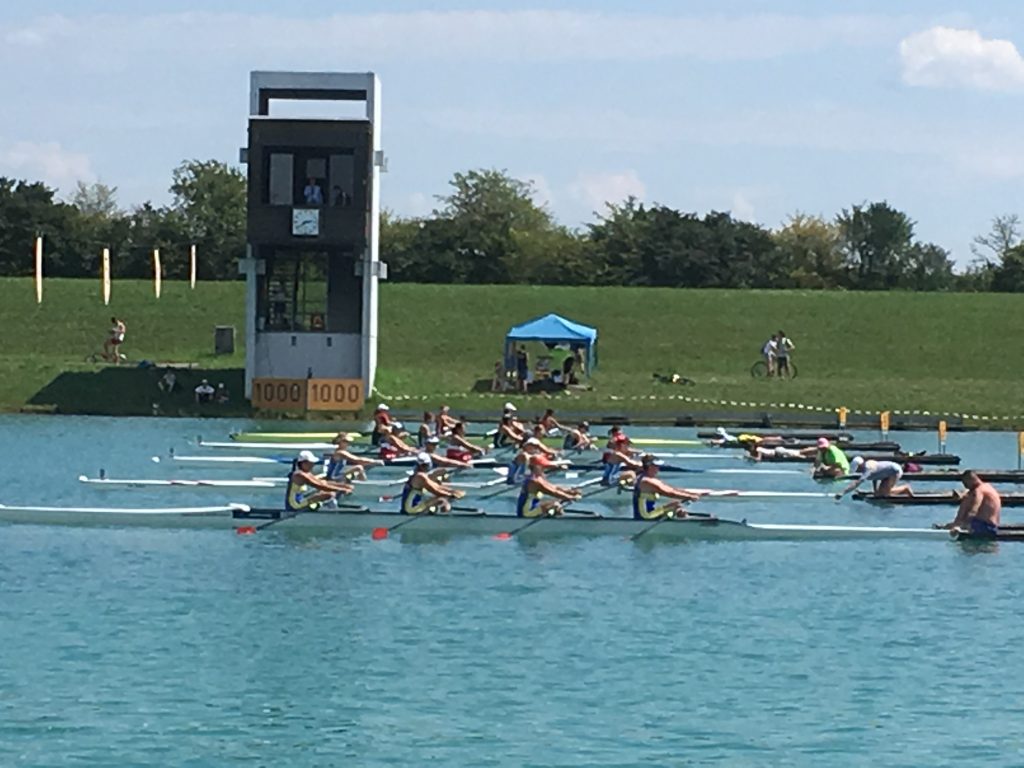 Day 3
At 8:12, Romana and Veronika rowed a great race in the double. They were third, but against some really strong crews, and their technique and race strategy were exemplary.
On Friday evening, Kazi had been teasing me with his medal from the single. Well, on Saturday I had another chance to row the single. This time I was up against people I didn't know, although I had heard that Carsten Brzeski from Wiking Berlin was pretty good (had won the C 1x a day before, one heat before us).
This time I decided to adhere to my prescribed power levels and ignore the other rowers. With 750m to go I was last. Between 750m and 500m I passed two boats and rowed in third position. Brzeski was out quite far, but Halle was a bit closer. I sprinted the entire final 300m at 36spm and almost caught up. Still a third place:
Average power was still only 300W. I had hoped it to be 20 Watt higher. Need to train more consistently.
This 1x race was also the one with the funniest comment shouted at me from the shore. Radek, one of my 4x crew cycled alongside me, together with Romana. With me rowing in third position and the winner far in front, he shouted: "Save some energy!" right at the moment when I rated up to 36spm. Romana commented that I apparently didn't listen to Radek.
That 4x- race was almost immediately after the single. The start times were just 65 minutes apart. I quickly changed dress to Hodonin colors (this regatta requires uniform dressing), drank some water and had some sugar.
In the quad, I rowed on bow seat, replacing one of the Hodonin crew that had come third (after us) at the Czech Masters. I really enjoyed this race. We were in front at the start and then rowed away from the Germans. The Italians were a bit too far in front for us to catch, especially as Radek is a less experienced rower, so we couldn't go all crazy with stroke rate in the final stages of this race. Second place at this regatta is not bad for this crew.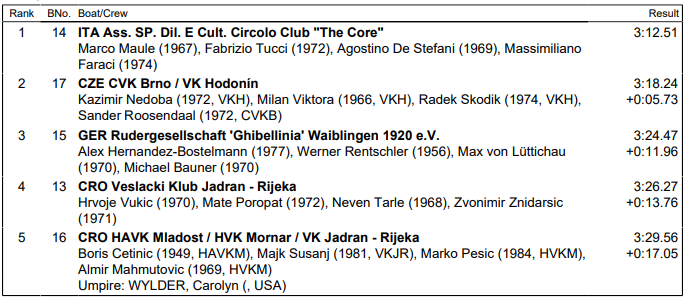 Day 4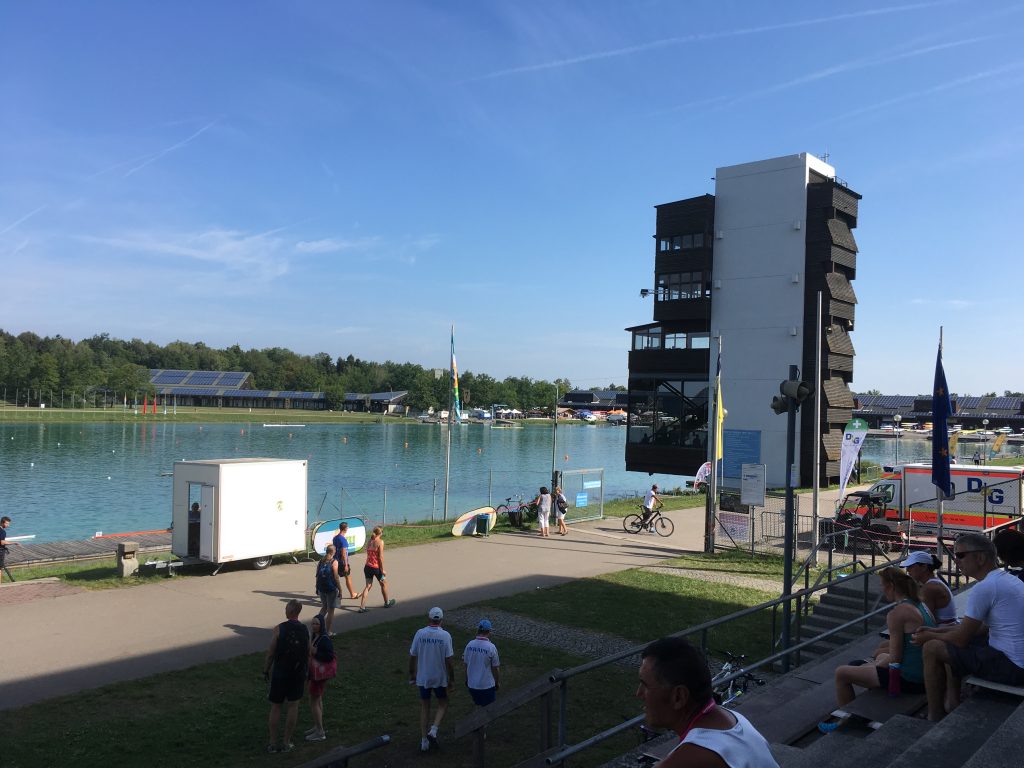 As we were scheduled to race at 15:46, we had a long day of waiting in the heat. We spent the time watching other races from the grand stand.
Fabrizio Tucci, one of the winning crew of our quad race, was lined up against Romana and me in the C category Mix 2x. They really looked confident at the start, and so did the Leicester/Nautilus Anglo-Dutch combination.
Our start sequence wasn't executed perfectly but we were still the first boat after 10 strokes, so I kept the stroke rate high for another ten, which gave us a lead of one length.
In the next 250m, we built out the lead by another length. Our rowing was not the best. Romana was catching slightly early, which I tried to anticipate, but that resulted in us going in a pretty high stroke rate. I shouted "Calm down" but Romana understood "Go!". So she started to push even more.
We were leading by two lengths and, this being the fourth day of racing, I was really getting tired. We got awfully close to the lane buoys but we managed to steer back again.

You can see all that on the video (fast forward to 2:39:00 for our race). Still we won by a large margin and were really happy.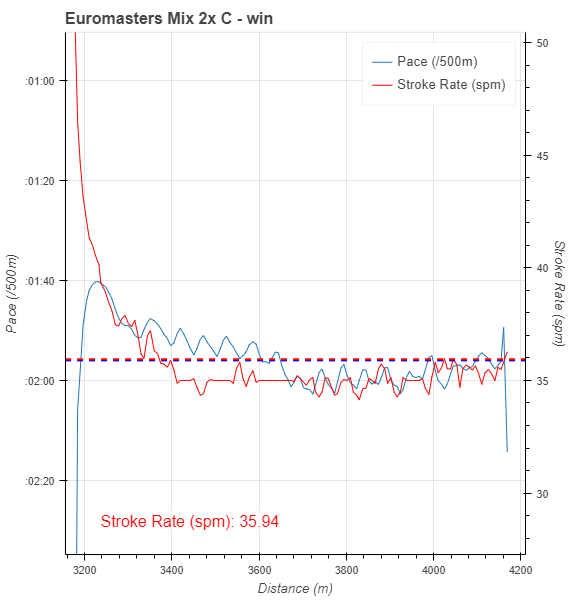 The stroke rate chart tells the story. No power tens. No sprinting. Just keep going at 35/36 spm.
After loading the double on the trailer, we went for a swim, and by 5pm we were on the road driving back to Brno, where we arrived at 11pm. And that, dear readers, is the end of the sprint season. Time for vacation. I am looking forward to taking a two to three week break from rowing and structured training plans.