May 14 2018
An early start in order to be in time for the Club Representatives meeting. Free coffee and entertaining listening to the "horse trading" of incomplete crews.
Club A: "I need a fourth girl for our Girls Quad"
Club B: "I have a thirteen year old. She's been rowing for three months but she's pretty good."
Club C: "We have a fourteen year old who already raced last season"
Club A: "We also need a boat."
Club C: "Never mind."
Then it was time for the long wait. My first race was scheduled for 15:45. In the mean time, my sons did some good work.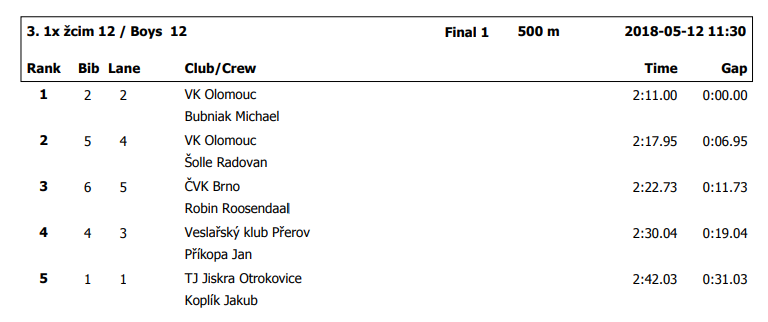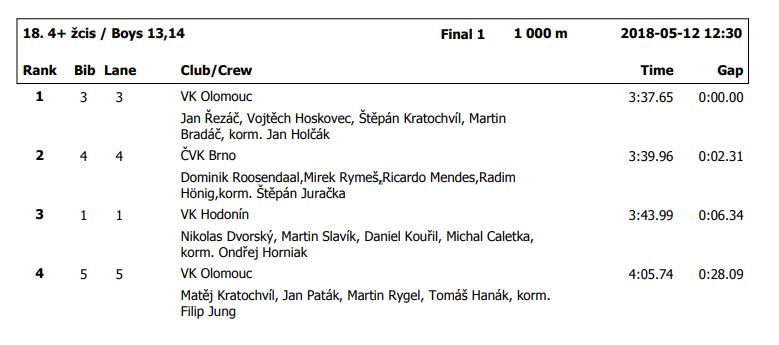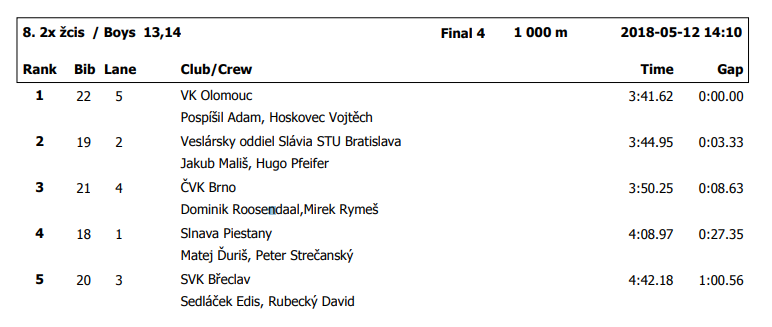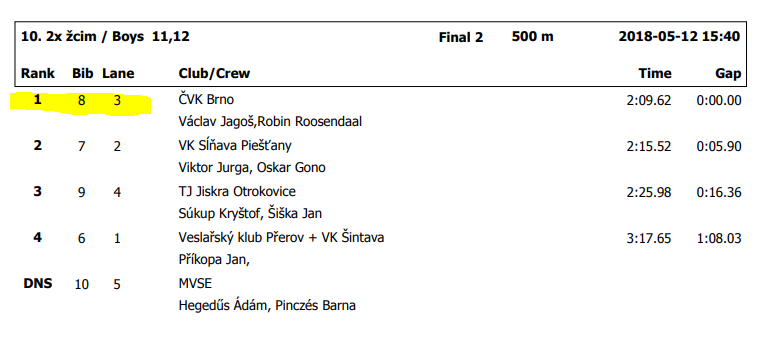 That last race actually took place an hour late. Around 2:30pm, the racing was stopped because of a thunderstorm:

In the end, there was no rain at all, because the thunderstorm passed just east of us, but it looked pretty scary for a while. And we were busy cleaning up tents and securing boats. At 3:30 it was announced that the program would continue with all races shifted by exactly one hour.
Quad
Then it was time for our Quad race. We were up against the locals from Slnava Piestany and our friends from Hodonin. Hodonin had quite big age differences in their crew (28 to 61) but Piestany could be dangerous.
Our strategy was to row as low stroke rate as possible and we succeeded. In lane 3, we started slightly behind the Piestany crew, but in the first 5 strokes we managed to come level and then pull out to a small lead of about half a length.
I lowered the stroke rate but not as drastically as the chart below suggests. I was using BoatCoach on the Android phone because it was easier to attach the phone to this boat which was missing a NK holder.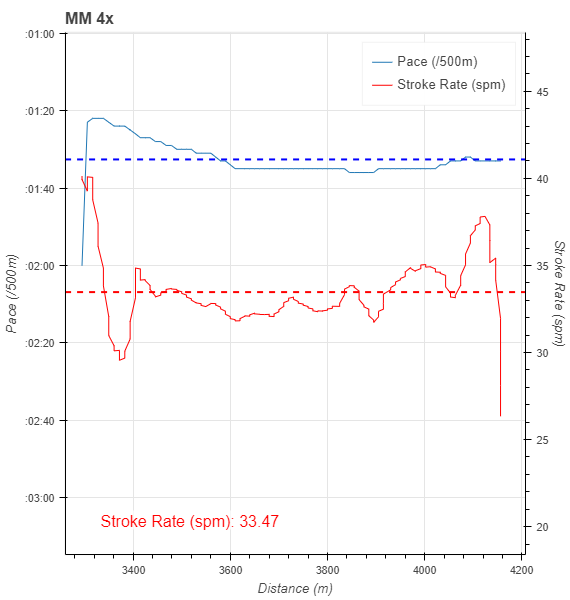 Apart from slightly wiggly steering from my part, the first half of the race was without incidents.
Around the 500m mark, we started to slowly row away from Piestany. I think we were gaining about 10 to 15 cm per stroke but we were moving. I think I was level with their bow man (I was on stroke seat) and there were less than 200 meters to go when I heard their call for a final sprint. I waited for one stroke, then called for our response. We rated up a bit and that secured our win.

The first win of the season!
Eight
Then it was time for our Masters eight, the crew that doesn't practice. We rowed in a borrowed boat and there were some issues with the coxbox. While we were trying to fix them, Dominik's single scull race was passing the finish line (his third 1k race of the day).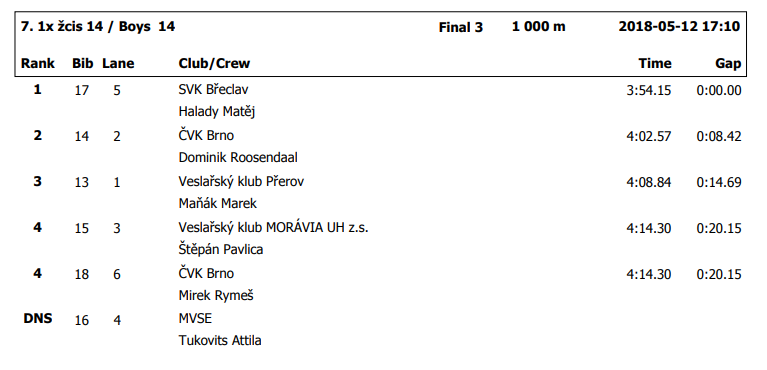 For the Under 14 year categories, the organization was giving out bronze, silver and gold medals. So Dominik secured another medal.
The race in the eight was great. We were quite nervous about the capabilities of SVK Bratislava, but it turned out we could perfectly control them. Our crew has a higher average age, but we were rowing "compact". I love rowing in the eight. Sweep rowing is simple, and at 2 seat all I have to do is keep an eye on the stroke's blade and watch my own technique. As the eight is light and fast, I visualize my hands moving along a rectangular box very quickly. This helps me putting the right accents on the catches and finishes, which are a little bit more "solid" than in the single.
We didn't win by a big margin and we did have to rate up a bit by the end to match Bratislava's offensive, but with 10 strokes to go I knew we were going to win, so I even had time to enjoy listening to the regatta speaker announcing our names as we stormed towards the finish line.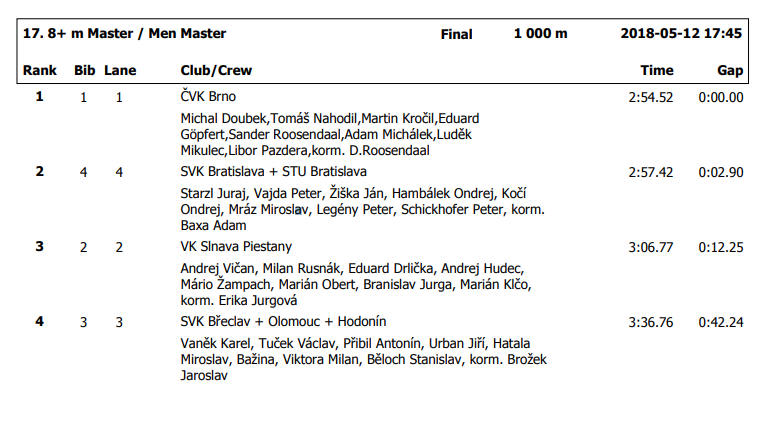 "Pazdi"'s wife made some pictures of our cooling down row: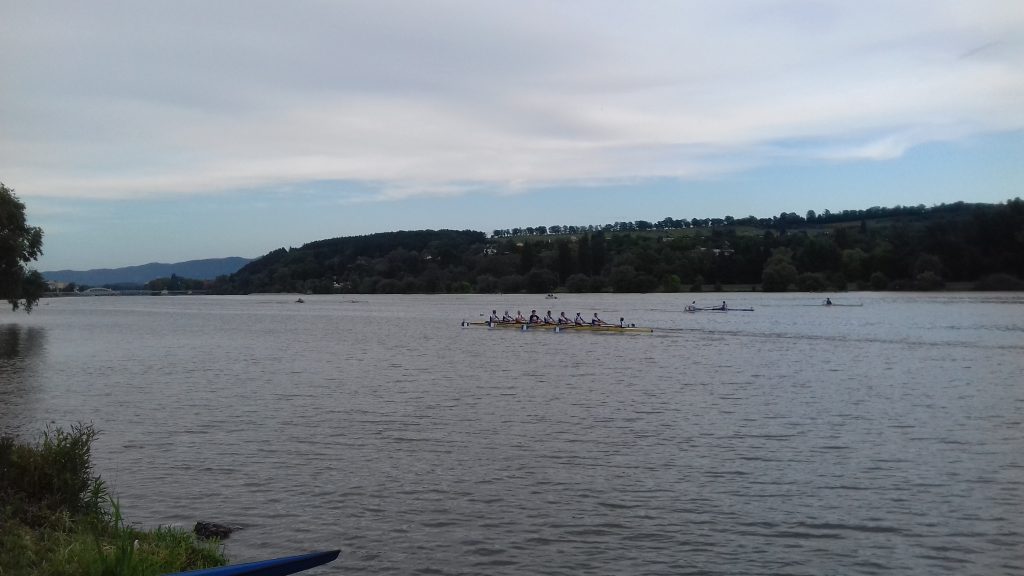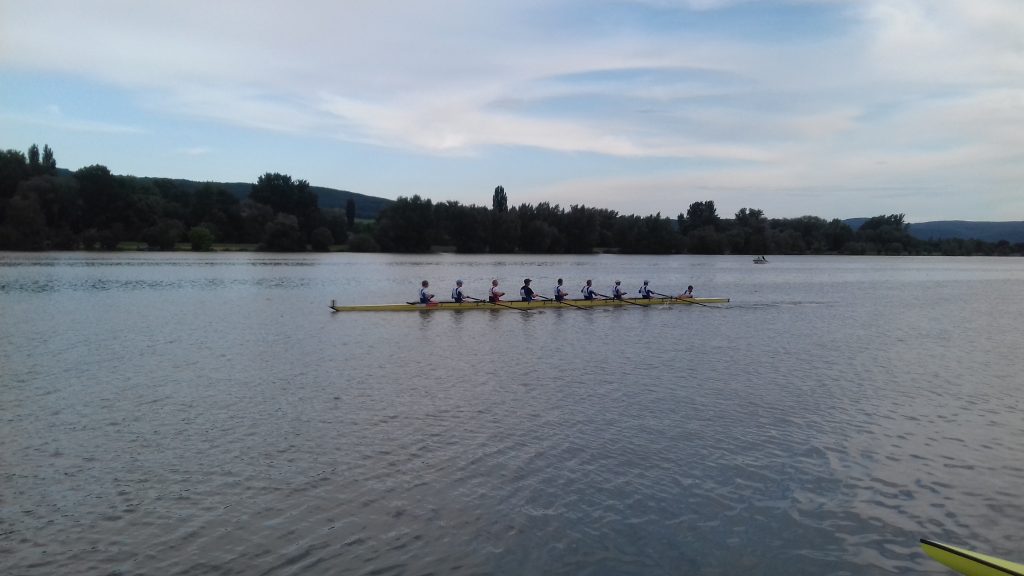 And there was time for a group picture (I had already switched to clean clothes):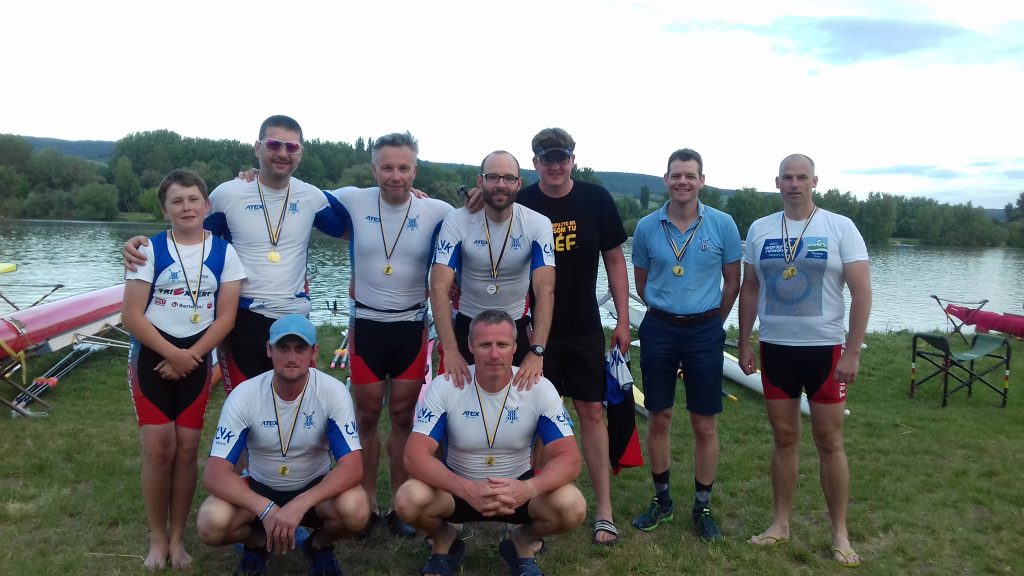 The boy on the left is called Vit. We were a bit nervous of taking him as a cox, because he had never coxed an eight. But in the end he did a great job, and he was very enthusiastic after the race, telling all his friends how cool it is to steer such a long and fast boat.
Romana won the women's Masters quad and came second in the women's Masters double.
Follow me in social media