Aug 13 2017
On Saturday morning, our usual training time, we had to bring our son Dominik to a summer camp. He wanted to participate in a "Parkour" camp. The place was an hour driving away. I guess it was only when we arrived there, that Dominik realized that he actually doesn't know anyone at the camp. He was a bit silent. I think he will be OK. The camp staff looked like nice people.
Romana and I drove back to Brno to do a row in the double. Bad luck. There was a really strong wind, and wind surfers were having fun. We wouldn't be having fun, so we decided to not even go out. With a few other rowers who were present, we agreed to go 6pm on Sunday.
At home, I finished a project with my youngest son Robin. We have been building this garden shed. We were finishing the roof, and I sent Robin up on the roof to fix the roof coverage. He had a lot of fun doing it. At the end he lied down on the roof and proclaimed he was Snoopy. I wasn't even aware that he knew the Snoopy character.
It was 4pm by the time we were done. I set out for a bike ride to compensate for the missed row. Here is the Google Earth plot of the ride.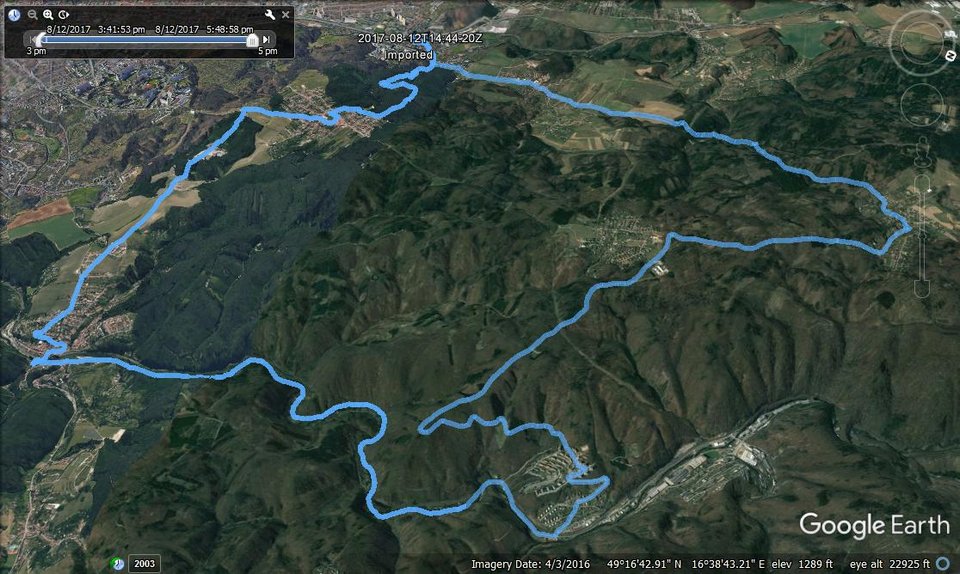 The records are broken in two parts. I started recording using my Garmin Forerunner, but after 16km the battery died. So I continued using the Strava app on my phone. Here is the elevation profile of part I: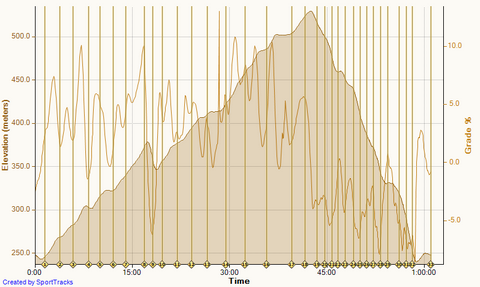 I am a slow rider and a slow climber. I ride on a mountainbike. The 40 minutes of steady climbing was a good workout, comparable to a hard 10k on the erg. On the Google Earth map, this section starts top middle and goes north (top right) to the top of the village Vranov, where I took this picture: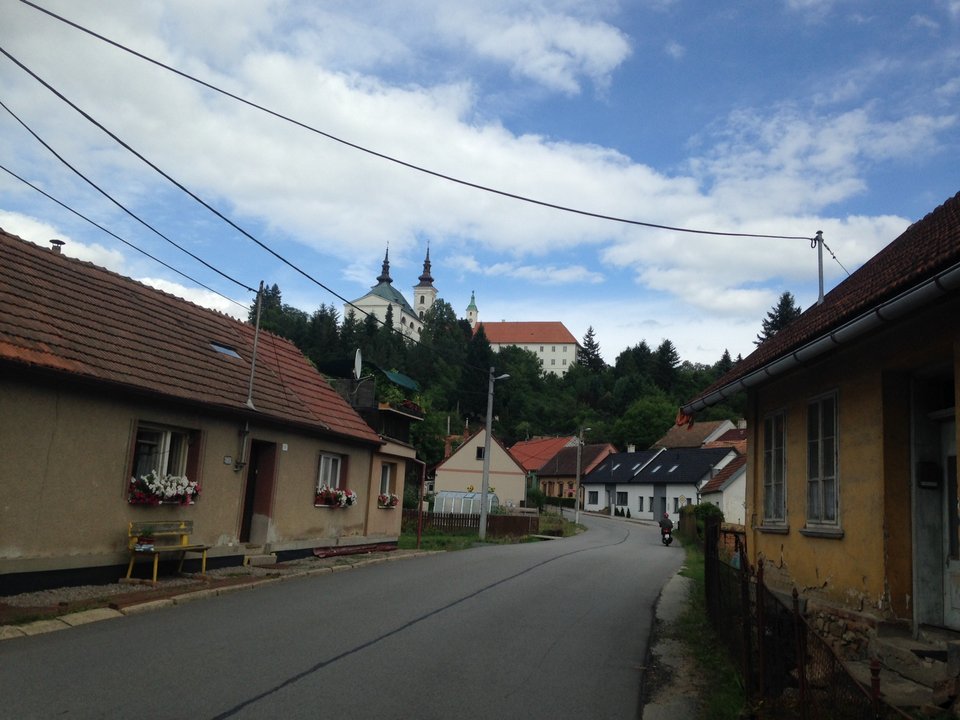 The church is huge. The climb to the church is long. Then you pass the church, turn, and the climb gets steeper. At the top of the climb I turned left and descended to Adamov. One day I must ride up that climb, because it is pretty long and steep. Nice training. Instead, I decided to continue towards Bilovice nad Svitavou, following the Svitava river.
Here is my heart rate plot for the first part: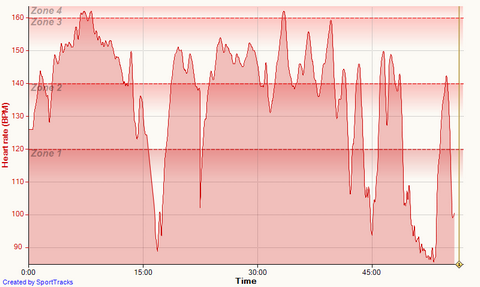 This second part was 7km along the Svitava river. Then I stopped to take this picture: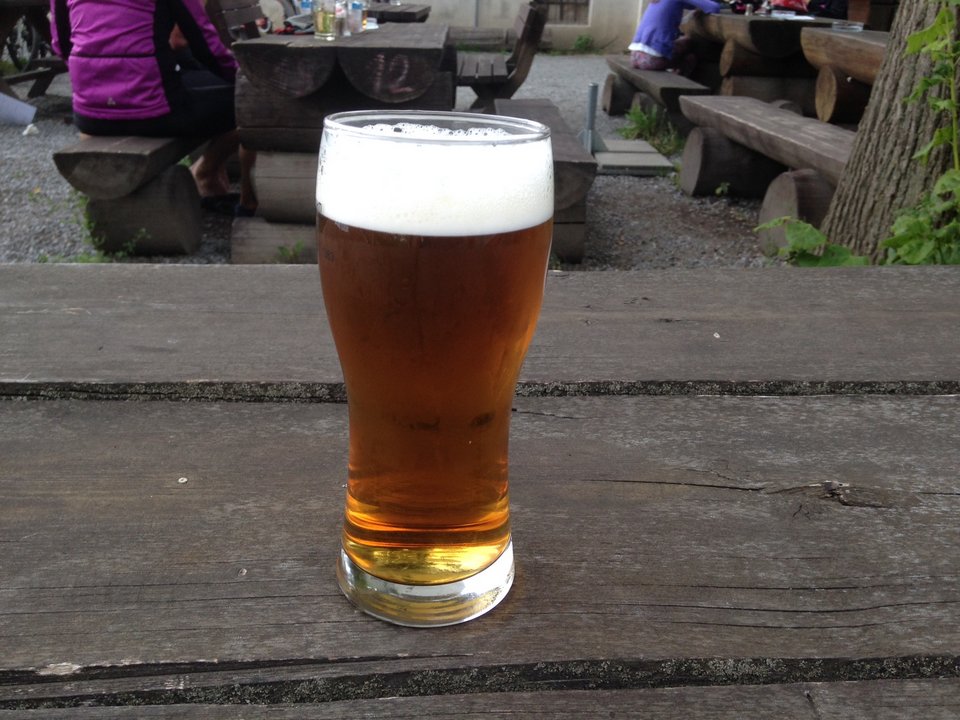 A nice, cold StaroBrno 10, fresh from the tap. A light beer. Nice and refreshing. I am always amazed how good beer tastes after a row or a ride.
I still had to climb out of the Svitava valley and get home, so I only took one beer and then hit the road again.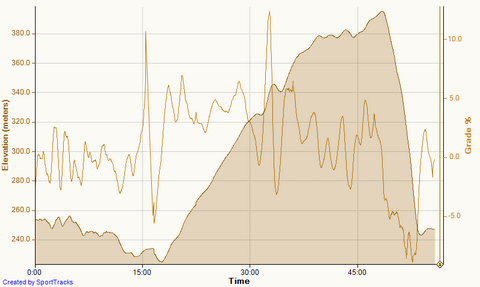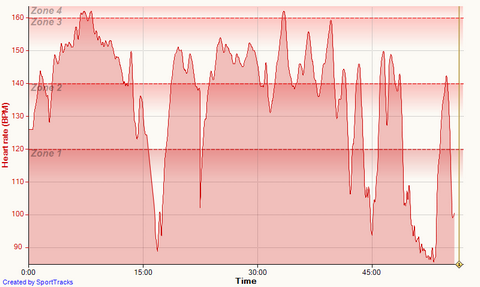 You can see that I managed to get my heart rate up to quite high values (high for cycling, that is) on the flat first part along the river. I was riving on a bigger gear and I was trying to catch up with a cyclist in front of me.
Strava estimates both rides to be around 200W on average, and that is consistent with how I felt.
Follow me in social media