May 22 2017
My race was scheduled for 5:30pm, but I attended the Race Meeting at 8am, hoping we would form a Masters 4-. This discipline had just one competitor, from Brandys rowing club (close to Prague), and they had asked if there could be an ad hoc opponent. I would have loved to row this race, but unfortunately, it didn't work out this way.
No problem. Hodonin is a fun place to sit on the river bank and watch the racing. Most of the disciplines are in the various youth age categories, and this is usually very exciting to watch.
I didn't have to wait very long to see my youngest son Robin finish his first race in the single. In Piestany, a few weeks ago, he flipped before the start, but this time he rowed a decent race and crossed the finish line in fourth place.
An hour later, it was time for my other son, Dominik, and he scored his first win in the single. His proud mother took a picture after he got his medal and a little present: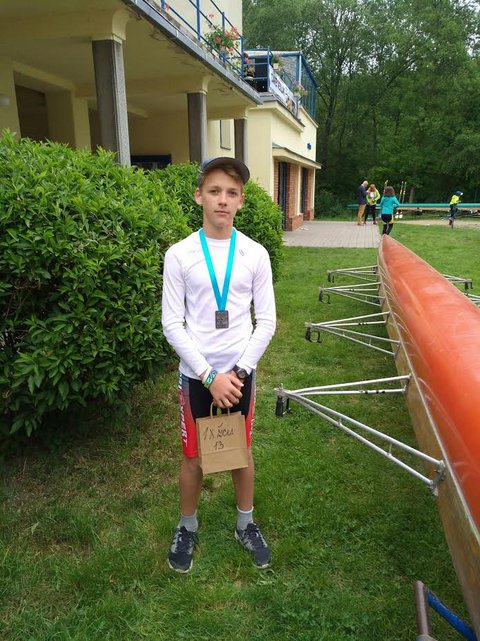 Also my daughter Lenka rowed a great race in the Juniors 2x, coming in second place.
Then it was time for me to get ready for my race. I was up against Mr Burda and my old friend Vojtech Cernak, who recently came in second place rowing at the World Masters Games in Auckland. I chatted a bit with Vojtech before the race and discovered that he had spent 6 weeks in Australia and New Zealand, paying rowing coaches to work with him and training 2 or 3 times a day.
In these slightly unregular races, I was up in lane 1 on the Moravian bank, Mr Cernak in lane 2, Mr Burda in lane 3 and my friend Martin "Turkey" Krocil, from my own club, in lane for on the Slovak bank. In this "international race", that means that I would spend the race in the Czech Republic, Martin would row across the border in the Slovak republic, and Mr Cernak and Mr Burda would be crossing the border several times. Rowing is a water sport and bodies of water are often international borders. Even after a few years of racing at this venue I find it fascinating to launch the boat next to the border sign.
The advantage of lane 1 is that you row in the inner turn. The disadvantage is that you are the last boat in a stacked start, and the disadvantage (excuse number 2) is that there is slightly weaker stream than in lanes 2 and 3.
So here is the race report:
In the stacked start position, I was a length behind Mr Cernak. Immediately after the start strokes, I was still a length behind. In line with my plan, I started to reduce the power to about 350W, but immediately after the first buoy (and turn) I upped the power to try and pass Mr Cernak. At this point, Mr Burda and Martin Krocil were not so relevant any more. I closed to about half a length, but I failed to push my bow ball next to his.
In theory I had the advantage of the inner turn, but I didn't really steer the ideal line. I passed the second buoy line with the buoy dividing lane 2 and 3 under my right oarlock, still a length behind.
With 500m to go I was still a length behind.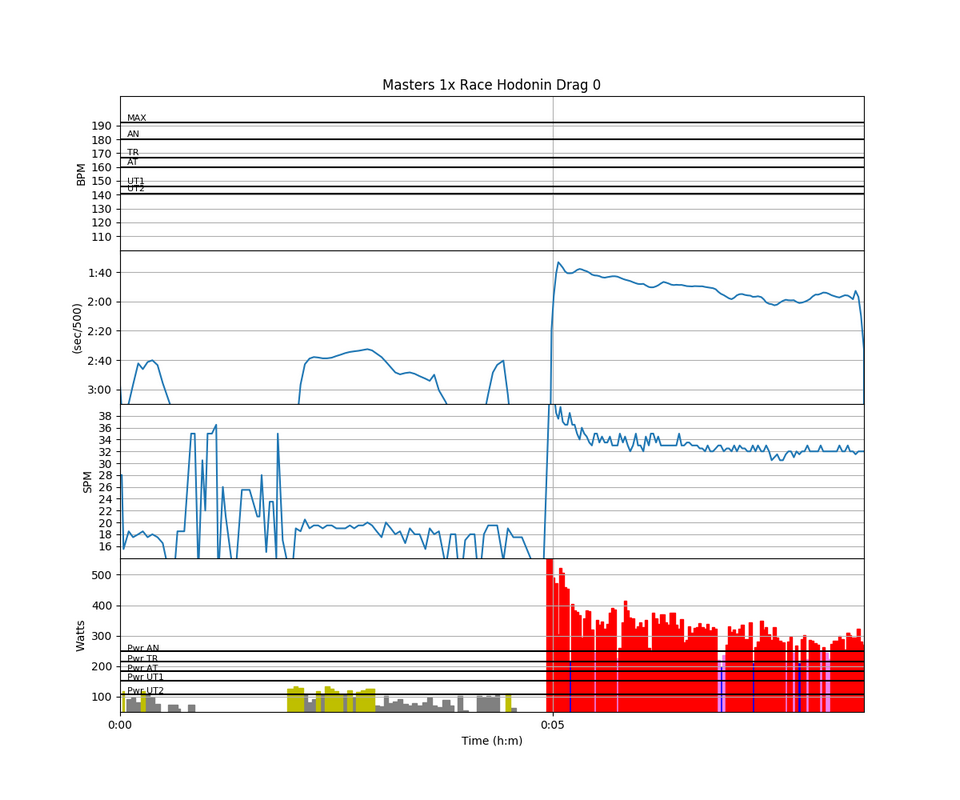 In the final straight part, Vojtech was smart enough to move a little closer to lane 1, effectively letting me row in his puddles and making it difficult for me to pass him. About 300m before the finish I passed through an area with lots of debris in lane 1. I actually felt a tree branch hit my fin really hard. At this point I saw my power drop to below 300W, I heard the regatta speaker say something about the World Masters Games and I was unable to bring the power back up.
So Cernak won.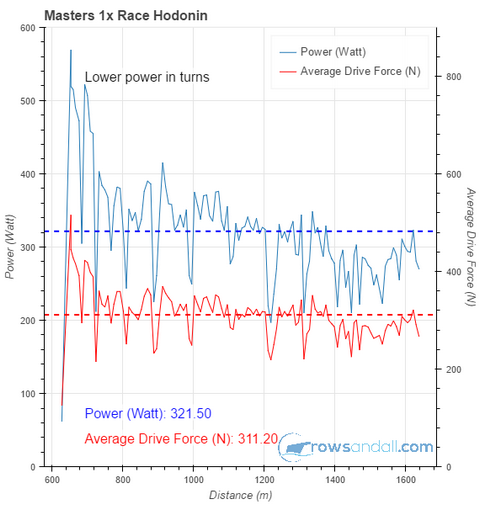 So over 1000m I scored 320W. I need to work on increasing that number.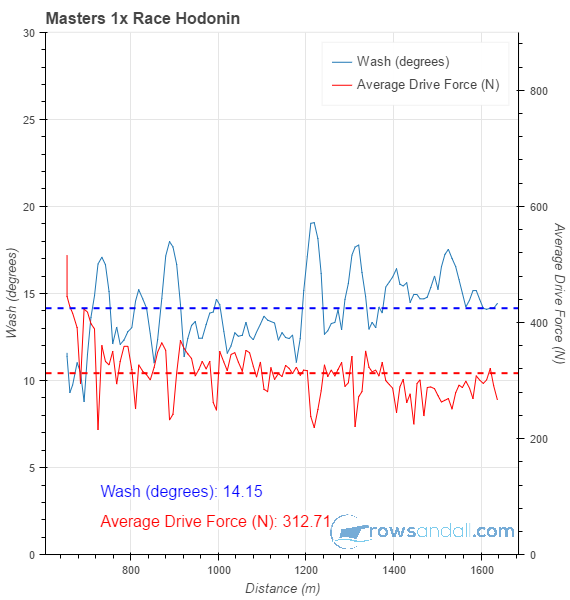 Looking at wash, the number is a bit skewed because I rowed the inner turn, so my left (Empowered) oarlock registered a few strokes where I lightened up to steer. Still, the final 400m of the race are not nice in terms of the Wash numbers, although Kleshnev's latest newsletter suggests that my values are not bad at all.
I was disappointed, mainly because I wasn't able to surprise Mr Cernak and pass him in the first turn, then because I let technique get worse as I got tired, and finally because I didn't even try to raise the stroke rate on the final straight stretch. I was also disappointed when I saw how deep Mr Cernak had to go. He had to lie flat in his single for a few minutes and was unable to carry his single from the dock without help.
I finished the day by taking Romana out for dinner in a nice restaurant, after which we returned to the Hodonin rowing club for a party with wine tasting. We didn't go to bed too late, because we had important racing on Sunday, for example a mixed double row against Mr and Mrs Cernak (who managed a second place in this discipline in the Auckland World Masters Games).
Follow me in social media