Mar 9 2017
I started the workout very late. I had a long day at work, trying to cram all the week's interactions with my people into one day. I will be out on travel tomorrow. Just a day trip over to Prague (2 hour drive). And after dinner, my sons were quizzing me about computers and programming, so I showed them the Sonic Pi program on the Raspberry Pi. It's a simple integrated development environment to program sounds. A kind of synthesizer software that teaches you to program. One of my sons plays guitar, so he know chords, and soon we were trying to program chords.
Still, I was determined to get a 5x1500m in. I know these workouts are always hard after an exhausting business trip, so I aimed at 1:52 average pace. Somehow, I went slightly faster in the first. I got tired, but I had a good rhythm and just kept going. After the second interval I shifted the stroke rate up a little and that turned out to be a good move. I didn't have difficulty hitting 1:50 pace consistently, and that in itself was a huge motivation.
So, very glad I finished this workout. And when I look at my scores from 2 seasons ago, when I did a strict Wolverine plan, it's a pretty good average pace. My fastest 5x1500m from that winter was 1:49.9 pace.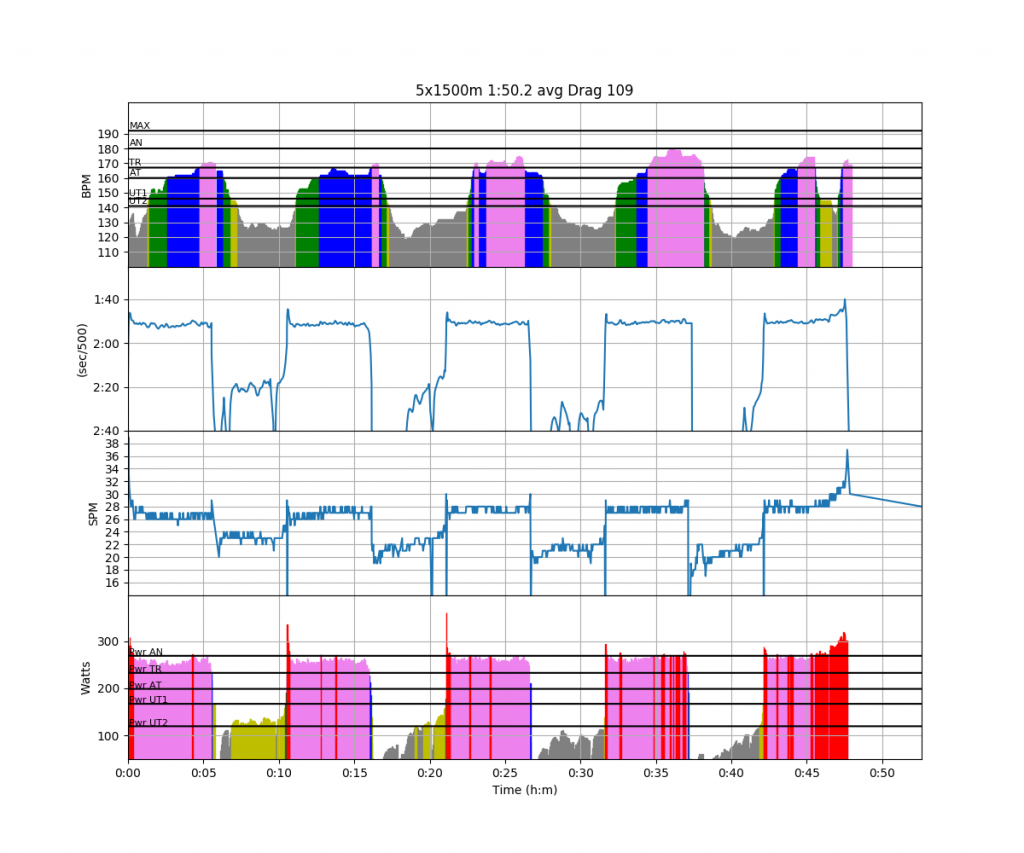 Workout Summary - media/20170309-2010220o.csv
--|Total|-Total-|--Avg--|-Avg-|Avg-|-Avg-|-Max-|-Avg
--|Dist-|-Time--|-Pace--|-Pwr-|SPM-|-HR--|-HR--|-DPS
--|11142|52:37.0|02:21.7|205.1|25.4|150.3|180.0|08.3
W-|07500|27:36.0|01:50.4|260.6|27.3|158.0|180.0|09.9
R-|03645|25:01.0|03:26.0|096.6|23.6|142.0|180.0|00.2
Workout Details
#-|SDist|-Split-|-SPace-|-Pwr-|SPM-|AvgHR|MaxHR|DPS-
00|01500|05:32.1|01:50.7|255.5|26.6|152.7|171.0|10.2
01|01500|05:35.6|01:51.9|255.7|26.9|158.0|167.0|10.0
02|01500|05:31.5|01:50.5|260.7|27.5|159.6|175.0|09.9
03|01500|05:30.9|01:50.3|258.9|27.2|164.4|180.0|10.0
04|01500|05:26.5|01:48.8|272.2|28.5|155.3|174.0|09.7

The PM gave an average of 1:50.2. I believe something is wrong with the average reported in the second interval. Also, the heart rate graph seems a little weird. I had was wearing the Bluetooth HR belt and had the feeling the PM was lagging behind. The values on the Garmin watch (connected over the ANT protocol) seemed more reliabe.
And here are the metrics charts. I leave the interpretation as an exercise to the reader. It is quite evident what is going on.
I was also recording heart rate in parallel on the Garmin. I am making progress on Data Fusion for rowsandall.com. I may publish some sneak preview screenshots in a separate post over the weekend. Then we can see if the Garmin recorded different heart rate values.
Follow me in social media