Apr 12 2020
Wednesday was the first day on which I tried out my new single. Thursday, I went out in a double. I am lucky to live under one roof with my favorite double partner, so we were allowed.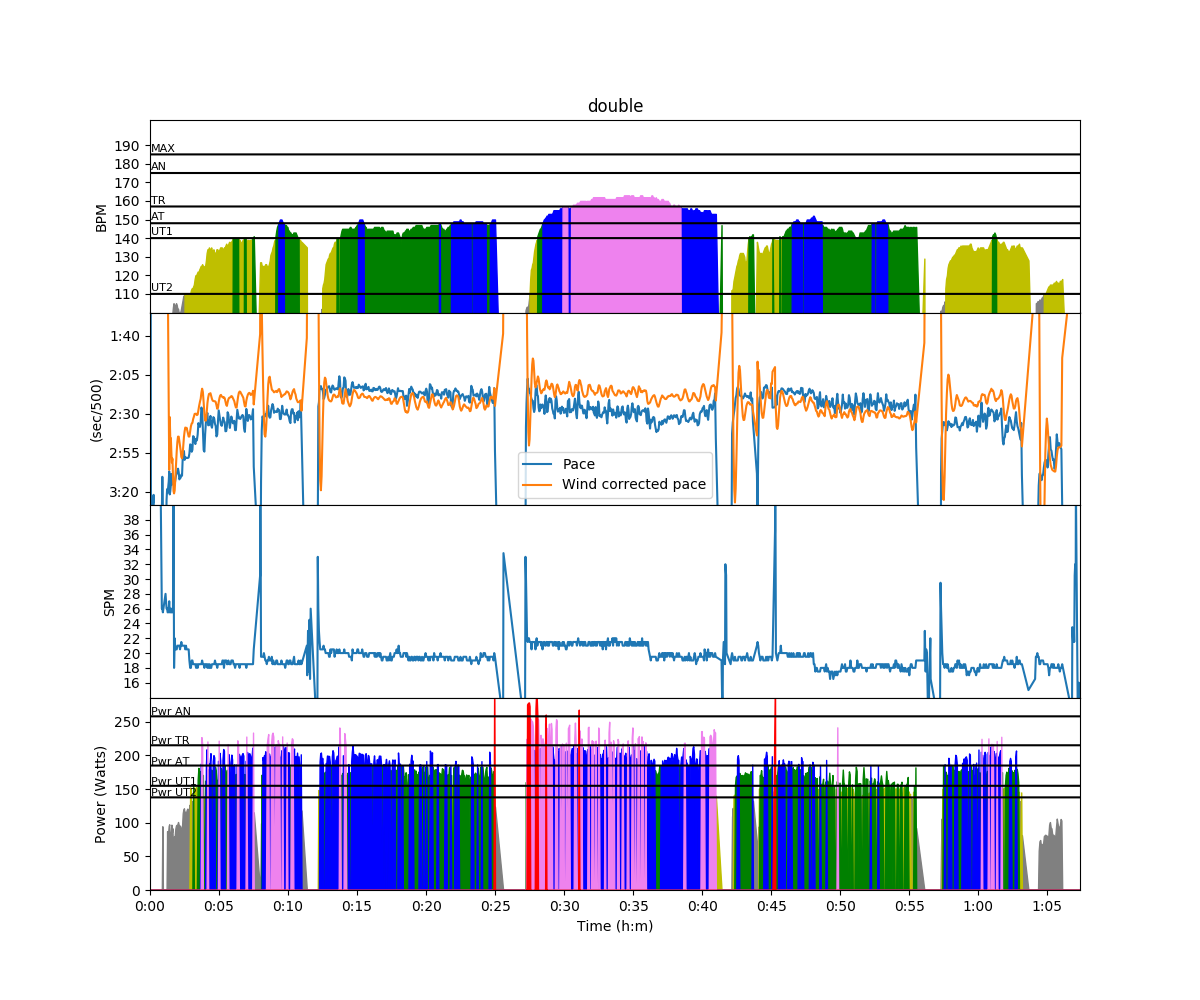 We did  a steady state workout prescribed by the Stuck At Home Rowing Club (SAHRC). The workout was called "Flatten the Curve" and it was 2km at 18spm, 1km at 20 spm, 1k @ 22, 1k @ 24, 1k @ 22, 2k @ 20, 2k @ 18 SPM. I slightly altered it to avoid the 24 SPM section, and of course there were built-in rest periods when we were turning the boat.
It was a bit choppy, and Romana and I had to concentrate to get the strokes right. Good training.
Thursday was also launch day. We launched the sales of our SAHRC club shirt.
Isn't it a great shirt? You can have yours too by ordering here (Men) or here (Women). The best thing is: The proceedings will go to Medecins sans Frontieres / Doctors without Borders, and you will get a great shirt.
And more was launched on Thursday. As Czech children are stuck at home since March 10th and Czech teachers are struggling with web conferencing software which is too complex, has  a language barrier and has security issues, two guys from my team decided to develop a free alternative in their free time. After a week of testing with one school in the Kolin region, and numerous improvements, as well as fund raising and preparing the infrastructure, we launched webskola.cz on Thursday. Czech schools can now very easily launch a secure virtual classroom without risking that hackers post obscene images on their students' screens.
We got 78 classes registered on the first day, and we sold 91 SAHRC shirts. It was a great day.
Friday
On Friday, I did another repetition of a home circuit. Same thing I did a week ago. It was a good circuit and I did three rounds, even though it was quite hot in the sun.
I also had to do groceries for the long weekend. I thought going to the store at 10:15, fifteen minutes after the closing of the "Senior Citizens Only" hour, was a good idea. It was such a good idea that many other folk had the same idea. I got one of the last parking spots and grabbed one of the last scanners. It was not a pleasant experience. Of course everybody was wearing face masks, but it was just too crowded for me. Well, I did my groceries, paid, and disappeared back home.
Saturday
A nice day to go out in the single. I got the 9AM slot from our singles departure slot system. (We have a 2 boats per 15 minute slot roster for going out in singles, in agreement with the recent government rules.) The 9AM slot is perfect because it seems to be the time of the day with the flattest water.
The workout I did was another one from the SAHRC, well actually a brutal workout copied from Eric Murray: 28 minutes rowed as 7 minutes at 20spm, 6 @ 22, 5 @ 24, 4 @ 26, 3 @ 28, 2 @ 30, 1 @ 32 SPM.
As I was in the single, I decided to reduce stroke rates by 2 SPM. I had also forgotten to take a water bottle, so it was pretty exhausting. It's a great workout though. You start gently and get to work on technique and boat run, then you try to take that to a higher stroke rate, and on and on. I had some micro breaks of 15 seconds to turn the boat.

Workout Summary - media/4b05597757-20200411-083229.csv
--|Total|-Total-|--Avg--|-Avg-|-Avg--|-Avg-|-Max-|-Avg
--|Dist-|-Time--|-Pace--|-Pwr-|-SPM--|-HR--|-HR--|-DPS
--|05962|28:00.0|02:17.8|195.0| 23.5 |166.0|186.0|09.3
Workout Details
#-|SDist|-Split-|-SPace-|-Pwr--|-SPM--|AvgHR|DPS-
02|01444|07:00.0|02:25.3| 148.0 | 18.0 | 149.0 |11.4
03|01251|06:00.0|02:24.1| 161.0 | 20.0 | 160.0 |10.4
04|01051|05:00.0|02:22.9| 181.0 | 22.5 | 166.0 |09.4
05|00848|04:00.0|02:21.6| 200.0 | 23.5 | 174.0 |09.0
06|00662|03:00.0|02:15.9| 201.0 | 25.5 | 174.0 |08.7
07|00466|02:00.0|02:08.9| 233.0 | 27.5 | 181.0 |08.3
08|00237|01:00.0|02:06.3| 243.0 | 30.0 | 184.0 |08.2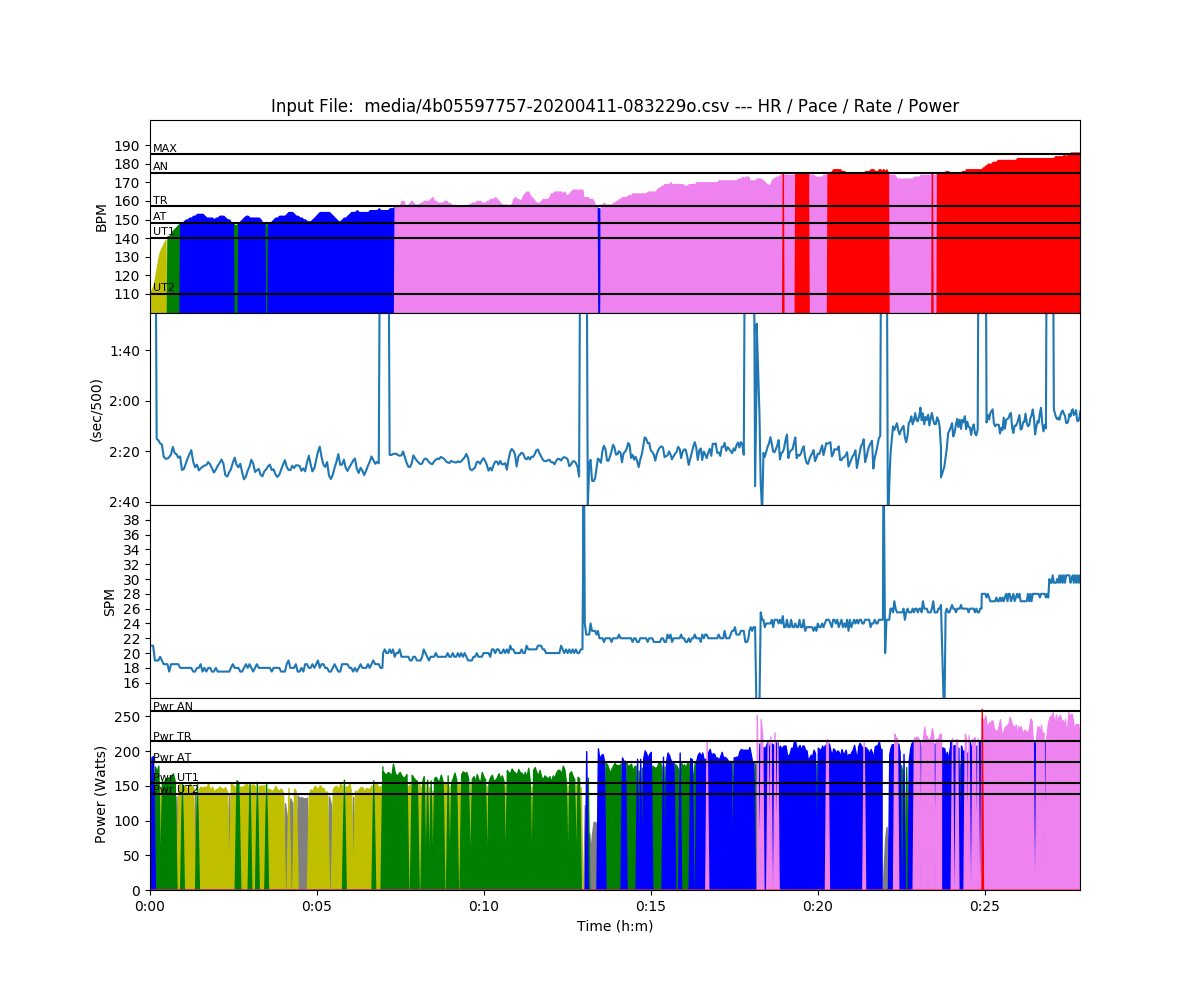 You can see from my heart rate that I was pretty exhausted. I am pretty happy with the boat speed I achieved, although there is a lot to optimize. New single, new boat shape, requires getting used to. I am also thinking about doing some rigging changes. I want to set everything a tad lighter, hoping that will make the rowing a  bit more dynamic.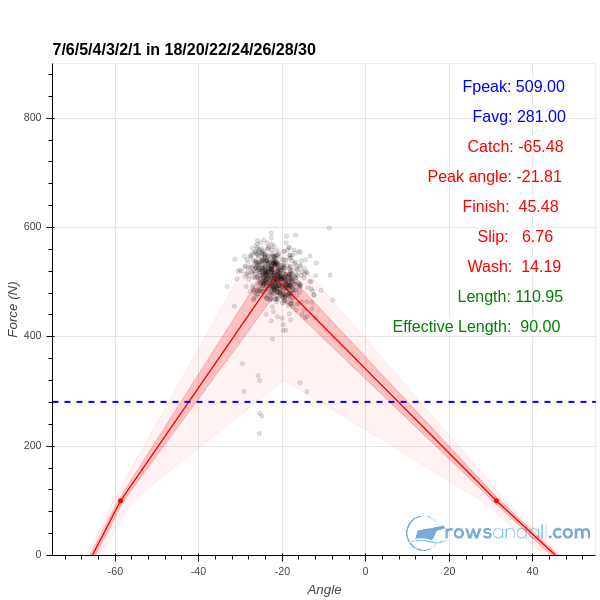 Here's the force curve as recorded with the NK Empower Oarlock and analysed on rowsandall.com. Here is a 6K race on my old single, for comparison: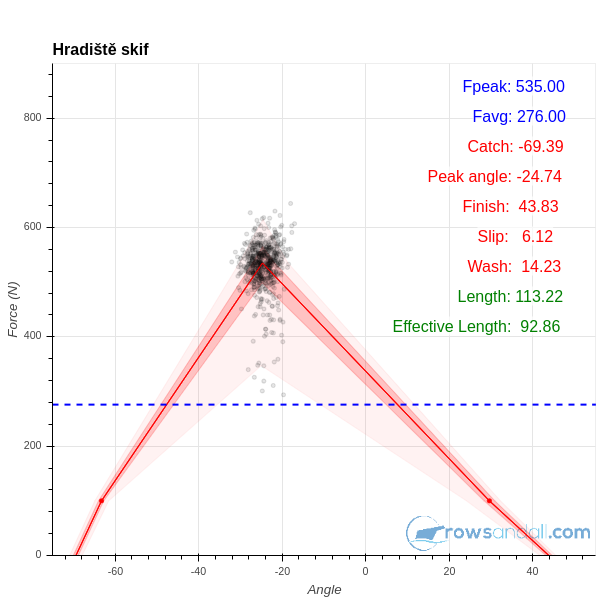 Seems I need to work on getting a bit of length there. Let's look at some other data from this interesting session: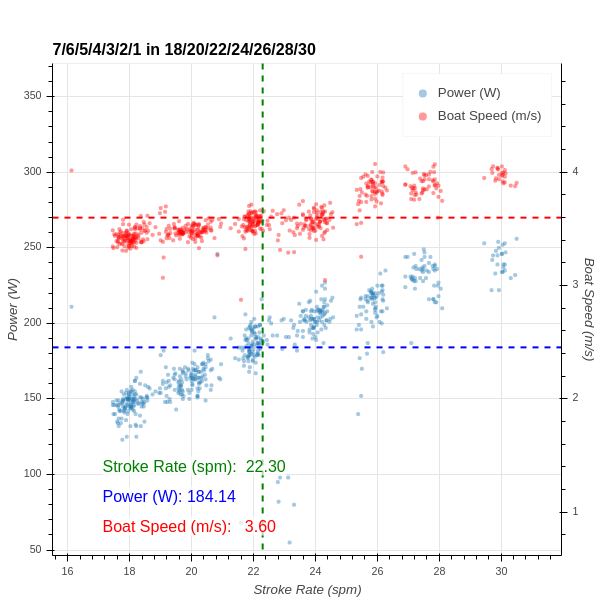 Power and Boat Speed vs stroke rate. Seems pretty linear, and it shows in the pretty flat Work per Stroke data. Boat Speed is of course influenced by head and tailwind sections.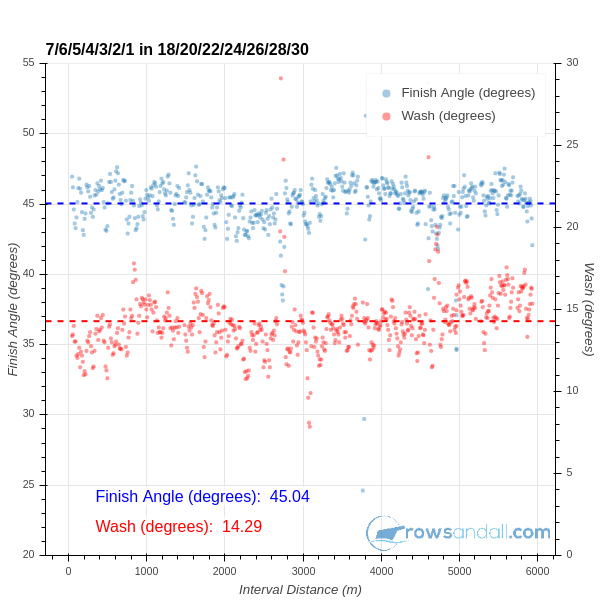 Wash numbers are pretty awful, I need to work on my finish. I will also set a weekly alert on rowsandall.com to send me a report on Wash. Knowing that you will get that email forces you to work on improving a metric.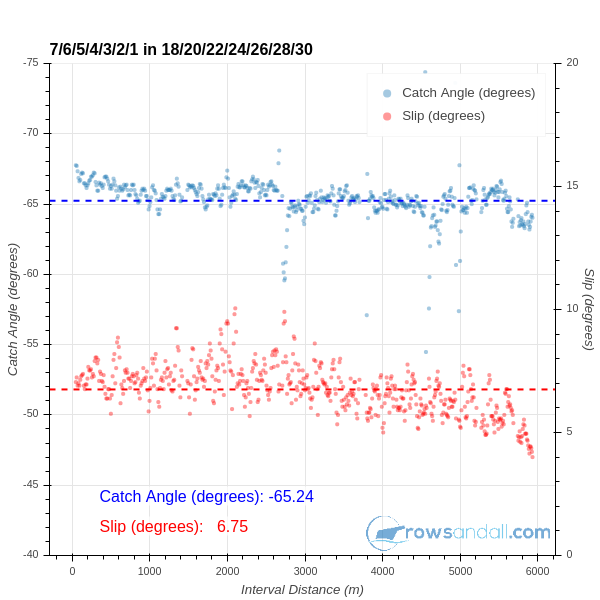 Slip values got better  but I think it's rather a reflection of the wind calming down than of me improving technically.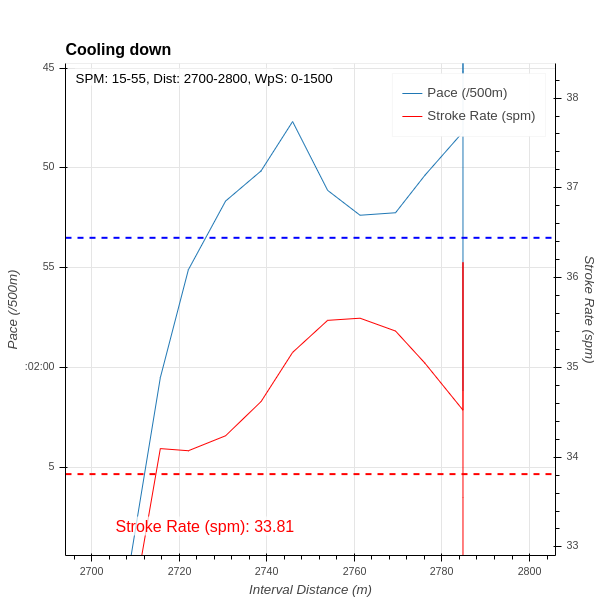 And this last very short interval is me playing with max boat speed (headwind) for 10 strokes. Just test driving the new boat. Looks like I need to improve timing at higher stroke rates. I get the boat up to speed, but then boat speed drops as I rate up more. I know how to do it. Just avoid rowing like a pig.
On Saturday afternoon, I spent a pleasant hour in the garden taking apart my Concept2 erg and cleaning it. It wasn't too dirty inside the cage, but I had time to do it and I wanted to adjust the bungee and take care of the chain anyway. Got very dirty hands and a very happy mind.
Sunday
Romana and I headed out early for a quick spin in the double.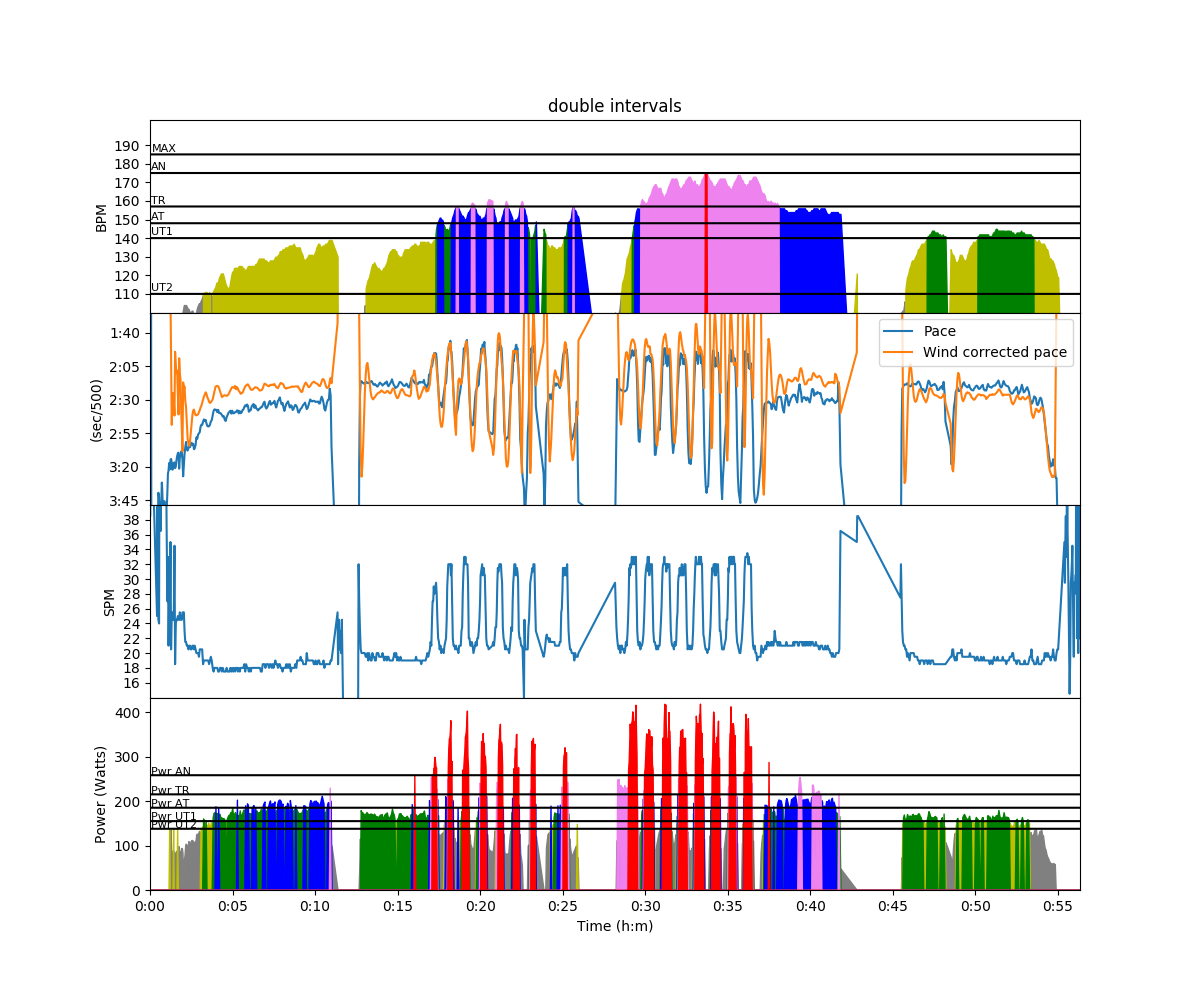 This was my 6th workout this week so we didn't do a full training. Just played with some 20″ on 40″ rest intervals, and after we turned the boat we did 30″/30″ at 30-32 SPM. It was fun. When we got home, the boys had made breakfast. No eggs, but waffles, toast, freshly pressed orange juice, and other good stuff. We stuffed ourselves and then had coffee. Now I am relaxing.