Oct 2 2019
Tuesday
I managed to get to the lake in time for a row before sunset. It was pretty choppy on the lake, but in the gorge it was nice calm and flat water. I had a 4x1000m (with short breaks) planned as a head race preparation. The idea was to go slightly faster than head race pace and work on lightness. I tend to hit the "right" power values at a too low stroke rate when fresh, but then later in the race it gets difficult to rate up. Better to find the lighter stroke straight from the start.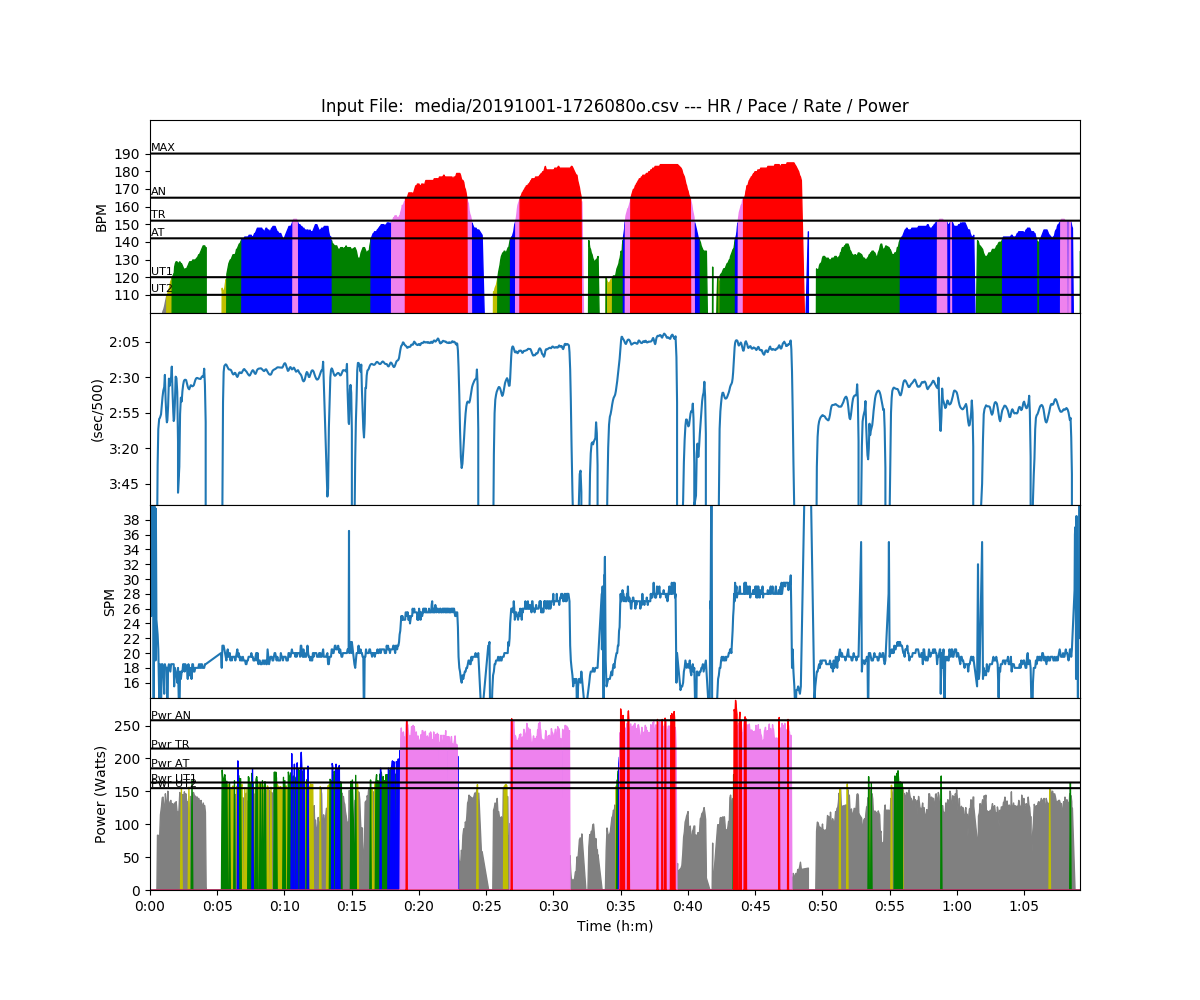 Workout Summary - media/20191001-1726080o.csv
--|Total|-Total----|--Avg--|-Avg-|Avg-|-Avg-|-Max-|-Avg
--|Dist-|-Time-----|-Pace--|-Pwr-|SPM-|-HR--|-HR--|-DPS
--|12682|01:09:08.7|02:43.6|151.4|21.6|148.6|185.0|08.5
W-|04035|00:17:06.2|02:07.2|239.4|26.9|173.7|185.0|08.8
R-|08653|00:52:02.9|03:00.5|122.5|19.8|140.3|185.0|07.8
Workout Details
#-|SDist|-Split-|-SPace-|-Pwr-|SPM-|AvgHR|MaxHR|DPS-
01|01021|04:18.0|02:06.4|231.2|25.4|172.3|179.0|09.4 - tail wind
02|00999|04:20.2|02:10.3|235.6|26.4|174.0|183.0|08.7 - head wind
03|01029|04:15.2|02:04.1|247.3|27.4|172.7|184.0|08.8 - tail wind
04|00987|04:12.8|02:08.1|243.8|28.3|175.8|185.0|08.3 - head wind

That was actually pretty intense. I was surprised by how high my heart rate went at 240 Watts. So once I was done I paddled the three kilometers home really easy.
Wednesday
I woke up feeling sore from the 4x1km workout, but I had a supervised weights workout scheduled first thing in the morning. I decided not to complain to my weights trainer and just do what she told me to do.
She had a pretty heavy session in store. But I was doing fine. I think I only did fewer repeats than expected on the squats, and I completely collapsed on the plank pushups and plank. The combined effect of the 4x1km workout and the weights session.
I will take a day off tomorrow, then a light steady state / technique session on Friday, followed by trailer loading. I will rest again on Saturday, and on Sunday I will row two 6k races. First in the single, then get back to the start immediately and repeat the 6k in the double. All competitors in the double are doing it like that, so it's going to be an even playing field.
Follow me in social media