Feb 10 2019
A typical weekend in a rowing family. Romana had to get up at 6am on Saturday to drive to a Rowing Training Seminar in Pardubice, a 2 hour drive from Brno. (It turned out to be a really interesting day of training, with hands on instruction on how to make weights and circuits training more playful and interesting for kids.)
I had the luxury of sleeping in until 7AM. I got up, had breakfast and did some Rowsandall related computer work. At 9, I left the house to pick up three of Romana's girls training group in various villages around Brno, and drive to the town of Piestany, Slovak Republic, two hours and fifteen minutes from Brno. Not a long drive but it crosses the infamous Buchlovice hills and the White Carpathians mountains range which despite modest elevation pose significant risk for winter driving. (See below.)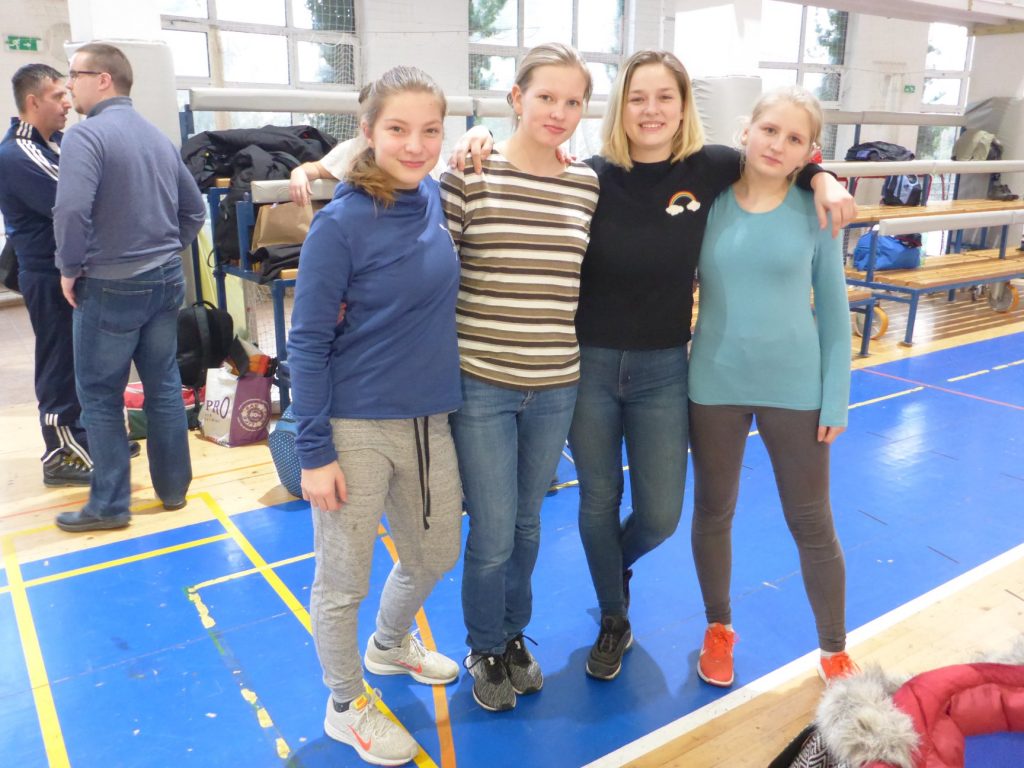 Here is a picture of my squad of the day. Tereza on the left came with the rest of the club. Second from left Anicka, then Kristyna, and finally Eliska.
It was a quiet and uneventful drive.
For two of the girls it was their first indoor rowing regatta. The Piestany indoor races are a pretty relaxed event. This being abroad, there is not the anxiety of people trying to qualify for national squads. Competitors from Slovakia and Hungary are largely unknown, so you just row and try to set a personal best.
We chatted a bit about their previous 2k times and expectations. Of course, Romana had given me instructions, but it was nice to hear out the girls and trying to set their expectations. Anicka and Eliska are sisters. The younger, Eliska, openly wants to beat her older sister Anicka, so that created an interesting dynamic.
The first race was Kristyna in the girls 15/16 age category. She walked on to our rowing club in November and the only guidance was a 2k done when she rowed for a week, with a 9:17 result. Romana estimated her at 9:00. She's big and strong (for her age) but she's lacking a bit in fitness.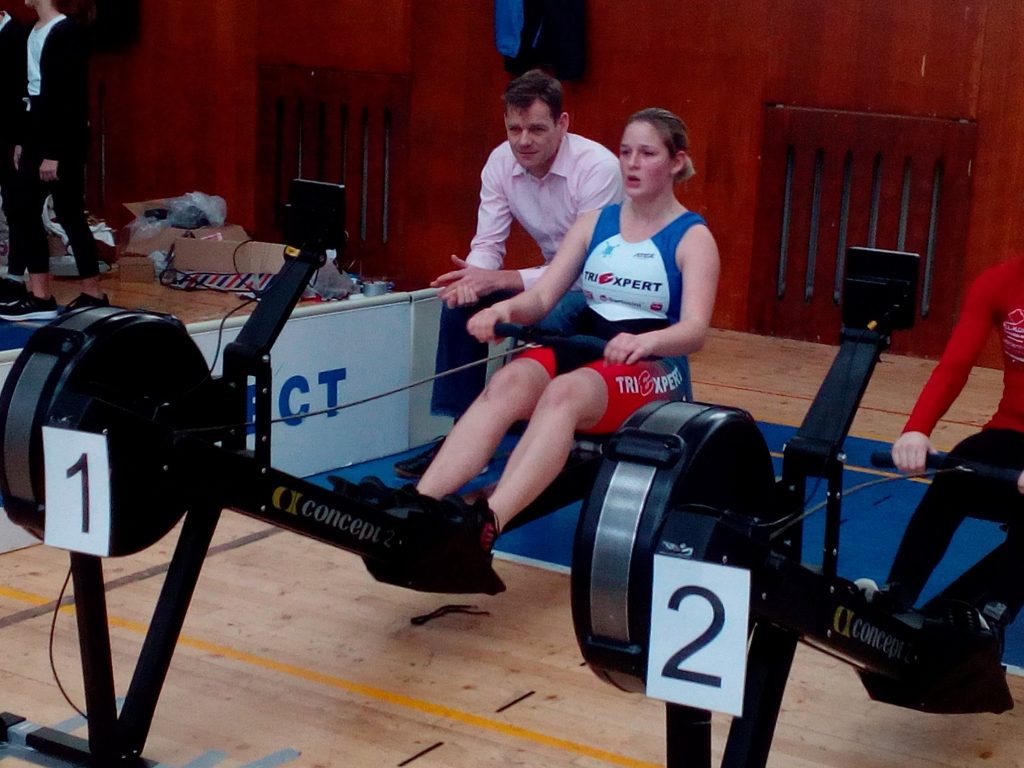 She started off the 2k and I had to slow her down to 2:15 pace, which she ended up doing in a stroke rate of 25spm. I tried to get her to row 27 spm at 2:14 pace but it was hard to get her to rate up.
Rowing in the slowest heat of the girls 15/16 event, at half way Kristyna was leading over the rest of the heat, mainly girls from Hungary.
But she was suffering. Her inner Maria Sharapova woke up while I was trying out all encouragement cards I had in my sleeve to keep her average below 2:15 pace. It's hard to coach a girl you don't really know, and I also find it hard to estimate her level of suffering sitting behind and not seeing her face. At this point in a race you cannot invent new technical calls, so I focused on keeping her breathing, sitting up straight, and counting strokes. Nine minutes is long. In some aspects, a 2k is a much tougher event for small girls than for the 25 year old 110kg gorillas.
The other girls in the heat were no threat, because Kristyna was leading by more than 70 meters, so I kept reminding her of the great average pace (2:14.xx) and motivating her to set a "sub 9" 2k.
At one point I told her to rate up a bit (she was on 28spm by now) and Kristyna responded by shaking her head. That got me. Coxing an erg race is really hard work.
She finished in 8:58!!! The first PB of the day, and I was so happy for her.
The second race was the younger of the sisters. Eliska. This was 10 minutes after the race with Kristyna. Her PB was 8:52. Eliska announced that she wanted to row at 2:12 split (8:48 pace) and accelerate in the second half of the race.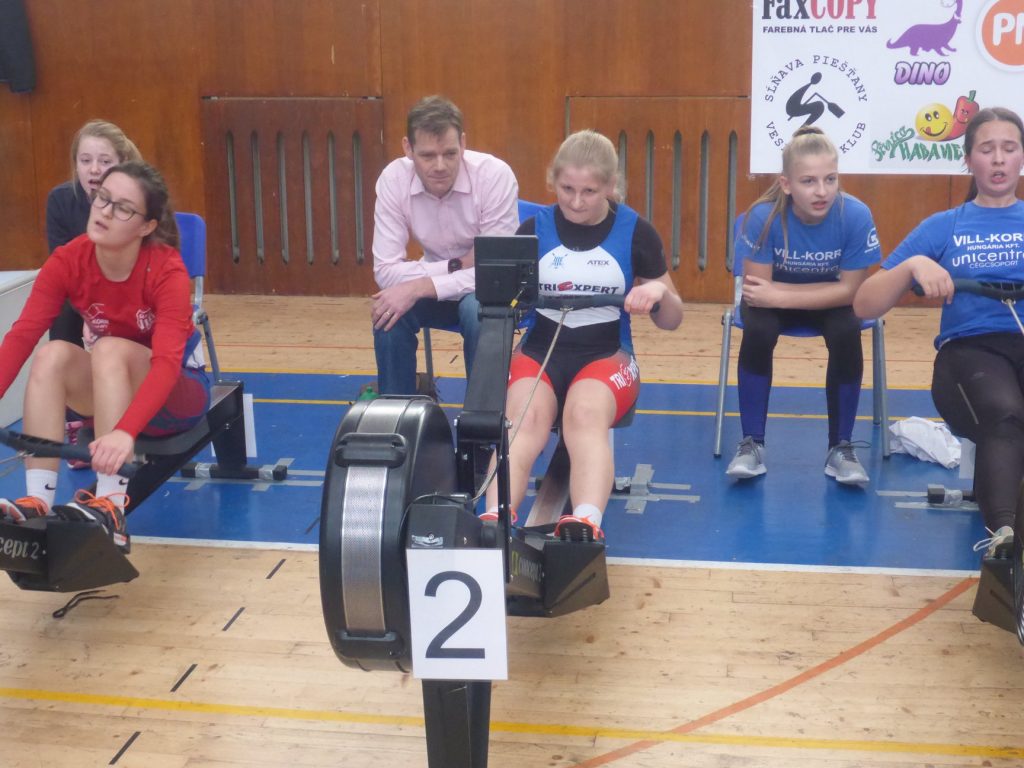 The first 500m were pretty intense. At the first stroke, somehow the PM5 jumped to Watts, and Eliska was doing 38spm and 220W. I made some quick conversions in my head, instructed her to slow down to 34spm, ignore the numbers on the screen and just keep rowing. I waved to the jury. I wasn't sure if pushing the "Unit" button on the PM would mess up the event software and throw her out of the race. The jury was focused on other things, and I didn't want to leave Eliska and walk over to them.
After a minute of internal debate, I decided to push the "Unit" button. To my relief, the PM switched to Cal/hr and Eliska was still in the race. Another two button pushes gave her the right screen, showing an average pace of 2:12.7 after 500m and everything was fine.
She even said "thank you".
By this time Eliska was rowing in the middle of the pack but she was just slightly behind two girls who had gone out really fast and started to suffer. I coached her through the middle 1000m during which she passed those two girls, and her final result was a PB at 8:50.
The last girl to coach was Anicka, and also Anicka told me what to do. She wanted to go out in 2:09 ("maybe 2:08") and then accelerate. Her PB was 8:36, so that seemed a good strategy. Luckily no PM malfunction this time, and we seemed to be off into an uneventful race, with Anicka rowing in the middle of the pack and just doing her own thing.
With 1200m to go, at an average pace of 2:08, she suddenly dropped to 2:21. What?
It was difficult to judge, sitting behind her, but she didn't seem to be suffering too hard, so I started to coach her back to a faster than 2:10 pace.
A few hundred meters later. Same thing. Average pace dropping to 2:25 in the course of three strokes. Again, I managed to get her back to 2:10 and 2:09.
This repeated a couple of times until I could announce the "less than one minute to go" call and then she started to pull 2:07 and faster. We ended up doing a 8:39. I had to support Anicka because she could hardly walk, and she had to lie down in the cooling down area.
I had a little chat with her after the cooling down. She was disappointed that she didn't row a PB. I told her that she really rowed a very hard race and that she was very brave to pick it up back to 2:09 every time her pace dropped.
My own race
So after these pretty intense 27 minutes of coaching, it was time to prepare for my own race, a 1000m in the Masters C group. In the mean time, the boys from our club did really well:
It's always cool to see kids winning medals.
My masters competitors started to enter the arena, and I spent an hour chatting to my friends.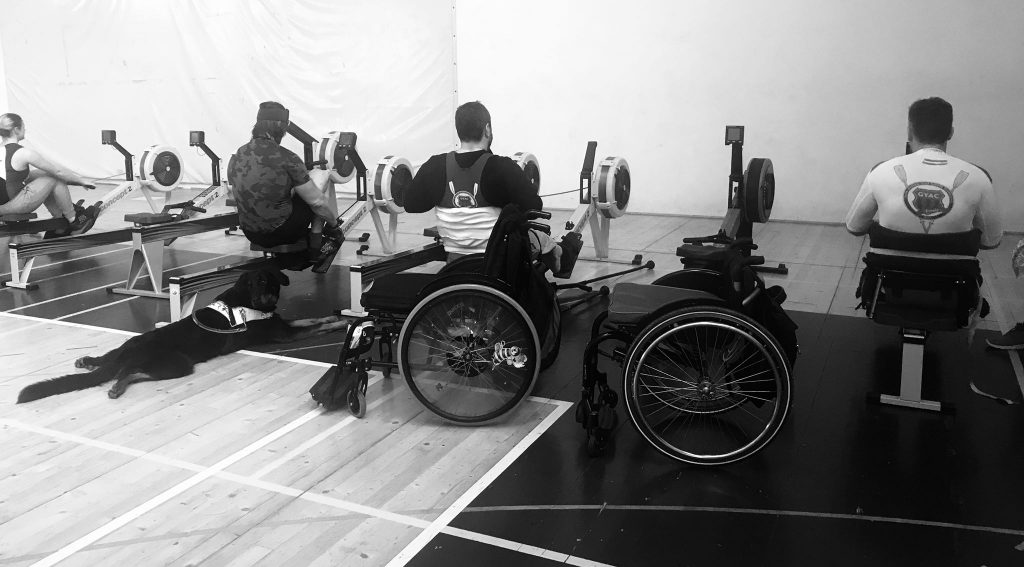 I also learned about the guy rowing his warming up in front of his dog in the picture above. During the Para event earlier that day he had rowed a 3:07 over 1000m. Not bad for a blind guy.
From the hour of chatting with my friends/adversaries I had understood that 3:17 or faster was the norm, so that was my target pace. In the preparation workouts, I had targeted 3:18 and I hadn't bothered to look up my PB on this distance. I was just going to go off at 1:38/39 and hold that pace.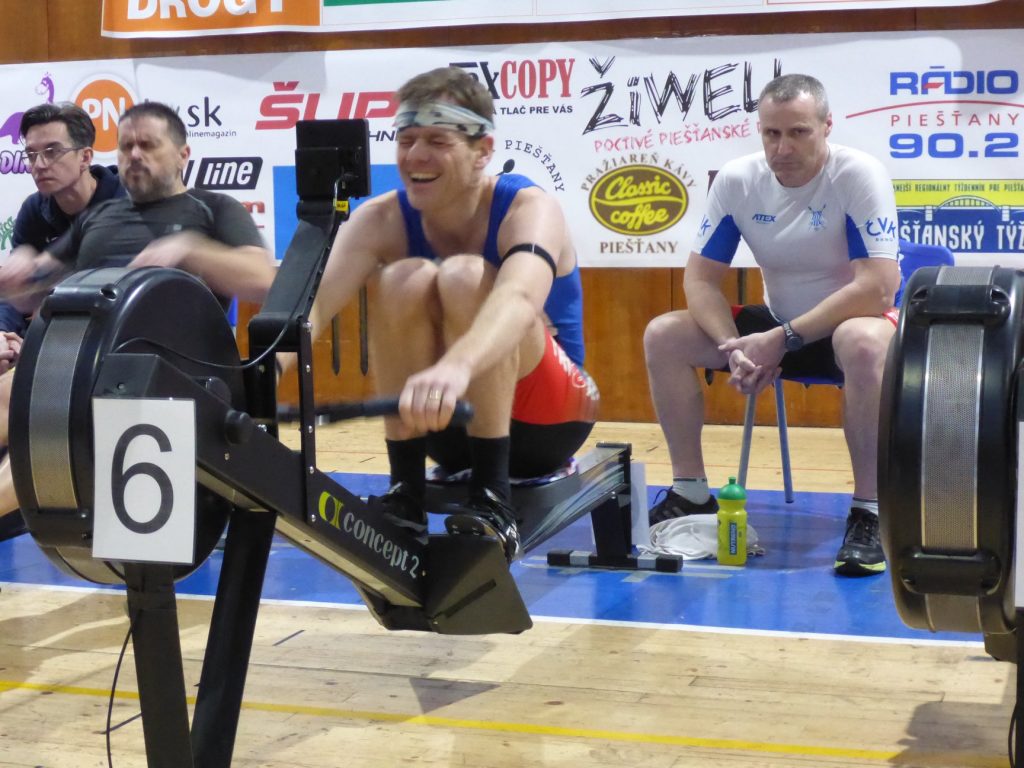 Martin "the Turkey" Krocil kindly offered to coach me. In the picture you can see him regretting signing up for the longest three minutes in his life.
A race start also produces a slow pace for the first stroke, so I wasn't shocked when I saw 2:20 on the monitor after the first pull. I did 10 strokes at "full" power, pulling 1:35-36 and then settled for 1:38 at 34spm.
That was the first 250m gone. A quick glance at the bottom half of the PM told me I was just slightly behind my friend Antonin ("Tonda") and rowing in 5th place. That gave enough motivation for the next 10 strokes, during which I passed Tonda and worked myself up to a fourth place, 5m behind the guy on erg number 5, to my right (left for the reader) on the picture above. A third place in this heat with only Masters C rowers would mean a podium place and a medal!
So with 600m to go I tried to crank up the pace to 1:37 and pass the guy in front of me. The hope lasted for about 20 strokes. I managed to reduce the gap to 5 meters, but then he probably noticed and started to row away from me.
With 450m to go I was in trouble. I had a few strokes at 1:41 pace and I don't really remember how I made it to 300m to go. This was really the hardest part of the race.
Three hundred meters to go. For some reason, my mind couldn't come up with a better thought than "That's one third of the total distance", which really wasn't that encouraging. Martin was coxing me very well, and that helped me get the counter down to 200m to go, by which time I dared to start counting 25 strokes to the end.
I managed to rate up to 37spm to keep the split at 1:39/1:40 and was really glad when everything was over and a 3:16 end time was on display. I think the monitor said 3:16.4, but the official end results say 3:16.8. Here is the result over all three heats of Masters racing: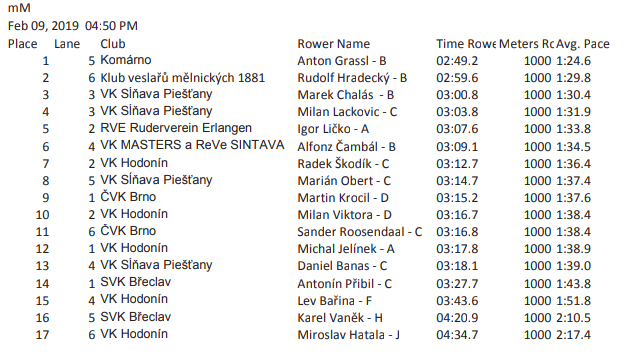 So the "B" category was won in the incredible time of 2:49.2. Martin Krocil won the "D" category in a really intense fight with Milan Viktora, only passing him in the final 250m. Yours truly figures in the bottom half of the results, and a fourth ("potato colored medal") place in the "C" category, which was won by Milan Lackovic in 3:03, the same guy who had done a 3:07 as a warming up in the disabled category. During the "disabled" heat, he had audio feedback on his pace, but now he was rowing without feedback and coached by his guide dog! A fantastic result.
And it was a Personal Best for me! I didn't know my best time, but I was sure I hadn't rowed faster than 3:17. Looking up my previous PB today, it turns out to be a 3:19.2 effort from the 2013/14 winter. I am sure I rowed that at home with a normal start. Given that the event race start always penalizes you by a fraction of a second, which is a pretty big deal over a short event, I am very happy with this 3:16.8 time!
I am also happy that I am less than 2 seconds behind Martin. A year ago, he was more than 10 seconds faster than I was on the 2k, and he's a big guy. On the other hand, I did beat Milan Viktora b a lot over 2k a year ago, but I did hear that the VK Hodonin training group is working really well this winter.
After the race, I took fifteen minutes to shower and changes clothes, then hopped into the car and drove for 2 hours, in the dark, through snowy mountains and hills, with three sleeping girls, and it took another hour to drop them off at their homes. I was home by 9pm.
Buchlovice Hills
Here's a video by one of those crazy motor cycle riders who are attracted by the Buchlovice hills (and also have a pretty high mortality rate at this part of the road):
Here's a winter video which is quite close to yesterday's conditions:
Follow me in social media