Mar 20 2017
Saturday
I flew from Newark in the evening. Dropped my bags in the morning and took a train to Manhattan. My exercise for the day was hours and hours of walking.
At the end of the day, I took the flight to London, then London-Vienna, then a car home. Arrived at 2:30pm. Romana wasn't at home. There had been a burglary in the houses her company is building near Pardubice. They got into two almost finished houses and took the stoves and cookers. She spent the whole day waiting for police technicians to come and try to find fingerprints. Not sure if they will ever catch them.
No exercise on Sunday.
Monday
This week is our annual training retreat. We drove to Račice, the "Labe Arena National Olympic Watersport Center" north of Prague, a three hour drive from Brno. It's a long name but it's just a FISA compliant rowing canal. We will be here until Friday. My plan is to train early in the morning and then go to the office in Prague.
Here is the club's trailer a few minutes after we arrived.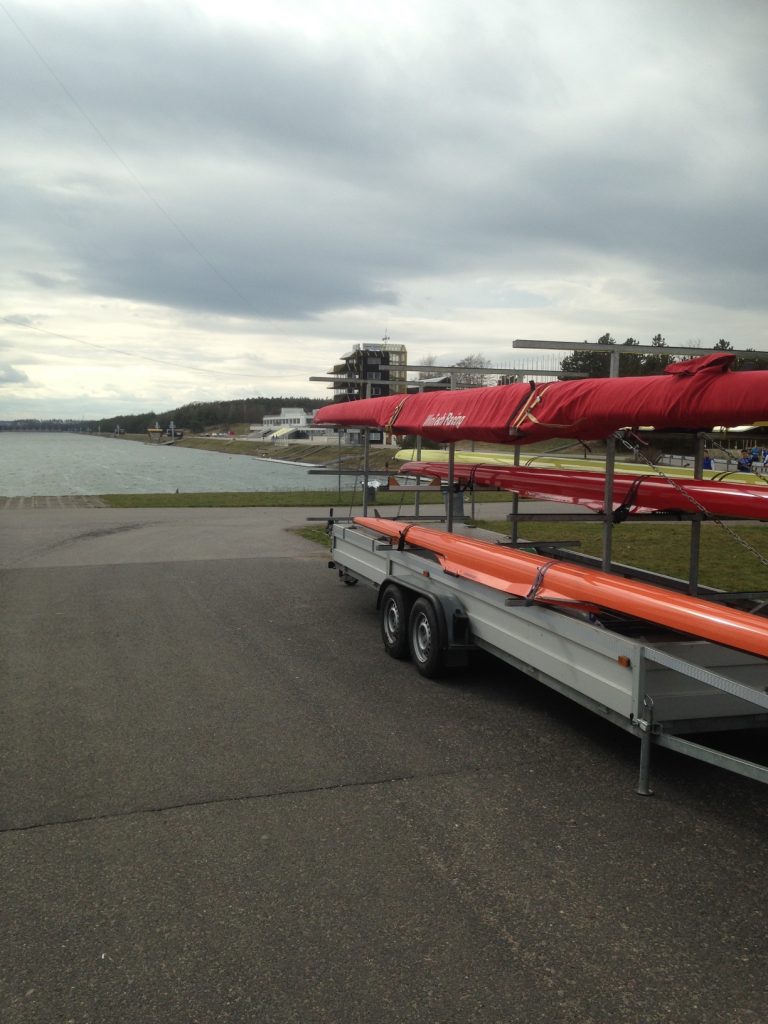 First, the girls went for a training. I removed the Empower oarlock from my single and mounted it on Iva's boat. Calibration was done quickly and off she went. There is a problem with her stroke. Romana complains that she has an exaggerated lean back which doesn't add speed. So I wanted to see this.
So here is her "force curve" as measured by the Empower oarlock: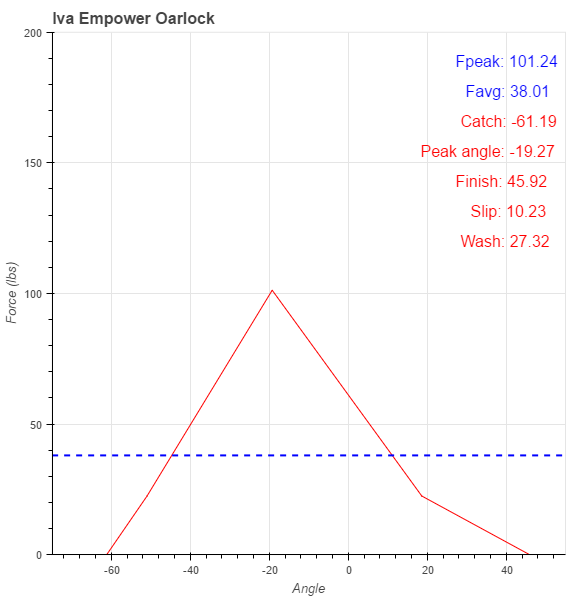 Two things are different from my own power curve. First, the average to peak power ratio is much lower than mine. Second, there is a kink in the curve around 19 degrees, which is where the lean back starts. Iva has a "wash" value of 27 degrees, which is about double my value. For comparison, here are two of my workouts from today:
It will be interesting for Iva to work on it and take another measurement for example on Friday. Or to set up her SpeedCoach to show wash and let her work on reducing it.
So after the girls finished, it was time to swap the oarlocks back and get my own workout in before dinner time. I started with the same workout as a year. A 4x2km. The warming up was recorded as the last part of Iva's workout (forgot to reset the SpeedCoach):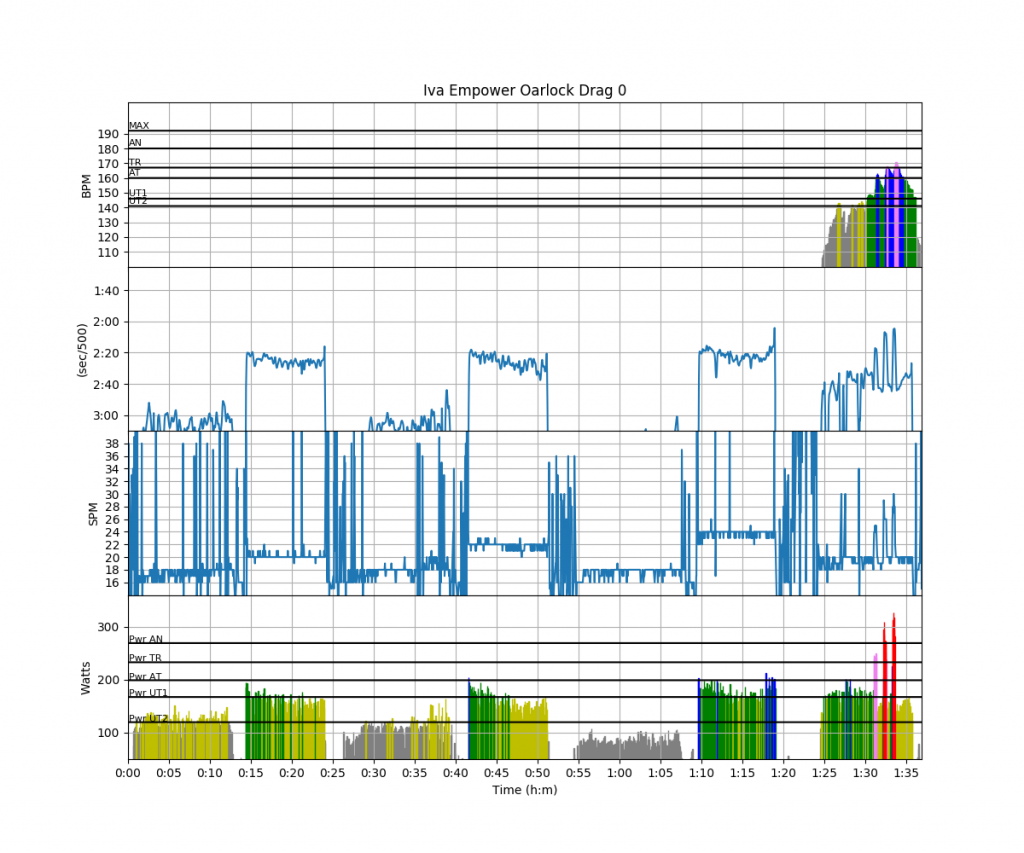 It was just a 2k with some faster intervals towards the end. Then I turned my boat, removed one layer of clothing and got ready for my first 2k.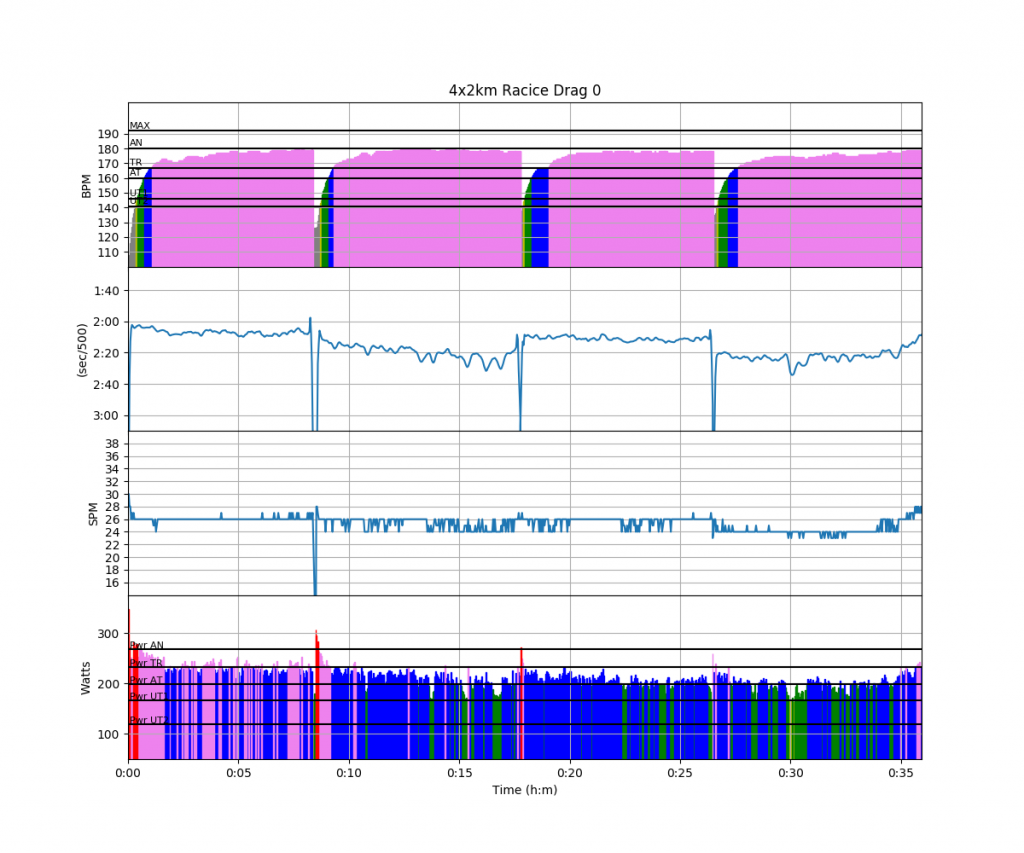 I was very curious to see how I would hold up the power. This was the first time this season where I could row a straight 2k. The 4x2km (at 2 minutes rest) is quite a good simulation for a head race, even though I rated it a lot lower.
After the first 2k (tailwind), I thought I could hold 230W, but that was a mistake. The second interval, with headwind, wore me out. So in the third interval I tuned down the power to 210W. In the final interval, again into headwind, I had difficulty keeping the rate and power up. I guess it was a good workout.

Workout Summary - media/20170320-183856-Sanders SpeedCoach 20170320 0453pmo.csv
--|Total|-Total-|--Avg--|-Avg-|Avg-|-Avg-|-Max-|-Avg
--|Dist-|-Time--|-Pace--|-Pwr-|SPM-|-HR--|-HR--|-DPS
--|08000|36:01.0|02:15.1|211.2|25.3|173.5|180.0|08.8
W-|08000|36:01.0|02:15.1|211.0|25.3|173.5|180.0|08.8
R-|00000|00:00.0|00:00.0|000.0|00.0|000.0|180.0|00.0
Workout Details
#-|SDist|-Split-|-SPace-|-Pwr-|SPM-|AvgHR|MaxHR|DPS-
00|02000|08:32.2|02:08.0|232.9|25.9|171.7|180.0|09.0
01|02000|09:16.6|02:19.2|210.4|25.4|175.1|180.0|08.5
02|02000|08:45.5|02:11.4|203.6|25.7|174.1|178.0|08.9
03|02000|09:27.3|02:21.8|198.7|24.4|173.0|179.0|08.7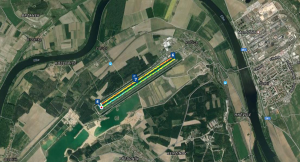 Here are the metrics plots. I have moved the wing rigger a bit bow-wards. Perhaps a bit too much. Need to adjust it slightly.
Wash was 14.5 +/- 1.4 degrees. Slip was 5.5 +/- 0.9 degrees. Effective stroke length was 86 +/- 3 degrees at a total stroke length of 106.3 +/- 1.8 degrees. Pretty consistent, I would say. These metrics take into account only the 2k efforts, not the paddling in between.
In the US, I got myself an additional heart rate belt. I bought the advanced version of the Wahoo Tickr, the Tickr X. It's a cool device. It can record a workout without the need of a watch or phone (you can sync later, when you're near a phone), and claims to record cadence, stride length, and other cool parameters.
I downloaded the Wahoo Runfit app and did their "7 minute body weight workout". It is fun to see how they use the accelerometer to measure number of pushups and jumping jacks. This is extremely cool and I will certainly make this HR belt my travel belt, to use with the Runfit app for hotel room workouts. It really helps to have your phone shout instructions at you like a real workout coach. It also claims to do rowing. I will take a look at what it recorded later.
Follow me in social media